Want To Take Back Chicago? Here's How, Say Activists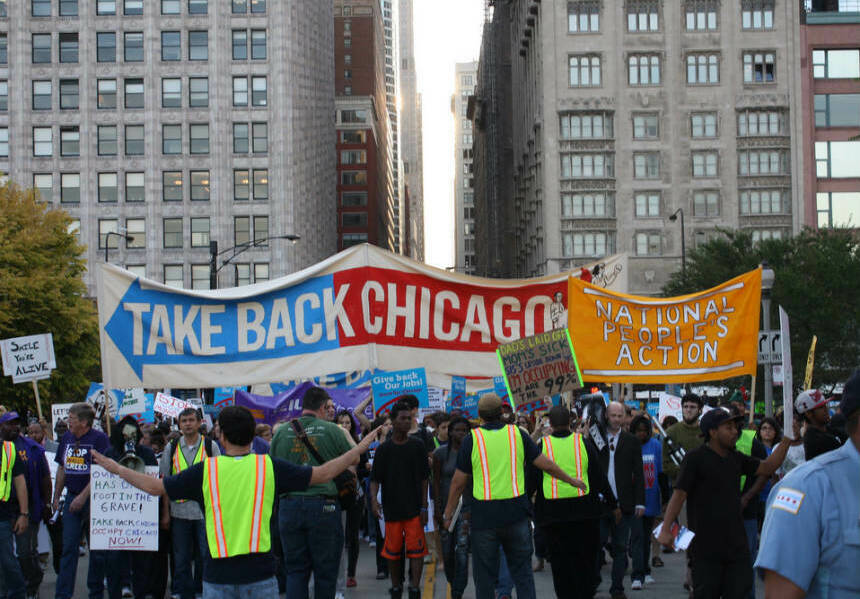 In the­o­ry, Chicago's City Coun­cil should rep­re­sent the inter­ests of the locals who elect­ed them. In prac­tice, though, promi­nent com­mu­ni­ty lead­ers say the Coun­cil is more like a dog on a leash — and May­or Rahm Emanuel holds the oth­er end.
​"Our city is sold piece-by-piece to pri­vate inter­ests. Our com­mu­ni­ties, they don't get parks, play­grounds, ser­vices or the jobs we need. Because all the mon­ey is flow­ing to greedy down­town cor­po­ra­tions. And peo­ple don't even know it's happening."
So say Rouse­mary Vega, a well-known par­ent activist from the Hum­boldt Park neigh­bor­hood, and Bran­don John­son, an orga­niz­er with the Chica­go Teach­ers Union, in a short video that launched the project and web­site Take Back Chica­go in July. In their nar­ra­tion, trad­ing phras­es back and forth like quick punch­es, Vega and John­son take the may­or and the City Coun­cil to task for pri­or­i­tiz­ing big busi­ness over aver­age com­mu­ni­ties — and for slash­ing fund­ing to libraries, men­tal health clin­ics and oth­er city ser­vices in the process.
The video, which depicts Chicago's City Coun­cil as May­or Emanuel's loy­al canine com­pan­ion — lit­er­al­ly — was just the first step in the advo­ca­cy group Grass­roots Illi­nois Action (GIA)'s new cam­paign to chal­lenge alder­men on their pol­i­tics. As the cam­paign sea­son lead­ing up to the Feb­ru­ary 2015 may­oral and City Coun­cil elec­tions heats up, GIA is beseech­ing locals to become bet­ter edu­cat­ed about the records and loy­al­ties of their alder­men — Chicago's term for mem­bers of City Coun­cil — and to con­tribute to the Take Back Chica­go project that will help them do so.
GIA is a 501©4 orga­ni­za­tion, mean­ing it can do lob­by­ing and par­ti­san work; it formed in 2011 as a sis­ter orga­ni­za­tion to the Grass­roots Col­lab­o­ra­tive, a long-stand­ing coali­tion of labor unions, faith and com­mu­ni­ty groups that, as a 501©3, can­not lobby.
Chica­go alder­men often pay lip ser­vice to pop­u­lar ideas — whether rein­ing in cor­po­rate tax sub­si­dies or crack­ing down on pol­luters — while not actu­al­ly vot­ing or tak­ing any action to pro­mote these poli­cies. Unfor­tu­nate­ly, such a dynam­ic is hard­ly new in Chica­go, noto­ri­ous for its ​"Rub­ber Stamp" City Coun­cil with alder­men who very rarely vote against the mayor's wish­es. For­mer May­or Richard M. Daley was famous for keep­ing City Coun­cil in line, and as Uni­ver­si­ty of Illi­nois Chica­go polit­i­cal sci­en­tist Dick Simp­son doc­u­ment­ed, the coun­cil has become even more pas­sive under May­or Rahm Emanuel.
​"Rahm Emanuel is clear­ly not a friend of labor," GIA com­mu­ni­ca­tions orga­niz­er Nathan Ryan tells In These Times. ​"But there are a bunch of alder­men who claim to be a friend of labor but you dig in and look at their vot­ing record and see they con­sis­tent­ly vote against the inter­ests of work­ers in their ward."
And this has a real effect on every­day Chicagoans, par­tic­u­lar­ly city employ­ees. For exam­ple, as GIA's video points out, in FY2012, the City Coun­cil approved a bud­get that direct­ly led to lay­offs of pub­lic work­ers. That's why, the com­mu­ni­ty and labor lead­ers behind the Take Back Chica­go cam­paign say, infor­ma­tion on the inner work­ings of City Coun­cil must be made more acces­si­ble to the gen­er­al public.
The plan, accord­ing to GIA orga­niz­ers, is for the Take Back Chica­go web­site to serve as a repos­i­to­ry for con­stant­ly updat­ed infor­ma­tion on dif­fer­ent aldermen's cam­paign con­tri­bu­tions, vot­ing records and pub­lic state­ments. With the afore­men­tioned video, which was ani­mat­ed by Chris Koelsch and fea­tures music by Dez Yan­cy, as the hook, an Indiegogo cam­paign for Take Back Chica­go aims to raise $10,000 to build an inter­ac­tive data­base and main­tain com­mu­ni­ty forums where locals can voice their con­cerns. The cam­paign launched on July 15; as of July 31, it had raised $2,710, with the page slat­ed to close August 9. GIA is also offer­ing mer­chan­dise, includ­ing a screen print by GIA Exec­u­tive Direc­tor Amisha Patel fea­tur­ing leg­endary for­mer Chica­go May­or Harold Wash­ing­ton, with the tag WWHD — ​"What Would Harold Do?"
If the Take Back Chica­go data­base is launched quick­ly enough, it could help vot­ers in the 2015 elec­tion decide whether their incum­bent alder­men deserve their votes — whether they've lived up to promis­es or act­ed in line with con­stituents' inter­ests. In the end, though, GIA Field Orga­niz­er Abbie Illen­berg­er says that the idea is to cre­ate a por­tal that lasts and grows for many years and elec­tion cycles to come.
​"The lev­el of expec­ta­tion among Chica­go res­i­dents of what their alder­man does is pret­ty low," Illen­berg­er tells In These Times. ​"Espe­cial­ly when we look at the func­tion of leg­is­lat­ing — if you ask the aver­age vot­er about what their alder­man does, they would prob­a­bly talk about city ser­vices, fill­ing pot­holes, garbage pick­up. What we think is miss­ing is the expec­ta­tion that alder­men are sup­posed to leg­is­late — and they cre­ate pol­i­cy that absolute­ly deter­mines the future of our com­mu­ni­ties and our chil­dren and our neighborhoods."
One such pol­i­cy has been account­abil­i­ty and reform around the city's use of Tax Incre­ment Financ­ing (TIF)s, a pro­gram meant to spur devel­op­ment in ​"blight­ed" areas that is instead often used to fun­nel prop­er­ty tax dol­lars to devel­op­ers in well-off neighborhoods.
The Take Back Chica­go video high­lights a City Coun­cil vote in 2008 to give "$30 mil­lion for a cor­po­rate down­town park" — that would be TIF mon­ey for Riv­er Point. In years past the Grass­roots Col­lab­o­ra­tive, GIA's non-lob­by­ing sis­ter orga­ni­za­tion, has high­light­ed it as a sym­bol of cor­po­rate wel­fare. It was, after all, giv­en new life by a real estate giant around the same time City Coun­cil agreed unan­i­mous­ly to close half the city's pub­lic men­tal health clin­ics and cut ser­vices — there­by lay­ing off hun­dreds of work­ers—in Emanuel's inau­gur­al FY2012 bud­get. The video notes that the bud­get vote was 50 – 0 in favor; the vote on the plan to shunt TIF mon­ey to the plaza was 48 – 1.
Mean­while, the clos­ing of near­ly 50 pub­lic schools has also incensed thou­sands of Chica­go par­ents, pro­gres­sives, union mem­bers and oth­er res­i­dents, includ­ing video nar­ra­tors John­son and Vega, who have been promi­nent in the fight against dras­tic pub­lic edu­ca­tion reform.
Ryan notes that 32 alder­men pub­licly offered sup­port for a pro­posed ordi­nance that would have sent TIF mon­ey des­ig­nat­ed as sur­plus back to pub­lic school improve­ments — ​"but the rea­son they signed on is they knew it wasn't going to move out of the Rules Com­mit­tee." Before mov­ing to a vote before the full Coun­cil, ordi­nances are assigned to a com­mit­tee where a major­i­ty of mem­bers must approve it, known by many activists as ​"com­mit­tee where ordi­nances go to die."
After the TIF sur­plus ordi­nance pre­dictably lan­guished in the Rules Com­mit­tee, a city law was invoked allow­ing the full coun­cil to vote on whether to res­cue it. Despite the orig­i­nal ros­ter of 32 sup­port­ers, only 11 alder­men vot­ed to move the ordi­nance for­ward, includ­ing mem­bers of the small pro­gres­sive cau­cus which some­times chal­lenges Emanuel. With so few votes, the ordi­nance remained in the Rules Com­mit­tee, seem­ing­ly ​"dead."
​"We con­sis­tent­ly see things like that," said Ryan. ​"Alder­men ask com­mu­ni­ty groups to sup­port them, but when it comes to actu­al­ly fight­ing for some­thing, if it's not some­thing the may­or wants, it's not some­thing they actu­al­ly push for."
As intran­si­gent as the ​"rub­ber stamp" City Coun­cil sys­tem may seem, activists and labor lead­ers hope that grow­ing dis­con­tent with Emanuel's admin­is­tra­tion, paired with an increas­ing­ly dig­i­tal-savvy move­ment, could make real polit­i­cal shifts.
The Chica­go Sun-Times, after all, pre­dict­ed poten­tial­ly notable gains from the Left, includ­ing Take Back Chica­go, and not­ed that GIA lead­ers have been meet­ing with the Work­ing Fam­i­lies Par­ty, which helped push New York City May­or Bill de Bla­sio into office. With rumors swirling that Chica­go Teach­ers Union pres­i­dent Karen Lewis may run against Emanuel, Grass­roots Illi­nois Action and oth­er com­mu­ni­ty groups are thrilled by the prospect of poten­tial­ly oust­ing May­or 1%.
But with a cam­paign war chest of more than $7 mil­lion, many con­sid­er Emanuel near­ly unbeat­able in the elec­tion. Hence a major aim of the Take Back Chica­go project is to fos­ter a more account­able and respon­sive City Coun­cil, regard­less of who is may­or. Ulti­mate­ly, the cam­paign calls for reclaim­ing the city with ​"a people's plat­form where we can come togeth­er, learn what's real­ly going on and fight for change."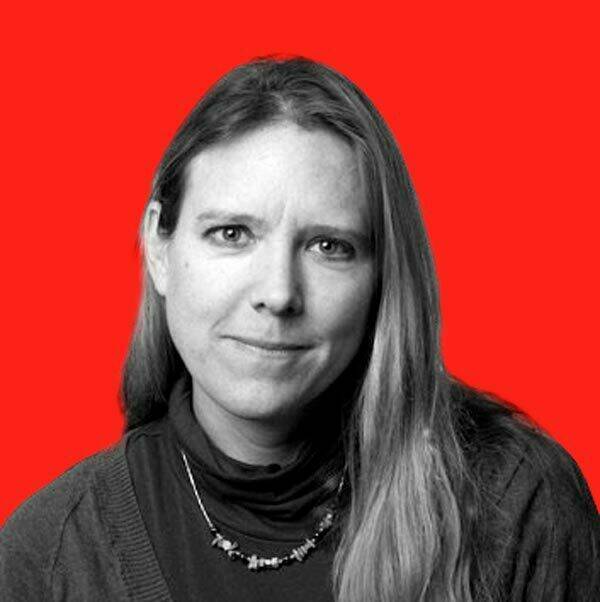 Kari Lyder­sen
is a Chica­go-based reporter, author and jour­nal­ism instruc­tor, lead­ing the Social Jus­tice
&
amp; Inves­tiga­tive spe­cial­iza­tion in the grad­u­ate pro­gram at North­west­ern Uni­ver­si­ty. She is the author of May­or
1
%: Rahm Emanuel and the Rise of Chicago's
99
%.