The U.S.-Taliban Deal Won't Bring Real Peace, But It Could Reduce the Bloodshed
Withdrawing even some of the U.S. troops, planes, drones and bombers from Afghanistan will reduce the killing.
Back in 2009, I was in Stras­bourg for a ​"No to NATO" protest. Run­ning from tear gas and being escort­ed out of a French mil­i­tary base by Ger­man sol­diers, I spent some time with Malalai Joya — then the youngest mem­ber, and one of the few women, in the Afghan parliament.
Little is clear about the agreement. What we do know is that this is not a peace deal.
It was eight years into the U.S. occu­pa­tion of Afghanistan, and Pres­i­dent Oba­ma, after send­ing 17,000 addi­tion­al troops, was pub­licly debat­ing whether to launch anoth­er new troop surge there.
As a woman in par­lia­ment, Malalai faced death threats and attacks. She'd been forced into hid­ing and could not appear in pub­lic in her own coun­try. If the Unit­ed States pulled out, I asked, what would hap­pen to peo­ple like her?
She told me then, and the words stuck.
"We in civ­il soci­ety," she said, ​"face three ene­mies in my coun­try: the Tal­iban, the war­lords dis­guised as a gov­ern­ment, and the U.S. occu­pa­tion. If you in the U.S. can mobi­lize to get the U.S. and NATO troops out of my coun­try, we'd only have two." (Four years lat­er, she repeat­ed that view in The Nation.)
A weak, unclear agreement
And now, Wash­ing­ton has signed a deal with the Tal­iban that may at least begin the process of pulling U.S. troops out of Afghanistan.
In return for Tal­iban promis­es to break ties with al Qae­da and ISIS, and to begin nego­ti­a­tions with the U.S.-backed Afghan gov­ern­ment, the Unit­ed States agreed to with­draw all troops with­in 14 months — 4,000 or so in the next four and a half months, and the rest, ​"with the com­mit­ment and action" by the Tal­iban, with­in anoth­er nine months.
Lit­tle is clear about the agree­ment. What we do know is that this is not a peace deal. It does not promise even a long-term cease­fire or an end to war in Afghanistan, let alone guar­an­tee peace, secu­ri­ty, and human rights for the peo­ple of that war-dev­as­tat­ed coun­try. Already, U.S. airstrikes and numer­ous Tal­iban attacks have occurred in the wake of the deal's announcement.
Rep. Bar­bara Lee (D‑Calif.), who cast the only dis­sent­ing vote against the war when Con­gress autho­rized it imme­di­ate­ly after the 9⁄11 attacks, rec­og­nized the insuf­fi­cien­cy of the agree­ment, signed in Doha on Feb­ru­ary 29. It ​"leaves thou­sands of [U.S.] troops in Afghanistan and lacks the crit­i­cal invest­ments in peace­build­ing, human-cen­tered devel­op­ment, or gov­er­nance reform need­ed to rebuild Afghan soci­ety," she said.
She's right. Wash­ing­ton owes the peo­ple of Afghanistan an enor­mous debt to help rebuild their coun­try — though there's lit­tle polit­i­cal will in Wash­ing­ton for it, and there are seri­ous doubts about whether the cor­rupt Afghan gov­ern­ment could han­dle it. This deal appears to address only troop lev­els, leav­ing those thornier but cru­cial issues untouched.
And yet it's also true that this agree­ment, if imple­ment­ed, would rep­re­sent a crit­i­cal first step — a pro­found­ly insuf­fi­cient but nec­es­sary step — towards secu­ri­ty in the coun­try. As Malalai Joya rec­og­nized, with­draw­ing for­eign troops would elim­i­nate one of the three ene­mies of the Afghans strug­gling to sur­vive these decades of war. Even if the with­draw­al is only par­tial, it would still reduce the attacks, bomb­ings and drone strikes of at least one of those armed forces.
Nonethe­less, the agree­ment is filled with weaknesses.
The U.S.-backed Afghan gov­ern­ment, long known for unceas­ing cor­rup­tion, as well as for har­bor­ing war­lords respon­si­ble for the same kind of attacks on civil­ians as the Tal­iban, was not includ­ed in the nego­ti­a­tions. Com­pli­cat­ing mat­ters, two rival can­di­dates — incum­bent pres­i­dent Ashraf Ghani and chal­lenger Abdul­lah Abdul­lah — have now both claimed vic­to­ry in Afghanistan's recent pres­i­den­tial elec­tion, so choos­ing a nego­ti­at­ing team is delayed. Noth­ing is certain.
Longer term, the lack of rep­re­sen­ta­tion of Afghan soci­ety in the process — includ­ing women, youth, unions and oth­er civ­il soci­ety orga­ni­za­tions — also under­mines the deal's cred­i­bil­i­ty. That denial of a place at the table for women, non-mil­i­tary actors and oth­ers, how­ev­er, is all too stan­dard in nego­ti­a­tions to end wars. It's one of the fac­tors that makes tran­si­tions from short-term cease­fire to long-term peace so difficult.
Rights nev­er realized
What­ev­er else hap­pens, a U.S. pull­out will not leave Afghanistan at peace. Fight­ing on some lev­el will almost cer­tain­ly con­tin­ue. The Tal­iban, which now con­trols or con­tests more than half the coun­try but has less influ­ence in cities, will prob­a­bly become more influential.
What would this mean for Afghan women?
First, it's impor­tant to remem­ber that the writ of the post-2001 Afghan gov­ern­ment, installed and kept in pow­er by the Unit­ed States and a NATO-led alliance, bare­ly reach­es beyond the city lim­its of Kab­ul, Kan­da­har and a few oth­er cities. And only about 25% of Afghans live in cities — the vast major­i­ty are in small towns and tiny villages.
For some city res­i­dents, cer­tain­ly, the for­mal gains for wom­en's rights in the Afghan con­sti­tu­tion — the right to work, to vote, a place in the par­lia­ment — were life-chang­ing. But those rights have remained out of reach for many even in the cities, with a gov­ern­ment large­ly opposed to or reluc­tant to enforce wom­en's rights. And most Afghan women live in the coun­try­side, where the new con­sti­tu­tion, with its offi­cial guar­an­tees of rights for women, nev­er had much impact.
Make no mis­take: Life under Tal­iban rule was ter­ri­ble, espe­cial­ly for women and chil­dren. The prob­lem is that years of U.S. occu­pa­tion changed far too lit­tle. Today, accord­ing to the CIA, Afghanistan still ranks first in the world in infant mortality.
There is no guar­an­tee that the with­draw­al of U.S. troops will cre­ate con­di­tions for new cul­tur­al, social and polit­i­cal strug­gles inside Afghanistan. But we do know that per­pet­u­at­ing the cur­rent lev­els of fight­ing, in which civil­ians con­tin­ue to suf­fer the high­est lev­els of death and injury, pret­ty much guar­an­tees that those strug­gles, which could result in real change in the lives of far more Afghan women and indeed all Afghans, will nev­er take hold.
Trump's motives
Anoth­er thing is cer­tain: Don­ald Trump deserves no kudos for agree­ing to the deal.
There is no ques­tion his motives are self-serv­ing and polit­i­cal, not human­i­tar­i­an or even strate­gic. After high-pro­file for­eign pol­i­cy fail­ures regard­ing Iran, North Korea, and Israel-Pales­tine, and with the stock mar­ket still reel­ing from the coro­n­avirus cat­a­stro­phe, Trump's elec­tion slo­gans of pros­per­i­ty and peace don't look so good. So redi­rect­ing away from pros­per­i­ty, to the false claim that he is end­ing our end­less wars, may be his newest ploy.
For all his talk about ​"end­ing" the Mid­dle East wars, Trump has actu­al­ly sent thou­sands more troops to that region in the three years he has been in office. He is esca­lat­ing, not end­ing the glob­al war on ter­ror, and that remains true even if he with­draws troops from Afghanistan. Trump has made clear his incli­na­tion to keep Spe­cial Forces oper­a­tors in Afghanistan, regard­less of what the agree­ment says.
As Bar­bara Lee reminds us, ​"there is no mil­i­tary solu­tion to the con­flict in Afghanistan."

So while the U.S.-Taliban deal will not itself bring peace — and while there is no rea­son to trust Trump's motives or com­mit­ment to the deal — the fact remains that with­draw­ing even some of the U.S. troops, planes, drones and bombers from Afghanistan will reduce the killing of Afghans by U.S. forces.
After 18 years of killing, there's a lot more work ahead. But this move, which could reduce the num­ber of vic­tims, is worth sup­port­ing as a first step.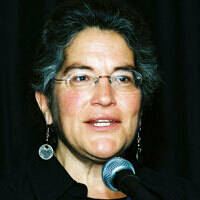 Phyl­lis Ben­nis
is a fel­low of the Insti­tute for Pol­i­cy Stud­ies. Her most recent book is the
2018
edi­tion of Under­stand­ing the Pales­tin­ian-Israeli Con­flict: A Primer.