Teach for America's Mission to Displace Rank-and-File Educators in Chicago
Why are thousands of experienced educators being replaced by new college graduates?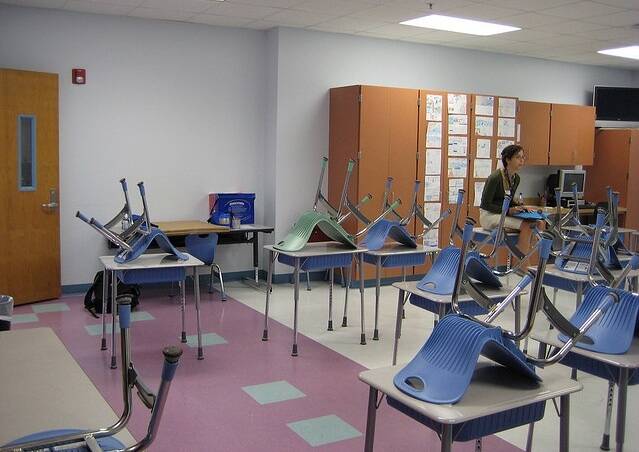 First appeared at Jacobin.
TFA is a self-perpetuating organization. Teach for two years, burn out, go to law school, become a policy maker, make policies that expand TFA.
Teach for Amer­i­ca has come under heavy scruti­ny in recent months. The orga­ni­za­tion was imag­ined over twen­ty years ago by Prince­ton under­grad­u­ate Wendy Kopp to com­bat the teacher short­age in urban and rur­al com­mu­ni­ties. TFA was to bring recent grad­u­ates from elite uni­ver­si­ties to teach in needy schools.
The idea was pret­ty sim­ple. TFA was not bet­ter for stu­dents; it was bet­ter than noth­ing. Pro­vid­ing staff in these schools alle­vi­at­ed over­crowd­ing and research shows that class size does mat­ter in a child's education.
Twen­ty years lat­er, school dis­tricts are fir­ing huge swaths of edu­ca­tors due to bud­get cuts. These ded­i­cat­ed teach­ers lose their jobs through no fault of their own, but find them­selves com­pet­ing for a dwin­dling num­ber of open teach­ing slots. One would think that at this point, TFA is no longer nec­es­sary. We have a sur­plus of teach­ers and until politi­cians make edu­ca­tion a pri­or­i­ty and fund more teach­ing posi­tions, this trend will continue.
Yet in Chica­go
[T]he dis­trict has com­mit­ted to more than dou­bling its invest­ment in the TFA pro­gram that trains col­lege grad­u­ates for five weeks then sends them into schools for two years at a time. The Board of Edu­ca­tion vot­ed to increase its pay­ment to TFA from $600,000 to near­ly $1.6 mil­lion, and to add up to 325 new TFA recruits to CPS class­rooms, in addi­tion to 270 sec­ond year ​"teacher interns."
This infor­ma­tion was revealed after Chica­go Pub­lic Schools announced lay­offs of over 3,000 school per­son­nel due to bud­get cuts.
Why would CPS throw more mon­ey into recruit­ing recent col­lege grad­u­ates with five weeks of train­ing and no teach­ing cer­tifi­cates into the dis­trict when it lets go of high­ly-qual­i­fied, cer­ti­fied, vet­er­an teachers?
I checked out TFA's web­site. Its mis­sion state­ment is far more grandiose than its orig­i­nal call to staff schools where ​"chron­ic teacher short­ages occur." TFA's mis­sion is now to ​"pro­vide excel­lent edu­ca­tion for kids in low-income com­mu­ni­ties" by recruit­ing ​"a diverse group of lead­ers with a record of achieve­ment" who receive ​"inten­sive train­ing." After their two-year teach­ing com­mit­ment, these recruits ​"work at every lev­el of edu­ca­tion, pol­i­cy and oth­er pro­fes­sions, to ensure that all chil­dren can receive an excel­lent education."
These are a lot of lofty plat­i­tudes for an orga­ni­za­tion that was built with the sim­ple, mea­sur­able, and tem­po­rary mis­sion of pro­vid­ing bod­ies to class­rooms that need­ed them. Chica­go had a diverse teach­ing force until the mid-nineties when school clos­ings and ​"turn­arounds" tar­get­ed schools in black neigh­bor­hoods. Chica­go has suf­fered a dras­tic decrease in the num­ber of teach­ers of col­or. It's disin­gen­u­ous for TFA to claim its recruits have a ​"record of achieve­ment" when they have no teach­ing record and just five weeks of train­ing before being placed in a class­room. Many of the teach­ers recent­ly laid off by CPS have won teach­ing awards and have long sto­ried careers in the dis­trict. To achieve TFA's first three points, CPS could re-hire the teach­ers it laid off instead of replac­ing 325 of them with TFA recruits.
TFA's last point about work­ing the pol­i­cy are­na seems to be what Teach for Amer­i­ca is real­ly good at.
James Cer­son­sky at the Amer­i­can Prospect explains the TFA polit­i­cal program,
Since its found­ing, TFA has amassed some 28,000 alum­ni. Two have made Time's ​"Most Influ­en­tial" list: its Chief Exec­u­tive Offi­cer and founder, Wendy Kopp, and for­mer Wash­ing­ton, D.C., schools chan­cel­lor and Stu­dents­First founder Michelle Rhee. Oth­ers have gained promi­nence as the lead­ers of mas­sive char­ter oper­a­tions, like KIPP Schools and New Schools for New Orleans. And TFA alums are cur­rent­ly the heads of pub­lic schools in Newark, D.C., and Tennessee.

What about the oth­er 27,000-some-odd peo­ple? That's where Lead­er­ship for Edu­ca­tion­al Equi­ty, or LEE, comes in. LEE was found­ed in 2007 as a 501©4 spin-off of Teach for Amer­i­ca to pro­vide resources, train­ing, and net­work­ing for alum­ni who are inter­est­ed in elect­ed office or oth­er extracur­ric­u­lar lead­er­ship posi­tions. Its goals are ambi­tious: by 2015, as its stan­dard job post­ing reads, it hopes to have 250 of its mem­bers in elect­ed office, 300 in pol­i­cy or advo­ca­cy lead­er­ship roles, and 1,000 ​"in ​'active' pipelines for pub­lic lead­er­ship." If all goes as planned, LEE could shift con­trol over Amer­i­can edu­ca­tion reform to a spe­cif­ic group of sprite­ly col­lege grads-turned-politi­cians with a very spe­cif­ic politics.
TFA is a self-per­pet­u­at­ing orga­ni­za­tion. Teach for two years, burn out, go to law school, become a pol­i­cy mak­er, make poli­cies that expand TFA.
The increase in Chica­go TFA recruits on the heels of a mass fir­ing is bad optics for TFA, as the orga­ni­za­tion is well known for its effec­tive mar­ket­ing team (who have had way more than five weeks of training).
TFA must have tak­en Chica­go May­or Rahm Emanuel's advice and didn't let the lay­off cri­sis ​"go to waste." With activists and media focus­ing on school clos­ings and mass fir­ings, TFA could qui­et­ly come in and increase its mar­ket share in Chicago's schools.
This sub­terfuge is nec­es­sary in the cur­rent cri­sis that is plagu­ing TFA. There is a move­ment grow­ing among past TFA recruits orga­niz­ing against the groups' role in cor­po­ra­tiz­ing pub­lic schools.
Valerie Strauss at Wash­ing­ton Post explains:
In recent years, for­mer TFA corps mem­bers have been increas­ing­ly speak­ing up about prob­lems with the pro­gram. In this post, for exam­ple, one ex-TFAer argues that it is time for the orga­ni­za­tion to fold; in this one, an ex-TFA corps mem­ber about his lack of prepa­ra­tion for trou­bled stu­dents; and here a pro­fes­sor explains why TFA can't recruit in his classroom.
TFA is in cri­sis mode. With the orga­ni­za­tion los­ing true believ­ers with­in its rank-and-file, it dou­bled down on recruit­ment and dou­bled down on mar­ket­ing. It's just a shame that none of this has any­thing to do with improv­ing teach­ing and learning.
In These Times is proud to fea­ture con­tent from Jacobin, a print quar­ter­ly that offers rad­i­cal per­spec­tives on pol­i­tics and eco­nom­ics. Sup­port Jacobin and buy a four issue sub­scrip­tion for just $19.