Teachers Call Off Work in Philadelphia Contract Campaign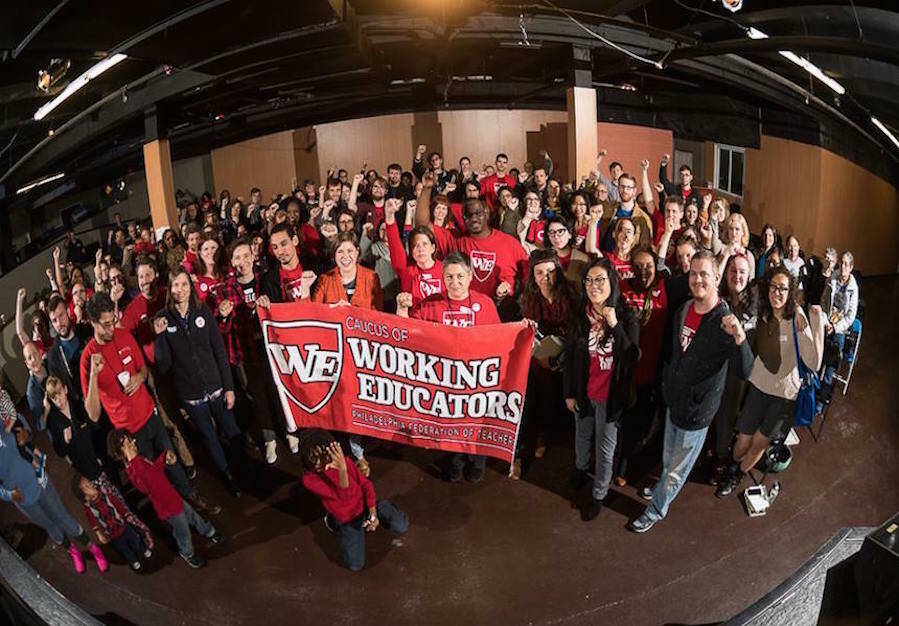 This arti­cle was first post­ed by Labor Notes.
Teach­ers and their unions turned out for May Day this year in St. Paul, Min­neapo­lis, Oak­land, Los Ange­les, Mil­wau­kee, Chica­go, and Seat­tle. They held teach-ins at schools and pick­ets out­side, and joined city­wide demon­stra­tions in sol­i­dar­i­ty with immi­grant communities.
Philadel­phia teach­ers want­ed to show sol­i­dar­i­ty with the day's themes — but also make a state­ment to the city about their own con­tract strug­gle. They've gone four years with­out a con­tract and five years with­out a raise. They've suf­fered school clos­ings, freezes on steps and lanes in the pay scale, lay­offs of school nurs­es and coun­selors, and the pri­va­ti­za­tion of sub­sti­tute teach­ers. The state-appoint­ed school board even tried to can­cel their con­tract, though it was rebuffed by the courts.
So, to cre­ate pres­sure on the dis­trict, a group of teach­ers orga­nized their own protest. ​"We are final­ly tak­ing some action, after five years of not doing much," said Tom Quinn, a teacher at the city's largest high school, where more than half of teach­ers took a ​"per­son­al day" on May Day.
The 11,000-member Philadel­phia Fed­er­a­tion of Teach­ers didn't autho­rize the action. Instead it was a rank-and-file group, the three-year-old Cau­cus of Work­ing Edu­ca­tors, that enlist­ed 400 teach­ers from 24 schools to call off from work and join a series of May Day activ­i­ties. These includ­ed a 10 a.m. grade-in and ral­ly at the school head­quar­ters, join­ing the Day with­out an Immi­grant march, and head­ing over to the offi­cial PFT union action at an ele­men­tary school.
The move cer­tain­ly got the district's atten­tion. It report­ed a high alert for absences and had to offer addi­tion­al bonus­es for sub­sti­tutes on that day.
You just have to ask
How did teach­ers orga­nize so many of their co-work­ers to skip work for a ral­ly at City Hall? They focused on one-on-one con­ver­sa­tions, cre­at­ing their own bar­gain­ing sur­vey as a con­ver­sa­tion-starter. The sur­vey asked teach­ers to choose their top five con­tract issues, explain why the num­ber one issue was so impor­tant, and iden­ti­fy which social issue res­onat­ed most with their school communities.
Teach­ers were also asked what types of actions they would be will­ing to do. Orga­niz­ers were sur­prised at the results: many teach­ers checked the box to miss a day of work. In fact, out of 10 options, 70 per­cent of sur­vey tak­ers at Quinn's school ranked this as their top choice.
When Jes­si­ca Way saw sim­i­lar respons­es at her school, the Franklin Learn­ing Cen­ter, she real­ized, ​"Oh wow, peo­ple are so much more upset than we real­ized," Way said, ​"and so much more will­ing to act."
Next, at sev­er­al schools where the sur­vey had shown inter­est, the teach­ers took a vote and decid­ed to take part in a May 1 ​"Day of Advo­ca­cy" orga­nized by the cau­cus. Event orga­niz­ers trav­elled to oth­er schools to get more teach­ers to join in, then they had to shore up teach­ers' resolve after blow­back from the union.
Each teacher is allowed three per­son­al days per year — and the dis­trict had already con­ced­ed that teach­ers were with­in their rights to use per­son­al days for polit­i­cal activ­i­ties, after women on staff at two high schools announced in March that they were strik­ing as part of the nation­al ​"Day with­out a Woman" protests.
On the oth­er hand, dis­trict pol­i­cy says that after 10 per­cent of staff at a giv­en school call off, it's up to the principal's dis­cre­tion whether to excuse any fur­ther absences. Since par­tic­i­pat­ing schools were expect­ing call-off num­bers much high­er than that, mem­bers walked through the pos­si­ble reper­cus­sions: an excused or unex­cused absence with no pay.
On May 12, the super­in­ten­dent emailed prin­ci­pals, instruct­ing them to code the May 1 call-offs as a day with­out pay for those who called off after their schools hit the 10 per­cent thresh­old. But after cau­cus sup­port­ers protest­ed via phone calls, emails, and social media, the dis­trict backed off a bit. Now it is leav­ing the deci­sion to principals.
Cam­paign­ing from below
Union staff and offi­cers had tried to dis­cour­age mem­bers from par­tic­i­pat­ing, point­ing out that Penn­syl­va­nia law includes penal­ties for teach­ers' strikes — teach­ers can lose their licens­es, and the dis­trict can impose a con­tract on the union. But it was clear from day one that this was not an offi­cial, union-sanc­tioned action.
Why did teach­ers orga­nize the day them­selves? Mem­bers com­plain that bar­gain­ing hap­pens behind closed doors, and they get very lit­tle infor­ma­tion about progress. Cau­cus mem­bers attend exec­u­tive board meet­ings to get what updates they can — but often they learn more from the news­pa­per, where the district's appoint­ed School Reform Coun­cil reg­u­lar­ly leaks details of negotiations.
So they decid­ed to cre­ate a con­tract cam­paign to push for more fund­ing for city schools, and to push the dis­trict to back down from its demands for cuts to health care and a longer school day and year.
They're con­cerned their union may set­tle too low in its eager­ness to get a deal. Already it has offered up con­ces­sions on health care and pen­sions. The caucus's demands include a read­ing peri­od so that mem­bers have time to review any set­tle­ment the bar­gain­ing team comes up with.
"I don't think the union takes advan­tage of all of the cre­ativ­i­ty, pow­er, and ideas that the mem­bers have," Quinn said.
By lead­ing from the back of the room, the activists are fol­low­ing the mod­el of the Cau­cus of Rank-and-File Edu­ca­tors, which orga­nized a con­tract cam­paign from below on its way to win­ning lead­er­ship of the Chica­go Teach­ers Union.
The Philly activists hope to set an exam­ple of their own by prov­ing that involv­ing mem­bers and tak­ing action gets results. ​"The morale gets real­ly low," said Cather­ine Kel­la, who also teach­es at Franklin. The May Day action ​"real­ly lift­ed peo­ple up."
One thing that's been miss­ing from the union's pro­gram, Way added, is actu­al­ly get­ting a sense of what mem­bers are will­ing to do. ​"Until you ask, you don't know." That's a good les­son for all organizers.