Teachers Say 17 Firings at Urban Prep Charter Schools Were Retaliation for Unionization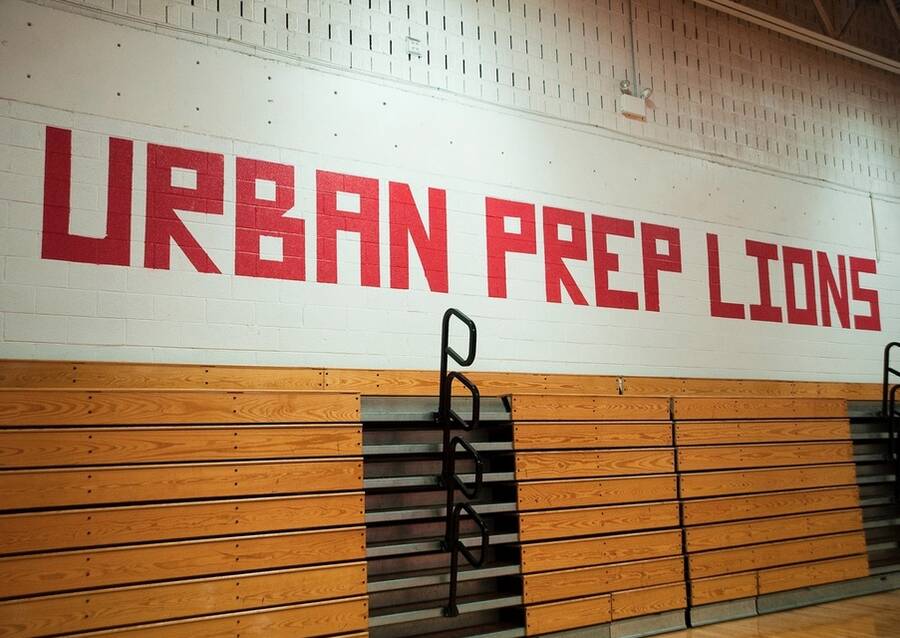 On June 19, dur­ing their bian­nu­al semes­ter-end inter­views, 17 teach­ers were informed by school staff that they would not be return­ing to Chicago's Urban Prep Acad­e­my come fall. The ter­mi­na­tions came just weeks after 61 per­cent of Urban Prep's teach­ers vot­ed to form a union; activists say the fir­ings were a bla­tant act of anti-union retaliation.
Last Thurs­day, around 100 teach­ers, stu­dents, par­ents and sup­port­ers attend­ed Urban Prep's board meet­ing to protest the fir­ings and accuse the board of harm­ing their com­mu­ni­ty and hin­der­ing stu­dent progress. They also accused the board of resist­ing trans­paren­cy and account­abil­i­ty, and cre­at­ing a high teacher-turnover rate through fir­ings and poli­cies that push teach­ers out of the school.
This is only the lat­est case of such alleged­ly unjust fir­ings, as more and more char­ter schools in Chica­go and across the coun­try are orga­niz­ing to union­ize despite the legal hur­dles, back­lash, and the com­mon belief—at least among school man­age­ment—that char­ter teach­ers don't need unions.
Matthias Muschal told Cat­a­lyst Chica­go he was fired after work­ing as a lead Eng­lish teacher at Urban Prep's Bronzeville cam­pus for six years for ​"insub­or­di­na­tion — specif­i­cal­ly because he threw a piz­za par­ty for stu­dent-ath­letes and their fam­i­lies with­out noti­fy­ing admin­is­tra­tion," accord­ing to the admin­is­tra­tion. He says the real rea­son was his union activism — a huge dis­ap­point­ment because ​"I wouldn't be able to teach my stu­dents any­more," Muschal told In These Times.
Urban Prep CEO Evan Lewis wrote in a state­ment that ​"the sug­ges­tion that any­one was fired as a result of their orga­niz­ing activ­i­ty is both wrong and offen­sive. … ​"We respect and sup­port the right of our teach­ers to choose a union as their exclu­sive rep­re­sen­ta­tive. … Many of the teach­ers return­ing next year were active in the effort to orga­nize, and we look for­ward to con­tin­u­ing our work with them."
At the board meet­ing, 26 peo­ple signed up to speak, although rough­ly half were allowed to address the board. Par­ents also deliv­ered over 200 let­ters in sup­port of the fired teach­ers in an effort to influ­ence the board­'s deci­sion. Not all board mem­bers, how­ev­er, were present at Thurs­day's meet­ing — even though, accord­ing to Samuel Adams, a for­mer Urban Prep Eng­lish teacher, they all live in Chica­go. Those who did not attend the meet­ing called in — a ges­ture seen by some union sup­port­ers as disrespectful.
Teach­ers, par­ents and stu­dents who attend­ed the meet­ing praised Urban Prep's mis­sion and suc­cess, but said the recent fir­ings go against the school's mis­sion and will ulti­mate­ly harm the stu­dents. Engle­wood Junior Lamar Strick­land told the board he ​"would just like to ask that you guys bring back our teach­ers because … they have all taught us some­thing dif­fer­ent that we can take in our life."
Stu­dents were espe­cial­ly upset about the fir­ing of Eng­lish teacher Natasha Robin­son. Robert DuPont, a junior at the Engle­wood cam­pus, said Ms. Robin­son went above and beyond her respon­si­bil­i­ties like call­ing stu­dents she knew were hav­ing trou­ble get­ting to school on time. Mr. Adams said that his for­mer col­league had the high­est fresh­men test scores in the school and con­tin­ued to teach even soon after her moth­er died.
Of the out­pour­ing of stu­dent sup­port over the past weeks, Robin­son said, ​"It's nice to know I made an impact dur­ing my time at Urban Prep — to know that I was able to help these young men." (Urban Prep is an all-male school.)
At the meet­ing, James Thind­wa of the Amer­i­can Fed­er­a­tions of Teach­ers (who is also a mem­ber of the In These Times board of direc­tors) also accused Urban Prep's major­i­ty-black board of direc­tors of harm­ing the black com­mu­ni­ty and insti­tut­ing mea­sures sim­i­lar to anti-union, right-wing politi­cians like Wis­con­sin Gov. Scott Walker.
"I can't believe that this insti­tu­tion, this pub­licly fund­ed insti­tu­tion, … anchored in the black neigh­bor­hood, that is itself reel­ing from eco­nom­ic dis­in­vest­ment that in part has been caused by the attack on labor unions … is par­tic­i­pat­ing in a vile attack on a legit­i­mate insti­tu­tion that serves as a legit­i­mate coun­ter­weight to what we're see­ing as unchecked cor­po­rate pow­er in the Unit­ed States."
In a press release, Thind­wa wrote that because black Amer­i­cans hold a dis­pro­por­tion­ate share of pub­lic-sec­tor jobs, they have been hit espe­cial­ly hard by the decline of pub­lic-sec­tor jobs and the attacks on their unions.
The audi­ence high­light­ed the irony in these fir­ings, as one of the main rea­sons teach­ers want­ed to union­ize was to change what they say are Urban Prep's high teacher turnover rates. They say stu­dents don't know if their favorite teach­ers will return the fol­low­ing year, which affects their learn­ing environment.
"It's unfor­tu­nate that they would fire vet­er­an teach­ers and that there will be so much uncer­tain­ty for these stu­dents going into the new school year," said Robin­son, who had taught at the school for sev­en years. Teach­ers say high turnover rates also mean devot­ing impor­tant time to train new teach­ers rather than to devel­op the skills of exist­ing ones.
Accord­ing to Bri­an Har­ris, a spe­cial edu­ca­tion teacher at CICS North­town Acad­e­my and Chica­go Alliance of Char­ter Teach­ers and Staff (ACTS) pres­i­dent, ​"across the net­work, only nine teach­ers have been at Urban Prep more than five years. Now, only about half of them are returning."
"Stu­dents are call­ing for a sta­ble learn­ing envi­ron­ment, and their teach­ers know that union­iza­tion is the only way to get sta­bil­i­ty for these stu­dents and their com­mu­ni­ties," says Rob Heise, an edu­ca­tor and activist who says he was fired from an UNO Net­work char­ter high School ear­li­er this month for his involve­ment in help­ing union­ize his school last year. Heise filed his own unfair labor prac­tice com­plaint with the NLRB two weeks ago.
Chica­go Teach­ers Union mem­bers made their way to the South Side school from their own union's con­tract nego­ti­a­tion meet­ing ear­li­er that after­noon to show sup­port for the fired Urban Prep teach­ers. Sarah Cham­bers, a spe­cial edu­ca­tion teacher at Maria Sauce­do Scholas­tic Acad­e­my, was among them. Cham­bers said that all the Urban Prep teach­ers who vot­ed to union­ize want­ed was a voice for their stu­dents. Hav­ing played a major role in prepar­ing her school for the his­toric 10-day CTU strike back in 2012, Cham­bers knows first hand the pow­er of belong­ing to a union and added that teach­ers ​"know that if they don't have a union they don't have a voice."
"Urban Prep pun­ished their staff for union­iz­ing. They lied about what ACTS is and used teach­ers' pro­fes­sion­al devel­op­ment time to spread anti-union pro­pa­gan­da," said Bri­an Har­ris. ​"Their actions show a real dis­re­spect for teach­ers and democ­ra­cy and scream ​'we don't want to be account­able to anyone.' "
Chris Baehrend, Vice Pres­i­dent of Chica­go ACTS and Eng­lish teacher at Lati­no Youth High School, said retal­i­a­tion is the main rea­son why 39% of eli­gi­ble vot­ers chose not to join the Urban Prep union. ​"They're afraid. They're afraid of things like exact­ly what hap­pened right here hap­pen­ing to them."
An unfair labor prac­tice suit has been filed with the NLRB, and Chica­go ACTS will be plan­ning future demonstrations.
Dur­ing the pub­lic com­ment peri­od, Samuel Adams called on sup­port­ers to put pres­sure on Urban Prep by send­ing emails, and par­ent Shon­e­ice Reynolds called for a local school coun­cil. Reynolds cit­ed Urban Prep's creed to make her point: ​"It states, we have a future for which we are account­able. I chal­lenge you all to be account­able for our chil­dren's future."
Arielle Zionts is a free­lancer writer and, begin­ning in August, a pro­duc­er at the Inter­faith Voic­es radio show in D.C. She stud­ied anthro­pol­o­gy at Pitzer Col­lege and radio at the Salt Insti­tute for Doc­u­men­tary Stud­ies. Crys­tal Stel­la Becer­ril is a Chica­go-based Xicana activist, writer and pho­tog­ra­ph­er who reg­u­lar­ly con­tributes to Social­ist Work­er, Red Wedge and Warscapes.