Get Ready for the Coming Wave of Teacher Strikes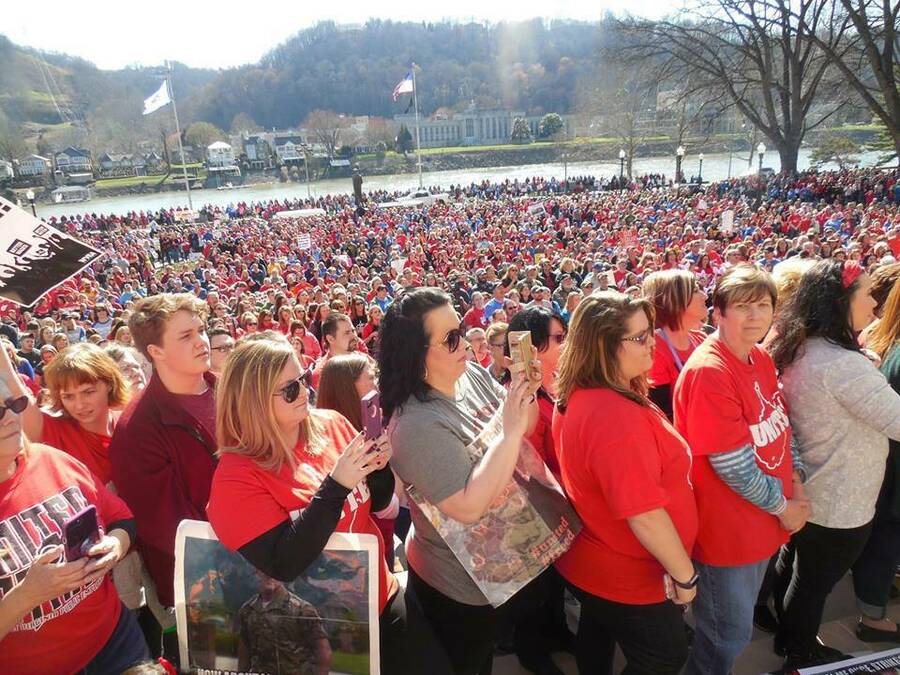 This arti­cle first appeared in Labor Notes.
It start­ed with a few hun­dred West Vir­ginia teach­ers and school employ­ees pulling one-day walk­outs. It became an unqual­i­fied vic­to­ry in that state, which edu­ca­tors else­where were quick to emulate.
Teach­ers in Okla­homa, Ari­zona, and Ken­tucky are now strik­ing, sick­ing out, ral­ly­ing, and Face­book­ing to push offi­cials to raise their salaries and defend their benefits.
After 13 days on the pick­et line, West Vir­ginia teach­ers won a statewide across-the-board 5 per­cent raise, plus a task force to find a per­ma­nent fix to the state's under­fund­ed Pub­lic Employ­ees Insur­ance Agency. Oth­er state employ­ees will get the same raise.
By the time the teach­ers went back to work March 7, the whole world was watch­ing. Nation­al and inter­na­tion­al press showed a sea of red shirts and ban­dan­nas flood­ing the statehouse.
Before the strike was over, teach­ers in Okla­homa, Ari­zona, and Ken­tucky had formed Face­book groups that gath­ered tens of thou­sands of mem­bers, with rum­blings of walk­outs and oth­er job actions spreading.
Five states have seen aver­age teacher salaries decline since 2015 – 2016; West Vir­ginia, Okla­homa, and Ari­zona are three of them.
STRIKE FEVER
In Okla­homa, the big, open Face­book group has a sim­ple name: ​"Okla­homa Teacher Walk­out — The Time Is Now!" Lead­ers of the group float­ed a walk­out date of April 2, the start of statewide test­ing. Some teach­ers had already begun orga­niz­ing sickouts.
The Okla­homa Edu­ca­tion Asso­ci­a­tion, which ini­tial­ly set a strike date three weeks lat­er, agreed to move the date up after an out­cry. Teach­ers are now set to walk on April 2 if the leg­is­la­ture doesn't grant a $10,000 raise for teach­ers and a $5,000 raise for school sup­port staff.
It's been a decade since Okla­homa teach­ers got their last raise. Accord­ing to the Bureau of Labor Sta­tis­tics, pay for edu­ca­tors there ranks last in the coun­try, with high school teach­ers aver­ag­ing $42,460.
As in West Vir­ginia, teach­ers are embold­ened by a short­age of qual­i­fied edu­ca­tors. ​"Teach­ers are flee­ing the state," said Mol­ly Jaynes, a third-grade teacher in Okla­homa City. ​"You can go to Arkansas and make $15,000 more; you can go to Texas and make $20,000 more" — as did Oklahoma's 2016 Teacher of the Year. The state issues hun­dreds of emer­gency cer­ti­fi­ca­tions every year to any­one with a bachelor's degree.
Teach­ers have sought sup­port from super­in­ten­dents, and got­ten it (also as in West Vir­ginia). Super­in­ten­dents, frus­trat­ed with high turnover and lack of fund­ing, have promised to shut schools for the first four days of a walk­out, at least, which would mean teach­ers would make up the days lat­er, but would be paid.
Beyond that, it remains to be seen. ​"This is a state that can't keep teach­ers," says Jaynes. ​"What are they going to do, fire every­one who goes on strike?"
RED FOR ED
Ari­zona teach­ers signed up in droves for a new Face­book group, ​"Ari­zona Edu­ca­tors Unit­ed." Thir­ty thou­sand joined in its first 10 days. Teach­ers there are build­ing a grass­roots ​"Red for Ed" move­ment, spread­ing pho­tos of them­selves wear­ing red T‑shirts to school every Wednes­day and assem­bling en masse at leg­isla­tive hear­ings at the Capitol.
One of the group's first big actions was a hun­dreds-strong pick­et out­side Gov­er­nor Doug Ducey's week­ly radio appear­ance. Ducey, the mul­ti­mil­lion­aire for­mer CEO of Cold Stone Cream­ery, has dis­missed the move­ment as a par­ti­san ploy. He's up for reelec­tion in November.
A strike has yet to be called in Ari­zona. But the first shut­downs came on March 21, when sick­outs closed nine Phoenix ele­men­tary schools.
"I was fed up with buy­ing mate­ri­als out of my own pock­et and tired of liv­ing pay­check to pay­check," said Kas­san­dra Dominguez, a dual-lan­guage teacher at Sun­set Ridge Ele­men­tary who pushed the sick­out idea, along with her co-teacher. With­in a few hours, oth­er teach­ers in the build­ing agreed to join in, and soon, nine schools were on board. The orga­niz­ing had tak­en less than 24 hours.
With five years' teach­ing expe­ri­ence and a master's degree, Dominguez makes $38,000. When cost of liv­ing is fac­tored in, some mea­sures rank Ari­zona last in teacher pay.
The next big day of action is a march on the Capi­tol March 28, along­side the Ari­zona Par­ent Teacher Asso­ci­a­tion and the grass­roots group Save Our Schools Arizona.
"Teach­ers are fired up here because we actu­al­ly have momen­tum," said Rebec­ca Garel­li, a math and sci­ence teacher in Phoenix. ​"I heard a lot of com­ments: ​'I think it's going to stick this time. I think this time it's for real.'
KEN­TUCKY
The lat­est state to join the strike talk is Ken­tucky, where the fight is about pen­sions and fund­ing cuts to schools. Hav­ing sys­tem­at­i­cal­ly under­fund­ed pen­sions for over a decade, the leg­is­la­ture is now push­ing to cut cost-of-liv­ing adjust­ments for teach­ers and oth­er employ­ees. Like teach­ers in 14 oth­er states, Ken­tucky teach­ers do not col­lect Social Secu­ri­ty, so they rely entire­ly on the state pen­sion system.
The Ken­tucky Sen­ate has intro­duced a bud­get that would cut fund­ing for fam­i­ly resource cen­ters in schools and for pre‑K while increas­ing mon­ey for char­ter schools. Teach­ers who retire before 65 would pay more for health insurance.
Thou­sands of active employ­ees and retirees have been ral­ly­ing at the Capi­tol. Teach­ers are orga­niz­ing walk-ins at schools to edu­cate par­ents and build com­mu­ni­ty support.
On March 21, teach­ers coor­di­nat­ed with their super­in­ten­dents in sev­en dis­tricts in east­ern Ken­tucky to close schools so they could mobi­lize to the state capital.
The state's Repub­li­can Gov­er­nor, Matt Bevin, has said protest­ing teach­ers have a ​"thug men­tal­i­ty," a com­ment that only fired teach­ers up, said Nema Brew­er, a founder of the Face­book group KY120 Unit­ed, which has 32,000 members.
To date, the union has yet to call for a statewide walk­out, which Brew­er thinks is a mistake.
"The teach­ers at the grass­roots are fired up and seri­ous about strik­ing, but the union is being over­ly cau­tious," she said.
So KY120 Unit­ed has orga­nized a statewide struc­ture to facil­i­tate walk­outs in all 120 of the state's counties.
"We have zone lead­ers, bro­ken down by con­gres­sion­al dis­trict," explained Brew­er. ​"Each zone leader then iden­ti­fies coun­ty lead­ers in each coun­ty in their zone. Then the coun­ty lead­ers iden­ti­fy school site leaders.
"We think we have every coun­ty cov­ered now. We don't have every school cov­ered, but we are close.
As in West Vir­ginia, teach­ers are think­ing about their stu­dents who receive free lunch­es. ​"We have asked peo­ple to col­lect food in case we have a work stop­page," Brew­er said. ​"We want to make sure that our chil­dren are tak­en care of."
Kentucky's leg­isla­tive ses­sion ends April 13.