Teamster Retirees Win Surprise Victory, Force Government Not To Slash Their Pensions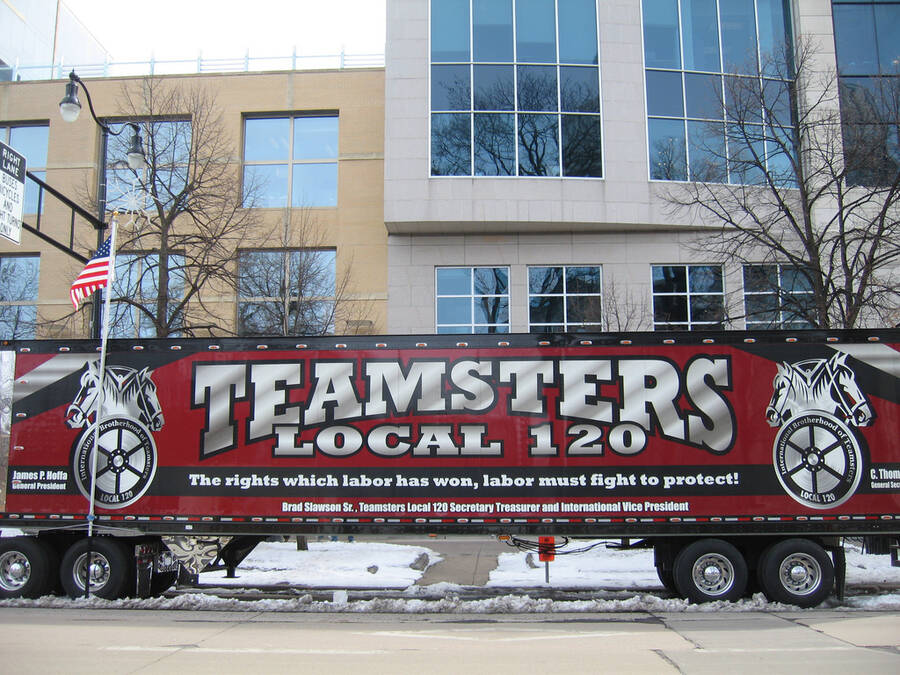 In a stun­ning demon­stra­tion of the pow­er of grass­roots orga­niz­ing, retired Team­ster union mem­bers across the Mid­west have forced the fed­er­al gov­ern­ment to back down on plans to slash pen­sions on thou­sands of retired workers.
The ini­tial deci­sion in favor of the retired truck dri­vers came May 6, when the U.S. Depart­ment of the Trea­sury announced it would reject a plan to cut ben­e­fits for retirees enrolled in the Cen­tral States Pen­sion Fund, an orga­ni­za­tion that han­dles pen­sions for more than 400,000 cur­rent or for­mer Team­sters. That deci­sion came after a year-long grass­roots cam­paign that pres­sured union lead­ers, gov­ern­ment offi­cials and fed­er­al leg­is­la­tors to block the cuts.
The oth­er shoe dropped in favor of the pen­sion­ers May 20, when Cen­tral States offi­cials announced they would not re-apply for per­mis­sion to impose cuts (as was their option under the new Mul­ti­em­ploy­er Pen­sion Reform Act of 2014, but instead seek a leg­isla­tive solu­tion to its long-term finan­cial prob­lems less harm­ful to the pensioners.
"It's a great win. It's sur­pris­ing," because of strong pres­sure to approve the Cen­tral States plan, says Karen Fried­man, exec­u­tive direc­tor of the Wash­ing­ton, D.C.-based Pen­sion Rights Cen­ter. Fried­man cred­it­ed an effec­tive media rela­tions effort and con­stituent-con­tact cam­paign from grass-roots retiree groups in Ohio, Wis­con­sin, Michi­gan, and else­where, for block­ing the cuts.
Cen­tral States Exec­u­tive Direc­tor Thomas Nyhan acknowl­edged the pow­er of the con­stituent-con­tact lob­by­ing effort in his let­ter to retirees:
A sig­nif­i­cant num­ber of Mem­bers of Con­gress were vocal in call­ing for Trea­sury to reject our pen­sion res­cue plan. It is now time for those and oth­ers who sug­gest­ed that there is a bet­ter way to fix this crit­i­cal prob­lem to deliv­er on real solu­tions that will pro­tect the retire­ment ben­e­fits of Cen­tral States participants….

In the com­ing months, we will do every­thing in our pow­er to sup­port a leg­isla­tive solu­tion that pro­tects the pen­sion ben­e­fits of the more than 400,000 Cen­tral States par­tic­i­pants and ben­e­fi­cia­ries, who should not have to bear the emo­tion­al trau­ma of wait­ing until the Fund is at the doorstep of insol­ven­cy before Con­gress acts.
But the deci­sions last month from the Trea­sury Depart­ment and Cen­tral States ​"doesn't mean it's over," Fried­man cautions.
As ref­er­enced in the Nyhan let­ter, atten­tion is turn­ing now to alter­nate ways of deal­ing with the long-term finan­cial prob­lems of the Cen­tral States fund, which will run out of mon­ey in about 10 years unless a new source of income can be found, or exist­ing ben­e­fits are cut. Specif­i­cal­ly, Fried­man says, that means craft­ing a leg­isla­tive solu­tion that can earn the sup­port of both Repub­li­cans and Democ­rats in Congress.
A start­ing point is the Keep our Pen­sion Promis­es Act (KOP­PA), a piece of leg­is­la­tion authored last year by Sen. Bernie Sanders (I‑Vt.) and Rep. Mar­cy Kap­tur (D‑Ohio). That bill, which has been endorsed by Team­sters Pres­i­dent James Hof­fa, would elim­i­nate some tax loop­holes for wealthy indi­vid­u­als with the income to be used to restore the pen­sion plan to finan­cial health.
But KOP­PA is prob­lem­at­ic for the union retirees, accord­ing to Bob Ams­den, a retired truck­er who leads the grass-roots Wis­con­sin Com­mit­tee to Pro­tect Pen­sions. While the bill has gained strong sup­port from pro-labor Democ­rats in Con­gress, the bill has almost no sup­port from the Repub­li­cans who have major­i­ty con­trol of both the Sen­ate and the House of Rep­re­sen­ta­tives, he says.
"Obvi­ous­ly we are going to have make some impor­tant changes to KOP­PA if we are going to have any chance at all of get­ting it passed," Ams­den com­ments. ​"I don't think any­body can say right now what those changes will be, but we need to get work­ing on it soon­er rather than later."
Fried­man of the Pen­sion Rights Cen­ter agrees. Con­ser­v­a­tive Repub­li­cans gen­er­al­ly oppose any reduc­tion of tax ben­e­fits to wealthy indi­vid­u­als, so an alter­nate fund­ing mech­a­nism must be found, she says. Refer­ring to the auto com­pa­ny bailout of 2009, she com­ments that ​"We did it for Detroit, so there is no rea­son why we can't do some­thing sim­i­lar here."
Although the action by the Trea­sury Depart­ment removes some of the urgency to an imme­di­ate leg­isla­tive solu­tion, the prob­lem ​"is not going to go away" and ​"there is no rea­son to delay seri­ous nego­ti­a­tion over how to craft the bill," she adds.
Bruce Vail
is a Bal­ti­more-based free­lance writer with decades of expe­ri­ence cov­er­ing labor and busi­ness sto­ries for news­pa­pers, mag­a­zines and new media. He was a reporter for Bloomberg BNA's Dai­ly Labor Report, cov­er­ing col­lec­tive bar­gain­ing issues in a wide range of indus­tries, and a mar­itime indus­try reporter and edi­tor for the Jour­nal of Com­merce, serv­ing both in the newspaper's New York City head­quar­ters and in the Wash­ing­ton, D.C. bureau.