Teamsters Back School Bus Drivers in Fight Against 'Rampant' Wage Theft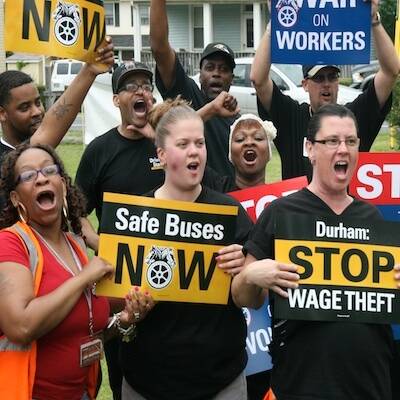 We wanted to make sure you didn't miss the announcement of our new Sustainer program. Once you've finished reading, take a moment to check out the new program, as well as all the benefits of becoming a Sustainer.

ROSEDALE, MD. — More than 350 Baltimore-area bus drivers are preparing to celebrate victory in a $1.25 million wage theft case against Durham School Services, an Illinois-based bus-contracting company with operations across much of the country.
The case, which covers the employees at Durham between March 2010 and September 2013, reflects a troubling national trend of companies cheating workers out of their earnings. ​"Wage theft is a huge problem, and it's outrageous," says Andrew Freeman, one of the attorneys at Brown Goldstein Levy, the Baltimore-based firm that filed the suit against Durham last year. In their suit, the plaintiffs accused the company of failing to pay employees for overtime work such as bus inspections, bus cleanings, fueling, and other related tasks.
The settlement of the U.S. District Court case should be finalized April 4, with distribution of the stolen wage money following immediately afterward, says Moe Jackson, a union organizer for International Brotherhood of Teamsters Local 570. For almost two years, the local has been trying to organize the drivers and aides at Rosedale, Jackson says, where employees are also bristling over low pay, substandard benefits and overbearing management practices. The Teamsters initiated the wage theft case on behalf of the workers, officers say, as a step in the unionizing process.
At Rosedale, Durham operates under a contract with Baltimore City Public Schools, but its business extends to more than 30 U.S. states, according to company spokesperson Molly Hart. As of the 2013 – 2014 school year, Durham, a subsidiary of the U.K.-based National Express Group, employs more than 18,000 workers to transport about one million school kids on 17,000 vehicles.
And many of those workers are dissatisfied with the company, says Deputy Organizing Director Kim Keller. The Baltimore case comes as part of a broader Teamsters campaign to bring school bus drivers from all over the country into the union. Teamster organizers have been active in some 20 Durham work sites over the last two years, according to Keller, and there are widespread complaints of wage theft throughout. ​"I would say [the practice] is rampant," she says.
For example, more than 3,000 Durham school bus workers in California won about $7 million of lost overtime wages in a 2011 class-action suit against the company.
Keller says Teamster organizers have also heard complaints from employees in Pennsylvania, South Carolina, Florida, Illinois and elsewhere. Based on these reports, Durham could be liable for ​"hundred of millions of dollars" in similar payments at its other bus yards, Keller estimates.
​"It's their practice everywhere … Nearly every Durham yard where we talk to the people, there is a problem," with workers forced to work without pay, she reports.
In addition to the controversy over lost earnings, Keller says, relations have been tense between the company and employees around a host of other issues. Last month in Pennsylvania, for example, the York Daily Record reported that Teamsters Local 776 voted to authorize a strike in the Spring Grove school district, based on management's slow progress in renewing an expired collective bargaining agreement. Similarly, Keller says, frustration is mounting among Teamster supporters in Santa Rosa County, Fla., thanks to Durham's efforts to fight certification of a successful union election there more than a year ago. And in suburban Charleston, S.C., Durham recently brought legal action against the union in a dispute over the company's use of non-union workers.
But organizing the unhappy workers still hasn't been easy everywhere. On the streets of Baltimore, for instance, Jackson reports that forming a union for the local Durham bus workers has been a tough slog. When Rosedale employees approached the Teamsters for help organizing in 2012, the union quickly amassed support, he says. Local 570 called for an election last year to cover the then-152 drivers and aides at the Rosedale yard, according to Jackson, but fell short by 13 votes in National Labor Relations Board-supervised voting in May 2013. The local attempted to have the election set aside on allegations of improper anti-union tactics by Durham managers, but those failed; Jackson says the union is now aiming for a new election in the fall.
In the meantime, the 350 former or current workers at the Rosedale yard can take some comfort in the checks they will be receiving for lost wage payments, according to Freeman. Though the payments will vary widely from individual to individual, all are closely calculated to represent 110 percent of each employee's wages lost during a 31-month period in 2010 – 2013, he says. That adds up to $1 million, Freeman says, with the remaining $250,000 going to the law firm. Durham spokesperson Hart tells In These Times that the company has no comment on the Baltimore settlement at this time.
​"We work hard and don't make a lot of money to begin with," Rosedale driver Martin Fox commented in a union press statement. ​"For many of us, the pay we didn't receive was the difference between being able to pay the electric bill and having food on the table for our families. We are glad to finally win back the pay that was stolen from us."
Be a Sustainer
We surveyed thousands of readers and asked what they would like to see in a monthly giving program. Now, for the first time, we're offering three different levels of support, with rewards at each level, including a magazine subscription, books, tote bags, events and more—all starting at less than 17 cents a day. Check out the new Sustainer program.
Bruce Vail
is a Baltimore-based freelance writer with decades of experience covering labor and business stories for newspapers, magazines and new media. He was a reporter for Bloomberg BNA's Daily Labor Report, covering collective bargaining issues in a wide range of industries, and a maritime industry reporter and editor for the Journal of Commerce, serving both in the newspaper's New York City headquarters and in the Washington, D.C. bureau.