Teamsters Back School Bus Drivers in Fight Against 'Rampant' Wage Theft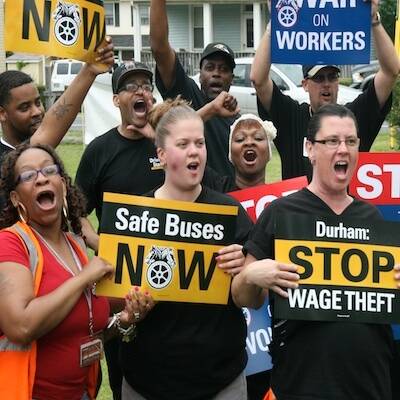 ROSEDALE, MD. — More than 350 Bal­ti­more-area bus dri­vers are prepar­ing to cel­e­brate vic­to­ry in a $1.25 mil­lion wage theft case against Durham School Ser­vices, an Illi­nois-based bus-con­tract­ing com­pa­ny with oper­a­tions across much of the country.
The case, which cov­ers the employ­ees at Durham between March 2010 and Sep­tem­ber 2013, reflects a trou­bling nation­al trend of com­pa­nies cheat­ing work­ers out of their earn­ings. ​"Wage theft is a huge prob­lem, and it's out­ra­geous," says Andrew Free­man, one of the attor­neys at Brown Gold­stein Levy, the Bal­ti­more-based firm that filed the suit against Durham last year. In their suit, the plain­tiffs accused the com­pa­ny of fail­ing to pay employ­ees for over­time work such as bus inspec­tions, bus clean­ings, fuel­ing, and oth­er relat­ed tasks.
The set­tle­ment of the U.S. Dis­trict Court case should be final­ized April 4, with dis­tri­b­u­tion of the stolen wage mon­ey fol­low­ing imme­di­ate­ly after­ward, says Moe Jack­son, a union orga­niz­er for Inter­na­tion­al Broth­er­hood of Team­sters Local 570. For almost two years, the local has been try­ing to orga­nize the dri­vers and aides at Rosedale, Jack­son says, where employ­ees are also bristling over low pay, sub­stan­dard ben­e­fits and over­bear­ing man­age­ment prac­tices. The Team­sters ini­ti­at­ed the wage theft case on behalf of the work­ers, offi­cers say, as a step in the union­iz­ing process.
At Rosedale, Durham oper­ates under a con­tract with Bal­ti­more City Pub­lic Schools, but its busi­ness extends to more than 30 U.S. states, accord­ing to com­pa­ny spokesper­son Mol­ly Hart. As of the 2013 – 2014 school year, Durham, a sub­sidiary of the U.K.-based Nation­al Express Group, employs more than 18,000 work­ers to trans­port about one mil­lion school kids on 17,000 vehicles.
And many of those work­ers are dis­sat­is­fied with the com­pa­ny, says Deputy Orga­niz­ing Direc­tor Kim Keller. The Bal­ti­more case comes as part of a broad­er Team­sters cam­paign to bring school bus dri­vers from all over the coun­try into the union. Team­ster orga­niz­ers have been active in some 20 Durham work sites over the last two years, accord­ing to Keller, and there are wide­spread com­plaints of wage theft through­out. ​"I would say [the prac­tice] is ram­pant," she says.
For exam­ple, more than 3,000 Durham school bus work­ers in Cal­i­for­nia won about $7 mil­lion of lost over­time wages in a 2011 class-action suit against the company.
Keller says Team­ster orga­niz­ers have also heard com­plaints from employ­ees in Penn­syl­va­nia, South Car­oli­na, Flori­da, Illi­nois and else­where. Based on these reports, Durham could be liable for ​"hun­dred of mil­lions of dol­lars" in sim­i­lar pay­ments at its oth­er bus yards, Keller estimates.
​"It's their prac­tice every­where … Near­ly every Durham yard where we talk to the peo­ple, there is a prob­lem," with work­ers forced to work with­out pay, she reports.
In addi­tion to the con­tro­ver­sy over lost earn­ings, Keller says, rela­tions have been tense between the com­pa­ny and employ­ees around a host of oth­er issues. Last month in Penn­syl­va­nia, for exam­ple, the York Dai­ly Record report­ed that Team­sters Local 776 vot­ed to autho­rize a strike in the Spring Grove school dis­trict, based on management's slow progress in renew­ing an expired col­lec­tive bar­gain­ing agree­ment. Sim­i­lar­ly, Keller says, frus­tra­tion is mount­ing among Team­ster sup­port­ers in San­ta Rosa Coun­ty, Fla., thanks to Durham's efforts to fight cer­ti­fi­ca­tion of a suc­cess­ful union elec­tion there more than a year ago. And in sub­ur­ban Charleston, S.C., Durham recent­ly brought legal action against the union in a dis­pute over the company's use of non-union workers.
But orga­niz­ing the unhap­py work­ers still has­n't been easy every­where. On the streets of Bal­ti­more, for instance, Jack­son reports that form­ing a union for the local Durham bus work­ers has been a tough slog. When Rosedale employ­ees approached the Team­sters for help orga­niz­ing in 2012, the union quick­ly amassed sup­port, he says. Local 570 called for an elec­tion last year to cov­er the then-152 dri­vers and aides at the Rosedale yard, accord­ing to Jack­son, but fell short by 13 votes in Nation­al Labor Rela­tions Board-super­vised vot­ing in May 2013. The local attempt­ed to have the elec­tion set aside on alle­ga­tions of improp­er anti-union tac­tics by Durham man­agers, but those failed; Jack­son says the union is now aim­ing for a new elec­tion in the fall.
In the mean­time, the 350 for­mer or cur­rent work­ers at the Rosedale yard can take some com­fort in the checks they will be receiv­ing for lost wage pay­ments, accord­ing to Free­man. Though the pay­ments will vary wide­ly from indi­vid­ual to indi­vid­ual, all are close­ly cal­cu­lat­ed to rep­re­sent 110 per­cent of each employee's wages lost dur­ing a 31-month peri­od in 2010 – 2013, he says. That adds up to $1 mil­lion, Free­man says, with the remain­ing $250,000 going to the law firm. Durham spokesper­son Hart tells In These Times that the com­pa­ny has no com­ment on the Bal­ti­more set­tle­ment at this time.
​"We work hard and don't make a lot of mon­ey to begin with," Rosedale dri­ver Mar­tin Fox com­ment­ed in a union press state­ment. ​"For many of us, the pay we didn't receive was the dif­fer­ence between being able to pay the elec­tric bill and hav­ing food on the table for our fam­i­lies. We are glad to final­ly win back the pay that was stolen from us."
Bruce Vail
is a Bal­ti­more-based free­lance writer with decades of expe­ri­ence cov­er­ing labor and busi­ness sto­ries for news­pa­pers, mag­a­zines and new media. He was a reporter for Bloomberg BNA's Dai­ly Labor Report, cov­er­ing col­lec­tive bar­gain­ing issues in a wide range of indus­tries, and a mar­itime indus­try reporter and edi­tor for the Jour­nal of Com­merce, serv­ing both in the newspaper's New York City head­quar­ters and in the Wash­ing­ton, D.C. bureau.