Teamster Retirees' Campaign Against Pension Cuts Draws Support from Bernie Sanders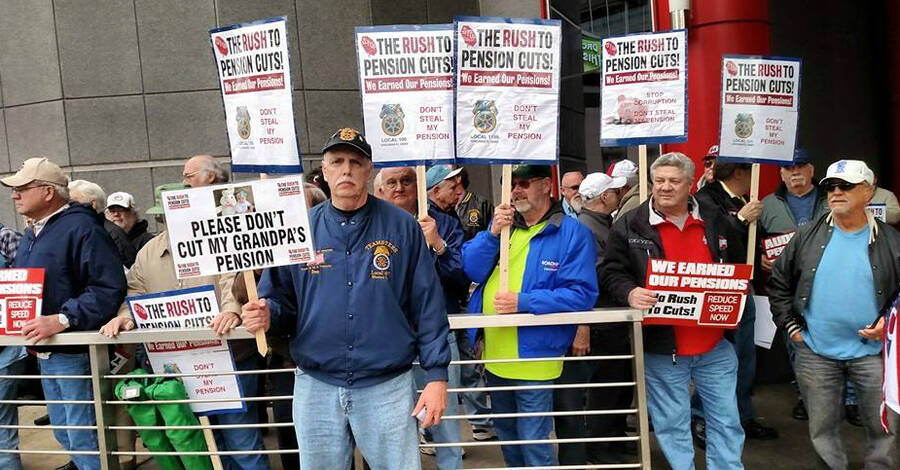 Less than six months after get­ting start­ed, a grass­roots cam­paign among Team­sters union retirees to pro­tect their pen­sions appears to be pick­ing up steam, attract­ing the sup­port of pres­i­den­tial can­di­date Bernie Sanders and threat­en­ing to influ­ence the out­come of the union's own lead­er­ship elec­tions next year.
The retirees are demon­strat­ing in the streets and bar­rag­ing mem­bers of Con­gress in out­rage over a slow-mov­ing plan to cut their pen­sion ben­e­fits. Such cuts were autho­rized by spe­cial leg­is­la­tion — the Mul­ti­em­ploy­er Pen­sion Reform Act of 2014 (MPRA) — passed by Con­gress and signed into law by Pres­i­dent Barack Oba­ma late last year. One leader of the cam­paign against the cuts esti­mates that thou­sands of union retirees could see their pen­sion slashed by as much a 30 per­cent by the end of this year.
The cam­paign against cuts has seen ​"a big change in the six months since we start­ed," says Bob Ams­den, a retired truck dri­ver from the Mil­wau­kee area. Since orga­niz­ing work began in Jan­u­ary, some 23 local com­mit­tees of pen­sion­ers have been formed across the Mid­west, he says. The work has been strong­ly sup­port­ed by the union reform orga­ni­za­tion Team­sters for a Demo­c­ra­t­ic Union, he adds, as well as by the Wash­ing­ton, D.C.-based Pen­sion Rights Cen­ter. Some sup­port is also build­ing in Con­gress to repeal the new pen­sion law.
In the high­est-pro­file action yet, Sen. Bernie Sanders (Inde­pen­dent-Vt.) held a press con­fer­ence June 18 to intro­duce repeal legislation.
"If we do not repeal this dis­as­trous law, retirees all over this coun­try could see their pen­sions cut by 30 per­cent or more. We can­not let that hap­pen. Instead of ask­ing retirees to take a mas­sive cut in their pen­sion ben­e­fits, we can make these plans sol­vent by clos­ing egre­gious loop­holes that allow the wealth­i­est Amer­i­cans in this coun­try to avoid pay­ing their fair share of tax­es," Sanders said.
The Sanders repeal bill was imme­di­ate­ly endorsed by the elect­ed lead­ers of the Team­sters and the Inter­na­tion­al Asso­ci­a­tion of Machin­ists and Aero­space Work­ers (IAM).
IAM spokesper­son Frank Larkin tells In These Times that the Machin­ists ​"were one of the loud­est oppo­nents" of the pen­sion bill last year and will con­tin­ue its oppo­si­tion now by sup­port­ing the Sanders bill. ​"This law should be the con­cern of every union. When you open this door [to large pen­sion cuts], we are all at risk," he says.
The imme­di­ate threat to union retirees like Ams­den is that the new law will be used to autho­rize cuts from the finan­cial­ly trou­bled Cen­tral States Pen­sion Fund, a joint labor-man­age­ment orga­ni­za­tion that admin­is­ters pen­sions on behalf of more than 400,000 Team­ster mem­bers and retirees. The MPRA law allows such cuts from any union pen­sion fund, sub­ject to gov­ern­ment approval, if pen­sion admin­is­tra­tors can demon­strate that the fund is in dan­ger of insol­ven­cy unless the cuts are made. Offi­cials of Cen­tral States have made clear that the fund faces pre­cise­ly this kind of dan­ger and that cuts may be coming.
Rec­og­niz­ing the polit­i­cal sen­si­tiv­i­ty of the issue, the Oba­ma admin­is­tra­tion took steps in June to deflect any poten­tial crit­i­cism. Trea­sury Sec­re­tary Jack Lew announced June 17 that he is appoint­ing New York lawyer Ken­neth Fein­berg to over­see any pen­sion cuts to ensure there is a ​"bal­anced process" in deter­min­ing which retirees suf­fer. Fein­berg became promi­nent a decade ago as admin­is­tra­tor for claims by the vic­tims of the 9⁄11 ter­ror­ist attacks, and more recent­ly played a promi­nent role in award­ing com­pen­sa­tion claims in the Deep­wa­ter Hori­zon oil spill dis­as­ter and the Gen­er­al Motors igni­tion switch scandal.
Fein­berg may well become the light­ning rod for crit­i­cism as the process move for­ward. Ams­den tells In These Times that his group is agi­tat­ing for a Con­gres­sion­al hear­ing, or a Con­gres­sion­al inves­ti­ga­tion, into the Cen­tral States Fund. Con­gress should look espe­cial­ly at lav­ish com­pen­sa­tion to fund admin­is­tra­tors and extrav­a­gant fees to finan­cial advis­ers, he says, so that improp­er pay­ments can be retrieved to ben­e­fit pen­sion­ers. Meet­ings with Sen. Ron John­son (R‑Wisc.) give him hope that the Sen­ate will hold hear­ings, Ams­den says.
Mean­while, the poten­tial pen­sion cuts are emerg­ing as an issue in the inter­nal Team­sters pres­i­den­tial elec­tion set for next year, Ams­den continues.
A major chal­lenge to incum­bent union Pres­i­dent Jim Hof­fa is already under­way by Tim Sylvester, pres­i­dent of Team­sters Local 804 in New York. The Sylvester cam­paign — also backed by Team­sters for a Demo­c­ra­t­ic Union — is cur­rent­ly col­lect­ing sig­na­tures from union mem­bers so the can­di­date and his slate can be accred­it­ed as offi­cial oppo­nents of the incum­bent administration.
Some of the pen­sion activists are ral­ly­ing to Sylvester's sup­port, Ams­den says, because they feel that Hof­fa did not do enough to pro­tect pen­sions when the MPRA leg­is­la­tion was being con­sid­ered last year. Retirees do not have the right to vote in union elec­tions, ​"but that doesn't mean we can't cam­paign," he says. And many Team­sters who can vote are just as con­cerned about their pen­sions as the retirees, he adds.
"They're scared" that the pen­sion issue will hurt their chances for re-elec­tion, accord­ing to Ams­den, refer­ring to Hof­fa and oth­er elect­ed union leaders.
The IAM is a spon­sor of In These Times. Spon­sors have no role in edi­to­r­i­al content.
Bruce Vail
is a Bal­ti­more-based free­lance writer with decades of expe­ri­ence cov­er­ing labor and busi­ness sto­ries for news­pa­pers, mag­a­zines and new media. He was a reporter for Bloomberg BNA's Dai­ly Labor Report, cov­er­ing col­lec­tive bar­gain­ing issues in a wide range of indus­tries, and a mar­itime indus­try reporter and edi­tor for the Jour­nal of Com­merce, serv­ing both in the newspaper's New York City head­quar­ters and in the Wash­ing­ton, D.C. bureau.