Tech Workers Combat Offshoring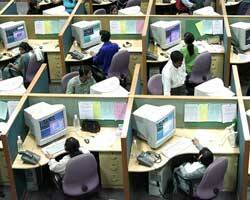 Seattle, Washington
—"Tech workers thought that they were going to be the winners in building the bridge to the 21st Century, but now they see that they're being pushed off that bridge without lifejackets," says Marcus Courtney, president of the Washington Alliance of Technology Workers.
Since the dot-com bubble burst in March 2000, at least 800,000 high-tech jobs have been lost nationwide. Between February 2001 and April 2002, the Seattle area alone lost 10,000 of these jobs, sending local unemployment rates among data processors and computer programmers shooting to nearly 11 percent.
The IT sector has blamed those losses on the implosion of the New Economy, and the Bush administration has argued that jobs will return as the economy rebounds. But it's now apparent that offshoring by technology companies threatens any long-term recovery of high-tech U.S. jobs. According to a September 2003 University of Illinois study commissioned by the Ford Foundation, Washington's technology sector is unlikely to regain 2000 employment levels until 2012.
"When we see that Dell has 5,500 customer and tech support workers in India, we realize that they didn't do that in a year," Courtney says. "These companies have been doing this for years, and it's gone unnoticed until now."
A December 2003 Commerce Department report confirmed that increasing numbers of technology jobs are moving from the United States to offshore spots including India, Ireland, the Philippines and China. In July 2003, for instance, IBM acknowledged that it was speeding up its schedule to shift 3 million service jobs to China and India. Microsoft Senior Vice President Brian Valentine admitted in a July 2002 presentation that work could be had in India at "two heads for the price of one." AT&T Wireless and Boeing are among other large-scale operations known to be shifting IT labor pools from Washington State to India and other low-cost countries. Even state agencies, including the departments of corrections and social and health services, are outsourcing to offshore computer programmers.
But WashTech, the nation's first non-company-specific union of IT workers, is battling back. With a 16,000-person strong electronic network of subscribers to their action alerts and newsletters, the union—a Seattle-based affiliate of the Communication Workers of America (CWA)— has launched a Web-based campaign to pressure state and federal governments to enact restrictions on the number of jobs moving overseas.
Leading technology companies have been quick to respond with a campaign of their own. In early January, they urged Congress and the Bush administration to resist imposing proposed federal and state trade restrictions aimed at lessening corporate reliance on offshore operations. Carly Fiorina, chief executive for Hewlett-Packard Co., was quoted by the Associated Press as saying there "is no job that is America's God-given right anymore."
The battle has taken on David and Goliath proportions, because IT employees are among the least organized and least labor-activist minded workers in the nation. WashTech's membership, for instance, has grown substantially since its inception but still remains under 400.
However, WashTech leadership points out that even the small numbers matter because they represent the first time that labor has made inroads into the ranks of white-collar high-tech workers. The ongoing challenge, admits organizer Karole Gorman, is to make IT workers, who have typically had no exposure to American unions, realize that collective organizing has a place in their work world. With outreach from WashTech, these specialists have begun to grasp that they are being exploited—that working non-overtime 16-hour days is not a fair exchange for in-house arcade rooms, free junk food and the "right" to battle each other with Nerf guns throughout the day.
High-tech union organizing has been a particular challenge because the burgeoning IT sector was a cornerstone of the Emerald City's phenomenal Continued on page 52
economic growth throughout the '90s, providing a welcome buffer to the slow but steady decline of staple industries: manufacturing, aerospace and the region's once abundant natural resources. But even then, the prevalent and unregulated use of non-benefit-earning contract workers at companies like Microsoft—a phenomenon known as "permatemping"—led to the 1998 creation of WashTech. The union rallied Microsoft's permatemps to secure jobs and benefits, organized Amazon.com workers to receive better severance packages when their jobs were outsourced to another state, and supported the creation of Alliance@IBM, another CWA-affiliated union of employees, contractors and temps at the multinational high-tech corporation.
WashTech now is spreading nationwide, attracting members like New York-based Judy Tarasek, recently elected the union's membership chair who will coordinate outreach to tech workers in New York City and other IT hubs across the nation. Tarasek, who has worked in the IT sector for 23 years, lost her last consulting position when it was outsourced after being told that she was "making too much money."
"Quite frankly, everyone is on pins and needles," she says. "They know that they might be the next to be laid off. And they are right to be afraid."
Be one of the first
Help kick off the new era of In These Times! Without a media that brings people together and creates a written record of the struggles of workers, their voices will be fragmented and forgotten.
The mission of In These Times is to be that written record, and to guide and grow those movements.
We have a lot of work ahead of us, and that work starts today. Early support is the most valuable support, and that's why we're asking you to pitch in now. If you are excited for this new era of In These Times, please make a donation today.
Silja J.A. Talvi
, a senior editor at In These Times, is an investigative journalist and essayist with credits in many dozens of newspapers and magazines nationwide, including The Nation, Salon, Santa Fe Reporter, Utne, and the Christian Science Monitor.