An Ominous Quiet Descends On RG Steel's Troubled Mills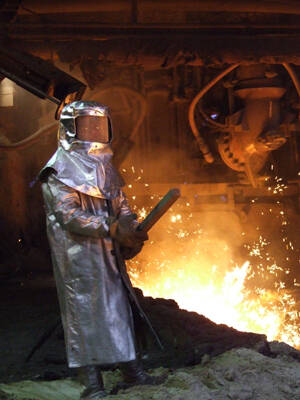 BALTIMORE — Layoffs began in earnest this week at the Sparrows Point steel mill here, following a bankruptcy court filing late last week by owner RG Steel. All but a handful of the mill's 2,000 workers expect to be idled in the coming days, as the company's owners and bankers search for potential buyers.
A similar scenario is playing out in Wheeling, W. Va., and Warren, Ohio, where RG Steel also owns aging and troubled steel production plants. Another 2,000 workers at those two sites are to be laid off indefinitely, and are being provided no information on when, if ever, the plants will be re-opened.
It's a time of stress, strain and uncertainty for the workers, their families, and their entire communities. RG Steel's owners and bankers are tight-lipped, while union representatives and local elected officials are powerless to provide any meaningful assurances about the future. Workers are being asked to wait patiently, while the fate of their livelihoods is decided by financiers and steel moguls.
RG Steel did disclose on June 1 that it hoped to sell the plants to unidentified buyers by a self-imposed deadline of July 28. (The disclosure was made not to employees, but to a bankruptcy court judge in Delaware.) Observers cautioned, however, that a stalled steel market and the particular features of the three aging plants means there is no guarantee that a buyer will be found, either in this country or elsewhere.
For the United Steelworkers (USW) — which represents about 3,500 of RG Steel's 4,000 employees — the situation is a ghastly repeat of recent history. Back in 2010, the same mills faced similar economic and operational problems under a previous owner, the Russian industrial conglomerate Severstal. Faced with closure at that time, USW officials, led by District 1 Director David McCall, helped negotiate an emergency sale to Ira Rennert, a billionaire financier who created RG Steel for the purpose of completing the deal.
USW spokesman Tony Montana says the union is unable to comment on prospects for the future. A ​"Membership Update" published June 1 said only that union contracts will remain in effect while the union helps RG Steel find a buyer, or buyers, for the company's assets.
The lack of hard information forced Baltimore Sun reporter Jamie Smith Hopkins this week to head for Micky's Bar on North Point Boulevard, just outside the main gate of the massive Sparrows Point steel complex. But at the watering hole for workers finishing their shifts at the mill, the reporter learned little. According to her story, RG Steel employee Tyrone Sharpe summed it all up by saying, ​"Everybody's just in limbo."
This lack of communication with workers — or with the larger community in Maryland and elsewhere — is one of the reasons behind RG Steel's troubles, according to Mark Reutter, journalist and author of an excellent book on the history of the steel plant. His book, Making Steel: Sparrows Point and the Rise and Ruin of American Industrial Might, traced the role of steel manufacturing in the industrialization, and de-industrialization, of the Baltimore area since the plant opened in 1890.
Reutter's book was first published in 1988 and, as the title indicated, the signs of decline at Sparrows Point were already evident then. More recently, he has been reporting on developments at the mill for Baltimore Brew, a local blog that offers an eclectic mix of reportage on urban affairs. Just days before RG Steel's bankruptcy filing, he posted a scorching story laying out some of the reasons for the company's troubles, including the role of absentee landlord Ira Rennert. Reutter's analysis cast doubt on whether Sparrows Point will ever re-open after the closure this week.
If the RG Steel plants are permanently closed, it will have a significant effect of steel manufacturing employment in the United States, according to the federal Bureau of Labor Statistics (BLS). A 2011 report from BLS pegged total steel manufacturing jobs in the country at 89,970, with about half of that number in the ​"production occupations" category that includes most of RG Steel workers. That number is a huge decline from 192,360 steel-making jobs reported by BLS in 2001.
Bruce Vail
is a Baltimore-based freelance writer with decades of experience covering labor and business stories for newspapers, magazines and new media. He was a reporter for Bloomberg BNA's Daily Labor Report, covering collective bargaining issues in a wide range of industries, and a maritime industry reporter and editor for the Journal of Commerce, serving both in the newspaper's New York City headquarters and in the Washington, D.C. bureau.