To the Texas GOP, "Freedom of Choice" During a Pandemic Means the Freedom to Die for Profit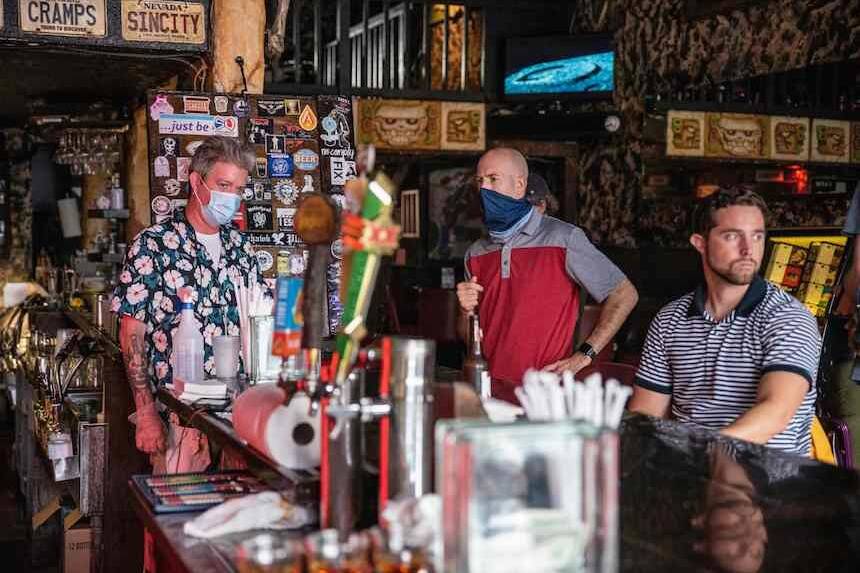 In Texas, we now have the dubi­ous dis­tinc­tion of hav­ing joined the six oth­er states with over 100,000 COVID-19 cas­es. In Texas, like in many oth­er GOP con­trolled states, our Gov­er­nor and Lt. Gov­er­nor took their cues on how to respond to COVID-19, not from health experts but from the polit­i­cal whims of Don­ald Trump, who proved to have a ques­tion­able grasp on how the dis­ease worked when he sug­gest­ed inject­ing dis­in­fec­tant and using UV light to cure patients of COVID-19.
Today in Texas, thou­sands of new cas­es are being report­ed dai­ly. Hos­pi­tals in Hous­ton and across the state are at near capac­i­ty. Adult COVID-19 patients are being trans­ferred to Texas children's hos­pi­tals to meet the explod­ing health­care cri­sis in Har­ris Coun­ty, the state's most pop­u­lous region. On June 26, Gov. Greg Abbott ® was forced to backpedal on his promise that Texas was going to remain ​"wide open for busi­ness." And he shut-down bars and reduced seat­ing at restau­rants, just five weeks after he allowed them to reopen.
I am lucky. I'm able to keep work­ing from home, but both of my par­ents have lost their reg­u­lar income and are strug­gling to get by in the new COVID-19 real­i­ty. Before COVID-19 my par­ents lived below the pover­ty line. My 62 year-old dia­bet­ic mom, who doesn't have more than a ninth grade edu­ca­tion, worked as a Span­ish lan­guage inter­preter at a hos­pi­tal. When COVID-19 began spread­ing, she quit her job. For her going to work lit­er­al­ly became a life or death choice. My dad ran a small fair trade busi­ness sell­ing jew­el­ry from Mex­i­co, last year he per­son­al­ly made $18,000. Now, both my par­ents get their food from local pantries and food banks.
Yet, my life did change dra­mat­i­cal­ly post COVID-19, because two weeks before Texas shut down on March 19, I was criss­cross­ing the state run­ning as a pro­gres­sive in the Demo­c­ra­t­ic pri­ma­ry for the Sen­ate, talk­ing to vot­ers about the eco­nom­ic pain they were already liv­ing before COVID-19 (in a 12-way race I missed mak­ing it into the run off by 1.5%)
As an orga­niz­er and pro­gres­sive, I have spent near­ly two decades try­ing to dis­rupt the Right's nar­ra­tive and grip on pow­er. Today, I see the cracks in GOP phi­los­o­phy turn­ing into dis­as­trous fault lines.
Texas Repub­li­can lead­ers are strug­gling to deal with the real­i­ty of an oppo­nent that their statewide pow­er can't seem to beat into sub­mis­sion. Unable to hide from the hard facts about how quick­ly the dis­ease is spread­ing, Gov. Abbott acknowl­edged in a leaked record­ing, ​"When­ev­er you have a reopen­ing… it actu­al­ly leads to an increased spread."
The pan­dem­ic is prov­ing to be the great­est polit­i­cal oppo­nent Repub­li­cans in the state have con­front­ed in over 30 years. It chal­lenges not only the GOP's polit­i­cal pow­er, it reveals the fail­ure of their growth-at-all costs eco­nom­ic mod­el. To pre­serve that mod­el, and by exten­sion the sta­tus quo, Texas Repub­li­cans have fought off any envi­ron­men­tal or work­ers' rights reg­u­la­tions and hand­ed out huge tax give­aways to some of the largest cor­po­ra­tions in the world.
Texas Repub­li­cans were unable to with­stand the pres­sure of an on-going clo­sure that had eco­nom­ic con­se­quences for their deep pock­et­ed donors who demand­ed and received a hasty reopen­ing. Repub­li­can elect­ed offi­cials had a choice: Sup­port mas­sive gov­ern­ment inter­ven­tion and dra­mat­i­cal­ly expand the social safe­ty net (includ­ing uni­ver­sal paid sick leave, increased unem­ploy­ment ben­e­fits, and a mora­to­ri­um on rent and mort­gage col­lec­tion), or reopen ear­ly and risk­ing the well-being of mil­lions of Tex­ans. They chose the latter.
With­in three weeks of Texas' March shut down, Lt. Gov. Dan Patrick called for Texas to reopen, say­ing, ​"lots of grand­par­ents" were will­ing to die to save the econ­o­my. (Patrick came to promi­nence in Texas as a right wing radio host, where he famous­ly had his own vasec­to­my per­formed live on air.) A month lat­er he told his friends at Fox News that Texas should reopen its econ­o­my imme­di­ate­ly. ​"There are more impor­tant things than liv­ing," he said. Prof­its, per chance?
Gov. Abbott likes to present him­self as more state­ly and mea­sured, but ever care­ful not to offend the Texas GOP's hard­core con­ser­v­a­tive base, he has twist­ed him­self into knots in an effort to not be seen man­dat­ing changes in people's behav­ior — lest he have to admit that gov­ern­ment reg­u­la­tion could actu­al­ly do good.
Texas was one of the first states to reopen. With a pop­u­la­tion of 29 mil­lion peo­ple, and the sec­ond largest econ­o­my in the coun­try, the deci­sion by Abbott to reopen put pres­sure on oth­er gov­er­nors to fol­low course. And this gave cov­er to Trump, who said, ​"I rely on his [Abbott's] judgment."
Des­per­ate for polit­i­cal cov­er, ner­vous Texas Repub­li­cans cap­i­tal­ized on the sto­ry of Dal­las hair salon own­er Shel­ley Luther, who refused to keep her salon closed and through cheers at a ​"Open Texas" ral­ly in North Texas tore up a cease-and-desist let­ter issued to her by Coun­ty offi­cials to keep her salon closed.
Luther was briefly jailed and became a cause célèbre for right wingers. Right wing voic­es com­pared Luther to Rosa Parks. On the polit­i­cal left, her actions were seen as self­ish for putting her com­mu­ni­ty at risk of dying sim­ply for try­ing to prove a point.
They high­light­ed the Astro­Turf protests whose par­tic­i­pants, some of whom were heav­i­ly armed, took pride in refus­ing to wear masks and chant­ed ​"Fire Fau­ci." In Michi­gan the group lead­ing the protests against Gov. Gretchen Whit­mer (D) was fund­ed by Edu­ca­tion Sec­re­tary Bet­sy DeVos and her hus­band Dick.
The protests were pro­mot­ed by, no oth­er than Alex Jones, the Infowars con­spir­a­cy the­o­rist and anti-mask zealot, who claims COVID-19 is a hoax — a hoax he invest­ed in. The Food and Drug Admin­is­tra­tion CDC has warned Jones to stop sell­ing sil­ver-laced prod­ucts as cures for a dis­ease that appar­ent­ly Jones believes is relat­ed to vampirism.
Left out of the debate in Texas has been the dis­pro­por­tion­ate impact on Black and Brown com­mu­ni­ties — where mil­lions of Tex­ans who don't have the priv­i­lege or abil­i­ty to work from home live. They include work­ers like 54 year old, sin­gle moth­er Maria Luisa Con­tr­eras, an essen­tial front­line work­er at a local gro­cery store in Bryan, Texas, who makes just $9.45 an hour. Con­tr­eras, a Type 2 Dia­bet­ic and sole provider for her fam­i­ly, fell sick last week with COVID-19, and now when — and if — she leaves the hos­pi­tal she will leave with thou­sands of dol­lars in med­ical bills. Her eldest daugh­ter Ariel­la Granda­dos told me, ​"It's total­ly unfair that my mom had to work and doesn't even have sick leave. I wish the politi­cians decid­ing every­thing had to do her job."
I spent a bet­ter part of a decade orga­niz­ing undoc­u­ment­ed work­ers. They make­up 8% of the Texas work­force and have been left out of all state and nation­al relief pro­grams. Jose Mar­tinez is a father and sole provider of three daugh­ters who has lived and worked in Texas 30 years build­ing homes in some of the most wealthy zip codes in the state. ​"I know it's unsafe to go back to work," he says. ​"But if I don't work my fam­i­ly will be left with noth­ing. I don't have the choice to stay home."
In coun­tries like Ger­many, work­ers aren't being forced to make impos­si­ble choic­es. Instead they have pay­roll pro­tec­tion. Pay­roll pro­tec­tion pro­vides busi­ness­es with for­giv­able loans to allow their work­ers to con­tin­ue receiv­ing their full wages. In Ger­many, of course, if a work­er were to lose their job they would still have health­care because their health­care is a uni­ver­sal right. At worst, Ger­man work­ers are bored at home right now. At worst in the Unit­ed States, many peo­ple like Jose Mar­tinez have lost their jobs, lost their apart­ments, are barred from col­lect­ing unem­ploy­ment, did not receive a stim­u­lus check (despite hav­ing paid tax­es), and can no longer pro­vide for their fam­i­lies. The failed response of the Trump Admin­is­tra­tion has made the lived real­i­ties of Amer­i­can and Ger­man work­ers as dif­fer­ent as night and day.
In Texas, GOP lead­ers like to talk about ​"free­dom of choice" (though not of course not when it comes to women's bod­ies), they mean the free­dom of busi­ness­es to func­tion unhin­dered by either gov­ern­ment reg­u­la­tion or unions. Reopen­ing was nev­er about that free­dom of choice. It was about the choice that reopen­ing will force upon mil­lions of Tex­ans: Risk our health and life by going back to work, or risk los­ing unem­ploy­ment ben­e­fits and becom­ing destitute.
In Texas, the GOP can no longer hide the fact that they are the par­ty of Prof­it Over People.