The 7-Year Itch: Desperate for Fare Increase, Chicago Cabbies Continue Weekly Strike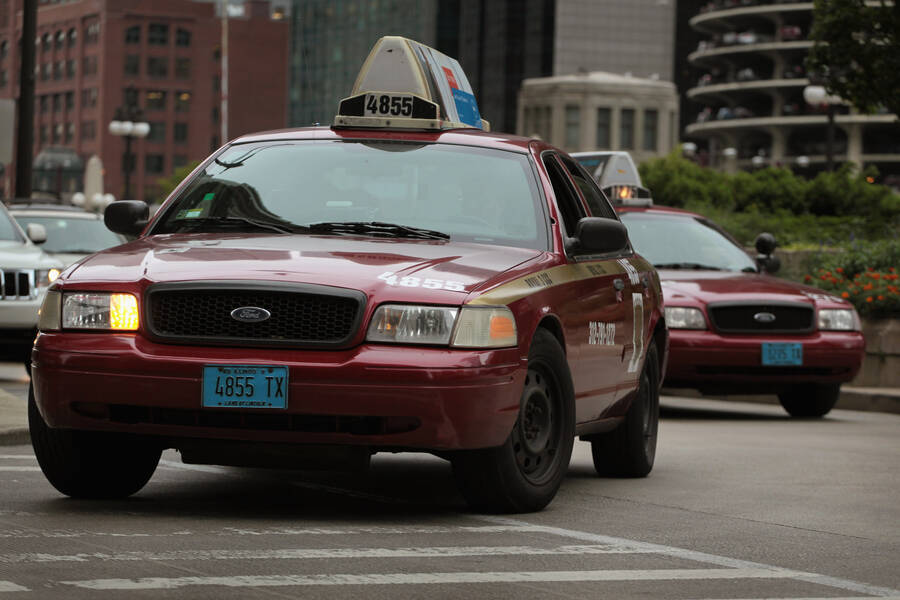 Angry over new ordi­nance rais­ing vehi­cle lease lim­its, dri­vers push for fare hike and meet­ing with City Hall
CHICA­GO — In many ways, taxi dri­vers typ­i­fy America's steadi­ly expand­ing free­lance econ­o­my. On the sur­face they're in con­trol, set­ting their own hours and routes with no boss look­ing over their shoul­ders. Look a lit­tle deep­er, though, and cab­bies are essen­tial­ly mod­ern-day share­crop­pers — vir­tu­al­ly all are inde­pen­dent con­trac­tors in a tight­ly reg­u­lat­ed indus­try dom­i­nat­ed by big com­pa­nies leas­ing cabs. They begin each day in the red and, as gas and vehi­cle lease rates rise with­out a fare increase, must work longer hours just to break even.
In Chica­go, where taxi dri­vers haven't had a fare raise in sev­en years, many in the indus­try have been pushed to the break­ing point. Last week the Unit­ed Taxi Com­mu­ni­ty Coun­cil (UTCC), the clos­est thing to a union cab­bies have here, held a five-hour strike to bring atten­tion to its call for a 22-per­cent fare increase. Chica­go City Coun­cil approved an 11.7 per­cent increase in 2005, when the price of a gal­lon gas here aver­aged about $2.50.
UTCC Sec­re­tary Peter Enger said 80 per­cent of the city's approx­i­mate­ly 10,000 cabs were off the road dur­ing the morn­ing of Mon­day, July 2, and dubbed the action ​"a vic­to­ry." (City offi­cials dis­put­ed that the action sig­nif­i­cant­ly dis­rupt­ed taxi avail­abil­i­ty, and there was no way to ver­i­fy Enger's esti­mate.) The next day, UTCC's strike com­mit­tee vot­ed to hold anoth­er work stop­page this morn­ing (July 9) and con­tin­ue the tem­po­rary strikes on a week­ly basis until UTCC rep­re­sen­ta­tives are grant­ed a meet­ing with the mayor's office to talk about a fare increase, says UTTC strike com­mit­tee head Finn Ebelechukwu.
​"All we are ask­ing for is the city to come to the table with us," Ebelechuk­wu said. On Fri­day, it was announced that the City Coun­cil's trans­porta­tion com­mit­tee will hold a hear­ing on a pos­si­ble increase on July 31. Ebelechuk­wu called that ​"a pos­i­tive devel­op­ment," but not­ed what UTCC wants is a meet­ing with the Depart­ment of Busi­ness Affairs and Con­sumer Pro­tec­tion, the arm of City Hall — aka, May­or Rahm Emanuel — that reg­u­lates Chicago's taxi industry.
The group made the same fare demand in 2009, but then-May­or Richard M. Daley said no. Last week a spokesper­son for the Depart­ment of Busi­ness Affairs said May­or Rahm Emanuel believes it's ​"pre­ma­ture to talk about a fare increase until the indus­try has safer dri­vers and bet­ter vehi­cles," the Chica­go Sun-Times report­ed.
​"This [may­oral] admin­is­tra­tion and the pre­vi­ous admin­is­tra­tion have nev­er sat down with UTCC," Enger says. ​"They do not want to rec­og­nize UTCC as a viable orga­ni­za­tion. … If the union does­n't show its strength, why [would the mayor's office] both­er talk­ing to them?"
​'It bog­gles my mind'
The quick strikes are timed to the imple­men­ta­tion of a new ordi­nance that the city says will make Chica­go streets safer and the industry's Chica­go Taxi­cab Oper­a­tors Asso­ci­a­tion has praised for enrich­ing cab com­pa­nies. The ordi­nance, which passed in Jan­u­ary 2012 and took effect on July 1, calls for close mon­i­tor­ing of dri­vers who receive traf­fic tick­ets, and lim­its shifts to 12 hours, in line with fed­er­al safe­ty laws.
​"High­er safe­ty is the goal, and that has­n't been the case to date," May­or Emanuel said in Decem­ber, after propos­ing the ordi­nance. In Jan­u­ary, Rose­mary Krim­bel, com­mis­sion­er of the Depart­ment of Busi­ness Affairs and Con­sumer Pro­tec­tion, said. [The ordi­nance] does not in any way harm the driver."
UTCC vehe­ment­ly dis­agrees, say­ing the new rule will make sur­viv­ing as a cab dri­ver even hard­er because most dri­vers have to work more than 12 hours straight to bring home mon­ey. Cab com­pa­nies are hap­py because they make more mon­ey leas­ing a vehi­cle in 12-hour shifts, rather than a 24-hour shift.
A 2009 study by the Uni­ver­si­ty of Illi­nois' School of Labor and Employ­ment Rela­tions found Chica­go dri­vers who lease a car by the week, as most dri­vers do, earn $4.81 an hour. Those leas­ing by the shift earned on aver­age just $4.07 per hour after pay­ing for leas­es (for both the vehi­cle and dri­ving medal­lion), air­port tax­es, gas, cab main­te­nance and oth­er basic expens­es. The aver­age driver's annu­al take-home pay is about $15,000, Enger says, adding that stud­ies of the indus­try put the nation­al aver­age at between $20,000 and $25,000.
Among oth­er things, the new ordi­nance makes a $1 fuel sur­charge per­ma­nent and impos­es a $50 fee on pas­sen­gers who vom­it in a cab. ​"A small vic­to­ry," Enger says, argu­ing that dri­vers can't eas­i­ly enforce the new rule on drunk­en pas­sen­gers, who he said should ide­al­ly clean up their own vomit.
It also requires cab com­pa­nies to keep records of all cab trans­ac­tions going back three years (to cut down on taxi dri­ver tax eva­sion) and allows the com­pa­nies to lease new hybrid vehi­cles at high­er rates. But UTCC says most dri­vers won't ben­e­fit from bet­ter gas mileage because fuel sav­ings will just go to cab companies.
​"Com­pa­nies have been vio­lat­ing the lease caps for years. Now the city gives them a legal rate that legal­izes their vio­la­tions," Enger says. ​"They need a lease cap increase and I don't need a fare increase? It bog­gles my mind that peo­ple don't think of this."
But UTCC does sup­port parts of the new ordi­nance, includ­ing lan­guage that will:
stan­dard­ize cab lease forms. (Enger says this will close loop­holes com­pa­nies employed to over­charge drivers.)
strength­en pun­ish­ment of com­pa­nies that vio­late lease agreements.
elim­i­nate a

5

‑percent cred­it-car pro­cess­ing fee that reduced dri­vers' income.
Beyond a fare increase, UTCC is call­ing for a bian­nu­al review by an inde­pen­dent audit­ing firm, paid for by the city, of the cost of dri­ving a cab in Chica­go. Fares should be tied to the fixed costs of oper­at­ing a cab, Enger says. If costs rise 10 per­cent, fares should as well, so dri­vers aren't impoverished.
For cab­bies to earn a liv­ing wage, he added, they'd need an increase far larg­er than 22-per­cent. But UTCC isn't ask­ing for a high­er hike because rid­er­ship could dimin­ish and some dri­vers would be out of work. ​"If it cost so much that poor­er peo­ple could­n't take cabs any­more, we'd lose a lot of rid­ers," Enger says. ​"For a liv­able wage, we need more business."
Build­ing sol­i­dar­i­ty in an atom­ized industry
Ebelechuk­wu says there is still ​"a lot of sup­port" for the week­ly strikes. But the UTCC has no strike fund — indeed, many of its mem­bers do not pay dues to the orga­ni­za­tion, which has no col­lec­tive bar­gain­ing rights under fed­er­al law. About 2,000, or one in five, Chica­go cab dri­vers are in some way affil­i­at­ed with UTCC, which formed in 2008 and has nev­er called a strike before this month.
Build­ing sol­i­dar­i­ty among dri­vers is a ​"huge, huge chal­lenge," Enger says, in an indus­try in which peo­ple are iso­lat­ed and often feel clos­er ties to dri­vers from their own eth­nic groups than strug­gling cab­bies in gen­er­al. But there's a pos­i­tive flip­side to this dynam­ic, says Enger, a cab dri­ver with a degree in anthropology.
​"If the Soma­lis say they're going to strike, every one of them is going to strike," he says. ​"Fare increase, schmare increase. I want to see [dri­vers] from 40 or 50 coun­tries get­ting active."
Cab­drivers from mul­ti­ples coun­tries, and coun­ties, appear to be doing just that. UTCC lead­ers have made trips to New York City to con­fer with mem­bers of the New York Taxi Work­ers Alliance (NYT­WA), a sim­i­lar­ly non­tra­di­tion­al labor orga­ni­za­tion that joined the AFL-CIO in Octo­ber 2011. UTCC is an affil­i­ate of NYT­WA, as are 21 oth­er taxi dri­ver groups around the country.
NYTWA's more than 15,000 mem­bers are cur­rent­ly push­ing for a 17-per­cent fare increase, their first since 2004, along with the elim­i­na­tion of the 5 per­cent cred­it-card pro­cess­ing fee and the cre­ation of a 6‑cent sur­charge for a health­care and dis­abil­i­ty fund for dri­vers. (Taxi dri­ving is one of the most dan­ger­ous jobs in Amer­i­ca.) May­or Michael Bloomberg backs their cam­paign. Like UTCC, NYT­WA is also call­ing for a bian­nu­al review of the cost of dri­ving a cab.
NYT­WA is in the process of form­ing a nation­al alliance, Enger says. ​"This is very sig­nif­i­cant. I'd like to see a nation­al union. I'd like to see a nation­al cab­drivers strike. Par­a­lyze not just this city, but every freak­ing city.
​"A com­pa­ny nev­er wants to rec­og­nize a union," Enger says. ​"It's the same with the city." But now, he says, Chicago's new poli­cies are ener­giz­ing dri­vers. ​"The city is doing a bet­ter job than I am of orga­niz­ing these dri­vers. … We had peo­ple com­ing into polit­i­cal life, com­ing into UTCC, and help­ing us orga­nize the next strike. Dri­vers are orga­niz­ing their own movement."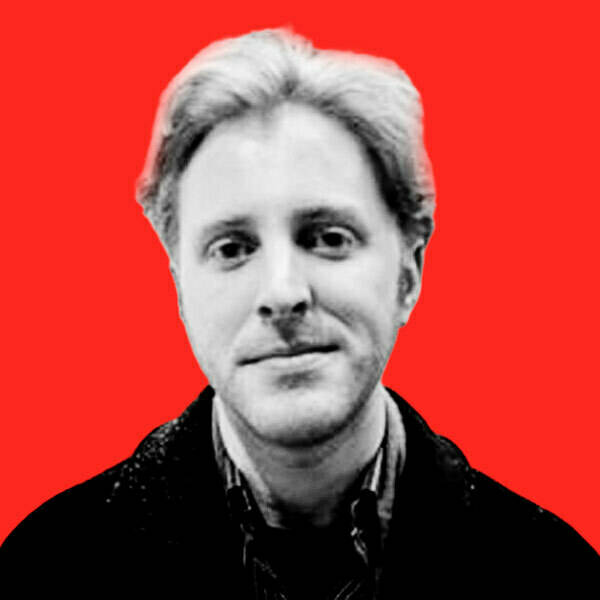 Jere­my Gantz is a con­tribut­ing edi­tor at the mag­a­zine. He is the edi­tor of The Age of Inequal­i­ty: Cor­po­rate America's War on Work­ing Peo­ple (2017, Ver­so), and was the Web/​Associate Edi­tor of In These Times from 2008 to 2012.