The Babbitt of the Bobos
Is David Brooks America's most misguided pundit?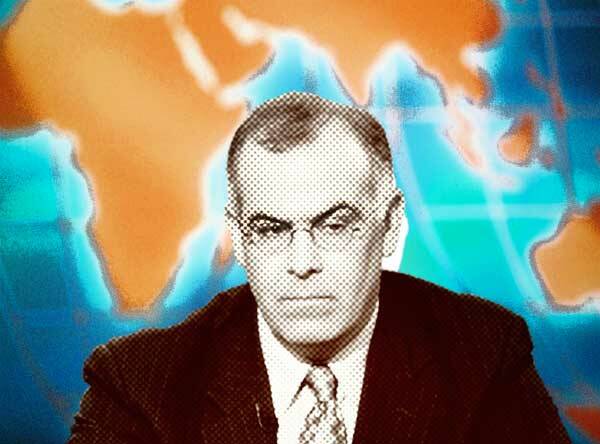 No mat­ter how many times I espy New York Times colum­nist David Brooks patient­ly explain­ing the deeply antipop­ulist, eco­nom­i­cal­ly astute and mild­ly amus­ing fea­tures of the Amer­i­can char­ac­ter, I some­how always pic­ture him in a straw boater and a striped jack­et, affect­ing the jaun­ty mien of Harold Hill, the charm­ing-huck­ster pro­tag­o­nist of Mered­ith Willson's The Music Man. That's because, like Hill, Brooks keeps up a steady, wise­crack­ing pat­ter meant to lull his eager audi­tors into a state of calm reas­sur­ance about the social order sur­round­ing them. There's real­ly just one salient dif­fer­ence: Hill was drum­ming up civic enthu­si­asm for the blan­d­ish­ments of school band class; and Brooks is pitch­ing the stal­wart myth of pseudomer­i­to­crat­ic worth, a sys­tem by which all just rewards spon­ta­neous­ly waft upward to the tal­ent­ed knowl­edge elite.
The beauty of Brooks' brand of valentines to the American knowledge elite is that you never have to say you're sorry—or mean much of what you said in the first place.
Brooks staked his claim as new mil­len­ni­al social seer with his break­out 2000 best­seller, Bobos in Par­adise, which pur­port­ed to gen­tly mock the bohemi­an pre­ten­sions of the new Amer­i­can pow­er elite. (These were, in Brooks' wag­gish telling, the ​"Bobos" – a lazy con­fla­tion of ​"bour­geois" and ​"bohemi­an" that Brooks claimed was a sig­na­ture new for­ma­tion on the Amer­i­can social land­scape, even though bohemi­ans have always been drawn from the ranks of the bour­geoisie, and rarely har­bor any seri­ous ambi­tion to for­sake their socioe­co­nom­ic birthrights.)
But as with many works of pseudomer­i­to­crat­ic pro­pa­gan­da, Brooks' labored puck­ish­ness proved on clos­er inspec­tion to be the sin­cer­est form of flat­tery. For all its con­sumer excess­es, the Bobo class was, in his account, bril­liant­ly adap­tive and sur­pris­ing­ly resource­ful. Instead of lurch­ing into cat­a­clysmic hedo­nism, Brooks' afflu­ent Bobos embarked on rig­or­ous regimes of phys­i­cal and spir­i­tu­al self-improve­ment, prac­tic­ing an enlight­ened ​"Mod­ernism for the share­hold­ers" and pos­sess­ing a ​"Midas touch in reverse," where­by every­thing they touch ​"turns to soul."
Behind Brooks' gen­tle scoff­ing at the Bobo vogue for dis­tressed fur­ni­ture and over­priced cave-aged cheese at Whole Foods, was a tac­it bid to extort a very old kind of social def­er­ence on behalf of this alleged­ly new social class – pro­vid­ed, of course, that its mem­bers sum­moned forth the right sort of nation­al­ist fet­tle. In the book's clos­ing pages, Brooks exhort­ed the feck­less Bobo class to step up to the bar of his­to­ry and claim its prop­er role of stage-man­ag­ing the world-defin­ing Amer­i­can civ­i­liz­ing mis­sion. Sound­ing very much like his own impe­ri­al­ist hero Theodore Roo­sevelt, Brooks fretted:
We may become a nation that enjoys the com­forts of pri­vate and local life but that has lost any sense of … a unique his­tor­i­cal mis­sion. The fear is not that Amer­i­ca will decline because it over­stretch­es, but because it ener­vates as its lead­ing cit­i­zens decide that the plea­sures of an over­sized kitchen are more sat­is­fy­ing than the con­flicts and chal­lenges of patri­ot­ic service.
Christo­pher Lasch, a keen crit­ic of Theodore Roosevelt's brand of impe­r­i­al adven­tur­ism, astute­ly dubbed it ​"the moral and intel­lec­tu­al reha­bil­i­ta­tion of the rul­ing class" – and that is very plain­ly what Brooks had in mind in his bid to mar­shal the home-hap­py Bobo elite into a gauzy ethos of nation­al ser­vice. But of course, with the ben­e­fit of hind­sight, we can appre­ci­ate how deeply mis­guid­ed this reck­less con­fla­tion of rul­ing-class reha­bil­i­ta­tion and nation­al mis­sion can be. Fol­low­ing the spir­it of the Brook­sian play­book to a tee, the Unit­ed States became mired in a dis­as­trous and ille­gal impe­r­i­al mis­sion in Iraq – a project that Brooks enthu­si­as­ti­cal­ly cheer-led from his perch­es at The Week­ly Stan­dard, the New York Times and ​"All Things Con­sid­ered." And of course the whole rick­ety debt-based fan­ta­sia that per­mit­ted count­less Bobo home­own­ers to lever­age out their mort­gages into upscale kitchen upgrades has col­lapsed into a smol­der­ing ruin.
But the beau­ty of Brooks' brand of valen­tines to the Amer­i­can knowl­edge elite is that you nev­er have to say you're sor­ry – or mean much of what you said in the first place. Align­ing one's pun­dit brand with the cre­den­tialed smart set means auto­mat­i­cal­ly, in these Unit­ed States any­way, that one is on the right side of history.
The hol­low­ness of the ​"com­ic soci­ol­o­gy" Brooks sought to per­pe­trate in Bobos was exposed the fol­low­ing year, when he com­posed a faux-anthro­po­log­i­cal cov­er sto­ry for the Atlantic, explor­ing the mys­te­ri­ous hin­ter­land sen­si­bil­i­ties of ​"Red Amer­i­ca" – i.e., the vir­tu­ous right-lean­ing vot­ing dis­tricts and states that went into the George W. Bush col­umn dur­ing the hard-fought 2000 elec­tion – in Franklin Coun­ty, Penn.
Brooks strung togeth­er plau­si­ble-sound­ing tossed-off obser­va­tions about the shop­ping mores and cul­tur­al sen­si­bil­i­ties of the place, all of which alleged­ly shored up the big-pic­ture the­sis of the piece: that Red and Blue Amer­i­ca faced off against unford­able cul­ture divides, which trans­lat­ed into abid­ing class seg­re­ga­tion as well. The only prob­lem is that very few of the telling details Brooks crammed into the piece proved to be, you know, true.
When Philadel­phia mag­a­zine writer Sasha Isen­berg ran a litany of con­tra­dic­to­ry facts by Brooks for his sharply crit­i­cal 2004 anato­my of both Brooks's research and mys­ti­fy­ing pop­u­lar acclaim, the young reporter got a sober lec­ture from Mr. Com­ic Soci­ol­o­gy for his trou­ble. ​"This is dis­hon­est research. You're not approach­ing the piece in the spir­it of an hon­est reporter," Brooks chid­ed his inter­locu­tor. ​"Is this how you're going to start your career?"
Brooks well under­stands that the way to con­fi­dent­ly pilot one's career upward is to play shame­less­ly to the broad-as-a-barn cul­tur­al prej­u­dices of an elite read­er­ship rather than chal­lenge its sen­si­bil­i­ties with empir­i­cal find­ings. But there's no doubt, in pure terms of career ambi­tion, that Brooks had the best of this par­tic­u­lar argu­ment. Not long after the unhap­py Atlantic episode, he was ele­vat­ed to the plum perch as the lead con­ser­v­a­tive colum­nist for the Times–and from there, he was off and run­ning with all sorts of sim­i­lar grab-and-go gen­er­al­iza­tions about the deep-seat­ed cul­tur­al deter­mi­na­tion of every­thing, from the ran­corous mood of Major League Base­ball play­offs to the course of glob­al devel­op­ment pol­i­cy and for­eign aid.
Late­ly, Brooks has even tak­en the stun­ning­ly obtuse view that mon­ey itself plays mere­ly a nom­i­nal role in deter­min­ing Amer­i­can elec­tions and pol­i­cy out­comes more broad­ly. In an Octo­ber 2010 col­umn he air­i­ly dis­missed wor­ries over the explo­sion of polit­i­cal cam­paign cash as so much ​"prim­i­tive mythol­o­gy" sum­moned up by mem­bers of Washington's self-inter­est­ed polit­i­cal elite. He writes:
In the end … mon­ey is a tal­is­man. It makes peo­ple feel good because they think it has mag­i­cal prop­er­ties. It prob­a­bly helps in local leg­isla­tive races where name recog­ni­tion is low. It prob­a­bly helps chal­lengers get estab­lished. But these days, fed­er­al races are over­sat­u­rat­ed. Every fed­er­al can­di­date in a close race has plen­ty of mon­ey, and the mar­gin­al util­i­ty of each new dol­lar is zero.
Leave aside that the over­all tal­ly of cash expen­di­tures in the 2010 cam­paign cycle topped $5 bil­lion – the largest-ever out­lay of cam­paign mon­ey in a midterm con­test, and, amaz­ing­ly, a sum that out­strips the amount spent dur­ing the 2004 pres­i­den­tial cycle. That is, in oth­er words, a shit­load of prim­i­tive mythol­o­gy, even in a polit­i­cal process as sys­tem­at­i­cal­ly hos­tile to rea­son as our own tends to be.
Also leave aside that the counter-exam­ples Brooks has cher­ry picked from 2010 to make the case for the nuga­to­ry impact of cam­paign spend­ing – the pri­ma­ry upsets of GOP favorites Mike Cas­tle in Delaware and Lisa Murkows­ki in Alas­ka – actu­al­ly involved cas­es where the bet­ter-financed can­di­dates were sav­ing the cam­paign trea­suries they had amassed for the gen­er­al elec­tion. This they did in the tac­ti­cal­ly mis­tak­en belief that their pri­ma­ry chal­lengers were not a seri­ous threat, and so actu­al­ly argues on behalf of, rather than against, the propo­si­tion that spend­ing advan­tages often account for deci­sive swings in elections.
Of course, both major par­ties and their elec­toral stan­dard bear­ers fre­net­i­cal­ly spend moun­tains of cash on either side of a cam­paign, and only one side gets to claim vic­to­ry at the end. That doesn't mean that fun­ders of cam­paigns are not get­ting any­thing for their mon­ey how­ev­er. Quite the con­trary, they are set­ting up incum­bent law­mak­ers, again on either side of the par­ti­san aisle, for a career in which they spend an enor­mous num­ber of their wak­ing hours rais­ing funds for the next cam­paign cycle. And they are, of course, able to put the touch on these skit­tish cash-junkies when­ev­er there's a notion­al leg­isla­tive reform effort in play on Capi­tol Hill.
To gaze out on such a pol­i­cy land­scape and declare mon­ey to be a vir­tu­al dead let­ter in Amer­i­can pol­i­tics is to con­fess, in essence, that one is too lazy to be both­ered to think seri­ous­ly about it.
But the shtick has worn thread­bare as Brooks has turned his cul­ture-bound pun­dit gaze on things of actu­al mate­r­i­al import, as the course of events since 2008 has mer­ci­less­ly forced him to do. On a dumb­found­ing appear­ance on George Stephanopoulos's This Week in late 2008, Brooks was hold­ing forth on the prospect of gov­ern­ment bailouts for U.S. auto man­u­fac­tur­ers, a pol­i­cy that he of course opposed as a defile­ment of saint­ed free-mar­ket prin­ci­ple. Bail­ing out automak­ers would uncon­scionably intro­duce ​"pol­i­tics" into indus­tri­al pol­i­cy (since, you know, unreg­u­lat­ed mar­ket activ­i­ty had done so much to secure our col­lec­tive eco­nom­ic sta­bil­i­ty), and this would be a boot­less prospect indeed, com­pared to the exist­ing fed­er­al bailout of finan­cial insti­tu­tions to the tune of $100 bil­lion and more. ​"That's a pub­lic util­i­ty," he air­i­ly pro­claimed. When anoth­er pan­el mem­ber pressed him on this out­landish claim, he just shrugged. ​"It's a metaphor," he whee­dled, with the same con­de­scend­ing affect that came across in his churl­ish exchange with Isenberg.
Well, not so fuck­ing much, actu­al­ly. This par­tic­u­lar gov­ern­ment-sup­port­ed metaphor drove mil­lions of homes into fore­clo­sure, desta­bi­lized glob­al cred­it mar­kets and helped plunge man­u­fac­tur­ing enter­pris­es like the auto indus­try past the brink of eco­nom­ic via­bil­i­ty. To call this the hand­i­work of a pub­lic util­i­ty is akin to award­ing a peace prize to Ben­i­to Mussolini.
Not sur­pris­ing­ly, the Brook­sian machin­ery of cul­tur­al deter­min­ism sours notice­ably when it becomes engaged with ques­tions of pover­ty and glob­al devel­op­ment. In the imme­di­ate after­math of the dev­as­tat­ing 2010 earth­quake in Haiti, for exam­ple, Brooks took to his col­umn to mount one of his favorite hob­by­hors­es: the notion that the ulti­mate arbiter of for­tunes in squalid, pover­ty-wracked nations such as Haiti, a long­time U.S. pro­tec­torate that has wit­nessed vio­lent polit­i­cal coup after vio­lent polit­i­cal coup ever since West­ern pow­ers resolved to iso­late it from the glob­al com­mu­ni­ty fol­low­ing its suc­cess­ful slave rebel­lion is – wait for it – the mys­ti­cal force of culture.
The star­tling body count in the wake of the Haiti quake, Brooks wrote, arose from ​"a com­plex web of progress-resis­tant cul­tur­al influ­ences. There is the influ­ence of the voodoo reli­gion, which spreads the mes­sage that life is capri­cious and plan­ning futile. … Respon­si­bil­i­ty is not often inter­nal­ized. Child-rear­ing prac­tices often involve neglect in the ear­ly years… We're sup­posed to polite­ly respect each other's cul­tures. But some cul­tures are more progress-resis­tant than oth­ers, and a hor­ri­ble tragedy was just exac­er­bat­ed by one of them."
There are few things as dis­taste­ful as an oppor­tunis­tic pun­dit seiz­ing upon the wrench­ing spec­ta­cle of mass death for the sake of scor­ing points in a self-con­grat­u­la­to­ry side­bar to the cul­ture wars. Voodoo may be a fatal­is­tic and not-entire­ly-ratio­nal belief sys­tem, but it at least address­es its believ­ers in the actu­al cir­cum­stances of their lives and reserves a decent inter­val of gen­uine mourn­ing for the dead.
One can only fan­ta­size about the ret­ri­bu­tions its deities would arrange for their coun­ter­parts in the David Brooks pan­theon of house­hold gods – his Patio Men, Orga­ni­za­tion Kids, and all the myth­i­cal, mer­i­to­crat­ic Bobos suf­fer­ing from Sta­tus-Income Dis­or­der. These super­sti­tious paste­board inven­tions are, much like the syn­cret­ic African divini­ties who pop­u­late Voodoo forms of wor­ship, bywords for capri­cious mar­ket forces that have ulti­mate­ly proven no less imper­son­al­ly derang­ing in the whole­some­ly progress-pro­mot­ing cul­tures of Par­adise Dri­ve than they have in the slums of Port-au-Prince. But this exur­ban Göt­ter­däm­merung, pleas­ing as it may be to con­tem­plate, shall nev­er come to pass – there are just too many pres­tige edi­to­r­i­al oper­a­tions too heav­i­ly invest­ed in the career of David Brooks for his chirpy pro­nounce­ments on the fit­ness of robust mar­ket ide­ol­o­gy to meet with any seri­ous chal­lenge. Fail­ing that, though, one might have at least hoped that Brooks could have packed up his smug mar­ket cos­mol­o­gy just this once and giv­en the Hait­ian fall­en what their own native faith at least guar­an­teed them – a hum­ble and respect­ful silence.
This essay was adapt­ed from Rich Peo­ple Things, © Chris Lehmann, and is only avail­able at OR Books (New York), www​.orbooks​.com.