The Big Do-Over at Kaiser
Which way will 45,000 California healthcare workers swing? The answer has major implications for labor.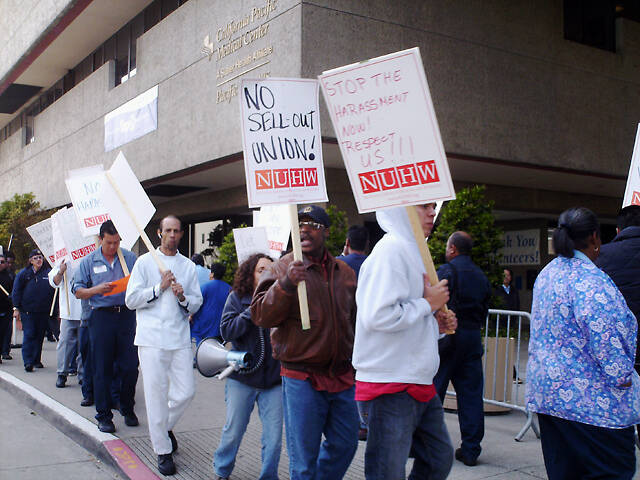 The 2010 elec­tion at Kaiser Per­ma­nente (KP), the biggest pri­vate-sec­tor union vote in 70 years, shook the labor move­ment — and a do-over this month is shap­ing up to be just as sig­nif­i­cant and just as bit­ter­ly contested.
The latest round of healthcare worker conflict in California puts key questions facing labor as a whole in sharp relief: Can unions best protect past contract gains by cooperating with management, or by using strikes and workplace militancy to resist demands for givebacks?
The ini­tial elec­tion pit­ted the Ser­vice Employ­ees Inter­na­tion­al Union (SEIU) against its new Cal­i­for­nia rival, the Nation­al Union of Health­care Work­ers (NUHW), for rep­re­sen­ta­tion of near­ly 45,000 hos­pi­tal work­ers. SEIU, the incum­bent union, retained its bar­gain­ing rights by the healthy mar­gin of 18,290 to 11,364. But, accord­ing to the Nation­al Labor Rela­tions Board (NLRB), that vic­to­ry was taint­ed by SEIU mis­be­hav­ior sim­i­lar to that of anti-union employ­ers — the kind of tac­tics usu­al­ly termed ​"union-bust­ing." Over SEIU's objec­tions, the NLRB ordered a re-run of unprece­dent­ed scale.
That's why the same group of ser­vice and tech­ni­cal work­ers at Kaiser is receiv­ing mail bal­lots this week giv­ing them a sec­ond chance to either replace SEIU with NUHW, keep their cur­rent union or revert to non-union sta­tus (an option cho­sen by only a few hun­dred work­ers in 2010). Based on infor­mal reports, the big do-over at Kaiser promis­es to be a clos­er vote than last time.
If SEIU is oust­ed when bal­lots are count­ed in ear­ly May, the union that was once the fastest-grow­ing in the nation, which shrunk by 43,000 mem­bers last year, will lose even more this year. Kaiser, in turn, will lose the linch­pin of its 16-year-old ​"labor-man­age­ment partnership."
NUHW was formed four years ago when, in a con­tro­ver­sial series of events, SEIU removed 100 elect­ed offi­cers and exec­u­tive board mem­bers of UHW and put the local under trustee­ship. SEIU's ratio­nale was that UHW had refused to allow 40 per­cent of its mem­bers to be trans­ferred to a new SEIU local for long-term care work­ers (UHW object­ed that the affect­ed work­ers had not approved the move). I argued in my book The Civ­il Wars in U.S. Labor that then SEIU-Pres­i­dent Andy Stern's real goal was to crush a bur­geon­ing inter­nal reform move­ment that was anchored by the 147,000-member UHW and was increas­ing­ly crit­i­cal of his leadership.
After UHW Pres­i­dent Sal Rossel­li and oth­er SEIU dis­si­dents were purged, Stern installed his own appointees to run UHW, includ­ing Dave Regan, a mem­ber of the SEIU nation­al exec­u­tive board from Ohio. Under Regan, the UHW was nev­er required to make the mem­ber transfer.
After the takeover, a group of for­mer UHW work­ers found­ed the NUHW, which is affil­i­at­ed with and heav­i­ly financed by the Cal­i­for­nia Nurs­es Asso­ci­a­tion. More than 9,000 UHW work­ers in a dozen hos­pi­tals and nurs­ing homes have since defect­ed to NUHW, leav­ing UHW with a net loss of 3,000 mem­bers dur­ing Regan's four-year tenure as trustee and now president.
The lat­est round of health­care work­er con­flict in Cal­i­for­nia puts key ques­tions fac­ing labor as a whole in sharp relief: Can unions best pro­tect past con­tract gains by coop­er­at­ing with man­age­ment, or by using strikes and work­place mil­i­tan­cy to resist demands for give­backs? Should unions part­ner with employ­ers on leg­isla­tive and reg­u­la­to­ry issues affect­ing their indus­try, or devel­op an inde­pen­dent agen­da reflect­ing work­er and con­sumer inter­ests? With­in the frame­work of ​"labor-man­age­ment coop­er­a­tion," what becomes of the union's role enforc­ing the con­tract and rep­re­sent­ing work­ers in their day-to-day job problems?
Red vs. pur­ple in Vacaville
To see how these ques­tions were play­ing out at Kaiser, I vis­it­ed its shiny new ​"cam­pus" in Vacav­ille, south of Sacra­men­to, last week. In a scene repli­cat­ed at 30 oth­er Kaiser med­ical cen­ters around the state, the unions had war­ring infor­ma­tion tables set up in the hos­pi­tal cafe­te­ria. On the day I vis­it­ed, NUHW-CNA offi­cers Sal Rossel­li and John Bor­sos were mak­ing a lunchtime stop in Vacav­ille to meet and greet a steady stream of SEIU-rep­re­sent­ed ser­vice and tech­ni­cal unit work­ers, along with CNA nurses.
Most NUHW-CNA sup­port­ers sport­ed their sig­na­ture red T‑shirts. A small­er, less buoy­ant crowd of pur­ple-clad SEIU activists staffed the oppo­site table, which was filled with lit­er­a­ture attack­ing the two vis­i­tors. In fly­ers that appeared to be recy­cled from the 2010 elec­tion, SEIU-UHW pro­claimed that Rossel­li, Bor­sos and oth­er for­mer UHW lead­ers had been ​"caught mis­us­ing mil­lions of mem­bers dues dol­lars." On the back of one, SEIU-UHW list­ed the $1.5 mil­lion in mon­e­tary dam­ages sought from NUHW and 16 of its orga­niz­ers in a counter-law­suit filed by SEIU (which was upheld last month in fed­er­al court).
Oth­er SEIU-UHW cam­paign mate­r­i­al took aim at recent pick­et­ing of Kaiser and Alta Bates Sum­mit Med­ical Cen­ter in Berke­ley, where, ​"NUHW-CNA has gone on strike 12 times and they still have no con­tracts and are los­ing ben­e­fits." The fly­er also quotes CNA Exec­u­tive Direc­tor RoseAnn DeMoro as say­ing at the Left Forum last year, ​"We're always out on strike." Anoth­er SEIU-UHW mass mail­er asks Kaiser work­ers, ​"Would you rather spend your time fight­ing or win­ning?" It assures NLRB elec­tion vot­ers that SEIU-UHW takes ​"a bal­anced approach, work­ing in part­ner­ship with Kaiser man­age­ment when pos­si­ble and tak­ing them on strong­ly when nec­es­sary." As a result, ​"We have bar­gained the best con­tract in the hos­pi­tal indus­try with­out los­ing a day of pay on strike."
In the NUHW-CNA cor­ner of the cafe­te­ria, a long­time med­ical records keep­er named Jer­ry Cor­pus had a dif­fer­ent view of that bar­gain­ing his­to­ry. Cor­pus, who retired last month, comes from a big, extend­ed Kaiser fam­i­ly: His wife is an unhap­py SEIU mem­ber, his sis­ter a CNA-rep­re­sent­ed nurse, his moth­er, broth­er, son, nephews and nieces are or have been on the Kaiser pay­roll. For more than a decade, dur­ing his own 23-year hos­pi­tal career, Cor­pus was active in the pre-trustee­ship UHW (then SEIU Local 250). Why did he cur­tail a long-planned, post-retire­ment fish­ing trip to cam­paign for NUHW-CNA? ​"If we stay with SEIU, it will affect my whole fam­i­ly," he explained.
Accord­ing to Cor­pus, it was the pre-trustee­ship UHW lead­ers, includ­ing Rossel­li and Kaiser divi­sion direc­tor Ralph Corne­jo, who helped mem­bers fight, for two decades, to achieve ​"the best con­tract in the hos­pi­tal indus­try." Now, he believes, that agree­ment has been weak­ened by ​"many take­aways" and lack of union enforce­ment, par­tic­u­lar­ly in the area of job secu­ri­ty. Since the trustee­ship, SEIU-UHW has agreed to pen­sion and med­ical plan changes reduc­ing Kaiser's ben­e­fit costs by $2.1 bil­lion, dur­ing a peri­od when it was rack­ing up record prof­its of more than $8 bil­lion. Kaiser's elim­i­na­tion of 1,000 jobs has gone large­ly uncon­test­ed by SEIU-UHW; job secu­ri­ty is also being under­mined through sub-con­tract­ing and use of ​"per diem" employ­ees who should be con­vert­ed to reg­u­lar status.
​"If you're a strong union, you're for the employ­ee, not the employ­er," Cor­pus said. ​"But it doesn't seem like that's hap­pen­ing any more. The man­agers now are just walk­ing all over peo­ple. When we were Local 250, man­age­ment respect­ed the union and the union kept us informed. We had stew­ard coun­cils and our local lead­ers nev­er made a move unless employ­ees first had a voice in the decision."
Cor­pus hard­ly fits the stereo­type of a strike-hap­py union mil­i­tant. His last role at Kaiser was in Human Resources; for many years he was the lead labor-man­age­ment part­ner­ship (LMP) coor­di­na­tor and train­er at Kaiser facil­i­ties in sev­er­al coun­ties north of San Fran­cis­co. Kaiser bills its labor-man­age­ment part­ner­ship as an inno­v­a­tive pro­gram for non-adver­sar­i­al labor rela­tions, in which ​"front-line physi­cians, man­agers, and union mem­bers work togeth­er in unit-based teams to solve prob­lems col­lab­o­ra­tive­ly." In his role as LMP coor­di­na­tor, Cor­pus favored ​"inter­est-based prob­lem solv­ing" and helped cre­ate more than 125 unit-based teams.
Now, Cor­pus observes, if Kaiser work­ers have a job prob­lem, they're con­stant­ly remind­ed by super­vi­sors and their union that ​"we're in a part­ner­ship." In his view, ​"Man­age­ment and labor now use it as a weapon against us." In 2012, he notes, UHW couldn't even get Kaiser to con­tin­ue fund­ing LMP — instead, each of SEIU's 45,000 mem­bers now pays 9 cents an hour to sup­port the pro­gram. (This $6 mil­lion annu­al deduc­tion from wages comes on top of SEIU dues that are 25 per­cent high­er than NUHW's.) In con­trast, NUHW-CNA is show­cas­ing its anti-part­ner­ship stance in a cost­ly ad blitz inform­ing the pub­lic that the two unions are ​"work­ing togeth­er to make sure that Kaiser and oth­er big hos­pi­tals don't put their wealth ahead of your health." The 30-sec­ond elec­tion-relat­ed TV and radio spots fea­ture, respec­tive­ly, Kaiser nurs­es Cather­ine Kennedy and Mon­i­ca Rus­so, who dis­cuss a recent NUHW-ini­ti­at­ed state crack­down on Kaiser for its man­aged-care defi­cien­cies. ​"NUHW-CNA mem­bers just forced Kaiser to use its record prof­its to hire more men­tal-health clin­i­cians to reduce long delays in care," the ads report.
​'High-road labor relations'
This whis­tle-blow­ing approach is anath­e­ma to UHW Pres­i­dent Dave Regan and his allies in the hos­pi­tal indus­try. Under Regan, SEIU-UHW has devel­oped close ties with the Cal­i­for­nia Hos­pi­tal Asso­ci­a­tion (CHA), which lob­bies for Kaiser and oth­er major health­care chains. In an inter­view with the Sacra­men­to Busi­ness Jour­nal last year, CHA pres­i­dent Duane Dauner pub­licly praised Regan's busi­ness-friend­ly approach, while con­demn­ing the more adver­sar­i­al stance of NUHW and CNA. ​"They look at man­age­ment and employ­ers as the ene­my," Dauner said. ​"They draw a line in the sand. Any­thing man­age­ment does, they are against. It's just ​'give us more and more.'" In con­trast, he not­ed, SEIU lead­ers ​"are work­ing with us, and we are try­ing to work with them, on health­care pol­i­cy and high-road labor relations."
Among oth­er CHA caus­es, Regan has cham­pi­oned the asso­ci­a­tion's oppo­si­tion to a ​"char­i­ty care" bill before the state leg­is­la­ture that would require non-prof­it hos­pi­tals in Cal­i­for­nia to pro­vide a min­i­mum lev­el of care to low-income patients with­out insur­ance. In fight­ing the bill, Regan is going against not only the CNA, which has long pushed it, but also the Cal­i­for­nia AFL-CIO, the Team­sters, Machin­ists, UFCW and oth­er major unions who back the mea­sure. Regan sim­i­lar­ly out­raged CNA and oth­er labor orga­ni­za­tions last year when he tried to get the state AFL-CIO to go along with an indus­try-backed effort to weak­en California's unique law requir­ing low nurse-patient ratios.
Lack of representation?
While such con­tract bar­gain­ing dif­fer­ences are impor­tant to some work­ers, NUHW sup­port­er Hig­inia Alvis is more con­cerned about indi­vid­ual rep­re­sen­ta­tion. Alvis is a patient care tech­ni­cian at Kaiser Vacav­ille who was fired by Sut­ter Health three years ago at its Alta Bates Sum­mit facil­i­ty in Berke­ley, after eight years of ser­vice. UHW filed a griev­ance on her behalf, argu­ing that she was wrong­ly dis­missed in a dis­pute over tak­ing her lunch break in an under-staffed area of a hos­pi­tal at which man­age­ment pres­sured work­ers to skip their breaks. After sev­er­al labor-man­age­ment meet­ings about her griev­ance, Alvis says, she heard noth­ing about the sta­tus of her case for more than a year. She says that she left repeat­ed voice mail mes­sages with her UHW rep seek­ing an update, only to be informed via voice­mail just last month that her griev­ance was not being tak­en to arbi­tra­tion. A promised let­ter explain­ing the basis for this deci­sion has yet to arrive, Alvis says. So Alvis is now try­ing to per­suade the Nation­al Labor Rela­tions Board that SEIU-UHW breached its legal duty of fair representation.
Accord­ing to NUHW, 430 oth­er unfair labor prac­tice charges alleg­ing ​"fail­ure to rep­re­sent" have been filed by oth­er SEIU-UHW mem­bers in the last four years. More than half came from frus­trat­ed work­ers at Kaiser where, NUHW claims, there are now more than 1,000 out­stand­ing griev­ances, includ­ing 239 unre­solved ter­mi­na­tion cas­es. On a con­fer­ence call in Feb­ru­ary with Dave Regan, even SEIU-UHW stew­ards were com­plain­ing about Kaiser's high rate of unfair dis­missals. ​"They are ter­mi­nat­ing more than they ever have," one stew­ard report­ed. ​"They are real­ly try­ing to get rid of peo­ple." Accord­ing to anoth­er, ​"Kaiser is out to weed out any­one that they don't appre­ci­ate." On this invi­ta­tion-only call (which was secret­ly record­ed by a par­tic­i­pant), Regan defend­ed UHW's griev­ance fil­ing record. He remind­ed the trou­bled stew­ards that, ​"rep­re­sen­ta­tion is also about what's in your pay check. Every one of our 45,000 mem­bers gets paid every cou­ple of weeks by Kaiser and that's rep­re­sen­ta­tion too."
While Alvis was still await­ing her griev­ance with­draw­al let­ter from UHW, she did get anoth­er memo from man­age­ment — one assur­ing Kaiser work­ers that, ​"Kaiser Per­ma­nente is and will remain com­plete­ly neu­tral in the elec­tion process." If there's one thing that UHW and NUHW-CNA activists like­ly agree on, it's that man­age­ment actu­al­ly favors the sta­tus quo — and very much so. Through the SEIU-dom­i­nat­ed Coali­tion of Kaiser Per­ma­nente Unions, Kaiser cur­rent­ly bar­gains with 28 unions, rep­re­sent­ing 90,000 employ­ees, in nine states. Yet the hos­pi­tal chain seems deeply com­mit­ted to pre­vent­ing NUHW from gain­ing any bar­gain­ing foothold out­side the ​"part­ner­ship" frame­work that CNA has reject­ed for even longer.
Kaiser's horse in the race
As one NUHW-CNA orga­niz­er told me, SEIU's ​"most suc­cess­ful argu­ment among work­ers is, ​'You won't have a con­tract if you leave. You'll lose every­thing.'" Regan made a ver­sion of this claim on KPFA radio in Berke­ley as recent­ly as Fri­day. Legal­ly speak­ing, how­ev­er, it isn't true. Exist­ing con­tract terms for Kaiser ser­vice and tech­ni­cal work­ers would remain in effect while NUHW nego­ti­at­ed a suc­ces­sor agree­ment. That's been the process in the five small­er bar­gain­ing units that switched from SEIU to NUHW in 2010.
Those 4,000 NUHW-rep­re­sent­ed work­ers have not had an easy time at the bar­gain­ing table, how­ev­er. The first group to switch was ille­gal­ly pun­ished by Kaiser, which with­held sched­uled rais­es until the NLRB sought a rare fed­er­al court injunc­tion in Novem­ber of 2010 against this unfair labor prac­tice and secured sev­er­al sev­er­al mil­lion dol­lars in back pay.
Kaiser nego­tia­tors have dragged out bar­gain­ing ever since. Management's stonewalling has cre­at­ed an open­ing for SEIU to stir up decer­ti­fi­ca­tion activ­i­ty among a minor­i­ty of work­ers in two NUHW units. In 2005 – 2006, sim­i­lar tac­tics by Kaiser in first con­tract nego­ti­a­tions with anoth­er non-LMP union, the Com­mu­ni­ca­tions Work­ers of Amer­i­ca, led to CWA's decer­ti­fi­ca­tion by a nar­row mar­gin in a new­ly orga­nized unit of Cal­i­for­nia call cen­ter work­ers. In those frus­trat­ing talks, Kaiser wouldn't agree to the same con­tract con­di­tions enjoyed by SEIU mem­bers in oth­er near­by centers.
Recent­ly, Kaiser Per­ma­nente man­age­ment made what SEIU claims is a ​"final offer" to approx­i­mate­ly 300 opti­cal work­ers who switched to NUHW. The pro­posed con­tract with the NUHW mem­bers includes shift­ing of health­care costs to work­ers cuts to pen­sions and retiree health ben­e­fits. In response, three-quar­ters of the work­ers signed a peti­tion pub­licly reject­ing these con­ces­sions and reaf­firm­ing their sup­port for their elect­ed NUHW nego­tia­tors. ​"SEIU-UHW isn't inter­est­ed in help­ing us," says Sonia Askew, an opti­cian in South Sacra­men­to cov­ered by the con­tract. ​"They're just try­ing to use us as a pub­lic­i­ty stunt in the election."
CNA's added punch
Askew and oth­ers involved in pro­tract­ed NUHW nego­ti­a­tions with Kaiser believe the bal­ance of pow­er will shift dra­mat­i­cal­ly if NUHW wins the elec­tion and adds 45,000 ser­vice and tech­ni­cal work­ers to CNA's 17,000 Kaiser nurs­es and the 4,000 Kaiser Per­ma­nente employ­ees already part of NUHW. The alliance would cre­ate the largest bar­gain­ing coali­tion with­in the hos­pi­tal chain. Adding CNA to the equa­tion, when the unions offi­cial­ly affil­i­at­ed in Jan­u­ary, has already made NUHW mem­bers feel stronger. Dur­ing the last elec­tion, when CNA was offi­cial­ly neu­tral, 27-year Kaiser vet­er­an Tere­sa Cosper recalls being ​"pret­ty much out there by myself" in Vacav­ille. Now, she says, ​"The nurs­es have added so much punch. To have them with us makes a tremen­dous dif­fer­ence." The huge infu­sion of CNA resources has also enabled NUHW to field more than 125 orga­niz­ers and to afford mass mail­ings and ads, plus a door-to-door can­vass­ing oper­a­tion hired from outside.
SEIU-UHW is flood­ing Kaiser facil­i­ties with its own army of full-time staff in advance of the elec­tion. But few­er SEIU locals, in oth­er parts of the coun­try, seem to be con­tribut­ing to that effort than in 2010. Win or lose, SEIU will still be suf­fer­ing from a post-UHW trustee­ship growth tra­jec­to­ry that's a far cry from the boom years of 2006 – 2008, when it was adding 100,000 work­ers to its ranks every year. That num­ber was halved by 2009; in 2011, SEIU reg­is­tered net mem­ber­ship growth of only 5,000 in the entire coun­try; and now, accord­ing to the union's lat­est U.S. Depart­ment of Labor fil­ing, active mem­ber­ship in SEIU dropped from 1,885,728 to 1,842,490 in 2012. (Anoth­er 237,000 work­ers pay agency fees to the union but don't belong to it.) Since 2009, in Cal­i­for­nia alone, almost 20,000 health­care work­ers and pub­lic employ­ees have left SEIU for NUHW or small­er inde­pen­dent unions.
This rever­sal of for­tune is not unre­lat­ed to the tens of mil­lions of dol­lars that were divert­ed in 2009 to inter­nal repres­sion of SEIU dis­si­dents and after­ward, to a nev­er-end­ing series of rep­re­sen­ta­tion­al con­flicts that con­tin­ue to be fueled by deep mem­ber­ship dis­con­tent with SEIU's orga­ni­za­tion­al behav­ior in Cal­i­for­nia heathcare.
Whether that dis­con­tent reflects a mil­i­tant minor­i­ty or a new major­i­ty at Kaiser won't be known until the vote count begins on May 1.
Steve Ear­ly worked for 27 years as an orga­niz­er and inter­na­tion­al rep­re­sen­ta­tive for the Com­mu­ni­ca­tions Work­ers of Amer­i­ca. He is the author of sev­er­al books, includ­ing Refin­ery Town: Big Oil, Big Mon­ey, and the Remak­ing of an Amer­i­can City (Bea­con Press).