Despite Community Pleas, Three Chicago Schools Slated for Privatization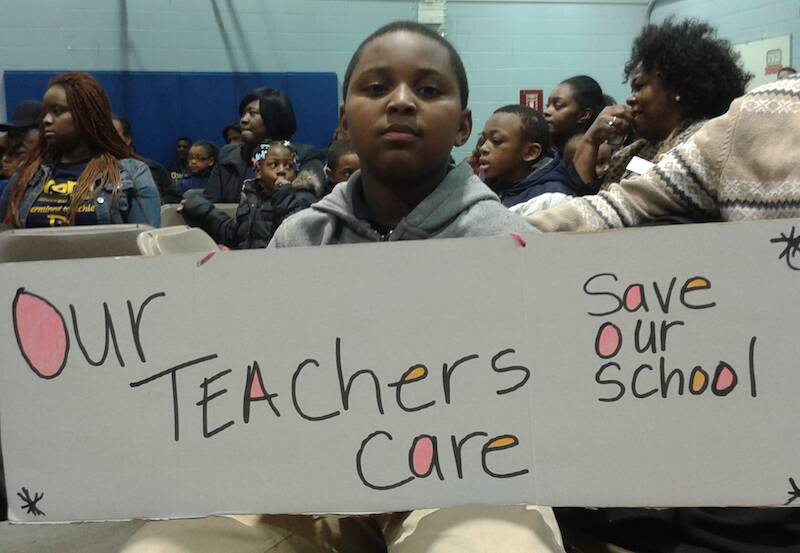 The Chica­go Board of Education's vote on Wednes­day to con­vert three pub­lic ele­men­tary schools into ​"turn­around schools" run by the non-prof­it Acad­e­my for Urban School Lead­er­ship (AUSL) was no sur­prise to most par­ents and teachers.
The board has con­sis­tent­ly vot­ed to close schools or turn them over to pri­vate man­age­ment — lay­ing off most of the staff in the process — despite over­whelm­ing oppo­si­tion, anx­i­ety and out­rage expressed in heart­felt tes­ti­mo­ny by par­ents, teach­ers, stu­dents and elect­ed offi­cials at scores of pub­lic meetings.
While the con­cept of turn­around schools was first insti­tut­ed under for­mer May­or Richard M. Daley, crit­ics see the use of turn­arounds as a sig­na­ture of May­or Rahm Emanuel and his aggres­sive pri­va­ti­za­tion agen­da. Par­ents and experts framed the recent vote as part of a larg­er trend where­in Emanuel, who appoints the school board, has dis­re­gard­ed pub­lic opin­ion to push through his pri­va­ti­za­tion plans. The may­or has met more resis­tance from the teach­ers union and par­ents, how­ev­er, than he may have expect­ed. He was wide­ly seen as ​"los­ing" the stand­off with the teach­ers union that cul­mi­nat­ed in their sev­en-day strike in 2012 and a new con­tract for the teach­ers. Schools CEO Jean-Claude Brizard, a promi­nent pro­po­nent of char­ter schools and pri­va­ti­za­tion, resigned in the wake of the strike.
Even before the April 23 meet­ing, the board mem­bers should have been well aware that pub­lic sen­ti­ment stood firm­ly against ​"turn­ing around" McNair Ele­men­tary, Gre­sham Ele­men­tary and Dvo­rak Tech­nol­o­gy Acad­e­my, all of which are in pre­dom­i­nant­ly African-Amer­i­can neigh­bor­hoods. Dur­ing pub­lic meet­ings at each school in recent weeks, com­mu­ni­ty mem­bers berat­ed AUSL offi­cials, call­ing them ​"trai­tors" to the Black com­mu­ni­ty, and plead­ed with them to save the jobs of the prin­ci­pals and teach­ers. The tenor of these meet­ings echoed scores of hear­ings held about the plan to close almost 50 pub­lic schools in 2013. It was evi­dent this month that to many par­ents and stu­dents, being ​"turned around" is near­ly equiv­a­lent to being closed. While the school remains open after a turn­around, stu­dents and par­ents said that with­out the teach­ers and staff that they have grown to know and love, the school isn't the same.
Par­ents reit­er­at­ed the same points at the April 23 meet­ing, but all five of the school board mem­bers present vot­ed in favor of the turn­around pro­pos­als. (The board has sev­en mem­bers total, but can hold votes with five.)
AUSL already runs 29 Chica­go schools with more than 17,000 stu­dents. Now it will take over the three ele­men­tary schools in the fall, and 147 employ­ees, includ­ing 76 teach­ers, will lose their jobs.
The school dis­trict says that the teach­ers will be allowed to reap­ply for their jobs and that about 60 per­cent of teach­ers laid off from turn­around schools receive posi­tions some­where in the Chica­go pub­lic-school sys­tem by the next fall. But these jobs can be any­where in the city, offer­ing lit­tle con­so­la­tion to par­ents who empha­sized how teach­ers at neigh­bor­hood schools are like fam­i­ly to the stu­dents, espe­cial­ly since mul­ti­ple gen­er­a­tions have attend­ed the same schools and even had the same teachers.
​"There's not a day that goes by my kids don't want to go to school," said Dvo­rak par­ent Can­dace Stigler at the board meet­ing on April 23, not­ing that AUSL's promis­es of trips to Dave & Buster's and Medieval Times restau­rants are mean­ing­less to her. ​"It takes a vil­lage to raise a child. … Dvo­rak is our village."
Gre­sham par­ent Antho­ny Jack­son addressed Chica­go Pub­lic Schools CEO Bar­bara Byrd-Ben­nett direct­ly. ​"Let me first tell you all, Ms. Byrd-Ben­nett," said Jack­son, wear­ing an I Love Gre­sham T‑shirt, ​"the par­ents at Gre­sham, we took a vote about whether we want AUSL to come into our school or not. … Over­whelm­ing­ly 188 – 4, we do not want AUSL at our school. Sec­ond­ly, no one con­sult­ed with the par­ents in the com­mu­ni­ty. You do not under­stand an impov­er­ished com­mu­ni­ty, first of all — you don't come from that. Your chil­dren don't go there. To blame the teach­ers, it's not right!"
As is often the case with schools that are closed, pri­va­tized or sub­ject to sweep­ing reforms, all three schools are in poor neigh­bor­hoods — Dvo­rak and McNair on Chicago's West Side and Gre­sham on the South Side. All three have had con­sis­tent­ly low scores on stan­dard­ized tests and have been placed on pro­ba­tion by the dis­trict for between six and 14 years. But par­ents say that teach­ers at the schools are ded­i­cat­ed, car­ing and skill­ful, and shouldn't be pun­ished for prob­lems that stem from a lack of resources.
Gre­sham prin­ci­pal Dr. Diedrus Brown—her­self a grad­u­ate of Chica­go Pub­lic Schools — not­ed at the board meet­ing that Gresham's test scores have fluc­tu­at­ed accord­ing to how much fund­ing the school has received. Gresham's bud­get was cut in 2013, and the school was forced to lay off three teach­ers and three staffers.
​"I saw what hap­pened at the school when we were giv­en extra mon­ey," Brown said. ​"Then you desta­bi­lized our school for the past two years by tak­ing mon­ey away. … I lost pro­grams, I lost posi­tions. … What AUSL gets in terms of finances — give some of that back to the neigh­bor­hood schools. It's Chica­go Pub­lic Schools, not Chica­go Pri­vate Schools."
Brown and oth­ers say it is unfair that turn­around schools get $300,000 in start­up fund­ing, plus, for five years, $420 per stu­dent more than oth­er CPS schools receive.
Dion Stone, a par­ent and Local School Coun­cil mem­ber at McNair, had pre­pared remarks for the April 23 board meet­ing. But after hear­ing glow­ing tes­ti­mo­ny from sev­er­al prin­ci­pals and par­ents at oth­er AUSL schools, Stone scut­tled his planned state­ment and spoke spontaneously.
​"I thought they've got a lot of nerve," he said of the AUSL rep­re­sen­ta­tives. ​"Talk­ing about what they can offer, the pro­grams they have and their test scores. With their big bud­get they can offer all of that," he said — refer­ring to soc­cer and cheer­lead­ing teams, excur­sions to Dave & Buster's restau­rant and oth­er perks trum­pet­ed by AUSL representatives.
​"Our teach­ers don't have work­ing com­put­ers. They have to bring their own lap­tops to school, buy their own print­er paper," Stone con­tin­ued. ​"And even with the dimin­ished bud­get we have, our test scores have been ris­ing, in some cas­es com­pet­ing, in some cas­es beat­ing AUSL."
The Chica­go Teach­ers Union has long charged that the city has been delib­er­ate­ly starv­ing neigh­bor­hood schools like Gre­sham, Dvo­rak and McNair of resources, in order to help jus­ti­fy either clos­ing them or turn­ing them over to pri­vate man­age­ment. In this year's bud­get, schools across Chica­go saw fund­ing cuts of 10 to 25 per­cent.
After the vote, CTU pres­i­dent Karen Lewis released a state­ment that the schools had been ​"set up for fail­ure," which read in part:
Today's hos­tile takeover of three of our neigh­bor­hood school com­mu­ni­ties by the mayor's hand­picked Board of Edu­ca­tion makes it quite clear that there is a war on old­er, African-Amer­i­can teach­ers and admin­is­tra­tors, as well as the school com­mu­ni­ties in which they serve. … This dubi­ous, cor­po­rate reform mod­el has proven to do lit­tle but take over schools dis­cred­it­ed by CPS and then, after receiv­ing mil­lions of dol­lars in sup­port, take cred­it for the sud­den but short-lived aca­d­e­m­ic suc­cess among students.
Denise Lit­tle — the Chief Offi­cer of Net­works for Chica­go Pub­lic Schools, part of a five-per­son cab­i­net the school dis­trict cre­at­ed in late 2012 — would like­ly dis­agree. She began the April 23 meet­ing by recit­ing sta­tis­tics about AUSL school per­for­mance, includ­ing that AUSL schools improve more on stan­dard­ized tests than the aver­age improve­ment rate.
​"Stu­dents at AUSL schools have the oppor­tu­ni­ty to learn in safe, sup­port­ive envi­ron­ments," Lit­tle said. ​"AUSL has had a pro­found impact on aca­d­e­m­ic per­for­mance and school culture."
But crit­ics point to uneven per­for­mance in the turn­around schools man­aged by AUSL. While test scores in these schools increased dur­ing the first years under the group's man­age­ment, they stag­nat­ed soon after­wards. As of last year, 11 of the 12 schools tak­en over by AUSL between 2006 and 2010 had com­pos­ite ISAT scores below the CPS dis­trict-wide aver­age, as Cur­tis Black report­ed for the Com­mu­ni­ty Media Work­shop. Two AUSL-oper­at­ed schools in the low-income area of North Lawn­dale have actu­al­ly seen drops in their com­pos­ite test scores of late. And while 33 Chica­go ele­men­tary schools with stu­dent pover­ty rates above 95 per­cent achieved above-aver­age ISAT read­ing scores in 2012, none of them were AUSL schools, accord­ing to a study by Don Moore of Designs for Change.
More­over, Lewis and oth­ers at the meet­ing said that the ​"cul­ture" at AUSL schools is often unsta­ble and con­fus­ing for stu­dents, since they are deal­ing with new teach­ers and staff and a new prin­ci­pal. After AUSL takes over a school it hires replace­ment teach­ers and staff — who are mem­bers of the Chica­go Teach­ers Union, but union lead­ers still describe the prac­tice as under­cut­ting union teach­ers' rights and pro­tec­tions — and the new teach­ers are more like­ly than usu­al to leave them­selves with­in two or three years. A Jan­u­ary report by Cat­a­lyst Chica­go mag­a­zine said that the turnover had led to ​"what stu­dents and staff described as a chaot­ic envi­ron­ment."
Frus­tra­tion and anger was pal­pa­ble as par­ents and stu­dents left the meet­ing. Secu­ri­ty offi­cers sur­round­ed one man who called out, ​"Denise Lit­tle, you can expect a vis­it, we're going to your house, baby!"
Though May­or Emanuel wasn't at the board meet­ing, he was very present in the minds of par­ents and oth­er crit­ics — includ­ing sev­er­al who invoked the Uni­ver­si­ty of Chica­go Lab­o­ra­to­ry Schools, the elite pri­vate insti­tu­tion Emanuel's kids attend.
​"You're tak­ing the mon­ey, you're bleed­ing the school of resources, then you expect [the teach­ers] to be magi­cians and pro­duce top-of-the-line chil­dren com­pet­ing with Lab schools and all that," said Jack­son, grow­ing teary as he talked about how Gre­sham teach­ers helped his son tran­si­tion out of spe­cial edu­ca­tion. ​"Please, board mem­bers, do not turn Gre­sham around. Give us the funds and I know the teach­ers will show you all they are capa­ble of pro­duc­ing schools like the Lab School."
This report was made pos­si­ble by a gen­er­ous grant from the Voqal Fund.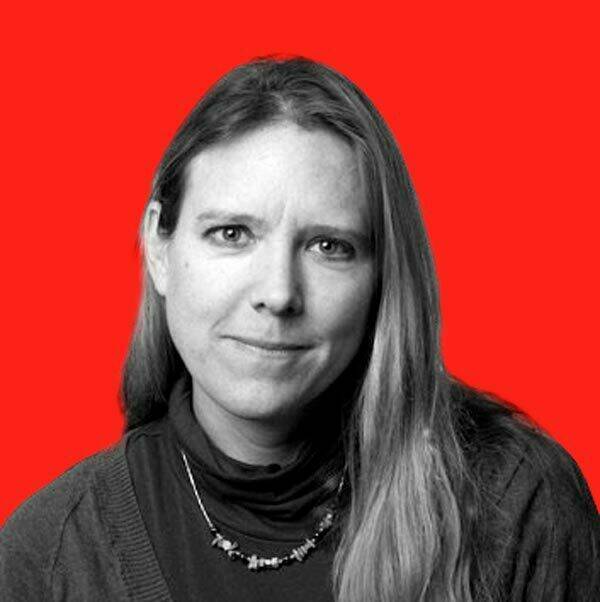 Kari Lyder­sen
is a Chica­go-based reporter, author and jour­nal­ism instruc­tor, lead­ing the Social Jus­tice
&
amp; Inves­tiga­tive spe­cial­iza­tion in the grad­u­ate pro­gram at North­west­ern Uni­ver­si­ty. She is the author of May­or
1
%: Rahm Emanuel and the Rise of Chicago's
99
%.