The Children Left Behind
What happened to the students pushed out by high-stakes testing?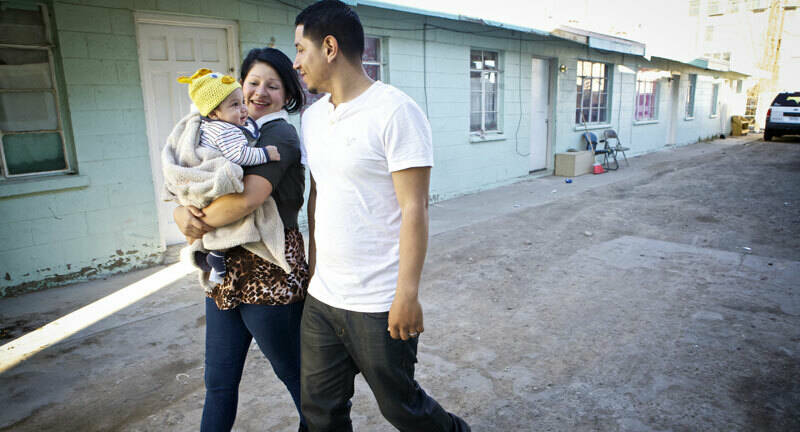 When I knocked on her door late last year, Sonia S. had just returned from the coun­ty hos­pi­tal after giv­ing birth. She had no idea why I'd come to her home in a poor neigh­bor­hood in El Paso, Texas. I told her I'd found her name on a list of pub­lic school stu­dents who'd once tak­en a high-stakes test, the Texas Assess­ment of Knowl­edge and Skills (TAKS), while attend­ing Bowie High School. The list indi­cat­ed that Sonia had failed the test in the past and was pre­dict­ed to fail in the future.
The testing mandated by No Child Left Behind was supposed to identify which students needed help. Some administrators used it to determine which students should be expelled.
I asked her if she'd been kicked out of high school. ​"Yes," she said, jug­gling her new­born boy on her hip. That had hap­pened two-and-a-half years ear­li­er. Now she was 20 years old.
**Lis­ten to Sonia, as she cares for her baby, describe recur­ring dreams of still being in high school:
Not far away, I found Leo G., also 20, liv­ing with his moth­er and his preg­nant girl­friend in pub­lic hous­ing. He, too, was on the TAKS pre­dict­ed-fail­ure list and had been kicked out of school. So had Yan­derier G., 22, whom I locat­ed after find­ing Sonia and Leo. Yan­derier told me she'd once aspired to attend col­lege, become an accoun­tant and start her own busi­ness. None of that had hap­pened — now she was work­ing in the kitchen at a piz­za restau­rant. She invit­ed me in, made cof­fee and start­ed weeping.
TAKS was admin­is­tered to Texas chil­dren under the man­dates of a 2001 fed­er­al law known as No Child Left Behind (NCLB), which set a bench­mark for 100-per­cent stu­dent pro­fi­cien­cy in math and read­ing by 2014. States were required to show ​"ade­quate year­ly progress" toward the goal, most­ly through stan­dard­ized test­ing. Good scores on the tests would lead to rewards for schools, admin­is­tra­tors and teach­ers. Bad scores would pro­voke pun­ish­ment, includ­ing clos­ing schools and fir­ing teach­ers. (TAKS has since been replaced by a new­er and more dif­fi­cult test called State of Texas Assess­ments of Aca­d­e­m­ic Readiness.)
At the 2004 Repub­li­can Nation­al Con­ven­tion, Pres­i­dent George W. Bush broke into Texas-accent­ed Span­ish to trans­late ​"No Child Left Behind" to ​"No dejare­mos a ningún niño atrás.""By test­ing every child," he intoned, ​"we are iden­ti­fy­ing those who need help."
But, as the expe­ri­ences of Leo, Sonia and Yan­derier attest, No Child Left Behind has not helped. Instead, it has done ines­timable dam­age to count­less young peo­ple nation­wide, a dis­pro­por­tion­ate num­ber of whom are Lati­no. As a result of test­ing every child, many low scor­ers have been kicked out of school.
In New York City, from 2001 to 2004, thou­sands of strug­gling stu­dents were coun­seled to leave high school and enroll in adult edu­ca­tion and GED class­es, so they would not have to take exams whose pass-fail rates fig­ured in the way the New York City edu­ca­tion­al sys­tem was eval­u­at­ed by the fed­er­al gov­ern­ment. In Birm­ing­ham, Ala., in 2002, school offi­cials admit­ted they had kicked out 522 stu­dents and told them to get GEDs — again, to raise Birmingham's high-stakes test scores. In Orlan­do, Fla., over two years, one high school ​"trans­ferred" 440 aca­d­e­m­i­cal­ly weak stu­dents out of school and into GED pro­grams — and almost all of them sim­ply dropped out. Then there was Hous­ton, where assis­tant prin­ci­pals and deans worked as ​"bounc­ers," col­lar­ing weak stu­dents in the halls and order­ing them to the office. There, they were kicked out of school and told to find alter­na­tive edu­ca­tion. The school dis­trict did not fol­low up to see if they'd done so.
In city after city, most of the adverse­ly affect­ed were stu­dents of color.
As word spread about NCLB-relat­ed mis­con­duct, these young peo­ple came to be known as vic­tims of ​"push-out," a pol­i­cy that edu­ca­tion-rights activists vig­or­ous­ly denounce. In 27 states, includ­ing Texas, stu­dents have the right to remain in pub­lic school until they turn 21, and ban­ish­ing them to GED pro­grams is illegal.
Even so, the prac­tice has con­tin­ued. In El Paso, as recent­ly as three years ago, hun­dreds of oth­er Lati­no young peo­ple were ille­gal­ly divert­ed to GED pro­grams. The crime has been cov­ered by Texas and nation­al media, but report­ing has con­cen­trat­ed on the law-break­ers, with lit­tle atten­tion paid to the dam­age done to the stu­dents who had been pushed out. That's why I went look­ing for Yan­derier, Sonia and Leo.
Trou­bling lessons
Bowie High School, named for Jim Bowie of Bowie knife fame, a Texas hero who died in 1836 at the bat­tle of the Alamo, sits hard on the bor­der by the Rio Grande Riv­er. Gov­ern­ment sub­si­dized lunch­es are the norm at Bowie, and the sur­round­ing neigh­bor­hood, filled with crum­bling homes and apart­ments bak­ing in desert sun, is one of the most des­ti­tute in the nation. Even so, Bowie is a beloved com­mu­ni­ty institution.
El Paso's pop­u­la­tion is 81 per­cent Lati­no, most­ly Mex­i­can-Amer­i­can or Mex­i­can immi­grants. Many are non-Eng­lish speak­ers with­out papers, most­ly liv­ing in dire pover­ty. Par­ents and chil­dren suf­fer injus­tice qui­et­ly, in pow­er­less­ness and fear. They are easy to exploit, espe­cial­ly when they lead trou­bled lives.
Yan­derier, Sonia and Leo had troubles.
Leo's were not only aca­d­e­m­ic. They were also behav­ioral, pos­si­bly dat­ing to events of his ear­ly child­hood. When Leo was 4, his 1‑year-old broth­er, Ser­gio, was strick­en with ter­mi­nal can­cer. Leo's sin­gle moth­er had no fam­i­ly mem­ber to leave Leo with while she dealt with the dying child. Leo spent months, day and night, in group day­care, rarely see­ing his moth­er. Leo was 7 when Ser­gio died. By age 8, he had devel­oped prob­lems con­cen­trat­ing, study­ing and con­trol­ling his emo­tions when he felt frus­trat­ed. By fifth grade he'd been diag­nosed with Atten­tion Deficit Hyper­ac­tiv­i­ty Dis­or­der (ADHD) and Oppo­si­tion­al Defi­ant Dis­or­der (ODD) and he was put on Con­cer­ta, a med­i­cine sim­i­lar to Rital­in and com­mon­ly used to treat ADHD. As the years passed and he act­ed out in ways typ­i­cal of chil­dren with ODD and ADHD, Leo was pun­ished by being sent for months to an alter­na­tive school for unruly children.
Accord­ing to Leo's school records, he failed almost every TAKS test he ever took, start­ing in fifth grade. There is no evi­dence in Leo's exten­sive records that any­one at his school inves­ti­gat­ed the rea­son for so many failures.
Sonia says that her father was a drug addict, and at age 7 she was sent to live with her grand­moth­er. But Sonia's grand­moth­er worked full time, so her room­mate, Sonia's god­moth­er, was tasked with car­ing for Sonia. The room­mate despised both the job and Sonia. When no one else was in the house, she pulled Sonia's hair, cursed at her, and called her a víbora — in Span­ish, a snake — and una mala niña, a bad girl.
Years lat­er, now that she has her own child, Sonia has been think­ing about the way her godmother's ver­bal abuse became a self-ful­fill­ing prophe­cy. At age 14, Sonia start­ed act­ing like a bad girl. Pre­vi­ous­ly a good stu­dent, she refused to study. She ditched class­es and fought with oth­er girls. She called her teach­ers names.
And she start­ed fail­ing the TAKS test.
Yanderier's fam­i­ly is Mex­i­can and when she was a child, they all lived on the Mex­i­can side of the bor­der, in Ciu­dad Juárez. But Yan­derier was born in El Paso and is a U.S. cit­i­zen. As the only child in the fam­i­ly with U.S. cit­i­zen­ship, Yan­derier had always been the cen­ter­piece of her par­ents' ambi­tions, espe­cial­ly her father's. He expect­ed her to work in the Unit­ed States when she reached adult­hood and to live the Amer­i­can dream.
When Yan­derier was told she couldn't enter pub­lic high school in Juárez because she was not a Mex­i­can, she moved in with her broth­er, who lived in El Paso, so she could study there. In 2005, Yan­derier enrolled in the 10th grade at Bowie High School.
Yan­derier vivid­ly remem­bers her first days at Bowie. She spoke almost no Eng­lish, but a teacher wel­comed her, telling her she would learn quick­ly and do just fine. Yan­derier set­tled in, and soon was read­ing, writ­ing and speak­ing Eng­lish. She made friends and joined Bowie's Junior ROTC program.
When Yan­derier start­ed at Bowie, she often spot­ted Bowie's prin­ci­pal, a tall, kind-faced man named Lionel Rubio, walk­ing the halls and chat­ting with stu­dents. Many were indi­gent and in all kinds of mate­r­i­al and emo­tion­al dis­tress. Rubio lis­tened atten­tive­ly and sym­pa­thet­i­cal­ly as stu­dents dis­cussed their prob­lems. So did many oth­er edu­ca­tors at Bowie.
In ear­ly 2006, the El Paso school dis­trict hired a new super­in­ten­dent, Loren­zo García. He had pre­vi­ous­ly been a high-lev­el school admin­is­tra­tor in Dal­las. As soon as García assumed his new post in El Paso, he announced he would take aggres­sive steps to deal with the city's cam­pus­es that were rat­ed aca­d­e­m­i­cal­ly unac­cept­able by the state — espe­cial­ly the worst per­form­ing high school, Bowie.
Not long after García's announce­ment, Prin­ci­pal Rubio left Bowie. In ear­ly 2008, the job went to Jesus Chavez, a school admin­is­tra­tor García brought into the dis­trict from out of town. That's when things start­ed to change, say Yan­derier, Leo and Sonia (who, like Leo, was in 9th grade at the time).
Accord­ing to Yan­derier, Chavez seemed cold and unfeel­ing. He sel­dom had a good word for stu­dents and did not walk around the school. Instead, accord­ing to anoth­er stu­dent, the halls became inun­dat­ed with secu­ri­ty cameras.
Stu­dents began to notice weird goings-on at the inter­na­tion­al bridge near cam­pus — specif­i­cal­ly, Bowie admin­is­tra­tors sta­tioned there with cam­eras. What the stu­dents didn't know was that García had ordered an employ­ee to take pho­tos of stu­dents cross­ing in the morn­ing from Juárez to iden­ti­fy which ones did not live in El Paso. For gen­er­a­tions, a cus­tom of this bi-nation­al com­mu­ni­ty was to rec­og­nize that kids tend­ed to have com­pli­cat­ed cit­i­zen­ship and liv­ing arrange­ments, and it was far bet­ter to edu­cate them than to deny them over where they slept at night. But Garcia's main con­cern was that bi-nation­al stu­dents tend­ed to have lim­it­ed Eng­lish skills and would like­ly score low on TAKS tests. They need­ed to go.
García also focused on long­time El Paso res­i­dents with aca­d­e­m­ic prob­lems. He began ban­ish­ing them using meth­ods that were unabashed­ly crim­i­nal. Among oth­er ille­gal actions, he designed a scheme that pre­vent­ed stu­dents who could not be expect­ed to pass the TAKS exam from tak­ing the test. He ordered that those stu­dents be kicked out of school.
To iden­ti­fy which stu­dents to tar­get, García had his under­lings use a com­put­er pro­gram called INO­VA that gen­er­at­ed a report of how each Bowie stu­dent had done on the high stakes exams in the past and pre­dict­ed whether the stu­dent would pass the next time around. The offi­cial pur­pose of this fore­cast­ing was to iden­ti­fy stu­dents who need­ed help to improve their test scores. García devised an off-label use — to help push out those students.
Leo was one of the first to go. When the fall semes­ter start­ed at Bowie in 2008, he was called into the office and told he should trans­fer to the GED pro­gram at Sun­set High School, a facil­i­ty for adult learn­ing, where stu­dents must be 17 to enroll. Leo was 16, but was sent anyway.
Three months after enrolling at Bowie, Yan­derier moved back in with her father in Juárez. Her grades were good, but she suf­fered from test anx­i­ety and con­sis­tent­ly failed the TAKS. At the end of her junior year she start­ed hav­ing atten­dance prob­lems — with often hours-long delays on the bridge,Yanderier fre­quent­ly arrived at school late.
In the fall of 2008, after fail­ing to grad­u­ate the pre­vi­ous spring, Yan­derier arrived at Bowie to repeat her senior year. She was 18. That Octo­ber, Bowie admin­is­tra­tors called her into the office and told her that she was too old to be a stu­dent. She was ordered to turn in her text­books and leave. She did so, not know­ing she had the legal right to remain at Bowie until she was 21.
*Lis­ten to Yan­derier talk about what hap­pened on the day she was pushed out of high school:
Sonia, who had also failed the TAKS, left a year after Yan­derier. Sonia's prob­lems went back to ear­ly 2008, when cam­pus police cit­ed her and sent her to crim­i­nal court for call­ing a teacher the Span­ish equiv­a­lent of a ​"fuck­ing old man." Sonia says that when she lat­er pulled a student's hair, nei­ther the prin­ci­pal nor any school coun­selor talked to her about her prob­lems. She got anoth­er court date and anoth­er crim­i­nal record. In Novem­ber 2009, she went to Bowie's admin­is­tra­tion office and said she want­ed to drop out of school.
She was 17, and by law in Texas, stu­dents must stay in school until they are 18. But Sonia and her grand­moth­er say that instead of inter­ven­ing, Bowie admin­is­tra­tors told Sonia, ​"If any­one asks, just say you went to Juárez." Her with­draw­al form lists her rea­son for leav­ing Bowie as mov­ing to anoth­er coun­try. With this clas­si­fi­ca­tion, Bowie did not have to count Sonia as a drop-out, which would have looked bad for the school under NCLB mandates.
Sonia didn't go to anoth­er coun­try. She stayed in El Paso, utter­ly bored. Three months after drop­ping out, she put on her best clothes and went back to Bowie to re-enroll. She was told that since she was a chron­ic mis­be­haver who was just a few weeks shy of 18, she could not come back to school. She returned to Bowie two more times, she says, beg­ging to be allowed back in. She says she was refused both times. She didn't know that drop-outs have the legal right to re-enroll until they turn 21.
García's cheat­ing scheme worked. After the aca­d­e­m­i­cal­ly weak and the behav­ior-prob­lem stu­dents — los prob-lemáticos, they were called by Bowie admin­is­tra­tors — were kicked out, TAKS scores at the school jumped. They rose so dra­mat­i­cal­ly that Bowie went from being a school in trou­ble to an ​"accept­able" school by the state stan­dards. García received more than $56,000 in bonus­es. He was nom­i­nat­ed twice for Texas super­in­ten­dent of the year.
But the plan start­ed unrav­el­ing in 2009, when Dan Wev­er, a for­mer school board trustee, noticed that the school's 2007 fresh­man class had 381 stu­dents, but the next fall's sopho­more class con­tained only 170. Sus­pi­cious, Wev­er told then-state Sen. Eliot Shap­leigh what he had found, and the two began dig­ging fur­ther. Then the FBI looked into anoth­er García scheme — a fake, $450,000 con­tract he'd giv­en to a girl­friend. Mean­while, the El Paso Times, the city's dai­ly news­pa­per, con­duct­ed its own inves­ti­ga­tion of alleged cheat­ing at Bowie, and the FBI start­ed a probe. Last year, Garcíawas con­vict­ed on fraud charges and sen­tenced to 42 months in fed­er­al prison. He is the country's first school super­in­ten­dent con­vict­ed of fraud and for fak­ing test scores for mon­e­tary gain.
Prin­ci­pal Jesus Chavez resigned last year. Not long after­ward, the author­i­ty of the local school board was sus­pend­ed and replaced with a state-appoint­ed board of man­agers who are man­dat­ed to run the El Paso dis­trict for as long as two years. The pres­i­dent of this board, Dee Mar­go, is a Repub­li­can and for­mer Texas state rep­re­sen­ta­tive. In the leg­is­la­ture two years ago, he vot­ed for $5.4 bil­lion in cuts to pub­lic education.
High-stakes cheat­ing
A sword of Damo­cles hangs over ven­er­a­ble pub­lic edu­ca­tion insti­tu­tions, like Bowie, that serve the poor and new speak­ers of Eng­lish — the con­stant threat that if these stu­dents don't pro­duce good enough scores, their schools will be closed. Edu­ca­tors tend to ignore the prob­lems of learn­ing-dis­abled stu­dents and those with emo­tion­al issues, and to pun­ish instead of help. High stakes test­ing also encour­ages a mean obses­sion with iden­ti­fy­ing exact­ly which immi­grants deserve pub­lic resources, ver­sus which ones don't — and that can spur fear and strife in communities.
Accord­ing to New York Uni­ver­si­ty edu­ca­tion schol­ar Pedro Noguera, even if stu­dents don't get pushed out of school, high-stakes test­ing fails to increase their knowl­edge or abil­i­ty to suc­ceed in col­lege. ​"Kids are not get­ting an edu­ca­tion," he says. The achieve­ment gap between afflu­ent stu­dents and poor stu­dents, white stu­dents and minor­i­ty stu­dents, ​"is about inequal­i­ty," he says. ​"And we're not address­ing inequal­i­ty with high-stakes testing."
Mean­while, push-out con­tin­ues, at least in New York City. Jen­nifer Solar, of Advo­cates for Chil­dren, a civ­il rights group for local stu­dents, says her orga­ni­za­tion is cur­rent­ly doc­u­ment­ing cas­es of 18-year-olds being pushed out of schools. Noguera points out that as long as high-stakes test­ing remains pol­i­cy, lit­tle can be done to com­plete­ly elim­i­nate this kind of cheat­ing. It's easy for an admin­is­tra­tor to con­vince a strug­gling 18- or 19-year-old that study­ing for the GED might be more pro­duc­tive than stay­ing in school.
After Christ­mas last year, the El Paso school dis­trict announced it would find pushed-out stu­dents and offer them com­pen­sato­ry school­ing. The state leg­is­la­ture passed a bill mak­ing such ser­vices mandatory.
But the district's search has proved large­ly unpro­duc­tive. Many stu­dents have moved from their for­mer address­es and have not been locat­ed. Oth­ers now have spous­es, part­ners, kids, jobs and com­pli­cat­ed sched­ules. But rather than tai­lor­ing class times and loca­tions to fit indi­vid­ual cir­cum­stances, the school dis­trict has offered hours-long class­es at fixed loca­tions, only on week­days. Of hun­dreds of El Paso stu­dents esti­mat­ed to have been pushed out of school, only 19 have been locat­ed who were able or will­ing to return to classes.
Remains of the school day
Leo has spent the last three-and-a-half years work­ing part-time for a care facil­i­ty for sick and old peo­ple. He makes a few hun­dred dol­lars a month. He feels trapped with­out a high school diplo­ma, unable to get a decent job and unable to sup­port his girl­friend and the couple's 1‑year-old daughter.
Being found and inter­viewed for this arti­cle made him aware for the first time that his edu­ca­tion­al rights had been vio­lat­ed. He found an attor­ney with the local branch of Dis­abil­i­ty Rights Texas, which has filed a com­plaint with the Texas Edu­ca­tion Agency on behalf of four for­mer El Paso stu­dents. The com­plaint con­cerns the district's fail­ure to pro­vide spe­cial edu­ca­tion ser­vices to chil­dren like Leo who clear­ly deserved them. Accord­ing to dis­abil­i­ty rights attor­ney Con­stance Wan­na­mak­er, the com­plaint is in the process of being set­tled. When it is, Leo will be offered GED study oppor­tu­ni­ties tai­lored to his sched­ule and his spe­cial-edu­ca­tion needs.
Yan­derier has not spo­ken with her father since her last day at Bowie. When she broke the news to him that after­noon, he went into a rage. ​"You don't want to do any­thing with your life!" he yelled. ​"You're a noth­ing." She thinks obses­sive­ly about the day, and the conversation.
*Lis­ten to Yan­derier talk about her rela­tion­ship with her father, and the dam­age she feels, years lat­er, from being pushed out:
Yan­derier end­ed up going back to Juárez to get a high school diplo­ma from a pri­vate school. Then she mar­ried Jonathan J., an El Pasoan and Bowie class­mate who was also pushed out of school. After learn­ing dur­ing our inter­view that her rights had been vio­lat­ed, Yan­derier sought out edu­ca­tion activists in El Paso who are work­ing to elim­i­nate high-stakes test­ing. At the urg­ing of one of the activists, Yan­derier enrolled in the local com­mu­ni­ty col­lege, on an asso­ciate-degree track in account­ing. She hopes one day to work in an El Paso bank.
Sonia, now 21, lives in El Paso with her hus­band, Adan, and their 1‑year-old son, Aron. Since being denied enroll­ment at Bowie more than three years ago, Sonia has made sev­er­al attempts to fin­ish high school at an adult edu­ca­tion pro­gram. But the baby, and the need to work, con­stant­ly inter­rupt her. She enrolled in sum­mer school this year, but then Adan lost his job as a mechan­ic. On the sec­ond day of sum­mer school, Sonia got a call from a busi­ness where she'd applied ear­li­er. They said they had an open­ing. Again she quit school. Now she's work­ing at a gas sta­tion as a cashier.
Bowie con­tin­ues to haunt her. She says, ​"Some­times I dream about being in school with my friends — in class, work­ing, writ­ing. Then I wake up, know­ing it was just a dream. That I can't go back."
This arti­cle was report­ed in part­ner­ship with The Inves­tiga­tive Fund at The Nation Insti­tute with sup­port from the Puf­fin Foun­da­tion and News­pa­per Tree.