The Feminist Utopia Project Isn't Utopian Just Yet
What's missing? Age diversity and an economic analysis.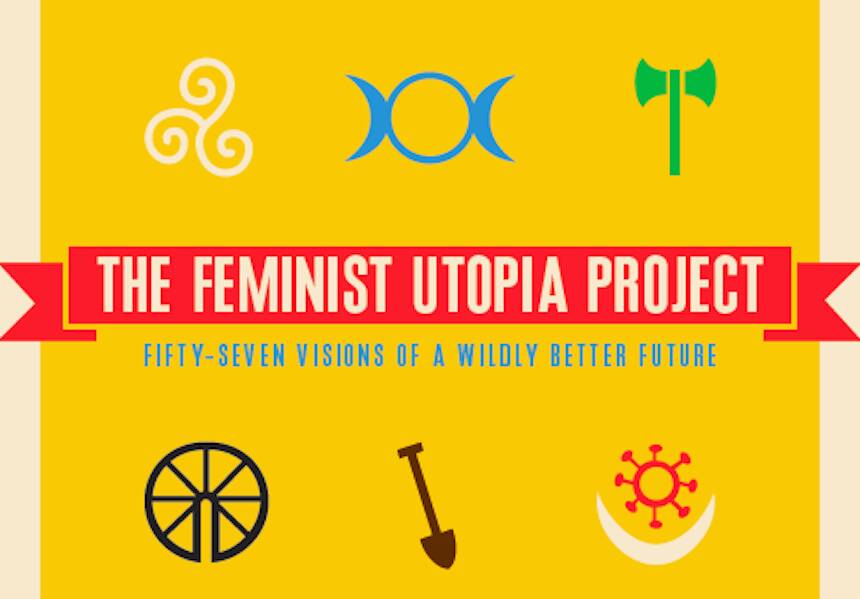 The Fem­i­nist Utopia Project: Fifty-Sev­en Visions of a Wild­ly Bet­ter Future (Fem­i­nist Press) is a col­lec­tion of 57 short essays and inter­views with a self-explana­to­ry title: It aims to con­vey what utopia might look in a fem­i­nist world. Or, at least what utopia looks like to some kinds of fem­i­nists, and what some kinds of fem­i­nism look like in some utopias. Notably miss­ing are dis­cus­sions of cap­i­tal­ism and visions of utopias for women over 40.
The problem is that the vast majority of the utopias envisioned here, while racially diverse to some degree, are by people barely in their 30s
Chil­dren and repro­duc­tions are promi­nent themes here. Kate Riley asks, ​"What Will Chil­dren Play with in Utopia," and the answer, illus­trat­ed by Richard Espinosa, is … dough, wet sand, mud, and bub­ble wrap, all giv­en to chil­dren in lieu of Ipads and soft­ware and meant to encour­age them to move through the world guid­ed by their sens­es. Essays by Jus­tine Wu, Jen­ny Trout, and Glo­ria Mal­one imag­ine a world that pro­vides abor­tion access, long mater­ni­ty leave, and child­care for teen par­ents. Sov­er­eign Syre and Melis­sa Gira Grant address the stig­ma sur­round­ing sex and sex work, espe­cial­ly in fem­i­nist circles.
But cap­i­tal­ism plays a more obscure role. Of course, in address­ing mat­ters of sex, repro­duc­tion, and child­care and the work­place, writ­ers are invari­ably address­ing cap­i­tal­ism, even with­out nam­ing it. But when they do, it's in curi­ous ways. In Sheila Bapat's ​"Imper­fect­ly: A Fem­i­nist Utopi­an Econ­o­my That Embraces and Address­es Human Flaws," she writes that domes­tic labor should be com­pen­sat­ed. How­ev­er, ​"a fem­i­nist utopi­an econ­o­my would not, nec­es­sar­i­ly, be an ant­i­cap­i­tal­ist one." The ​"nec­es­sar­i­ly" pro­vides some­thing of a caveat, but the state­ment is still a star­tling one. It is, after all, cap­i­tal­ism that man­dates the exploita­tion of labor, and it is capitalism's log­ic of sup­ply and demand (rather than worth to soci­ety or work­ers' rights) that deval­ues domes­tic labor: how are we to get to valu­ing labor with­out an anti-cap­i­tal­ist agenda?
Bapat's piece places a strong empha­sis on cur­tail­ing greed, argu­ing for a fem­i­nism that instead ​"involves acknowl­edg­ment that humans are flawed, ever-chang­ing, need­ing love, need­ing val­i­da­tion, and always mov­ing in direc­tions that earn them love and val­i­da­tion." She writes about the need to ​"ensure greed nev­er over­runs decent con­di­tions for workers."
The prob­lem here is that greed is sit­u­at­ed as an emo­tion­al and cul­tur­al val­ue, rather than as what it is: a struc­tur­al com­po­nent of cap­i­tal­ism. Bapat's plan is an emo­tion­al call that, like plac­ing flow­ers in the bar­rels of rifles, per­forms lit­tle more than a sym­bol­ic function.
The Fem­i­nist Utopia Pro­ject is not meant to be a uni­fied, cohe­sive man­i­festo but is designed to pro­vide a sense of what utopia means for fem­i­nists in the here and now. Still, the ori­gins and back­grounds of the edi­tors are telling. Most are 20-some­things who write for non-pay­ing sites such as Fem­i­nist­ing, an abil­i­ty that points to a degree of cul­tur­al and/​or eco­nom­ic priv­i­lege. Their visions tend toward a very par­tic­u­lar form of priv­i­leged fem­i­nism: one that empha­sizes, as Bapat's essay does, how fem­i­nists might feel in a utopia, instead of a sense of how they might bring it about. Many of the essays are con­cerned with emo­tion­al har­mo­ny and equi­lib­ri­um. Tes­sa Smith in ​"Crazy Bitch­es: Redefin­ing Men­tal Health (Care) in the Fem­i­nist Utopia" begins with a warn­ing to read­ers to not watch the Lars Von Tri­er film Dogville with­out ​"lov­ing, sup­port­ive friends." And yet, odd­ly enough, her vision of utopia states that "[p]eople who are more in touch with suf­fer­ing and ecsta­sy than the major­i­ty are not a hin­drance in imag­in­ing the fem­i­nist utopia…" If this is the case, why fine­ly cal­i­brate people's pos­si­ble sense of hurt or even feel­ing of trau­ma in the con­sump­tion of cul­tur­al prod­ucts like Dogville? Why, on the one hand, work so hard to sup­press what­ev­er emo­tions might arise dur­ing the watch­ing of a movie and, on the oth­er, claim that emo­tions are valid? Who gets to decide these cat­e­gories of good and bad emotions?
In this and oth­er ways, Fem­i­nist Utopia Project betrays, inevitably, the cul­tur­al land­scape in which it was wrought, one dom­i­nat­ed by trig­ger warn­ings, in which to be a fem­i­nist is less about one's own and oth­ers' mate­r­i­al real­i­ty than about going through life with fine­ly cal­i­brat­ed emo­tions, always on the look­out for the next trau­mat­ic event, always liv­ing in fear that one's emo­tions might be too much.
Fem­i­nist Utopia Project, like any oth­er utopi­an project, reveals as much about the past from which it has emerged as the present and the future it envi­sions. Today, the phrase ​"the per­son­al is polit­i­cal" is often repeat­ed in orga­niz­ing cir­cles, to jus­ti­fy the idea that talk­ing about and tak­ing into account people's expe­ri­ences makes for bet­ter polit­i­cal gains. But for fem­i­nists of the 1960s who orig­i­nat­ed the term, the phrase was a way to begin expos­ing the extent to which cap­i­tal­ism had laid waste to all parts of our lives, from the pub­lic to the pri­vate. It meant, for instance, demand­ing that domes­tic abuse be seen as a pub­lic prob­lem and not be swept under the car­pet as a ​"mere­ly" pri­vate mat­ter. All of this even­tu­al­ly high­light­ed the ways in which the pri­va­ti­za­tion of the fam­i­ly unit serves to mask the machi­na­tions of cap­i­tal­ism, in the guise of unequal wage labor and the occlu­sion of women from the pub­lic sphere — which is about as anti-cap­i­tal­ist as you can get.
The fem­i­nist cul­tur­al land­scape of today is sat­u­rat­ed with the per­son­al, but the per­son­al has now become not much more than a pul­sat­ing sea of feel­ings and emo­tions, most­ly hurt ones, with not much con­nec­tion to larg­er anti-cap­i­tal­ist critiques.
As a result, Fem­i­nist Utopia Project is a curi­ous­ly anti-mate­ri­al­ist anthol­o­gy. Madeleine Schwartz's ​"Less Work, More Time" is the applaud­able excep­tion. She advo­cates for a Uni­ver­sal Basic Income and argues that the main­stream fem­i­nist agen­da of fight­ing for women's rights large­ly with­in the frame­work of the work­place has back­fired: ​"Plac­ing work at the core of a fem­i­nist demand obscures work's prob­lems and blinds us to life out­side of it" and that, ​"Rather than fight­ing for more and bet­ter work, we should fight for more time to use as we please."
The essays in gen­er­al tend to be chop­py or banal, with the pletho­ra of emo­tion­al calls sub­sti­tut­ing for any real skill in writ­ing. The most suc­cess­ful essays are those ground­ed in present-day real­i­ties, which take an unflinch­ing look at the con­di­tions that demand a rad­i­cal vision of utopia — such as Melis­sa Gira-Grant's piece, which points out that it's ​"hard to even ask… ​'Is there sex work in our fem­i­nist utopia?'" because there is no neu­tral ground: ​"That is a ground soaked in blood before we even got here." In this regard, one of the few well-craft­ed essays in the anthol­o­gy is Ria Fay-Berquist's ​"No Escape Hatch," where she writes about it means to trav­el alone as a woman in the U.S, and the per­sis­tent sense of dan­ger and entrap­ment that women are forced to feel as they nav­i­gate their way through a world where the threats of phys­i­cal and sex­u­al attack and death itself are a con­stant presence.
The Fem­i­nist Utopia Project is not as suc­cess­ful when its writ­ers set about imag­in­ing actu­al utopias. One wish­es to be kind because, after all, the point of a utopia is that it is a wish, a desire for some­thing bet­ter, inher­ent­ly some­thing we can­not know but can only long for. The prob­lem is that the vast major­i­ty of the utopias envi­sioned here, while racial­ly diverse to some degree, are by peo­ple bare­ly in their 30s — by sit­ting down and going through the bios of every sin­gle con­trib­u­tor, I was able to cal­cu­late that only per­haps 10 of them have passed 40; I sus­pect the vast major­i­ty of the remain­der are under 30.
This has had some trou­bling effects on the nature of the anthol­o­gy, and the first is that its hip-look­ing, cir­cu­lar Table of Con­tents is con­vo­lut­ed and dif­fi­cult to nav­i­gate, espe­cial­ly for any­one who needs read­ing glass­es, and the edi­tors might want to con­sid­er that it will be as dif­fi­cult for them and most of the con­trib­u­tors in about five years. The sec­ond effect of a col­lec­tion so dom­i­nat­ed by twen­ty-some­things is that The Fem­i­nist Utopia Project can­not imag­ine a fem­i­nist life after 30. In Medieval times, car­tog­ra­phers would sim­ply place the words, ​"Here Be Drag­ons," to indi­cate unchart­ed and con­se­quent­ly pos­si­bly dan­ger­ous areas of the world. In The Fem­i­nist Utopia Project, life after 30 is that dark, dan­ger­ous, unchart­ed ter­ri­to­ry. Over and over, old­er peo­ple are reduced to care­tak­ers and near-spir­i­tu­al and sex­less shad­ows of the selves they might have been, all in the form of some kind of homage.
In ​"Embroi­der­ing Rev­o­lu­tion," Veróni­ca Bayet­ti Flo­res (who is about a decade out of under­grad) writes fond­ly of someone's abuela cre­at­ing exquis­ite embroi­dered clothes that are now, in a utopi­an world, val­ued as works of art.
Dara Lind (who received her B.A. in 2009) pro­duces a fic­tion­al nar­ra­tive of a young woman argu­ing against cit­i­zen­ship cer­e­monies on the grounds that her grand­fa­ther need­ed to be able to come to Amer­i­ca so that he could help her moth­er take care of her fam­i­ly and keep the house­hold running.
In imag­in­ing what a fem­i­nist utopia would look like for par­ents of col­or, Vic­to­ria Law (at 39, one of the book's old­er con­trib­u­tors) sim­i­lar­ly imag­ines a world where the elder­ly — or, real­ly, appar­ent­ly, just peo­ple who are not over 40 — serve as care­tak­ers for neigh­bor­hood children.
Yumi Saku­gawa, who grad­u­at­ed col­lege nine years ago, illus­trates her vision of ​"Sev­en Rit­u­als from the Fem­i­nist Utopia: Pre­birth to Post­death" with charm­ing but damn­ing images of a woman's life. ​"On your 40th birth­day," she writes, ​"You ingest the petals of a crys­tal cac­tus flower and walk through the crys­tal cham­ber of self-knowl­edge." The next set of illus­tra­tions jumps straight to age 80 because, appar­ent­ly, noth­ing of note could pos­si­bly hap­pen to women in the inter­reg­num: "…you orbit your birth plan­et in a translu­cent space pod while send­ing prayers to all the beings below. We all look up to you." And then, comes the end: ​"After your death, your ash­es are used to form seed bombs which are then scat­tered to all cor­ners of the galaxy."
All of this com­bines to form a painful­ly reduc­tive, essen­tial­ist and exploita­tive vision of life after 40. The truth, of course, is that your abuela may have secret­ly hat­ed the hours she had to spend embroi­der­ing, and would have pre­ferred to leave home for paid work. Your grand­fa­ther might long to trav­el the world but, instead, now has to spend the remain­der of his life wip­ing bums and mak­ing din­ner, sub­sist­ing on the mea­ger allowance doled out by your par­ents who make it seem like it's a priv­i­lege for him to work for them. And your neigh­bor down the street has bet­ter things to do with her time, like fuck­ing her lover or orga­niz­ing actions, than tak­ing care of your children.
A fem­i­nist utopia after 30 or 40, or at least a fem­i­nist utopia that con­sid­ered the needs and desires of those over 30 or 40 would look square­ly at the fears and real­i­ties that include aging in a world where a bro­ken arm won't send you into a life­time of bank­rupt­cy. It would evoke a world where sex and desire are not over, ren­dered in sepia tones of nos­tal­gia, but still vibrant and impor­tant parts of dai­ly life. It would mean an anti-cap­i­tal­ist vision of the world which con­sid­ers cap­i­tal­ism as an eco­nom­ic force, not a mode of feeling.

The Fem­i­nist Utopia Project serves as an inter­est­ing time cap­sule for a very par­tic­u­lar kind of fem­i­nism; it's impor­tant to acknowl­edge that and not assume that the sheer num­ber of essays indi­cates much diver­si­ty of expe­ri­ence or vision. And there is much to be gained from its very exis­tence — which, after all, tes­ti­fies that we have not been so crushed by our present real­i­ty that we can­not bring our­selves to imag­ine a bet­ter future.