Union Hypocrisy and Calif. Health Workers' Fight For 'Free Choice'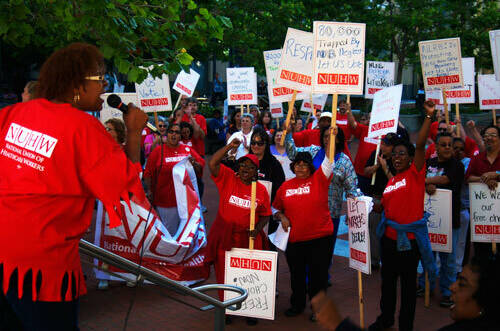 As orga­nized labor tries to sus­tain its inside-the-Belt­way cam­paign for an Employ­ee Free Choice Act (EFCA), com­pet­i­tive health­care work­er orga­niz­ing in Cal­i­for­nia pro­vides a con­tentious coun­ter­point to union claims that rep­re­sen­ta­tion deci­sions should always be made with­out threats, coer­cion, and oth­er forms of inter­fer­ence facil­i­tat­ed by Nation­al Labor Rela­tions Board elec­tion delays.

In Cal­i­for­nia health­care, one lead­ing EFCA pro­po­nent — the Ser­vice Employ­ees Inter­na­tion­al Union (SEIU) — has become a major foe of employ­ee free choice, wher­ev­er its own mem­bers or even unor­ga­nized work­ers favor anoth­er union.

Tens of thou­sands of SEIU-rep­re­sent­ed hos­pi­tal and nurs­ing home work­ers have expressed a desire to join the Nation­al Union of Health­care Work­ers, as demon­strat­ed by their major­i­ty card or peti­tion sign­ing. But since last Feb­ru­ary, SEIU's stan­dard response to NUHW elec­tion peti­tions has been to enlist the always dys­func­tion­al Labor Board — the bogey­man of EFCA cam­paign­ers every­where — in stalling as many of these votes as possible.
Even unor­ga­nized work­ers, who are just try­ing to win col­lec­tive bar­gain­ing rights for the first time — not switch from SEIU to NUHW — have been vic­tims of SEIU's man­age­ment-like obstruc­tion of their orga­niz­ing activity.
(A bit of back­ground: NUHW is the new union cre­at­ed by hun­dreds of elect­ed local SEIU offi­cers, board mem­bers, and stew­ards who were removed last win­ter when SEIU Pres­i­dent Andy Stern seized con­trol of 150,000-member Unit­ed Health­care Work­ers-West and installed appoint­ed lead­ers, from out-of-state.)
As NUHW notes, its rep­re­sen­ta­tion peti­tions should have trig­gered NLRB-con­duct­ed votes with­in 45 days in cas­es where there was no com­pli­cat­ed legal issue to resolve. Instead, dur­ing the last eight months, the NLRB has man­aged to hold only three elec­tions so far, none of which involved exist­ing SEIU mem­bers. In two of these, NUHW has been declared the offi­cial win­ner; in a third new­ly-cre­at­ed bar­gain­ing unit, where NUHW also has very strong sup­port, nego­ti­a­tions on a first con­tract are now being delayed, thanks to SEIU.
As Lupe Her­nan­dez from Tarzana Med­ical Cen­ter reports, ​"SEIU sent one orga­niz­er for every two employ­ees to try to stop us, but they couldn't get enough votes. When we final­ly had our elec­tion on Oct. 14, SEIU filed last minute charges so our bal­lots would be locked up and not count­ed until the charges were resolved."

The sit­u­a­tion at Memo­r­i­al Hos­pi­tal in San­ta Rosa is even more reveal­ing. With union help, work­ers at this facil­i­ty, part of the St. Joseph Health Sys­tem, tried for five years to per­suade the reli­gious order that spon­sors St. Joseph to restrain its anti-union activ­i­ty pri­or to any NLRB rep­re­sen­ta­tion vote. Just as UHW ​"cor­po­rate cam­paign­ers" were about to make a break­through in this mod­el dri­ve for ​"man­age­ment neu­tral­i­ty," Stern put UHW in trustee­ship. His appoint­ed staffers then aban­doned the orga­niz­ing com­mit­tee at Memo­r­i­al, much to the anger and dis­may of union sup­port­ers in the hos­pi­tal.

Last April, a major­i­ty of the 600 Memo­r­i­al work­ers peti­tioned the NLRB to hold a vote so they could join NUHW instead. As a key com­mu­ni­ty sup­port­er, Mon­sign­or John Bren­kle, wrote ear­li­er this month in the San­ta Rosa Press Demo­c­rat, both NUHW and St. Joseph man­age­ment ​"have expressed will­ing­ness to sit down and nego­ti­ate ground rules lead­ing to a fair elec­tion agreement."
How­ev­er, accord­ing to Bren­kle, ​"SEIU has been mis­us­ing labor law as a means of delay­ing an elec­tion for as long as pos­si­ble and refus­ing to come to the table with the oth­er par­ties."

In an open let­ter to Bren­kle and oth­er San­ta Rosa reli­gious lead­ers, SEIU's exec­u­tive vice-pres­i­dent Eliseo Med­i­na, a co-trustee of UHW, explained why his union tried to block the NLRB vote at Memo­r­i­al, now sched­uled for Dec. 17 – 18. SEIU, he said, is
deeply trou­bled by the prospect of San­ta Rosa hos­pi­tal work­ers mak­ing a choice based on the promis­es of indi­vid­u­als with whom they are famil­iar — with­out con­sid­er­ing that NUHW has no real mem­ber­ship base and its future via­bil­i­ty is ques­tion­able at best.
Accord­ing to Med­i­na, his union will not par­tic­i­pate in three-way dis­cus­sions on elec­tion cam­paign guide­lines because ​"that would sug­gest that ​'NUHW' is a legit­i­mate alter­na­tive" to SEIU. Only a ​"bi-lat­er­al agree­ment with the employ­er" is appro­pri­ate, he argued, despite a recent call by the North Bay Cen­tral Labor Coun­cil for SEIU to with­draw from the upcom­ing elec­tion because it lacks work­er sup­port.

The Cen­tral Labor Council's inter­ven­tion on behalf of one union over the oth­er, in a con­test­ed orga­niz­ing cam­paign, is high­ly unusu­al. But NUHW has been gar­ner­ing sup­port from many such allies through­out the state and around the country.
On Nov. 16 and 17, the new union held back-to-back fundrais­ers in San Fran­cis­co and Los Ange­les. Among those attend­ing in both places were local lead­ers of the hotel work­ers union, Unite HERE, which cur­rent­ly has mul­ti­ple con­flicts with SEIU. The north­ern Cal­i­for­nia event was held in the plumbers hall and attend­ed by many well-known Bay Area polit­i­cal fig­ures; in L.A., the venue was the head­quar­ters of the Unit­ed Teach­ers of Los Ange­les (UTLA).

SEIU respond­ed to both events with ​"rent-a-mob" protests — staff and loy­al mem­bers were bussed in to march, shout, bang drums, and in L.A., throw eggs and water bot­tles at the hos­pi­tal and nurs­ing home work­ers who
dared to cross their ​"infor­ma­tion­al" pick­et-lines. If NUHW is real­ly as weak, mem­ber-less, and irrel­e­vant as Med­i­na claims, one has to won­der: Why was such activ­i­ty nec­es­sary? And why is SEIU esca­lat­ing its threats against oth­er unions, cen­tral labor coun­cils, and pub­lic fig­ures who do regard NUHW as a ​"legit­i­mate alter­na­tive" to SEIU? (For more details, see Randy Shaw's ​"SEIU Wages War on Pro­gres­sives," pub­lished at Beyond​Chron​.org last week.)

The answer is that SEIU itself — in Cal­i­for­nia health­care, at least — lacks pop­u­lar legit­i­ma­cy, rank-and-file sup­port, and orga­ni­za­tion­al self-con­fi­dence. Its main strat­e­gy in con­test­ed rep­re­sen­ta­tion elec­tions is to con­duct cost­ly, scorched earth cam­paigns, replete with the kind of threat­en­ing behav­ior that was on dis­play at UTLA last Tues­day night.
In SEIU's view, work­ers at Memo­r­i­al in San­ta Rosa, and any oth­er hos­pi­tal, are far bet­ter off remain­ing non-union than becom­ing part of NUHW. To keep its own dis­grun­tled dues-pay­ers in cap­tiv­i­ty, SEIU will con­tin­ue to flood work­places with paid staffers, demo­nize NUHW, and — just like any union-bust­ing employ­er — manip­u­late NLRB case-han­dling pro­ce­dures to ensure that ​"jus­tice delayed is jus­tice denied."

This is a tru­ly appalling spec­ta­cle — but one dear to the heart of EFCA foes every­where because of the mon­u­men­tal hypocrisy involved. As Mon­sign­or Bren­kle points out, SEIU's behav­ior ​"flies in the face of Catholic social teach­ing" and ​"con­tra­dicts its own nation­al advo­ca­cy" of a ​"new mod­el of union elec­tions that tru­ly pro­tect and respect work­ers' rights." The union's actions ​"under­mine the work of labor, cler­gy, and work­ers" and ​"the prin­ci­ples we have all worked so hard to achieve" through faith-based com­mu­ni­ty orga­niz­ing, he said.

​"The deci­sion about union­iza­tion should be in the hands of work­ers alone, " Bren­kle says. ​"After five years of orga­niz­ing at Memo­r­i­al Hos­pi­tal, it is high time work­ers get that chance."

Steve Ear­ly, a for­mer Com­mu­ni­ca­tions Work­ers of Amer­i­ca orga­niz­er, has helped arrange fundrais­ing events for the Nation­al Union of Health­care Work­ers. He has been active in the cam­paign for EFCA and for orga­niz­ing rights agree­ments that facil­i­tate union recog­ni­tion with­out NLRB involve­ment. He can be reached at Lsupport@​aol.​com
Steve Ear­ly worked for 27 years as an orga­niz­er and inter­na­tion­al rep­re­sen­ta­tive for the Com­mu­ni­ca­tions Work­ers of Amer­i­ca. He is the author of sev­er­al books, includ­ing Refin­ery Town: Big Oil, Big Mon­ey, and the Remak­ing of an Amer­i­can City (Bea­con Press).