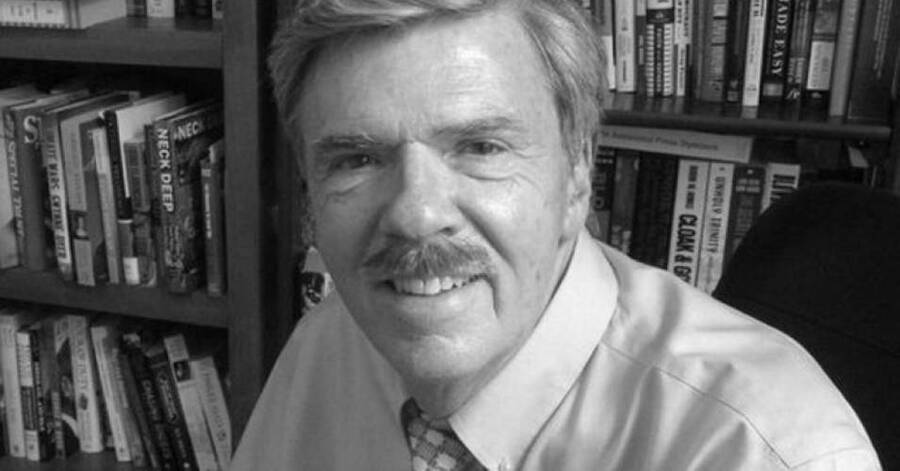 This post first appeared at Con­sor­tium­News.
Besides this deeply held commitment to independent journalism, it should also be recalled that, ultimately, Bob was motivated by a concern over the future of life on Earth.
It is with a heavy heart that we inform Con­sor­tium­news read­ers that Edi­tor Robert Par­ry has passed away. As reg­u­lar read­ers know, Robert (or Bob, as he was known to friends and fam­i­ly) suf­fered a stroke in Decem­ber, which – despite his own spec­u­la­tion that it may have been brought on by the stress of cov­er­ing Wash­ing­ton pol­i­tics – was the result of undi­ag­nosed pan­cre­at­ic can­cer that he had been unknow­ing­ly liv­ing with for the past 4 – 5 years.
He unfor­tu­nate­ly suf­fered two more debil­i­tat­ing strokes in recent weeks and after the last one, was moved to hos­pice care on Tues­day. He passed away peace­ful­ly Sat­ur­day evening. He was 68.
Those of us close to him wish to sin­cere­ly thank read­ers for the kind com­ments and words of sup­port post­ed on recent arti­cles regard­ing Bob's health issues. We read aloud many of these com­ments to him dur­ing his final days to let him know how much his work has meant to so many peo­ple and how much con­cern there was for his well-being.
I am sure that these kind­ness­es meant a lot to him. They also mean a lot to us as fam­i­ly mem­bers, as we all know how devot­ed he was to the mis­sion of inde­pen­dent jour­nal­ism and this web­site which has been pub­lish­ing arti­cles since the ear­li­est days of the inter­net, launch­ing all the way back in 1995.
With my dad, pro­fes­sion­al work has always been deeply per­son­al, and his career as a jour­nal­ist was thor­ough­ly inter­twined with his fam­i­ly life. I can recall kitchen table con­ver­sa­tions in my ear­ly child­hood that focused on the U.S.-backed wars in Cen­tral Amer­i­ca and com­plaints about how his edi­tors at The Asso­ci­at­ed Press were too timid to run arti­cles of his that – no mat­ter how well-doc­u­ment­ed – cast the Rea­gan admin­is­tra­tion in a bad light.
One of my ear­li­est mem­o­ries in fact was of my dad about to leave on assign­ment in the ear­ly 1980s to the war zones of El Sal­vador, Nicaragua and Guatemala, and the heart­felt good-bye that he wished to me and my sib­lings. He warned us that he was going to a very dan­ger­ous place and that there was a pos­si­bil­i­ty that he might not come back.
I remem­ber ask­ing him why he had to go, why he couldn't just stay at home with us. He replied that it was impor­tant to go to these places and tell the truth about what was hap­pen­ing there. He men­tioned that chil­dren my age were being killed in these wars and that some­body had to tell their sto­ries. I remem­ber ask­ing, ​"Kids like me?" He replied, ​"Yes, kids just like you."
Bob was deeply impact­ed by the dirty wars of Cen­tral Amer­i­ca in the 1980s and in many ways these con­flicts – and the U.S. involve­ment in them – came to define the rest of his life and career. With gris­ly sto­ries emerg­ing from Nicaragua (thanks part­ly to jour­nal­ists like him), Con­gress passed the Boland Amend­ments from 1982 to 1984, which placed lim­its on U.S. mil­i­tary assis­tance to the con­tras who were attempt­ing to over­throw the San­din­ista gov­ern­ment through a vari­ety of ter­ror­ist tactics.
The Rea­gan admin­is­tra­tion imme­di­ate­ly began explor­ing ways to cir­cum­vent those legal restric­tions, which led to a scheme to send secret arms ship­ments to the rev­o­lu­tion­ary and vehe­ment­ly anti-Amer­i­can gov­ern­ment of Iran and divert the prof­its to the con­tras. In 1985, Bob wrote the first sto­ries describ­ing this oper­a­tion, which lat­er became known as the Iran-Con­tra Affair.
Con­tra-Cocaine and Octo­ber Surprise
Par­al­lel to the ille­gal arms ship­ments to Iran dur­ing those days was a cocaine traf­fick­ing oper­a­tion by the Nicaraguan con­tras and a will­ing­ness by the Rea­gan admin­is­tra­tion and the CIA to turn a blind eye to these activ­i­ties. This, despite the fact that cocaine was flood­ing into the Unit­ed States while Ronald Rea­gan was pro­claim­ing a ​"war on drugs," and a crack cocaine epi­dem­ic was dev­as­tat­ing com­mu­ni­ties across the country.
Bob and his col­league Bri­an Barg­er were the first jour­nal­ists to report on this sto­ry in late 1985, which became known as the con­tra-cocaine scan­dal and became the sub­ject of a con­gres­sion­al inves­ti­ga­tion led by then-Sen­a­tor John Ker­ry (D‑Mass.) in 1986.
Con­tin­u­ing to pur­sue leads relat­ing to Iran-Con­tra dur­ing a peri­od in the late 80s when most of Wash­ing­ton was mov­ing on from the scan­dal, Bob dis­cov­ered that there was more to the sto­ry than com­mon­ly under­stood. He learned that the roots of the ille­gal arm ship­ments to Iran stretched back fur­ther than pre­vi­ous­ly known – all the way back to the 1980 pres­i­den­tial campaign.
That elec­toral con­test between incum­bent Jim­my Carter and chal­lenger Ronald Rea­gan had come to be large­ly dom­i­nat­ed by the hostage cri­sis in Iran, with 52 Amer­i­cans being held at the U.S. embassy in Tehran since the 1979 Iran­ian Rev­o­lu­tion. The Iran­ian hostage cri­sis, along with the ail­ing econ­o­my, came to define a per­cep­tion of an Amer­i­ca in decline, with for­mer Hol­ly­wood actor Ronald Rea­gan promis­ing a new start for the coun­try, a restora­tion of its sta­tus as a ​"shin­ing city on a hill."
The hostages were released in Tehran moments after Rea­gan was sworn in as pres­i­dent in Wash­ing­ton on Jan­u­ary 20, 1981. Despite sus­pi­cions for years that there had been some sort of quid pro quo between the Rea­gan cam­paign and the Ira­ni­ans, it wasn't until Bob uncov­ered a trove of doc­u­ments in a House office build­ing base­ment in 1994 that the evi­dence became over­whelm­ing that the Rea­gan cam­paign had inter­fered with the Carter administration's efforts to free the hostages pri­or to the 1980 elec­tion. Their release soon­er – what Carter hoped would be his ​"Octo­ber Sur­prise" – could have giv­en him the boost need­ed to win.
Exam­in­ing these doc­u­ments and being already well-versed on this sto­ry – hav­ing pre­vi­ous­ly trav­elled three con­ti­nents pur­su­ing the inves­ti­ga­tion for a PBS Front­linedoc­u­men­tary – Bob became increas­ing­ly con­vinced that the Rea­gan cam­paign had in fact sab­o­taged Carter's hostage nego­ti­a­tions, pos­si­bly com­mit­ting an act of trea­son in an effort to make sure that 52 Amer­i­can cit­i­zens con­tin­ued to be held in a har­row­ing hostage sit­u­a­tion until after Rea­gan secured the election.
Need­less to say, this was an incon­ve­nient sto­ry at a time – in the mid-1990s – when the nation­al media had long since moved on from the Rea­gan scan­dals and were obsess­ing over new scan­dals, most­ly relat­ed to Pres­i­dent Bill Clinton's sex life and failed real estate deals. Wash­ing­ton also wasn't par­tic­u­lar­ly inter­est­ed in chal­leng­ing the Rea­gan lega­cy, which at that time was begin­ning to solid­i­fy into a kind of mythol­o­gy, with cam­paigns under­way to name build­ings and air­ports after the for­mer president.
At times, Bob had doubts about his career deci­sions and the sto­ries he was pur­su­ing. As he wrote in Trick or Trea­son, a book out­lin­ing his inves­ti­ga­tion into the Octo­ber Sur­prise Mys­tery, this search for his­tor­i­cal truth can be painful and seem­ing­ly thankless.
"Many times," he wrote, ​"I had regret­ted accept­ing Front­line​'s assign­ment in 1990. I fault­ed myself for risk­ing my future in main­stream jour­nal­ism. After all, that is where the decent-pay­ing jobs are. I had jeop­ar­dized my abil­i­ty to sup­port my four chil­dren out of an old-fash­ioned sense of duty, a regard for an unwrit­ten code that expects reporters to take almost any assignment."
Nev­er­the­less, Bob con­tin­ued his efforts to tell the full sto­ry behind both the Iran-Con­tra scan­dal and the ori­gins of the Rea­gan-Bush era, ulti­mate­ly lead­ing to two things: him being pushed out of the main­stream media, and the launch­ing of Con​sor​tium​news​.com.
I remem­ber when he start­ed the web­site, togeth­er with my old­er broth­er Sam, back in 1995. At the time, in spite of talk we were all hear­ing about some­thing called ​"the infor­ma­tion super­high­way" and ​"elec­tron­ic mail," I had nev­er vis­it­ed a web­site and didn't even know how to get ​"on line." My dad called me in Rich­mond, where I was a sopho­more at Vir­ginia Com­mon­wealth Uni­ver­si­ty, and told me I should check out this new ​"Inter­net site" he and Sam had just launched.
He explained over the phone how to open a brows­er and instruct­ed me how to type in the URL, start­ing, he said, with ​"http," then a colon and two for­ward slash­es, then ​"www," then ​"dot," then this long address with one or two more for­ward slash­es if I recall. (It wasn't until years lat­er that the web­site got its own domain and a sim­pler address.)
I went to the com­put­er lab at the uni­ver­si­ty and asked for some assis­tance on how to get online, duti­ful­ly typed in the URL, and opened this web­site – the first one I had ever vis­it­ed. It was inter­est­ing, but a bit hard to read on the com­put­er screen, so I print­ed out some arti­cles to read back in my dorm room.
I quick­ly became a fan of ​"The Con­sor­tium," as it was called back then, and con­tin­ued read­ing arti­cles on the Octo­ber Sur­prise Mys­tery as Bob and Sam post­ed them on this new and excit­ing tool called ​"the Inter­net." Sam had to learn HTML cod­ing from scratch to launch this online news ser­vice, billed as ​"the Internet's First Inves­tiga­tive ​'Zine." For his efforts, Sam was hon­ored with the Con­sor­tium for Inde­pen­dent Journalism's first Gary Webb Free­dom of the Press Award in 2015.
X‑Files and Contra-Crack
At some point along the way, Bob decid­ed that in addi­tion to the web­site, where he was not only post­ing orig­i­nal arti­cles but also pro­vid­ing the source doc­u­ments that he had uncov­ered in the House office build­ing base­ment, he would also take a stab at tra­di­tion­al pub­lish­ing. He com­piled the ​"Octo­ber Sur­prise X‑Files" into a book­let and self-pub­lished it in Jan­u­ary 1996.
He was also pub­lish­ing a newslet­ter to com­ple­ment the web­site, know­ing that at that time, there were still plen­ty of peo­ple who didn't know how to turn a com­put­er on, much less nav­i­gate the World Wide Web. I trans­ferred from Vir­ginia Com­mon­wealth Uni­ver­si­ty to George Mason Uni­ver­si­ty in the DC sub­urbs and start­ed work­ing part-time with my dad and Sam on the newslet­ter and website.
We worked togeth­er on the con­tent, edit­ing and lay­ing it out with graph­ics often culled from books at our local library. We built a sub­scriber base through net­work­ing and pur­chas­ing mail­ing lists from pro­gres­sive mag­a­zines. Every two weeks we would get a thou­sand copies print­ed from Sir Speedy and would spend Fri­day evening col­lat­ing these newslet­ters and send­ing them out to our subscribers.
The launch­ing of the web­site and newslet­ter, and lat­er an even-more ambi­tious project called I.F. Mag­a­zine, hap­pened to coin­cide with the pub­li­ca­tion in 1996 of Gary Webb's ​"Dark Alliance" series at the San Jose Mer­cury-News. Webb's series reopened the con­tra-cocaine con­tro­ver­sy with a detailed exam­i­na­tion of the drug traf­fick­ing net­works in Nicaragua and Los Ange­les that had helped to spread high­ly addic­tive crack cocaine across the Unit­ed States.
The African-Amer­i­can com­mu­ni­ty, in par­tic­u­lar, was right­ly out­raged over this sto­ry, which offered con­fir­ma­tion of many long-stand­ing sus­pi­cions that the gov­ern­ment was com­plic­it in the drug trade dev­as­tat­ing their com­mu­ni­ties. African Amer­i­cans had been deeply and dis­pro­por­tion­ate­ly affect­ed by the crack epi­dem­ic, both in terms of the direct impact of the drug and the dra­con­ian drug laws and manda­to­ry min­i­mum sen­tences that came to define the government's approach to ​"the war on drugs."
For a moment in the sum­mer of 1996, it appeared that the renewed inter­est in the con­tra-cocaine sto­ry might offer an oppor­tu­ni­ty to revis­it the crimes and mis­deeds of the Rea­gan-Bush era, but those hopes were dashed when the ​"the Big Media" decid­ed to dou­ble down on its ear­li­er fail­ures to cov­er this sto­ry properly.
Big Papers Pile On
The Los Ange­les Times launched the attack on Gary Webb and his report­ing at the San Jose Mer­cury-News, fol­lowed by equal­ly dis­mis­sive sto­ries at the Wash­ing­ton Post and New York Times. The pil­ing on from these news­pa­pers even­tu­al­ly led Mer­cury-News edi­tor Jer­ry Cep­pos to denounce Webb's report­ing and offer a mea cul­pa for pub­lish­ing the articles.
The onslaught of hos­tile report­ing from the big papers failed to address the basic premis­es of Webb's series and did not debunk the under­ly­ing alle­ga­tions of con­tra-cocaine smug­gling or the fact that much of this cocaine end­ed up on Amer­i­can streets in the form of crack. Instead, it raised doubts by pok­ing holes in cer­tain details and cast­ing the sto­ry as a ​"con­spir­a­cy the­o­ry." Some of the report­ing attempt­ed to debunk claims that Webb nev­er actu­al­ly made – such as the idea that the con­tra-cocaine traf­fick­ing was part of a gov­ern­ment plot to inten­tion­al­ly dec­i­mate the African-Amer­i­can community.
Gary Webb and Bob were in close con­tact dur­ing those days. Bob offered him pro­fes­sion­al and per­son­al sup­port, hav­ing spent his time also on the receiv­ing end of attacks by jour­nal­is­tic col­leagues and edi­tors who reject­ed cer­tain sto­ries – no mat­ter how fac­tu­al – as fan­ci­ful con­spir­a­cy the­o­ries. Arti­cles at The Con­sor­tium web­site and newslet­ter, as well as I.F. Mag­a­zine, offered details on the his­tor­i­cal con­text for the ​"Dark Alliance" series and pushed back against the main­stream media's onslaught of hos­tile and disin­gen­u­ous reporting.
Bob also pub­lished the book Lost His­to­ry which pro­vid­ed exten­sive details on the back­ground for the ​"Dark Alliance" series, explain­ing that far from a base­less ​"con­spir­a­cy the­o­ry," the facts and evi­dence strong­ly sup­port­ed the con­clu­sion that the Rea­gan-Bush admin­is­tra­tions had col­lud­ed with drug traf­fick­ers to fund their ille­gal war against Nicaragua.
But sad­ly, the dam­age to Gary Webb was done. With his pro­fes­sion­al and per­son­al life in tat­ters because of his coura­geous report­ing on the con­tra-cocaine sto­ry, he com­mit­ted sui­cide in 2004 at the age of 49. Speak­ing about this sui­cide lat­er on Democ­ra­cy Now, Bob not­ed how painful it is to be ridiculed and unfair­ly crit­i­cized by col­leagues, as his friend had experienced.
"There's a spe­cial pain when your col­leagues in your pro­fes­sion turn on you, espe­cial­ly when you've done some­thing that they should admire and should under­stand," he said. ​"To do all that work and then have the New York Times and the Wash­ing­ton Post and the Los Ange­les Times attack you and try to destroy your life, there's a spe­cial pain in that."
In con­sul­ta­tion with his fam­i­ly, Bob and the Board of Direc­tors for the Con­sor­tium for Inde­pen­dent Jour­nal­ism launched the Gary Webb Free­dom of the Press Award in 2015.
The Dis­as­trous Pres­i­den­cy of George W. Bush
The pres­i­den­cy of George W. Bush was sur­re­al for many of us, and no one more so than my dad.
In cov­er­ing Wash­ing­ton pol­i­tics for decades, Bob had traced many sto­ries to ​"Dubya's" father, George H.W. Bush, who had been impli­cat­ed in a vari­ety of ques­tion­able activ­i­ties, includ­ing the Octo­ber Sur­prise Mys­tery and Iran-Con­tra. He had also launched a war against Iraq in 1991 that seemed to be moti­vat­ed, at least in part, to help kick ​"the Viet­nam Syn­drome," i.e. the reluc­tance that the Amer­i­can peo­ple had felt since the Viet­nam War to sup­port mil­i­tary action abroad.
As Bob not­ed in his 1992 book Fool­ing Amer­i­ca, after U.S. forces rout­ed the Iraqi mil­i­tary in 1991, Pres­i­dent Bush's first pub­lic com­ment about the vic­to­ry expressed his delight that it would final­ly put to rest the Amer­i­can reflex against com­mit­ting troops to far-off con­flicts. ​"By God, we've kicked the Viet­nam Syn­drome once and for all," he exulted.
The fact that Bush-41's son could run for pres­i­dent large­ly on name recog­ni­tion con­firmed to Bob the fail­ure of the main­stream media to cov­er impor­tant sto­ries prop­er­ly and the need to con­tin­ue build­ing an inde­pen­dent media infra­struc­ture. This con­vic­tion solid­i­fied through Cam­paign 2000 and the election's ulti­mate out­come, when Bush assumed the White House as the first pop­u­lar-vote los­er in more than a century.
Despite the fact that the U.S. Supreme Court had halt­ed the count­ing of votes in Flori­da, thus pre­vent­ing an accu­rate deter­mi­na­tion of the right­ful win­ner, most of the nation­al media moved on from the sto­ry after Bush was sworn in on Jan. 20, 2001. Con​sor​tium​news​.com con­tin­ued to exam­ine the doc­u­men­tary record, how­ev­er, and ulti­mate­ly con­clud­ed that Al Gore would have been declared the win­ner of that elec­tion if all the legal­ly cast bal­lots were counted.
At Con­sor­tium­news, there was an unwrit­ten edi­to­r­i­al pol­i­cy that the title ​"Pres­i­dent" should nev­er pre­cede George W. Bush's name, based on our view that he was not legit­i­mate­ly elect­ed. But beyond those edi­to­r­i­al deci­sions, we also under­stood the grav­i­ty of the fact that had Elec­tion 2000 been allowed to play out with all votes count­ed, many of the dis­as­ters of the Bush years – notably the 9⁄11 tragedy and the Iraq War, as well as deci­sions to with­draw from inter­na­tion­al agree­ments on arms con­trol and cli­mate change – might have been averted.
As all of us who lived through the post‑9/​11 era will recall, it was a chal­leng­ing time all around, espe­cial­ly if you were some­one crit­i­cal of George W. Bush. The atmos­phere in that peri­od did not allow for much dis­sent. Those who stood up against the jug­ger­naut for war – such as Phil Don­ahue at MSNBC, Chris Hedges at the New York Times, or even the Dix­ie Chicks – had their careers dam­aged and found them­selves on the receiv­ing end of death threats and hate mail.
While Bob's mag­a­zine and newslet­ter projects had been dis­con­tin­ued, the web­site was still pub­lish­ing arti­cles, pro­vid­ing a home for dis­sent­ing voic­es that ques­tioned the case for invad­ing Iraq in late 2002 and ear­ly 2003. Around this time, for­mer CIA ana­lyst Ray McGov­ern and some of his col­leagues found­ed Vet­er­an Intel­li­gence Pro­fes­sion­als for San­i­ty and a long-run­ning rela­tion­ship with Con­sor­tium­news was estab­lished. Sev­er­al for­mer intel­li­gence vet­er­ans began con­tribut­ing to the web­site, moti­vat­ed by the same inde­pen­dent spir­it of truth-telling that com­pelled Bob to invest so much in this project.
At a time when almost the entire main­stream media was going along with the Bush administration's dubi­ous case for war, this and a few oth­er like-mind­ed web­sites pushed back with well-researched arti­cles call­ing into ques­tion the ratio­nale. Although at times it might have felt as though we were just voic­es in the wilder­ness, a major groundswell of oppo­si­tion to war emerged in the coun­try, with his­toric march­es of hun­dreds of thou­sands tak­ing place to reject Bush's push for war.
Of course, these anti­war voic­es were ulti­mate­ly vin­di­cat­ed by the fail­ure to find weapons of mass destruc­tion in Iraq and the fact that the war and occu­pa­tion proved to be a far cost­lier and dead­lier enter­prise than we had been told that it would be. Ear­li­er assur­ances that it would be a ​"cake­walk" proved as false as the WMD claims, but as had been so often the case in Wash­ing­ton, there was lit­tle to no account­abil­i­ty from the main­stream media, the think tanks or gov­ern­ment offi­cials for being so spec­tac­u­lar­ly wrong.
In an effort to doc­u­ment the true his­to­ry of that era, Bob, Sam and I co-wrote the book Neck Deep: The Dis­as­trous Pres­i­den­cy of George W. Bush, which was pub­lished in late 2007. The book traced the work of Con­sor­tium­news, jux­ta­pos­ing it against the back­drop of main­stream media cov­er­age dur­ing the Bush era, in an effort to not only cor­rect the record, but also demon­strate that not all of us got things so wrong.
We felt it was impor­tant to remind read­ers – as well as future his­to­ri­ans – that some of us knew and report­ed in real time the mis­takes that were being made on every­thing from with­draw­ing from the Kyoto Pro­to­col to invad­ing Iraq to imple­ment­ing a pol­i­cy of tor­ture to bungling the response to Hur­ri­cane Katrina.
Oba­ma Era
By the time Barack Oba­ma was elect­ed the 44th pres­i­dent, Con​sor​tium​news​.com had become a home to a grow­ing num­ber of writ­ers who brought new per­spec­tives to the website's con­tent. While for years, the writ­ing staff had been lim­it­ed pri­mar­i­ly to Bob, Sam and me, sud­den­ly, Con­sor­tium­news was receiv­ing con­tri­bu­tions from jour­nal­ists, activists and for­mer intel­li­gence ana­lysts who offered a wide range of exper­tise – on inter­na­tion­al law, eco­nom­ics, human rights, for­eign pol­i­cy, nation­al secu­ri­ty, and even reli­gion and philosophy.
One recur­ring theme of arti­cles at the web­site dur­ing the Oba­ma era was the endur­ing effect of unchal­lenged nar­ra­tives, how they shaped nation­al pol­i­tics and dic­tat­ed gov­ern­ment pol­i­cy. Bob observed that even a sup­pos­ed­ly left-of-cen­ter pres­i­dent like Oba­ma seemed behold­en to the false nar­ra­tives and nation­al mytholo­gies dat­ing back to the Rea­gan era. He point­ed out that this could be at least par­tial­ly attrib­uted to the fail­ure to estab­lish a strong foun­da­tion for inde­pen­dent journalism.
In a 2010 piece called ​"Obama's Fear of the Rea­gan Nar­ra­tive," Bob not­ed that Oba­ma had defend­ed his deal with Repub­li­cans on tax cuts for the rich because there was such a strong lin­ger­ing effect of Reagan's mes­sag­ing from 30 years ear­li­er. ​"He felt hand­cuffed by the Right's abil­i­ty to ral­ly Amer­i­cans on behalf of Reagan's ​'gov­ern­ment-is-the-prob­lem' mes­sage," Bob wrote.
He traced Obama's com­plaints about his pow­er­less­ness in the face of this dynam­ic to the reluc­tance of Amer­i­can pro­gres­sives to invest suf­fi­cient­ly in media and think tanks, as con­ser­v­a­tives had been doing for decades in wag­ing their ​"the war of ideas." As he had been argu­ing since the ear­ly 1990s, Robert insist­ed that the lim­its that had been placed on Oba­ma – whether real or per­ceived – con­tin­ued to demon­strate the pow­er of pro­pa­gan­da and the need for greater invest­ment in alter­na­tive media.
He also observed that much of the nut­ti­ness sur­round­ing the so-called Tea Par­ty move­ment result­ed from fun­da­men­tal mis­un­der­stand­ings of Amer­i­can his­to­ry and con­sti­tu­tion­al prin­ci­ples. ​"Democ­rats and pro­gres­sives should be under no illu­sion about the new flood of know-nothingism that is about to inun­date the Unit­ed States in the guise of a return to ​'first prin­ci­ples' and a deep respect for the U.S. Con­sti­tu­tion," Bob warned.
He point­ed out that despite the Tea Partiers' claimed rev­er­ence for the Con­sti­tu­tion, they actu­al­ly had very lit­tle under­stand­ing of the doc­u­ment, as revealed by their ahis­tor­i­cal claims that fed­er­al tax­es are uncon­sti­tu­tion­al. In fact, as Bob observed, the Con­sti­tu­tion rep­re­sent­ed ​"a major pow­er grab by the fed­er­al gov­ern­ment, when com­pared to the loose­ly drawn Arti­cles of Con­fed­er­a­tion, which lacked fed­er­al tax­ing author­i­ty and oth­er nation­al powers."
Moti­vat­ed by a desire to cor­rect fal­si­fied his­tor­i­cal nar­ra­tives span­ning more than two cen­turies, Bob pub­lished his sixth and final book, America's Stolen Nar­ra­tive: From Wash­ing­ton and Madi­son to Nixon, Rea­gan and the Bush­es to Oba­ma, in 2012.
Along with rev­enues from book sales, grow­ing dona­tions from read­ers enabled Bob to not only pay writ­ers but also to hire an assis­tant, Chelsea Gilmour, who began work­ing for Con­sor­tium­news in 2014. In addi­tion to pro­vid­ing invalu­able admin­is­tra­tive sup­port, Chelsea also per­formed duties includ­ing research, writ­ing and fact-checking.
Polit­i­cal Realign­ment and the New McCarthyism
Although at the begin­ning of the Oba­ma era – and indeed since the 1980s – the name Robert Par­ry had been close­ly asso­ci­at­ed with expos­ing wrong­do­ing by Repub­li­cans, and hence had a strong fol­low­ing among Demo­c­ra­t­ic Par­ty loy­al­ists, by the end of Obama's pres­i­den­cy there seemed to be a realign­ment tak­ing place among some of Consortiumnews.com's read­er­ship, which reflect­ed more gen­er­al­ly the shift­ing pol­i­tics of the country.
In par­tic­u­lar, the U.S. media's approach to Rus­sia and relat­ed issues, such as the vio­lent ouster in 2014 of Ukrain­ian Pres­i­dent Vik­tor Yanukovych, became ​"vir­tu­al­ly 100 per­cent pro­pa­gan­da," Bob said.
He not­ed that the full sto­ry was nev­er told when it came to issues such as the Sergei Mag­nit­sky case, which led to the first round of U.S. sanc­tions against Rus­sia, nor the incon­ve­nient facts relat­ed to the Euro­maid­an protests that led to Yanukovych's ouster – includ­ing the real­i­ty of strong neo-Nazi influ­ence in those protests – nor the sub­se­quent con­flict in the Don­bass region of Ukraine.
Bob's sto­ries on Ukraine were wide­ly cit­ed and dis­sem­i­nat­ed, and he became an impor­tant voice in pre­sent­ing a fuller pic­ture of the con­flict than was pos­si­ble by read­ing and watch­ing only main­stream news out­lets. Bob was fea­tured promi­nent­ly in Oliv­er Stone's 2016 doc­u­men­tary ​"Ukraine on Fire," where he explained how U.S.-funded polit­i­cal NGOs and media com­pa­nies have worked with the CIA and for­eign pol­i­cy estab­lish­ment since the 1980s to pro­mote the U.S. geopo­lit­i­cal agenda.
Bob regret­ted that, increas­ing­ly, ​"the Amer­i­can peo­ple and the West in gen­er­al are care­ful­ly shield­ed from hear­ing the ​'oth­er side of the sto­ry.'" Indeed, he said that to even sug­gest that there might be anoth­er side to the sto­ry is enough to get some­one brand­ed as an apol­o­gist for Vladimir Putin or a ​"Krem­lin stooge."
This cul­mi­nat­ed in late 2016 in the black­list­ing of Con​sor​tium​news​.com on a dubi­ous web­site called ​"Pro­pOrNot," which was claim­ing to serve as a watch­dog against undue ​"Russ­ian influ­ence" in the Unit­ed States. The Pro­pOrNot black­list, includ­ing Con­sor­tium­news and about 200 oth­er web­sites deemed ​"Russ­ian pro­pa­gan­da," was ele­vat­ed by the Wash­ing­ton Post as a cred­i­ble source, despite the fact that the neo-McCarthyites who pub­lished the list hid behind a cloak of anonymity.
"The Post​'s arti­cle by Craig Tim­berg," Bob wrote on Nov. 27, 2016, ​"described Pro­pOrNot sim­ply as ​'a non­par­ti­san col­lec­tion of researchers with for­eign pol­i­cy, mil­i­tary and tech­nol­o­gy back­grounds [who] planned to release its own find­ings Fri­day show­ing the star­tling reach and effec­tive­ness of Russ­ian pro­pa­gan­da campaigns.'"
As Bob explained in an arti­cle called ​"Wash­ing­ton Post's Fake News Guilt," the paper grant­ed Pro­pOrNot anonymi­ty ​"to smear jour­nal­ists who don't march in lock­step with offi­cial pro­nounce­ments from the State Depart­ment or some oth­er impec­ca­ble fount of nev­er-to-be-ques­tioned truth."
The Post even pro­vid­ed an unat­trib­uted quote from the head of the shad­owy web­site. ​"The way that this pro­pa­gan­da appa­ra­tus sup­port­ed [Don­ald] Trump was equiv­a­lent to some mas­sive amount of a media buy," the anony­mous smear mer­chant said. The Postclaimed that the Pro­pOrNot ​"exec­u­tive direc­tor" had spo­ken on the con­di­tion of anonymi­ty ​"to avoid being tar­get­ed by Russia's legions of skilled hackers."
To be clear, nei­ther Con­sor­tium­news nor Robert Par­ry ever ​"sup­port­ed Trump," as the above anony­mous quote claims. Some­thing inter­est­ing, how­ev­er, did seem to be hap­pen­ing in terms of Con­sor­tium­news' read­er­ship in the ear­ly days of the Trump pres­i­den­cy, as could be gleaned from some of the com­ments left on arti­cles and social media activity.
It did appear for some time at least that a good num­ber of Trump sup­port­ers were read­ing Con­sor­tium­news, which could prob­a­bly be attrib­uted to the fact that the web­site was one of the few out­lets push­ing back against both the ​"New Cold War" with Rus­sia and the relat­ed sto­ry of ​"Rus­si­a­gate," which Bob didn't even like refer­ring to as a ​"scan­dal." (As an edi­tor, he pre­ferred to use the word ​"con­tro­ver­sy" on the web­site, because as far as he was con­cerned, the alle­ga­tions against Trump and his sup­posed ​"col­lu­sion" with Rus­sia did not rise to the lev­el of actu­al scan­dals such as Water­gate or Iran-Contra.)
In his view, the per­haps under­stand­able hatred of Trump felt by many Amer­i­cans – both inside and out­side the Belt­way – had led to an aban­don­ment of old-fash­ioned rules of jour­nal­ism and stan­dards of fair­ness, which should be applied even to some­one like Don­ald Trump.
"On a per­son­al note, I faced harsh crit­i­cism even from friends of many years for refus­ing to enlist in the anti-Trump ​'Resis­tance,'" Bob wrote in his final arti­cle for Consortiumnews.
"The argu­ment was that Trump was such a unique threat to Amer­i­ca and the world that I should join in find­ing any jus­ti­fi­ca­tion for his ouster," he said. ​"Some peo­ple saw my insis­tence on the same jour­nal­is­tic stan­dards that I had always employed some­how a betrayal."
He mar­veled that even senior edi­tors in the main­stream media treat­ed the unproven Rus­si­a­gate alle­ga­tions as flat fact.
"No skep­ti­cism was tol­er­at­ed and men­tion­ing the obvi­ous bias among the nev­er-Trumpers inside the FBI, Jus­tice Depart­ment and intel­li­gence com­mu­ni­ty was decried as an attack on the integri­ty of the U.S. government's insti­tu­tions," Bob wrote. ​"Anti-Trump ​'pro­gres­sives' were pos­tur­ing as the true patri­ots because of their now unques­tion­ing accep­tance of the evi­dence-free procla­ma­tions of the U.S. intel­li­gence and law enforce­ment agencies."
An Untime­ly End and the Future of Consortiumnews
My dad's untime­ly pass­ing has come as a shock to us all, espe­cial­ly since up until a month ago, there was no indi­ca­tion what­so­ev­er that he was sick in any way. He took good care of him­self, nev­er smoked, got reg­u­lar check-ups, exer­cised, and ate well. The unex­pect­ed health issues start­ing with a mild stroke Christ­mas Eve and cul­mi­nat­ing with his admis­sion into hos­pice care sev­er­al days ago offer a stark reminder that noth­ing should be tak­en for granted.
And as many Con­sor­tium­news read­ers have elo­quent­ly point­ed out in com­ments left on recent arti­cles regard­ing Bob's health, it also reminds us that his brand of jour­nal­ism is need­ed today more than ever.
"We need free will thinkers like you who val­ue the truth based on the evi­dence and look past the group think in Wash­ing­ton to report on the real rea­sons for our government's and our media's actions which attempt to deceive us all," wrote, for exam­ple, ​"Free­Thinker."
"Com­mon sense and integri­ty are the hall­marks of Robert Parry's jour­nal­ism. May you get bet­ter soon for you are need­ed more now then ever before," wrote ​"T.J."
"We need a new gen­er­a­tion of reporters, jour­nal­ists, writ­ers, and some­one always being tena­cious to fol­low up on the sto­ry," added ​"Tina."
As some­one who has been involved with this web­site since its incep­tion – as a writer, an edi­tor and a read­er – I con­cur with these sen­ti­ments. Read­ers should rest assured that despite my dad's death, every effort will be made to ensure that the web­site will con­tin­ue going strong.
Indeed, I think that every­one involved with this project wants to uphold the same com­mit­ment to truth-telling with­out fear or favor that inspired Bob and his heroes like George Seldes, I.F. Stone, and Thomas Paine.
That com­mit­ment can be seen in my dad's pur­suit of sto­ries such as those men­tioned above, but also so many oth­ers – includ­ing his inves­ti­ga­tions into the finan­cial rela­tion­ship of the influ­en­tial Wash­ing­ton Times with the Uni­fi­ca­tion Church cult of Rev. Sun Myung Moon, the truth behind the Nixon campaign's alleged efforts to sab­o­tage Pres­i­dent Lyn­don Johnson's Paris peace talks with Viet­namese lead­ers in 1968, the real­i­ty of the chem­i­cal attack in Syr­ia in 2013, and even detailed exam­i­na­tions of the evi­dence behind the so-called ​"Deflate­gate" con­tro­ver­sy that he felt unfair­ly brand­ed his favorite foot­ball team, the New Eng­land Patri­ots, as cheaters.
Review­ing these jour­nal­is­tic achieve­ments, it becomes clear that there are few sto­ries that have slipped under Consortiumnews.com's radar, and that the his­tor­i­cal record is far more com­plete thanks to this web­site and Bob's old-fash­ioned approach to journalism.
But besides this deeply held com­mit­ment to inde­pen­dent jour­nal­ism, it should also be recalled that, ulti­mate­ly, Bob was moti­vat­ed by a con­cern over the future of life on Earth. As some­one who grew up at the height of the Cold War, he under­stood the dan­gers of allow­ing ten­sions and hys­te­ria to spi­ral out of con­trol, espe­cial­ly in a world such as ours with enough nuclear weapons to wipe out all life on the plan­et many times over.
As the Unit­ed States con­tin­ues down the path of a New Cold War, my dad would be pleased to know that he has such com­mit­ted con­trib­u­tors who will enable the site to remain the indis­pens­able home for inde­pen­dent jour­nal­ism that it has become, and con­tin­ue to push back on false nar­ra­tives that threat­en our very survival.
Thank you all for your support.
In lieu of flow­ers, Bob's fam­i­ly asks you to please con­sid­er mak­ing a tax-deductible dona­tion to the Con­sor­tium for Inde­pen­dent Journalism.
Nat Par­ry
is a writer and activist based in Arling­ton, Virginia.