The Lessons of Sacco and Vanzetti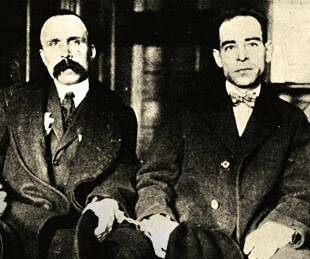 This year marks the 80th anniversary of the execution of Nicola Sacco and Bartolomeo Vanzetti. Convicted of a double murder after a notoriously corrupt trial, the anarchists went to their deaths maintaining their innocence.
Director Peter Miller's new documentary Sacco and Vanzetti follows the men's lives from their arrival in America to their infamous journey through the U.S. justice system during the ​'20s red scare.
Throughout their trial, they held to the paradoxical ideas that had guided them as activists. As the film's narrator puts it, ​"They believed in the America that they and their peers had rushed to – a place of political freedom, shared resources and diminished social stratification." And yet they realized, in Vanzetti's words, that ​"in no other country on earth does a man tremble before his fellow man like here."
The film is being distributed by First Run Features, known for its socially conscious films, which include 49 Up and Forgiving Dr. Mengele. Though the two men have inspired numerous books, songs and feature films, this is the first documentary to chronicle their lives.
Miller tells their story through remembrances of relatives of those involved in the trial, historical footage and the words of the anarchists themselves. Actors John Turturro and Tony Shalhoub read from the diaries of Sacco and Vanzetti, their voiceovers peppered amidst commentary by historians like Howard Zinn, Mary Anne Trasciatti and Studs Terkel. ​"I talk about the Sacco and Vanzetti case as often as I can. It's never very far from my mind," Zinn says. ​"There's always something that happens in the daily newspapers that brings that case to mind."
On May 5, 1920, Sacco and Vanzetti were arrested for the April 15 robbery and murder of a shoe factory paymaster, Frederick Parmenter, and his security guard, Alesandro Berardelli, in South Braintree, Mass. Miller sketches the details of the crime through interviews with Jeanette Parmenter Murphy, Frederick's daughter. When asked whether she thinks Sacco and Vanzetti killed her father, the elderly woman pauses, and then says, ​"Well, somebody did." Her answer symbolizes the open-ended and vexed stance with which the American judiciary handled this case.
Historian Nunzio Pernicone notes that Sacco and Vanzetti's plight brings to light ​"a lot of the mythology about American society. It shows what America's supposed to be about and what it has been in certain circumstances." A shoe-maker in Stoughton, Mass., Sacco awakened to the exploitation and poverty of his fellow workers. ​"Sacco came to the conclusion that the state per se, whether it's a capitalist state or a communist state, is the enemy of freedom and liberty," says Pernicone. ​"Consequently, of all the ​'isms' available – socialism, syndicalism – anarchism was the ideology which to Sacco was the purest, the one which promised the greatest hope of human emancipation."
Vanzetti came to anarchism via socialism. Giuliano Montaldo, who directed the 1971 feature Sacco and Vanzetti, tells Miller, ​"Vanzetti was a man who wanted to learn. He read a lot. For him, Christ was a magnificent socialist. He was fascinated by this man who died for his ideas."
The film follows the men's journey from idealistic immigrants hoping to capture the American dream to incensed anarchists who joined up with Boston anarchist Luigi Galleani, an agitator who advocated violence against those he viewed as ​"capitalist oppressors." At the onset of World War I, Sacco and Vanzetti fled to Mexico to live with Galleani in an anarchist commune, a trip that would be used as evidence that they had dodged the draft. When their experiment in communal living ended, the Galleanists returned stateside, where Sacco and Vanzetti subscribed to the Galleanisti writ of justice through acts of violence, such as the 1919 bombing at the home of Mass. Attorney General A. Mitchell Palmer. They reasoned that state violence – the enslavement of the working class in a cycle of poverty – was far worse than their simple mail bombings.
Most historians agree that Sacco and Vanzetti's arrest, trial and conviction was a miscarriage of justice prompted by America's mistrust of foreigners and political dissenters. The notoriously anti-immigrant Judge Webster Thayer – described by Sacco as a ​"cobra in a black frock" – oversaw their trial, dismissing the testimony of dozens of witnesses favorable to Sacco and Vanzetti's case. Meanwhile, a bullet and shell that many believed were planted at the murder scene were introduced as evidence, most likely to prompt a guilty verdict.
After Sacco and Vanzetti had been imprisoned for several years, Celestino Madeiros, a convicted criminal, confessed to the South Braintree murders, only to have his admission ignored when Thayer dismissed Sacco's motion for a new trial. Thayer overruled Sacco and Vanzetti's five appeals within a year of the guilty verdict, and all of the motions and petitions over the next six years, before sentencing them to death on April 9, 1927. They were sent to the electric chair on August 23.
The film lays bare the cruel machinations of state power, disdained by Sacco and Vanzetti in life and, ironically, illustrated by them in death. The America of 1921 renewed itself through waves of immigration, and thus constantly dealt with foreigners in its midst. The case of Sacco and Vanzetti is important today, Trasciatti says, because it speaks to the tension that pits individual civil liberties against collective national security. Despite its status as a hub of cultural influx in the early 20th century, America – or at least the grounded ruling class – had a healthy distrust of immigrants, anarchists, and other ​"others."
The story of Nicola Sacco and Bartolomeo Vanzetti remains a clarion call for strict judicial oversight and the fierce protection of civil liberties. In his director's statement, Miller puts it this way: ​"The case clearly has urgent lessons to offer Americans nearly eighty years after its tragic conclusion. As in the ​'red scare' of Sacco and Vanzetti's time, present-day Americans have allowed fear and jingoism to erode our civil liberties, scapegoat immigrants, and compromise our judicial system."
Annie Anderson
is an intern at
In These Times
and a producer at WGN Radio in Chicago.