'The Manchurian President': Chicago's Commie Liberal Puppet
The paranoid style of American politics is alive and well.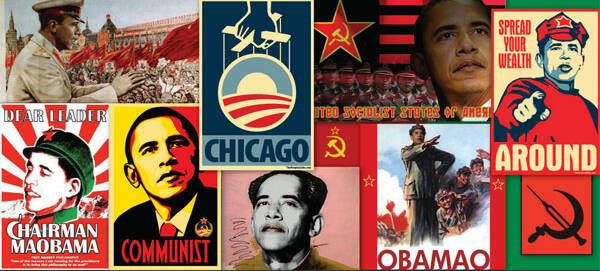 Amer­i­ca is in the midst of a 21st-cen­tu­ry witch hunt. A loose-knit net­work of right-wing ide­o­log­i­cal strate­gists, Repub­li­can Par­ty oper­a­tives and media dem­a­gogues gen­er­ate the odi­ous smears. Their goal is to stymie the Oba­ma administration's pol­i­cy ini­tia­tives, cap­ture Con­gress in Novem­ber and unseat Pres­i­dent Barack Oba­ma in 2012. This pro­pa­gan­diz­ing echoes the scape­goat­ing of lib­er­als, union and com­mu­ni­ty orga­niz­ers, peace activists, gay peo­ple, Jews and peo­ple of col­or dur­ing the anti-com­mu­nist witch-hunts of the McCarthy era.
The liberal elite's goal: Create enough chaos and internal dissension within the United States to impose martial law and round up patriotic conservative Americans—and their guns.
Anti-Oba­ma rhetoric also mim­ics 1960s slurs dub­bing Rev. Mar­tin Luther King, Jr. a dupe of a com­mu­nist con­spir­a­cy – claims cir­cu­lat­ed by groups like the ultra-con­ser­v­a­tive John Birch Soci­ety, the white suprema­cist ​"Cit­i­zens' Coun­cils" and the Ku Klux Klan. Bill­boards and fly­ers with this rev­e­la­tion appeared across the South, and post­cards were dis­trib­uted nationwide.
The under­ly­ing mes­sage is that lib­er­als are either tools or agents of the plot to build col­lec­tivism and glob­al gov­er­nance. Such claims, once used to label Pres­i­dent Franklin D. Roo­sevelt a fas­cist, and have resur­faced against Oba­ma, who is tagged as Hitler and Stal­in. Such slo­ga­neer­ing is a clas­sic trope that dis­torts a com­plex idea into a short metaphor full of rich cul­tur­al or polit­i­cal baggage.
Into this guilt-by-asso­ci­a­tion cesspool swims Aaron Klein, who fan­cies him­self a shark of an inves­tiga­tive jour­nal­ist but is real­ly just anoth­er bot­tom-feed­er. Klein, a senior staff reporter for the hard-right con­spir­acist World Net Dai­ly, worked with Inter­net crank Bren­da J. Elliott (the​re​al​barack​oba​ma​.word​press​.com) to write the new book The Manchuri­an Pres­i­dent: Barack Obama's Ties to Com­mu­nists, Social­ists and oth­er Anti-Amer­i­can Extremists.
Sim­i­lar­ly gawdy anti-Oba­ma books include: Newt Gingrich's To Save Amer­i­ca: Stop­ping Obama's Sec­u­lar-Social­ist Machine, Sean Hannity's Con­ser­v­a­tive Vic­to­ry: Defeat­ing Obama's Rad­i­cal Agen­da and Brad O'Leary's The Audac­i­ty of Deceit: Barack Obama's War on Amer­i­can Val­ues. Slight­ly more histri­on­ic are: Jerome R. Corsi's The Oba­ma Nation: Left­ist Pol­i­tics and the Cult of Per­son­al­i­ty, and Floyd Brown and Lee Troxler's Oba­ma Unmasked: Did Slick Hol­ly­wood Han­dlers Cre­ate the Per­fect Candidate?
Accord­ing to The Manchuri­an Pres­i­dent, Oba­ma was groomed for office by a nest of social­ists, com­mu­nists and oth­er dan­ger­ous rad­i­cals based in Hyde Park, the South Side neigh­bor­hood that includes the Uni­ver­si­ty of Chicago.
Klein writes, "[Bren­da Elliot and I] began to real­ize the scope of Obama's rad­i­cal asso­ciates and men­tors … We real­ized we were piec­ing togeth­er an intri­cate puz­zle that revealed a man with an agen­da far more rad­i­cal and dan­ger­ous than he por­trays – a politi­cian backed by groups and indi­vid­u­als who seek to dras­ti­cal­ly alter the U.S. sys­tem or destroy it altogether."
The book iden­ti­fies Mar­i­lyn Katz, a well-known anti-war activist and pub­lic-rela­tions con­sul­tant, as part of Obama's Chica­go cabal. The writ­ers spend ​"a lot of time map­ping" an alleged sub­ver­sive net­work of Oba­ma oper­a­tives, Katz says.
The authors por­tray Oba­ma ​"as some kind of robot­ic guy run by a nest of vipers," says Katz. Oba­ma ​"is a mod­er­ate polit­i­cal­ly – a gath­er­er, not a split­ter. He excels in every­thing he does. They can't attack him direct­ly based on his race or his cre­den­tials," so they map out "'who-knows-who?'"
Anti-Oba­ma smears uti­lize guilt-by-asso­ci­a­tion, innu­en­do and hype. The Manchuri­an Pres­i­dent also fin­gers labor orga­niz­er and long-time left­ist activist Carl David­son as one of Obama's co-con­spir­a­tors. David­son found­ed the Chica­go chap­ter of the New Par­ty in the 1990s, which Klein and Elliot call a ​"self-described … ​'social­ist demo­c­ra­t­ic' organization."
The text describ­ing the New Party's ​"social­ist demo­c­ra­t­ic" lean­ing cites a USA Today arti­cle, but the foot­note trails to a par­ti­san blog – Red​State​.com, which pro­claims USA Today report­ed on Novem­ber 16, 1992, that the New Par­ty was ​"self-described [as] ​'social­ist demo­c­ra­t­ic.'" USA Today actu­al­ly report­ed ​"the New Par­ty [was] a self-described ​'social demo­c­ra­t­ic' orga­ni­za­tion based on the idea of local auton­o­my and a com­bi­na­tion of cam­paign work with non-elec­toral cul­tur­al and edu­ca­tion­al activities."
The Manchuri­an Pres­i­dent breath­less­ly reports that in ​"an inter­view con­duct­ed by Aaron Klein … David­son strong­ly sug­gests Oba­ma was an actu­al mem­ber" of the New Par­ty. David­son, how­ev­er, says he told Klein that ​"Oba­ma was nev­er seri­ous­ly a mem­ber of the New Par­ty, I nev­er saw him sign a mem­ber­ship form," and there is no record that he did. ​"It's just a crock."
"We helped him out on his cam­paign for state sen­ate in 1996, and lat­er he thanked us. That was it. The whole idea of Oba­ma as our Manchuri­an Can­di­date is ludi­crous," says Davidson.
A con­spir­a­cy that nev­er dies
The polit­i­cal right has long built elab­o­rate con­spir­a­cy the­o­ries about left­ist subversion.
In the ear­ly 1950s, John Beaty's The Iron Cur­tain Over Amer­i­ca blamed the inter­na­tion­al com­mu­nist con­spir­a­cy on a Jew­ish plot. After the Viet­nam war, a sto­ry sur­faced that politi­cians and high-rank­ing mil­i­tary offi­cials, in league with the CIA, nev­er real­ly want­ed vic­to­ry. In oth­er words, the treach­er­ous lib­er­al elite stabbed our boys in the back. Their goal: Cre­ate enough chaos and inter­nal dis­sent with­in the Unit­ed States to impose mar­tial law and round up patri­ot­ic con­ser­v­a­tive Amer­i­cans – and their guns. The hard-right, anti-com­mu­nist John Birch Soci­ety spread this con­spir­a­cy the­o­ry across Amer­i­ca – a nar­ra­tive that endures to this day in right-wing media.
Sim­i­lar fic­tions fea­tur­ing Oba­ma resur­faced in ear­ly July, reports soci­ol­o­gist Jer­ry Lem­bcke. ​"I was sur­prised it has tak­en this long with the wars in Iraq and Afghanistan for these right-wing sto­ry­lines to bub­ble to the sur­face. Now we are right back into this ​'who lost the war?' cul­ture that the nation expe­ri­enced after the war in Vietnam."
Lem­bcke has been trac­ing the right-wing myth of lib­er­al treach­ery for more than a decade in a series of books. In The Spit­ting Image: Myth, Mem­o­ry, and the Lega­cy of Viet­nam, Lem­bcke report­ed that sto­ries about GIs being spit on as they returned from ser­vice in Viet­nam were fab­ri­cat­ed to explain that Viet­nam had not been a mil­i­tary loss, but a betray­al by lib­er­al elites and rad­i­cal anti-war activists. In CNN's Tail­wind Tale: Inside Vietnam's Last Great Myth, Lem­bcke traced a yarn that the U.S. gov­ern­ment had mur­dered AWOL GI's hid­ing in North Viet­nam. Lembcke's new book, Hanoi Jane: War, Sex, and Fan­tasies of Betray­al, explores the scape­goat­ing of Jane Fon­da that emerged years after her 1972 vis­it to North Viet­nam on an anti-war mission.
"The pow­er of a polit­i­cal trope," he says, ​"works for and on peo­ple who are unaware of where it comes from. Very few Amer­i­cans will con­nect these claims about Oba­ma and social­ism to the old JBS [John Birch Soci­ety] betray­al the­o­ry and right-wing con­spir­acism [about Vietnam]."
Pop­ulism, demo­niza­tion and scape­goat­ing com­bine to gen­er­ate witch hunts. In the ​'60s, New York Times reporter Cabell Phillips not­ed that in the right-wing con­spir­a­cy sto­ry­line, ​"lib­er­al­ism is equat­ed with social­ism and social­ism with com­mu­nism." Thus it was nec­es­sary to oppose ​"most wel­fare leg­is­la­tion, [and] many pro­grams for inter­na­tion­al coop­er­a­tion such as for­eign aid. … Such activ­i­ties are depict­ed as play­ing into the hands of the Com­mu­nists, and some­times stem­ming from Com­mu­nist subversion."
Hard times yield a hard right. Indeed, the Repub­li­cans appear set to adopt the lib­er­al treach­ery motif as a cam­paign tool in the upcom­ing election.
Pro­gres­sives must ener­get­i­cal­ly defend Oba­ma against patho­log­i­cal smears and racist attacks – while we kick his butt to live up to his cam­paign promises.