The Military's Stealth Test
School districts are beginning to keep the results of a dodgy student aptitude test out of the hands of military recruiters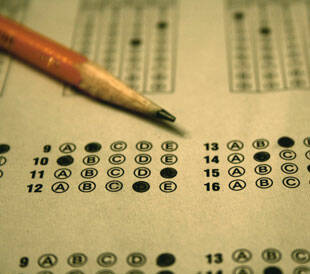 Reader donations, many as small as just $1, have kept In These Times publishing for 45 years. Once you've finished reading, please consider making a tax-deductible donation to support this work.
One thing is different this year about an aptitude test given to high school juniors and seniors in a Los Angeles school district: The test results won't be going to military recruiters.
The Los Angeles Unified School District (LAUSD) adopted a policy in May to keep aptitude test results out of the hands of military recruiters, and notified the district's career counselors of the change last month. LAUSD is the second largest school system in the country. Last year, another major school district, Montgomery Public Schools in Maryland, also enforced this policy.
Faced with questions of the future, every year high school juniors and seniors shade-in oval, numbered bubbles on aptitude tests. The test results may tell a student whether she's well suited to work with people or has the mind for mechanics or engineering.
But one of these aptitude tests isn't just designed to help guide faltering students to career enlightenment. Written by the Department of Defense and marketed by the military as a ​"career exploration" test, the Armed Services Vocational Aptitude Battery (ASVAB) informs military recruiters of which students to target for enlistment. Unless schools opt out, students are required to sign a privacy waiver before taking the test, allowing recruiters to mine their test results for possible recruits. Often, students and parents are unaware of the test's true intentions, and at many schools, this test is mandatory. Fourteen thousands schools and Military Entrance Processing Stations give the ASVAB each year.
Privacy rights advocates and anti-war activists call ASVAB a devious military recruitment strategy and an assault on children's privacy. They have been pressuring schools to either drop the test, or enforce a little-known policy that keeps test results out of the hands of recruiters, called Option 8. They're also lobbying schools to get parental consent before their children sit for the ASVAB and sign the privacy waiver.
Schools can choose between several options to administer the test. Option 8 allows schools to still give the test for career placement purposes without releasing the results to recruiters. Cash-strapped schools often use the ASVAB as an aptitude test because it is provided for free.
"If school administrators feel there is no suitable alternative and are truly interested in the alleged career exploration benefits of the test, they shouldn't be opposed to requiring parental consent and selecting Option 8 to protect student privacy," says Pat Elder, a member of Peace Action Montgomery, who helped petition the Maryland school district to adopt Option 8.
The LAUSD's decision to adopt Option 8 came after strong demands from groups like the L.A. chapter of the National Lawyers Guild, the Coalition Against Militarism in Our Schools, and the National Network Opposing the Militarization of Youth. The National Lawyers Guild, in a legal memorandum submitted to the school district in June 2006, accused the school district of violating its legal obligations to protect students' privacy rights when administering the ASVAB.
The LAUSD did not respond to interview requests.
The timed ASVAB tests students in arithmetic reasoning, word knowledge, paragraph comprehension and mathematics. Along with the test results, other information made available to recruiters include a student's name, address, telephone number, date of birth, social security number, sex, ethnic group identification, graduation plans, and academic and extracurricular interests.
The National Lawyer's Guild warned in its memo, ​"With this sensitive data, military recruiters can then tailor recruiting methods to individual students, enabling the recruiters to mount a barrage of intimate and intimidating attacks on impressionable minors absent parental supervision."
Elder says he is troubled by the way the military veils the ASVAB's purpose. ​"The army is touting this as a career exploration program and is hiding the fact that it's a recruiting program," he says.
Arlene Inouye, a coordinator with the Coalition Against Militarism in Our Schools, says that students and parents aren't the only ones duped by the ASVAB.
"Career counselors that I've talked to really haven't known that it's a military test," Inouye says. ​"It's really been one of those underground, undercover ways that military recruiters have used to recruit."
The confusion might be because of the way the military markets the ASVAB. The ASVAB website gives scant indication that the test is linked to military recruitment. The description on the site says benignly that the ASVAB is ​"designed to encourage students to increase their level of self-knowledge and to understand how that information could be linked to civilian and military occupational characteristics." The site contains no military images.
But other military websites and information are more forthcoming about the ASVAB. A 2004 school recruiting handbook says the purpose of the ASVAB, along with career guidance, is to ​"provide the field recruiter with a source of leads of high school seniors and juniors through the ASVAB for enlistment into the Active Army and Army Reserve."
In the handbook, recruiters are told that one of their ​"most important responsibilities will be arranging the ASVAB in… schools." The guide also suggests that recruiters should be present when the test is given.
Data from the ASVAB is also used at the Joint Advertising Market Research & Studies (JAMRS), a Department of Defense program that works to bolster the military's image as a career option, and create slick recruitment campaigns.
"There's no question that the military looks at our high schools as fertile recruiting ground for wars," Inouye says.
As the military becomes increasingly strained, advocacy groups, parents and students are growing more concerned about recruiting tactics in schools.
"[The Army says], ​'Look, we have this wonderful dream,' " Inouye says. ​"And it's an illusion and our young people are dying. I just feel very strongly that it's unconscionable that our society allows the recruitment of minors."
Your donation makes In These Times possible
Megan Tady
is a blogger and video producer for Free Press, the national nonprofit media reform organization. She writes a monthly InThe​se​Times​.com column on media issues. Follow her on Twitter: @MegTady.