The Movement for Domestic Workers Rights Is Gaining Momentum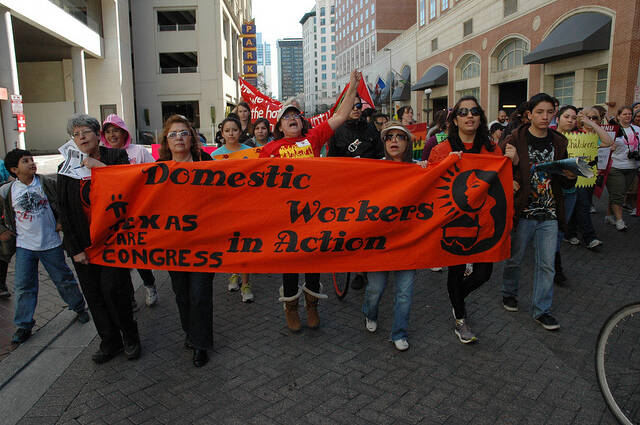 Chicago readers: In These Times is co-sponsoring a panel discussion with Sheila Bapat and domestic workers and organizers this Thursday at 6:00 PM. Details can be found here.
After decades of toiling in invisibility, domestic workers are finally emerging from the shadows. Around the country, groups like the National Domestic Workers Alliance are gaining visibility in their organizing for domestic workers' rights. NDWA director Ai-jen Poo recently received a MacArthur Genius grant for her pioneering work. And not long ago, Stephen Colbert met his match while interviewing a Trinidadian domestic worker on his show.
Sheila Bapat chronicles these workers' struggles in her new book Part of the Family?: Nannies, Housekeepers, Caregivers and the Battle for Domestic Workers' Rights. Bapat recently spoke about the book and the growing movement for justice for care workers throughout the country.
How did you become invested in domestic workers rights? Was there one event or story that made you begin to advocate for the cause?
There wasn't a specific event that led me to this topic; it was a more the result of a meditation throughout my adult life on the different roles women and men play within family relationships. I observed my whole life how hard the women in my family work — cooking, caring for everyone in the household, cleaning up after everyone— and yet all of these women remained economically vulnerable while their husbands controlled the family's wealth.
As I grew older, I learned there is a whole field of study, feminist theory, that is focused on understanding why the very hard work of the domestic sphere is deemed unworthy of economic value or protection. I've been obsessed with this issue since.
What led you to work with Arise Chicago, and why did you focus on Illinois?
In writing the book I connected with Ania Jakubek and spoke with her a few times about progress on the Illinois [domestic workers] legislation. I think there is a lot of potential to discuss this issue in large cities where we see nannies so often on subways and in parks yet they remain so invisible. I'm glad ARISE, along with other organizations, is bringing the issue of domestic workers' rights to the fore in Chicago.
Do you feel the fight for domestic workers rights is finally making progress? If so, why?
The domestic workers' movement is, quite impressively, fighting the centuries-old legacy of excluding domestic work from basic labor protections. It seems impossible to uproot such deeply systemic exclusion, and yet that is exactly what domestic worker advocates are accomplishing through state legislative campaigns, direct representation of domestic workers and other strategies that shine a light on how critical caregiving labor is.
It is becoming a well-funded movement because the advocates at the top, like Ai-jen Poo and many others, are effectively conveying the message of why domestic labor is so crucial. It is brilliant, triumphant activism that we should all be paying close attention to.
Have domestic workers gained much support from the people who employ them?
The domestic workers' movement has gained support from employers, which is a very happy development and not common globally. Hand in Hand, the domestic employers' association, is a great example— this group is organizing, educating and mobilizing employers of nannies and caregivers to advocate for domestic workers' rights.
What do employers gain from not paying their workers a living wage and not providing them with suitable living conditions?
I think at its core, this is a failure to see domestic workers' rights as a systemic issue affecting millions of women. I met a woman recently who is an attorney and her husband works in technology. She was filled with indignation that she and her husband have to pay their daughter's nanny overtime. Talking to her was a real reflection that many don't see this as a systemic issue that needs to be addressed for many women.
A version of this interview first appeared at Gallery 400's blog.