The Only Real Solution to the "North Korea Crisis": A Vibrant Anti-Imperialist Movement
The Okinawan people's movement against U.S. militarism provides a roadmap for a radical, transnational resistance to war.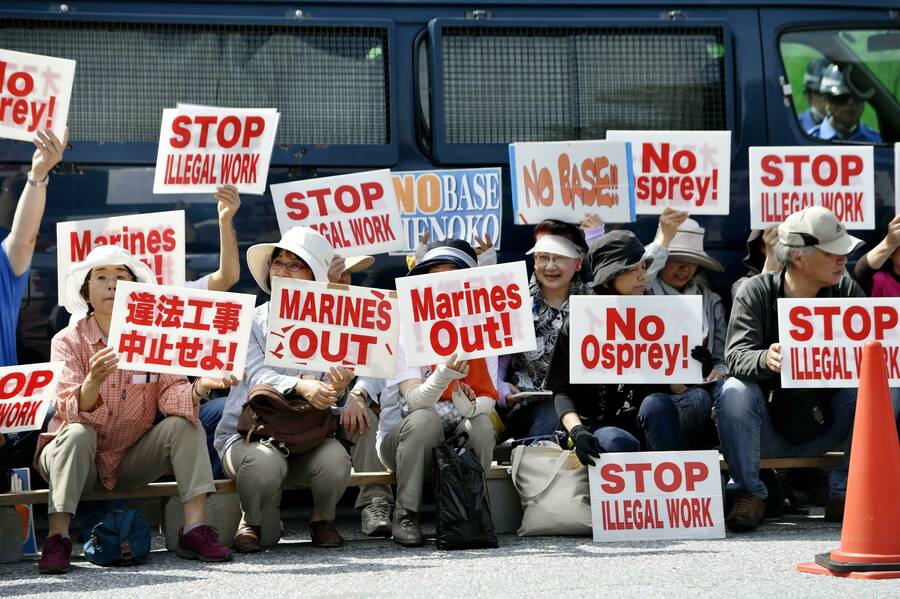 Amid esca­lat­ing fight­ing words between Don­ald Trump and Kim Jong-Un, the world has become increas­ing­ly fix­at­ed on North Korea's mil­i­tary pow­er. The North Kore­an régime's string of long-range mis­sile tests, paired with reports of minia­tur­ized nuclear war­heads, have brought debate over how the Unit­ed States and its allies should, as The New York Times put it, ​"defang" Pyongyang's mis­sile pro­grams. North Korea recent­ly con­duct­ed the country's sixth and largest nuclear test, prompt­ing U.S. Defense Sec­re­tary Jim Mat­tis to warn that any threat could be met with a ​"mas­sive mil­i­tary response." What's rarely men­tioned amid the sen­sa­tion­al­ism of ​"break­ing news," how­ev­er, is the pres­ence of the region's most pow­er­ful mil­i­tary pow­er: the Unit­ed States.
"When you live in Okinawa, you can never quite escape the feeling of war."
In addi­tion to its 6,800 nuclear war­heads — com­pared to the 60 North Korea is said to pos­sess — the Unit­ed States has spent the bet­ter part of the cen­tu­ry build­ing hun­dreds of mil­i­tary instal­la­tions across the Asia-Pacif­ic region, as part of its long-stand­ing strat­e­gy to ​"con­tain" Chi­na and North Korea. Dur­ing the Cold War, stock­piles of nuclear weapons were often kept secret­ly at U.S. bases in South Korea, Oki­nawa, the Philip­pines and oth­er parts of the region. As the Unit­ed Nations Secu­ri­ty Coun­cil bol­sters sanc­tions against North Korea — which have already led to chron­ic food inse­cu­ri­ty for ordi­nary peo­ple — the Unit­ed States con­tin­ues to flex its mus­cles through aggres­sive joint mil­i­tary drills with its allies, South Korea and Japan, along the Kore­an penin­su­la. This includes air drills with heavy bombers capa­ble of car­ry­ing nuclear weapons.
Fear of con­flict in the region is made all the more pal­pa­ble under a U.S. pres­i­dent dri­ven by impulse, whose reck­less for­eign pol­i­cy has already ush­ered a series of hor­rif­ic bomb­ings in Afghanistan and the Mid­dle East. With decades of pro­pa­gan­da stacked up against it, North Korea could become the antag­o­nist in a famil­iar nar­ra­tive of ​"régime change." But it's also under Trump's pres­i­den­cy that transna­tion­al sol­i­dar­i­ty — spear­head­ed by those bear­ing the brunt of U.S. mil­i­tary hege­mo­ny — is tak­ing root.
At the August con­ven­tion of the Asian Pacif­ic Amer­i­can Labor Alliance (APALA) in Ana­heim, Calif., a del­e­ga­tion of Oki­nawans took the stage to the strains of native song. The play­ful strum­ming of san­shin, a tra­di­tion­al instru­ment of the indige­nous peo­ples, filled the ball­room of more than 600 work­ers from Asian-Amer­i­can and Pacif­ic-Islander com­mu­ni­ties, many of whom danced their way through the aisles and onto the stage to join the Oki­nawans in cel­e­bra­tion. As the song drew to a close, a young Oki­nawan activist grabbed the micro­phone and began a chant that grew loud­er and more whole as it spread across the room: ​"Resist, orga­nize, fight!"
"Our peo­ple have had enough"
In July, I was sit­ting with some 70 Oki­nawan demon­stra­tors out­side the gates of Camp Schwab in Henoko, a small fish­ing vil­lage, where the U.S. mil­i­tary is build­ing a new mil­i­tary base on the island. Link­ing arms under the scorch­ing sun, we wait­ed for the dump trucks to arrive as a band of Japan­ese riot police, just few blocks away, pre­pared to drag us off the road. From time to time, mil­i­tary trucks and armored vehi­cles drove past us, sand­wiched between pas­sen­ger cars. It's a bizarre real­i­ty all too famil­iar for Oki­nawans, who have been fight­ing to defend their ances­tral lands against U.S. mil­i­tary expansion.
It's been more than 1,000 days since Oki­nawans began stag­ing sit-ins at the gates near­ly every day, and even longer for those who have been dis­rupt­ing off­shore work in Oura Bay on kayaks and fish­ing boats. The row of makeshift resis­tance camps on the side of the road have become part of the land­scape in Henoko, where sup­port­ers from around the world are gath­er­ing in solidarity.
In response, the Japan­ese gov­ern­ment, a long-stand­ing ally to the Unit­ed States, has sent hun­dreds of riot police from all across Japan to break up the peace­ful protests in the country's south­ern­most island. In the past two years, the police have arrest­ed dozens of anti-base demon­stra­tors, includ­ing Yamashiro Hiro­ji, who was detained for five months in soli­tary con­fine­ment. At the sit-ins in Henoko, black-boot­ed offi­cers, don­ning sun­glass­es and masks, hauled elder­ly Oki­nawans while shout­ing at them and shov­ing cam­eras in their faces. ​"We will nev­er accept dis­crim­i­na­tion like this," Kishi­mo­to Sat­suko, an Oki­nawan woman and sur­vivor of World War II, told me. ​"Our peo­ple have had enough."
The islands of Oki­nawa, annexed by Japan in 1879, host more than 74 per­cent of U.S. mil­i­tary bases in Japan, despite being only 0.6 per­cent of the coun­try. The dis­pro­por­tion­ate U.S. pres­ence on the islands stems from Japan's ongo­ing colo­nial lega­cy in Oki­nawa. The U.S. gov­ern­ment has tak­en advan­tage of this lega­cy: Even after U.S. troops for­mal­ly with­drew from Japan in 1952, it took 20 years before Oki­nawa was ​"revert­ed back" to Japan­ese rule. In Oki­nawa today, it's clear the Unit­ed States nev­er real­ly left.
While U.S. mil­i­tary bases make up rough­ly 18 per­cent of Okinawa's main island, the Amer­i­can pres­ence is felt every­where — in the drone of acci­dent-prone MV-22 Ospreys hov­er­ing over the islands. The Boe­ing-man­u­fac­tured tiltro­tor mil­i­tary air­craft is noto­ri­ous for its slew of fatal crash­es over the years, the most recent killing three U.S. Marines off the coast of Aus­tralia. Yet, despite ongo­ing protests against the deploy­ment of Ospreys in Oki­nawa, the U.S. mil­i­tary con­tin­ues to fly them over schools and local neighborhoods.
The Osprey embod­ies con­tem­po­rary U.S. pow­er: dom­i­na­tion through omnipres­ence. ​"As a child, I remem­ber being afraid to go out­side because of the bases," Higa Tami, an Oki­nawan woman who grew up near the mas­sive U.S. Kade­na Air Base, told me at the demon­stra­tions. ​"When you live in Oki­nawa, you can nev­er quite escape the feel­ing of war."
Decades of U.S. dom­i­nance — and grass­roots resistance
In the spring of 1945, Oki­nawa became the site of one of World War II's blood­i­est bat­tles between the Unit­ed States and Japan. That bat­tle claimed the lives of some 150,000 Oki­nawans, a quar­ter of the pop­u­la­tion, and unleashed a human­i­tar­i­an cri­sis that forced many of them to leave their home­land as immi­grants and refugees. The col­lec­tive mem­o­ry of that dev­as­tat­ing war, passed down through gen­er­a­tions of Oki­nawans, sits at the heart of the strug­gle against U.S. mil­i­tary pres­ence on the islands. ​"What's hap­pen­ing in Syr­ia and Iraq today hap­pened right here in Oki­nawa," Yamauchi Masaru, a 67-year-old retired den­tist, told me. ​"If we don't oppose the U.S. mil­i­tary here, we'll be made com­plic­it for its war crimes."
At the onset of the Cold War, the Unit­ed States made Oki­nawa a hub for its wars in the region. Dur­ing America's post-war mil­i­tary occu­pa­tion, U.S. sol­diers seized farm­lands from local vil­lagers using bull­doz­ers and bay­o­nets. The Unit­ed States dis­placed some 250,000 Oki­nawans — many of them crammed into intern­ment camps run by the U.S. mil­i­tary — to make way for mil­i­tary bases through­out the islands. Dur­ing the Viet­nam War, B‑52 bombers head­ed to South­east Asia from Oki­nawa, which by the 1960s had more than 80 mil­i­tary instal­la­tions through­out the island, com­plete with hun­dreds of nuclear war­heads unbe­knownst to the Oki­nawan peo­ple. Although nuclear weapons were removed from the island under a bilat­er­al agree­ment between Japan and the Unit­ed States in 1971, a secret agree­ment was signed ensur­ing the Unit­ed States the right to rein­tro­duce nuclear weapons ​"in time of a great emergency."
The island itself bears the scars of decades of U.S. mil­i­tary pres­ence: Arsenic, deplet­ed ura­ni­um and the noto­ri­ous defo­liant agent Orange have been found through­out the island. Chem­i­cal leaks from U.S. mil­i­tary facil­i­ties have also con­t­a­m­i­nat­ed the island's water sup­ply, accord­ing to an inves­ti­ga­tion by jour­nal­ist Jon Mitchell. Oki­nawans fight­ing against U.S. pres­ence wor­ry that the new base con­struc­tion in Henoko will fur­ther the destruc­tion of coral reefs and sea-grass ecosys­tems in Oura Bay. ​"The sea of Henoko is so full of life that our ances­tors used to say there's an end­less stream of fish spout­ing from the ocean floor," Fumo­to Ryu­u­ji, a 63-year-old Oki­nawan man I met at the sit-ins in July, told me. ​"For us, this island is life."
Yet, despite decades of oppo­si­tion by the Oki­nawan peo­ple, the Japan­ese gov­ern­ment has fun­neled bil­lions of dol­lars to sup­port the con­struc­tion of U.S. mil­i­tary bases on the island. For Prime Min­is­ter Shin­zo Abe, a far-right con­ser­v­a­tive who dreams of reviv­ing Japan's mil­i­taris­tic glo­ry days, the country's sta­tus as a loy­al part­ner is a hap­py medi­um: To play America's hench­man is to regain a share of the empire, how­ev­er small. In addi­tion to back­ing U.S. wars, the Abe admin­is­tra­tion is push­ing to revise the country's paci­fist con­sti­tu­tion, eager to recast Japan as an ​"equal part­ner" out on the bat­tle­field. The cri­sis in North Korea could be the per­fect excuse.
And the esca­lat­ing ten­sion between North Korea and the Unit­ed States has stoked fear that Oki­nawa could once again find itself in the throes of war. ​"When we look at his­to­ry, we know that mil­i­tary bases are tar­get­ed first in any war," Mak­ishi Yoshikazu, an Oki­nawan archi­tect, told me in his one-room office, where he keeps thou­sands of pages of U.S. mil­i­tary plans. ​"If there's con­flict in Asia, Oki­nawa will no doubt become America's first line of defense."
But the Oki­nawan peo­ple have fought back at every turn. In June of 1956, Oki­nawans car­ried out a coor­di­nat­ed cam­paign against Amer­i­can occu­piers, in what became known as the ​"island-wide strug­gle." A decade lat­er, many Oki­nawans fierce­ly opposed the Viet­nam War through mas­sive protests call­ing for the clo­sure of all U.S. mil­i­tary bases on the island. ​"Our peo­ple have a rich his­to­ry — a tra­di­tion — of resis­tance," Yamauchi told me. ​"And we're not only resist­ing, we're actu­al­ly winning."
The ongo­ing demon­stra­tions in Henoko have caused sig­nif­i­cant delays in the con­struc­tion of the U.S. mil­i­tary base. In Takae, a vil­lage just 30 miles north­east of Henoko, anti-base pro­test­ers have con­tin­ued to block the com­ple­tion of six new U.S. mil­i­tary heli­pads—dubbed Osprey­pads" by locals—delay­ing the con­struc­tion due last year. To slow things fur­ther, the Oki­nawan gov­er­nor filed suit against the Japan­ese gov­ern­ment in July, demand­ing the return of ances­tral lands. And in August, Oki­nawan anti-base activists trav­eled to Cal­i­for­nia, where the resis­tance was met with know­ing solidarity.
"A world with­out bases"
"Gua­han has always been a tar­get for bomb­ing, occu­pa­tion and dev­as­ta­tion," Josie Cama­cho, exec­u­tive sec­re­tary-trea­sur­er of Alame­da Labor Coun­cil, told me out­side the con­ven­tion hall at the APALA con­ven­tion in August. ​"It makes me angry that for these pow­ers, espe­cial­ly for Trump, our island is expend­able," con­tin­ued Cama­cho, whose par­ents are from Guam.
The island ter­ri­to­ry of Gua­han has a his­to­ry of dou­ble col­o­niza­tion by the Unit­ed States and Japan. Since the Span­ish-Amer­i­can War, the U.S. mil­i­tary has used the island to house a pletho­ra of fight­er jets and nuclear-pow­ered sub­marines, and is push­ing a mul­ti-bil­lion dol­lar plan to upgrade its air force and naval bases there. ​"It's hard talk­ing about the mil­i­tary, because they've been the sus­tain­able piece of our econ­o­my for a lot of the Chamor­ro peo­ple," says Cama­cho, who head­ed the Native Hawai­ian and Pacif­ic Islander Cau­cus, attend­ed by the Oki­nawan del­e­ga­tion along­side Amer­i­can work­ers of Chamor­ro her­itage. ​"This is what the Unit­ed States does."
The APALA con­ven­tion saw orga­niz­ers unite under the goal of resist­ing Trump's racist, anti-immi­grant poli­cies. But for many, their sto­ries were also inex­tri­ca­bly tied to U.S. poli­cies of war and impe­ri­al­ism abroad. ​"There are peo­ple here who came to Amer­i­ca after escap­ing the Viet­nam War as refugees, whose fam­i­lies were killed by U.S. sol­diers," said Dar­ren Shi­ro­ma, a fourth-gen­er­a­tion Oki­nawan from Hawai'i who served as a union rep­re­sen­ta­tive for AFA-CWA. ​"Peo­ple flee­ing war-torn coun­tries under­stand the wrench­ing of their iden­ti­ties, of their family's lands, of their ethnicities."
The peo­ple of Oki­nawa, South Korea, the Philip­pines, Hawai'i and Gua­han have built pow­er in the out­er reach­es of empire, and the move­ment is find­ing sol­i­dar­i­ty with­in com­mu­ni­ties of col­or in the Unit­ed States. ​"We need to build rela­tion­ships and do some­thing to mend the suf­fer­ing of my ances­tors," says Shi­ro­ma, who grew up in Hawai'i with Japan­ese and Oki­nawan par­ents. His oppo­si­tion to the U.S. mil­i­tary occu­pa­tion of Oki­nawa stems from his fam­i­ly his­to­ry, woven into the fab­ric of Amer­i­ca. ​"As an Amer­i­can, I'm against our country's occu­pa­tion of native lands."
In the ​"home­land," the same occu­py­ing forces abroad seem to take the form of an increas­ing­ly mil­i­ta­rized, racist police force that over­run America's inter­nal colonies. The U.S. gov­ern­ment spends more on defense than the next eight coun­tries com­bined, while slash­ing funds to edu­ca­tion and pol­lut­ing the water source for Black, Brown, immi­grant and Indige­nous com­mu­ni­ties. Mean­while, the spoils of neolib­er­al cap­i­tal­ism fuel America's mil­i­tary ven­tures abroad.
"Liv­ing in Amer­i­ca, there were times I saw myself as less than human," said Wes­ley Ueun­ten, a third-gen­er­a­tion Oki­nawan and pro­fes­sor of Asian-Amer­i­can Stud­ies at San Fran­cis­co State Uni­ver­si­ty, who was work­ing as an inter­preter for the Oki­nawan del­e­ga­tion at the con­fer­ence. ​"What that expe­ri­ence has taught me, on a basic lev­el, is not to lose my own human­i­ty and not to deny others.'"
While a diplo­mat­ic solu­tion to the cri­sis in North Korea is imper­a­tive, we can't for­get that it's only a tem­po­rary solu­tion. Per­pet­u­al ​"régime change" is part of the log­ic of empire. Decol­o­niza­tion is a pre­req­ui­site to last­ing peace in the region and a vibrant, transna­tion­al move­ment could push the Asia Pacif­ic towards a brighter future.
When the res­o­lu­tion call­ing for an end to the U.S. mil­i­tary expan­sion in Oki­nawa passed at the APALA con­ven­tion, the Oki­nawan del­e­ga­tion stood up with their fists in the air and the crowd erupt­ed in applause. In the face of tur­moil, it's these moments of sol­i­dar­i­ty that pro­vide a road map for a rad­i­cal, anti-impe­ri­al­ist move­ment. ​"I want to imag­ine a world togeth­er, a world with­out bases," Miya­gi Chie, an Oki­nawan activist and high school teacher, told me out­side the con­ven­tion hall. ​"Here, I get the feel­ing we're going to change history."