The Power of Mean
Fuller argues that the moral power of Rankism = that everyone experiences being a somebody and a nobody - can overcome the innate force of bullying?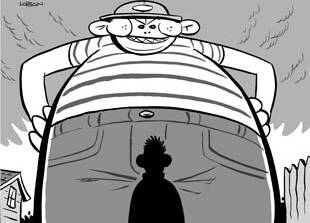 A nine-year-old girl in Eng­land feels ugly and wants to kill her­self because her school­mates call her ​"Black­ie." A legal assis­tant in Ore­gon is ter­ror­ized by an auto­crat­ic boss who screams obscen­i­ties in her face and refus­es to give her time off for surgery. An 80-year-old man finds him­self at the mer­cy of abu­sive nurs­es at a con­va­les­cent home. A teenag­er is molest­ed by his parish priest.
Each of these are exam­ples of what author Robert Fuller calls ​"rankism," which he defines as ​"dis­crim­i­na­tion or exploita­tion based on rank." All around us, he says, a pow­er­ful ​"some­body" is bul­ly­ing a ​"nobody."
In his lat­est book, All Rise: Some­bod­ies, Nobod­ies, and the Pol­i­tics of Dig­ni­ty, Fuller explores how rankism offers a pow­er­ful oppor­tu­ni­ty to orga­nize around social jus­tice and equal­i­ty. Giv­en ​"the dimin­ish­ing returns of iden­ti­ty-based pol­i­tics," Fuller argues that the con­cept of rankism is more inclu­sive and appealing:
Some­one can hold a high rank in one set­ting (for exam­ple, at home) and simul­ta­ne­ous­ly be low on the totem pole in anoth­er (at work). Like­wise we can feel pow­er­ful at one time and pow­er­less at anoth­er, as when we … expe­ri­ence the loss of a job, a part­ner, or our health. As a result, most of us have been vic­tims and per­pe­tra­tors of dis­crim­i­na­tion based on rank.
Such dynam­ics offer the poten­tial for iden­ti­fi­ca­tion that can be trans­formed, he writes, into a move­ment to cre­ate a dig­ni­tar­i­an soci­ety where ​"the dig­ni­ty of all peo­ple is hon­ored and protected."
On its face, Fuller's the­sis is hard to fault. We all know some­thing about being vic­tim­ized sim­ply because we were on the wrong end of a pow­er rela­tion­ship. And isn't giv­ing our com­mon expe­ri­ence a name the first step toward rais­ing con­scious­ness of its insid­i­ous and destruc­tive effects?
Yet Fuller's con­cept of rankism – which invokes our capac­i­ty for empa­thy as indi­vid­ual human beings – fails to address the dark­er side of our rela­tion­ship to author­i­ty. Our every­day respons­es to abus­es of pow­er with­in the hier­ar­chies that struc­ture our lives, from the school­yard to the work­place, are far more com­plex and mud­died than Fuller acknowledges.
Take, for exam­ple, the suc­cess of real­i­ty tele­vi­sion, premised on the recog­ni­tion that we nobod­ies enjoy see­ing our fel­low nobod­ies humil­i­at­ed by a some­body. The pop­u­lar­i­ty of Simon Cow­ell on ​"Amer­i­can Idol" or Don­ald Trump on ​"The Appren­tice" reveals our will­ing­ness to accept, even rel­ish, the cru­el­ty of author­i­ty fig­ures when it is tar­get­ed at oth­ers. We instinc­tive­ly con­done mean, bul­ly­ing behav­ior as part and par­cel of the exer­cise of legit­i­mate power.
Learn­ing to respect and accede to the pow­er of mean starts ear­ly in life. It begins on the play­ground, where chil­dren learn quick­ly to use vio­lence and fear to enhance their social sta­tus. In the June 2005 issue of Sci­en­tif­ic Amer­i­can Mind, Ger­man researcher Mechthild Shafer described the typ­i­cal ele­men­tary school bul­ly: ​"Bul­lies are usu­al­ly very dom­i­nant chil­dren who have learned ear­ly on that they can become the leader of a group by being aggres­sive. Their modus operan­di is to humil­i­ate a stu­dent who is phys­i­cal­ly or psy­cho­log­i­cal­ly sus­cep­ti­ble to rise to the top of the social order."
More depress­ing – and telling – is Schafer's find­ing that chil­dren become more sup­port­ive of cru­el­ty over time. After six years, she writes, ​"In con­trast to the bul­lies' rel­a­tive low­er stand­ing dur­ing ele­men­tary school, they had actu­al­ly become very pop­u­lar with their class­mates." Mean­while, the vic­tims ​"got few sym­pa­thy points. … Their peers act­ed as if they were not there or respond­ed with out­right rejec­tion and whis­pered behind their backs. The bul­lies esca­lat­ed this game, insult­ing and mak­ing fun of them. Many of the tar­get chil­dren came to iden­ti­fy with the under­dog role." The longer this went on, she notes, the more iso­lat­ed the vic­tims became.
The trend is no dif­fer­ent in Cana­da, where psy­chol­o­gist Debra Pepler found 60 per­cent of the so-called ​"neu­tral" stu­dents were friends of the bul­lies, and half of the observers of bul­ly­ing behav­iors even­tu­al­ly became active par­tic­i­pants and sup­port­ers. And UCLA psy­chol­o­gist Jaana Juvo­nen dis­cov­ered that bul­lies were con­sis­tent­ly among the most liked and respect­ed kids among 2,000 sixth-graders in the Los Ange­les area.
Juvonen's research should hard­ly sur­prise lib­er­als, for whom pol­i­tics has come to resem­ble a bad high school flash­back, espe­cial­ly under the aegis of the Bush admin­is­tra­tion. Recent elec­tion years sim­ply replayed the lock­er-room dynam­ic: Nasty Repub­li­can oper­a­tives beat up on craven Demo­c­ra­t­ic ​"pussies" for the ben­e­fit of an appre­cia­tive ​"objec­tive" media, and an acqui­es­cent Amer­i­can pub­lic, that seems more like­ly to pun­ish the GOP for incom­pe­tence than its dirty tricks.
Kids will be kids, but as it turns out, so will adults – both in pol­i­tics and in the work­place. Bul­ly­ing is as com­mon on the job as in the school­yard. Accord­ing to Ben­nett Tep­per, a pro­fes­sor of man­age­r­i­al sci­ences at Geor­gia State Uni­ver­si­ty, 50 per­cent of work­ers say they've had an abu­sive boss at some point in their work­ing career. Women may be more like­ly to be tar­gets, but they are just as like­ly to be bullies.
Con­trary to Fuller's claim that rankism is bad for the cor­po­rate bot­tom line, the research on its effects on employ­ees shows that it may not hurt pro­duc­tiv­i­ty. Like school­child­ren, work­ers are more like­ly to appease a bul­ly than to con­front him. ​"Many abused sub­or­di­nates con­tin­ue to per­form at high lev­els," Tep­per writes in an e‑mail inter­view. ​"They do so because they believe that they have no choice (i.e., they have lit­tle mobil­i­ty and believe that low per­for­mance will elic­it fur­ther abuse or, pos­si­bly, termination)."
High per­for­mance may also be part of ​"an impres­sion man­age­ment strat­e­gy – try­ing to cre­ate a favor­able impres­sion in the mind of the abuser, think­ing that doing so might deflect the supervisor's abuse toward some­one else (anoth­er cowork­er per­haps)," says Tep­per. And when faced with a fla­grant abuse of pow­er, a com­bi­na­tion of fear, ambi­tion and even schaden­freude makes oth­er employ­ees more like­ly to blame the vic­tim than come to his aid.
Worse, a bul­ly­ing boss is like­ly to make her sub­or­di­nates just as mean. Exper­i­ments con­duct­ed by Leigh Thomp­son, an orga­ni­za­tion­al psy­chol­o­gist at North­west­ern Uni­ver­si­ty, and Cameron Ander­son, a busi­ness pro­fes­sor at the Uni­ver­si­ty of Cal­i­for­nia, Berke­ley, found that a mid­dle-lev­el man­ag­er is like­ly to repro­duce the behav­ior of his puni­tive boss in order to please her, irre­spec­tive of his own tem­pera­ment. ​"If the per­son in charge is high ener­gy, aggres­sive, mean, the clas­sic bul­ly type," Thomp­son told the New York Times, ​"then over time, that's the way the No. 2 per­son begins to act."
Cru­el­ty, then, is a com­mu­ni­ca­ble dis­ease. More­over, it requires the par­tic­i­pa­tion of the entire com­mu­ni­ty, since the exer­cise of pow­er – legit­i­mate or oth­er­wise – requires social recog­ni­tion. While dis­cus­sions of bul­ly­ing tend to focus on the per­pe­tra­tor and the vic­tim, Juvo­nen notes that bul­ly­ing requires the pres­ence of an appre­cia­tive audi­ence. The pri­ma­ry reward of bul­ly­ing in schools is not so much the ter­ror of the vic­tim, but the oppor­tu­ni­ty for the bul­ly to assert his high­er social sta­tus in the larg­er community.
"Bul­lies would not bul­ly some­one with­out an audi­ence," Juvo­nen says. ​"Even when these inci­dents of phys­i­cal intim­i­da­tion take place in the pri­va­cy of a bath­room, it's to ensure pri­va­cy from adults. But they know that rumors get around quick­ly about what so-and-so did to so-and-so, etc. So there is always an audi­ence, whether vis­i­ble or invisible."
All Rise sim­ply side­steps the psy­choso­cial roots of rankism, resort­ing instead to social his­to­ry. Fuller envi­sions a dig­ni­tar­i­an move­ment that fol­lows the arc of civ­il rights move­ments: Peo­ple become con­scious of injus­tice, rec­og­nize its ​"neg­a­tive con­se­quences" and then orga­nize them­selves into a move­ment for change.
But, as he him­self con­cedes, ​"When it comes to famil­iar vari­eties of dis­crim­i­na­tion, the vic­tims and the vic­tim­iz­ers are, for the most part, dis­tin­guish­able and sep­a­rate groups: black and white; female and male, gay and straight, and so on. The same thing that makes it easy to iden­ti­fy poten­tial vic­tims of these famil­iar isms … facil­i­tates the for­ma­tion of a sol­i­dar­i­ty group to con­front the perpetrators."
How­ev­er, he fails to rec­og­nize the enor­mous chal­lenge this lack of iden­ti­fi­ca­tion pos­es for a dig­ni­tar­i­an move­ment. While, a num­ber of, say, African Amer­i­cans may inter­nal­ize racism or par­tic­i­pate in a racist cul­ture, their role can hard­ly be com­pared to the so-called ​"neu­tral" nobod­ies who active­ly enable the abuse of pow­er with­in an orga­ni­za­tion or community.
Divid­ing the world into some­bod­ies and nobod­ies does lit­tle to cap­ture the com­plex dynam­ics of pow­er with­in social groups. Unlike racism or homo­pho­bia, the under­ly­ing caus­es of rankism are root­ed in the ancient hard­wiring of our brain that asso­ciates aggres­sion with sta­tus. It is why so many of us instinc­tive­ly kow­tow to our bul­ly­ing boss, part­ner, peer, or even our pres­i­dent. In this, we are no dif­fer­ent than our fel­low primates.
Unlike chimps or goril­las, how­ev­er, we do pos­sess the abil­i­ty to over­come our most pri­mal impulse. ​"Is it nat­ur­al?," Juvo­nen asks. ​"Yes. Is it inevitable? Absolute­ly not." Moral prin­ci­ples can indeed over­ride the basic instinct for cru­el­ty, but we first have to be will­ing to acknowl­edge the pow­er of mean.
Lak­sh­mi Chaudhry
, a for­mer In These Times senior edi­tor and Nation con­tribut­ing edi­tor, is a senior edi­tor at First​post​.com, India's first web-only news site. Since
1999
she has been a reporter and an edi­tor for var­i­ous inde­pen­dent pub­li­ca­tions, includ­ing Alter­net, Moth­er Jones, Ms., Bitch and Salon.