The Progressive City on the Bay (And It's Not Berkeley or S.F.)
An interview with the mayor of Richmond--a Green Party member who has been making corporations furious.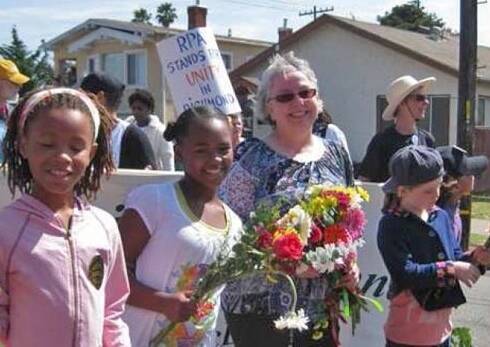 When we sat down to talk with 60-year old Gayle McLaugh­lin, the may­or of Rich­mond, Calif., she had just been through a sum­mer media whirl­wind. Pol­i­cy inno­va­tion and polit­i­cal con­tro­ver­sies land­ed McLaugh­lin and her East Bay city of 100,000 on the front page of The New York Times, on MSNBC with Rachel Mad­dow and Chris Hayes, and on Democ­ra­cy Now with Juan González and Amy Good­man. Even Fox News recent­ly host­ed a debate between two Rich­mond city coun­cil mem­bers about the mer­its of a new ​"ban the box" ordi­nance passed to ease the re-entry of for­mer pris­on­ers into the community.
There really are multiple goals here in Richmond: achieving peace, community stability, economic justice, and greater democratic participation--and making it clear that we're not a company town anymore.
The nation­al media's redis­cov­ery of Rich­mond began last fall when the Times informed an unsus­pect­ing world that McLaughlin's ​"small, blue-col­lar city best known for its Chevron refin­ery has become the unlike­ly van­guard for anti­cor­po­rate, left-wing activism in recent years, hav­ing seized the man­tle from places like Berke­ley, just south of here, or San Fran­cis­co, across the Bay."
Since 2007, Rich­mond has approved a busi­ness tax increase and defeat­ed a casi­no devel­op­ment scheme; opposed Immi­gra­tion & Cus­toms Enforce­ment raids in the city and cre­at­ed a munic­i­pal ID card to aid the undoc­u­ment­ed; sought fair prop­er­ty tax­a­tion of Chevron and sued the giant oil com­pa­ny over the dam­age done by a huge refin­ery fire and explo­sion last year; and sup­port­ed ​"com­mu­ni­ty polic­ing" ini­tia­tives intro­duced by Rich­mond Police Chief Chris Mag­nus, which have helped reduce violence.
In 2012, Rich­mond pro­gres­sives failed to win vot­er approval for a pen­ny-per-ounce tax on sug­ary drinks, a pub­lic health mea­sure bit­ter­ly opposed by the bev­er­age indus­try. And since Rich­mond became the first city in the coun­try to threat­en the use of emi­nent domain to avert fore­clo­sures, major banks have sued to block the plan and some investors have shunned the city's munic­i­pal bonds. Home own­ers with­out mort­gage prob­lems have been flood­ed with bank­ing-indus­try fund­ed mail­ers claim­ing that their prop­er­ty val­ues will be adverse­ly affect­ed. At a Sept. 10 meet­ing attend­ed by 300 peo­ple, the city coun­cil vot­ed, by a 4 to 3 mar­gin, to resist these pres­sures and pur­sue McLaughlin's anti-fore­clo­sure ini­tia­tive. (Actu­al use of the city's emi­nent domain pow­ers will require five coun­cil mem­ber votes.)
While the out­come of the anti-fore­clo­sure fight has yet to be decid­ed, the city's expand­ed bike lanes, urban gar­den net­work, pub­lic art dis­plays and work­er co-op ini­tia­tives are all flour­ish­ing. On August 3, a crowd of 2,500, joined by McLaugh­lin, marched to the Chevron refin­ery gates in the largest envi­ron­men­tal jus­tice protest in Richmond's history.
We asked McLaugh­lin about her own back­ground and the recent changes in a city bet­ter known, in the past, for its prob­lems with drugs, crime, gangs and indus­tri­al pollution.
How did you first get involved in politics?
McLaugh­lin: I was born into a work­ing-class fam­i­ly; my dad was a union car­pen­ter and my mom worked in fac­to­ries and as a house­wife. Most of the work that I had done pri­or to com­ing to Rich­mond [in 2000] was for caus­es that had a nation­al and inter­na­tion­al focus. I was involved in the Cen­tral Amer­i­can sol­i­dar­i­ty move­ment and cam­paigns against racism and sex­ism and for edu­ca­tion and jobs. I decid­ed once I moved here that it was time to put down roots and get involved in local work.
You've accom­plished a lot in 12 years, includ­ing win­ning three con­sec­u­tive elec­tions (one for city coun­cil and two for may­or). How did that happen?
It all came from the grass­roots. In 2003, many of us came togeth­er to form the Rich­mond Pro­gres­sive Alliance, an orga­ni­za­tion of peo­ple with var­i­ous polit­i­cal affil­i­a­tions — Democ­rats, Greens, Inde­pen­dents. By run­ning pro­gres­sive can­di­dates, like myself and Coun­cil Mem­ber Jovan­ka Beck­les, and get­ting some of us elect­ed, we've tak­en elec­toral pol­i­tics in Rich­mond in a new and dif­fer­ent direc­tion. We've done this elec­toral work — with­out any cor­po­rate mon­ey — along­side a strong pro­gres­sive move­ment of com­mit­ted activists. Togeth­er, we've become a fight­ing force for real polit­i­cal, social, and eco­nom­ic change in our city.
What form of munic­i­pal gov­ern­ment does Rich­mond have?
Rich­mond has a city council/​city man­ag­er style of gov­ern­ment. That means the city coun­cil as a whole, includ­ing the may­or, makes pol­i­cy, but we hire a pro­fes­sion­al man­ag­er who imple­ments all our admin­is­tra­tive and pol­i­cy deci­sions. The may­or has the pow­er to appoint peo­ple to com­mis­sions and boards, with the con­cur­rence of the coun­cil major­i­ty, which is impor­tant because we have the voice of the pro­gres­sive move­ment rep­re­sent­ed through those struc­tures as well. Being may­or is tech­ni­cal­ly not a full-time job, but clear­ly is one if you want to do it right. I have only two full-time (and one two-third-time) staff mem­bers, so I real­ly am work­ing day and night to make sure the com­mu­ni­ty under­stands they have a may­or who stands with them.
In 2010, Chevron spent heav­i­ly on mail­ers and ads that they hoped would defeat your bid for re-elec­tion. Last year, pro­gres­sives were out­spent 50 to 1 in local elec­tions, and two RPA can­di­dates lost their races for city coun­cil seats after being smeared by Big Oil and Big Soda. How do pro­gres­sive pub­lic offi­cials like your­self or ones run­ning any­where else over­come this cor­po­rate spend­ing advantage?
We do it by reach­ing out, door-to-door and one-on-one, to fel­low com­mu­ni­ty mem­bers. Precinct walk­ing is the way we have won all our cam­paigns and the way that we have con­tin­ued to build a base. Hav­ing real rela­tion­ships with our neigh­bors gives us an advan­tage over Chevron, which has start­ed to rec­og­nize our suc­cess with door-to-door cam­paigns. They've actu­al­ly start­ed hir­ing peo­ple to go door to door, with lies and mis­in­for­ma­tion. But these aren't authen­tic rela­tion­ships they're build­ing. So while Chevron has a lot of mon­ey, we have val­ues, prin­ci­ples and bet­ter com­mu­ni­ca­tion with the people.
You have an African-Amer­i­can com­mu­ni­ty, a Lati­no com­mu­ni­ty, and now many Asian immi­grants liv­ing in Rich­mond. Has it been a chal­lenge reach­ing out to so many dif­fer­ent con­stituen­cies in a major­i­ty non-white city?
We have beau­ti­ful diver­si­ty, peo­ple com­ing togeth­er from var­i­ous cul­tures and back­grounds. It's been an incred­i­bly enrich­ing expe­ri­ence for me to work with all sec­tors of our com­mu­ni­ty. I think I've won all three of my cam­paigns because peo­ple see me as a reg­u­lar per­son, as some­one who real­ly cares. Richmond's over­all demo­graph­ics makes our pro­gres­sive move­ment very spe­cial but, hope­ful­ly, also an exam­ple for how we could move for­ward in our country.
The sec­tor of the African-Amer­i­can com­mu­ni­ty that some­times will side with old-guard politi­cians, who are tak­ing mon­ey from Chevron and not serv­ing our col­lec­tive inter­ests, still exists. But it is shrink­ing, and we have a younger African-Amer­i­can com­mu­ni­ty that is ris­ing up and tak­ing a stand against old-guard leaders.
Our com­mu­ni­ty is 39 per­cent Lati­no, and they have been very strong in sid­ing with pro­gres­sives. We have stood for immi­grants' rights and been a lead­ing city in the area of immi­gra­tion reform, before it even reached the nation­al stage. And we have a munic­i­pal ID that's going to be rolled out pret­ty soon for every­one, includ­ing immigrants.
What about orga­nized labor — how have local unions relat­ed to the Rich­mond Pro­gres­sive Alliance?
Labor unions are very much a part of the solu­tion. We've always got­ten the sup­port of the main union here in the city, which is Ser­vice Employ­ees Inter­na­tion­al Union Local 1021. And we do have some unions rep­re­sent­ed on the RPA steer­ing committee.
There are some unions that are more con­ser­v­a­tive and more nar­row­ly focused, rather than look­ing at the big pic­ture. The build­ing trades Coun­cil [FC], for exam­ple, sup­port­ed build­ing a casi­no at Point Molate [on the Rich­mond shore­line] because the devel­op­er promised them all kinds of jobs. Well, our point of view was that what­ev­er you build at Point Molate is going to cre­ate a lot of jobs. And we're for good, healthy sus­tain­able devel­op­ment that ben­e­fits the whole com­mu­ni­ty rather than takes advan­tage of poor peo­ple by pick­ing their pockets.
Relo­ca­tion of Lawrence Berke­ley Lab facil­i­ties to Rich­mond was a project we strong­ly sup­port­ed. We got them to agree that our city was a pre­ferred loca­tion to expand their lab, and now there will be a lot of build­ing trades and oth­er jobs there. That was an oppor­tu­ni­ty for us to unite with build­ing trades, which haven't always sup­port­ed the RPA. "
Unions have a strong role to play in build­ing a bet­ter soci­ety, clear­ly, as does the com­mu­ni­ty. So hav­ing local unions join with com­mu­ni­ty efforts to build a pro­gres­sive move­ment is def­i­nite­ly essential.
Can you explain the city's anti-fore­clo­sure initiative?
Rich­mond had 900-plus fore­clo­sures last year. We face the same lev­el of fore­clo­sures going for­ward unless we step in, as a city, and do what the fed­er­al gov­ern­ment hasn't been will­ing or able to do and what the banks don't want to do.
Under our mort­gage reduc­tion pro­gram, we would be help­ing peo­ple who are under­wa­ter — who have mort­gages high­er than the cur­rent val­ue of their home. The city will pur­chase these loans at fair mar­ket val­ue from the banks and reset the mort­gages in line with the homes' cur­rent val­ue. [Then we'll] put these refi­nanced loans, with low­er mort­gage pay­ments, into the hands of our home­own­ers. That way, they can con­tin­ue to stay in our com­mu­ni­ty and our neigh­bor­hoods will remain sta­ble. They can avoid going into default, expe­ri­enc­ing fore­clo­sure and evic­tion, and hav­ing to walk away from their home.
If lenders don't coop­er­ate, we have stat­ed quite clear­ly that we have the option of acquir­ing the prop­er­ties through emi­nent domain, again pay­ing fair mar­ket val­ue. So the banks are not too hap­py and some are now suing us. But we're mov­ing for­ward and I think we'll win in court. We've had many lawyers review this pro­gram and [they say] it is legal­ly sound. I think the banks are against this because they want to main­tain their con­trol and don't want a city like Rich­mond to uti­lize local power.
Does Rich­mond have part­ners in this endeavor?
This is a bat­tle and we're wag­ing it with won­der­ful com­mu­ni­ty allies, the Alliance of Cal­i­for­ni­ans for Com­mu­ni­ty Empow­er­ment (ACCE) and Mort­gage Res­o­lu­tion Part­ners (MRP), the pri­vate com­pa­ny that actu­al­ly brought this idea to us and will cov­er any legal costs incurred by the city.
The city has a for­mal agree­ment with MRP that they will pro­vide the fund­ing and tech­ni­cal assis­tance in pur­chas­ing these mort­gages. It will not cost the city of Rich­mond or its tax­pay­ers one pen­ny. We're doing this on behalf of our home­own­ers to pre­vent blight­ed neighborhoods.
It's an over­all pub­lic ben­e­fit, which is why emi­nent domain is some­thing we feel strong­ly we can use legally.
You've got 17 months left to go before being termed out as may­or. What do you hope to accom­plish in the remain­der of your sec­ond term?
Reduc­tion of crime is real­ly one of the key accom­plish­ments of our joint efforts with the com­mu­ni­ty since pro­gres­sives won office. Rich­mond, when I first got involved here, had an incred­i­bly high crime rate. Even in 2007, we had 47 homi­cides. Last year, we had 18. I want to con­tin­ue to reduce crime because obvi­ous­ly 18 homi­cides is 18 too many.
I want to con­tin­ue with envi­ron­men­tal ini­tia­tives. We were num­ber one in the Bay Area for solar installed per capi­ta in 2010. We have a solar instal­la­tion co-op that's being formed right now and an award win­ning green job train­ing pro­gram. So work­er-owned co-ops are anoth­er effort that I want to see con­tin­ued in the city. I would say get­ting our down­town revi­tal­ized more, pro­mot­ing the arts and pro­mot­ing fur­ther job train­ing are all priorities
There real­ly are mul­ti­ple goals here in Rich­mond: achiev­ing peace, com­mu­ni­ty sta­bil­i­ty, eco­nom­ic jus­tice, and greater demo­c­ra­t­ic par­tic­i­pa­tion – and mak­ing it clear that we're not a com­pa­ny town any­more. Chevron ran this city for decades. But just because pre­vi­ous city coun­cils were bought off by their mon­ey doesn't mean an engaged com­mu­ni­ty with hon­est elect­ed rep­re­sen­ta­tives can't chart out a whole new course. And that's what we've been doing.
Steve Ear­ly and Suzanne Gor­don
are jour­nal­ists who moved to Rich­mond, Calif. last year. They are cur­rent­ly work­ing on a book about the city's his­to­ry and recent polit­i­cal evo­lu­tion. Both belong to the Rich­mond Pro­gres­sive Alliance. They can be reached at: Lsup­port aol​.com.