The Public Broadcasters' Revolt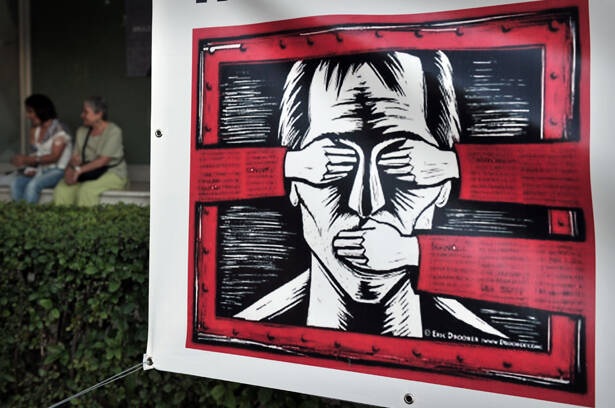 Reprint­ed with per­mis­sion from Wag­ing Nonviolence.
Every desk in the news­room is tak­en. The long, flu­o­res­cent-lit room is buzzing with the audio from the wall of tele­vi­sion screens mon­i­tor­ing dif­fer­ent news net­works and from jour­nal­ists shout­ing in Greek, tak­ing phone calls, prepar­ing scripts and mon­i­tor­ing online feeds. A light cloud of nico­tine and tobac­co hangs over the place; almost every­one is a chain smok­er, and no one can be both­ered with going out­side anymore.
​"It's just one more rule we have to break," we were told. They were only half-joking.
Look­ing around the head­quar­ters of the Hel­lenic Broad­cast­ing Cor­po­ra­tion (more com­mon­ly known as ERT), one would nev­er guess that the cor­po­ra­tion was tech­ni­cal­ly defunct, all the staff unpaid vol­un­teers. Yet since June 11 the work­ers of ERT — jour­nal­ists, tech­ni­cians, musi­cians, and the admin­is­tra­tive and clean­ing staff — have been occu­py­ing the build­ing in defi­ance of the government.
Labelling Greece's only pub­lic broad­cast­er a ​"haven of waste" in the midst of an eco­nom­ic cri­sis, the gov­ern­ment gave only about six hours' notice before ERT was tak­en off-air. Tele­vi­sion trans­mis­sions cut to black, leav­ing a ​"no sig­nal" warn­ing on screens. Satel­lite chan­nels and radio sta­tions also ceased broadcast.
There had been no debate in Greek par­lia­ment. Out of the three par­ties in the coali­tion gov­ern­ment — New Democ­ra­cy, PASOK and Demo­c­ra­t­ic Left — only one sup­pos­ed­ly had any idea of what was to come. Both PASOK and Demo­c­ra­t­ic Left claimed that although they sup­port­ed the idea of restruc­tur­ing ERT, they had not known it would be so sud­den­ly shut down by decree from Prime Min­is­ter Anto­nis Samaras.
Refus­ing to accept such an unde­mo­c­ra­t­ic move, the staff of ERT chose to stay with­in the build­ing and keep work­ing. They con­tin­ue to pro­duce con­tent, pro­vid­ing it via an online livestream with sup­port from the Euro­pean Broad­cast­ing Union (EBU).
The occu­pa­tion was a week-old when we first arrived at ERT's Athens head­quar­ters in Aghia Paraske­vi. A flus­tered-look­ing recep­tion­ist checked our iden­ti­fi­ca­tion and issued us with ​"press accred­i­ta­tion" — flim­sy pieces of paper with ERT's logo print­ed on them, our names hand­writ­ten on and stuck to our clothes with paper clips.
We were led through the gantry, up to the sec­ond floor and through the func­tion­al old-fash­ioned cor­ri­dors to the for­eign news depart­ment where stressed-out jour­nal­ists were slumped over desks lit­tered with crisp pack­ets. That's where we met Maria Kon­taxi, the chief edi­tor of the department.
​"I'm sor­ry about this," she said, ges­tur­ing to the mess. ​"I'm very tired."
Maria start­ed work­ing at ERT 27 years ago, at the age of 18. Her entire career as a jour­nal­ist had been built in this net­work. Now, with a sim­ple gov­ern­ment decree, it was gone. But just like all her oth­er col­leagues, she comes back to work day after day, play­ing her part in keep­ing ERT broad­cast­ing 24⁄7.
​"This is more than a job. This is our home," she told us.
It's a sen­ti­ment shared by every­one in the build­ing. No one is get­ting paid, and no one knows if they will be re-employed under the government's plans to relaunch the net­work as a lean­er, semi-pri­va­tized out­fit. Over 2,700 peo­ple lost their jobs when ERT was shut down, and the gov­ern­ment has indi­cat­ed that it wants the new pub­lic broad­cast­er to be about one-third its cur­rent size.
Despite all this uncer­tain­ty, though, things are run­ning as smooth­ly as pos­si­ble. The jan­i­tors are com­ing back vol­un­tar­i­ly to help tidy up work­places. The hair and make­up artists are back in the stu­dios to help the anchors get ready. The can­teen in the heart of the build­ing is con­duct­ing a brisk busi­ness. No one is get­ting paid, but no one is going home.
They are not with­out their sup­port­ers. One after­noon a van pulls up in front of the build­ing, and men begin to offload box­es and box­es of crisps and cheese sticks. It's a dona­tion from a snack food com­pa­ny, their way of stand­ing in sol­i­dar­i­ty with the occupiers.
Just a clut­tered cor­ri­dor down from the for­eign news depart­ment musi­cians wan­der out­side the large music stu­dios with their instru­ments in cas­es strapped to their backs. On top of its news­gath­er­ing oper­a­tions ERT also has two orches­tras — one a sym­pho­ny orches­tra play­ing clas­si­cal music, anoth­er a more modern/​folk orches­tra — and a cho­rus. Togeth­er these musi­cal ensem­bles form about 25 per­cent of Greece's orches­tras, but they too were dis­band­ed with the shut­down of ERT.
When asked about his thoughts on the clo­sure, prin­ci­pal guest con­duc­tor Michalis Econo­mu only had one word to say: ​"Dis­as­ter."
As part of the occu­pa­tion, the musi­cians are also con­tin­u­ing with their work, attend­ing rehearsals and per­form­ing every night on a stage erect­ed out­side the ERT build­ing for their crowd of sup­port­ers. ​"We play music that we think peo­ple would like to hear. We play what we think will move them," said prin­ci­pal cel­list Vas­silis Likos, who has been with the orches­tra for two decades.
​"It was a shock," said guest con­duc­tor Mil­tos Logiadis. ​"The way they [the gov­ern­ment] did it and spoke to peo­ple who work here was a shame. They talked as if the employ­ees were the bad guys. But it's not true. It's politi­cians who've done all this."
It's not dif­fi­cult to tell that the insult of being referred to as a cor­rupt, waste­ful orga­ni­za­tion has been very keen­ly felt with­in the walls of ERT. Although no one denies that there has been nepo­tism and favoritism, employ­ees claim that it's been part of Greek pol­i­tics for a long time, and noth­ing to do with reg­u­lar staff. In fact, the very spokesper­son who had announced the shut­down had him­self been an ERT employ­ee in 1995, when his father had been a mem­ber of parliament.
Greece's coali­tion gov­ern­ment has only been in pow­er for about a year, but ERT's clo­sure has sparked off yet anoth­er polit­i­cal dra­ma. After fail­ing to reach an agree­ment over ERT, the Demo­c­ra­t­ic Left chose to leave the coalition.
While this has dealt a blow to the gov­ern­ment, it has not dis­solved it. The remain­ing two par­ties, New Democ­ra­cy and PASOK, will con­tin­ue the coali­tion after com­ing to a com­pro­mise: in line with the rul­ing from Greece's State Coun­cil, ERT will resume broad­cast as soon as pos­si­ble with a staff of 2,000 (includ­ing the orches­tras) until a new stream­lined pub­lic broad­cast­er can be formed.
It sounds like a par­tial vic­to­ry for ERT, yet no one is sat­is­fied. ​"Yes, they say the orches­tra can come back, but on what terms?" asked cel­list Claire Demeu­le­naere. ​"What will our salary be? 300 euros a month? What sort of con­tract will we be given?"
The lack of clar­i­ty has led to unwill­ing­ness to end the occu­pa­tion. The Finance Min­istry has called for an evac­u­a­tion of the build­ing, so as to ini­ti­ate pro­ce­dures to give the staff their sev­er­ance pack­ages and resume broad­cast with a small­er staff. ERT's union reject­ed this call and the work­ers remained inside.
It is a stand-off that could drag on. ERT's employ­ees cer­tain­ly hope it does any­way; they're not sure what else they can do. It's tense with­in the offices and the stu­dios. Rumors that the gov­ern­ment could be send­ing the police to force them out of the build­ing are rife. As a form of defense, ERT jour­nal­ists are appeal­ing to the Greek pub­lic to gath­er out­side their build­ing, cre­at­ing a human bar­ri­cade like they had done when the gov­ern­ment first made its announce­ment on June 11.
Crowds of vary­ing sizes assem­ble out­side ERT every evening, wait­ing for updates, lis­ten­ing to the con­certs and cheer­ing on speak­ers. It's dif­fi­cult to say if ERT will be able to mobi­lize as many peo­ple as it did on the first day. As the blog­ger who goes by the name @ypopto_mousi said, the Greek peo­ple are tired, and it's dif­fi­cult to recre­ate the demon­stra­tions of 600,000 to 700,000 that thronged Syn­tag­ma Square back in 2011. ​"They come for the first two or three days, then won­der, ​'Why are we here?'" he said. ​"It's much eas­i­er for the author­i­ties to dis­perse us."
As the long week­end wears on rumors of a police raid con­tin­ue to grow. Every­one thinks it'll hap­pen, but no one knows exact­ly when. But the con­certs con­tin­ue every night, and the jour­nal­ists keep on with their live pro­gram­ming, refus­ing to let the net­work fade com­plete­ly to black.
​"It's very dif­fi­cult to make music when peo­ple are so sad and so ter­ri­fied," said Logiadis. ​"But what can we do? Take up arms? Our weapons are our instru­ments, and we will try with that."
Kirsten Han
is a worka­holic mul­ti-tasker: jour­nal­ist, blog­ger, video­g­ra­ph­er, pho­tog­ra­ph­er, social media junkie, activist, teacher, trav­el­er, ama­teur ukulele-strum­mer and expert choco­late-eater. Her main areas of inter­est are in social jus­tice and human rights issues.