The Radical Collective Action of Disney's "Newsies" Is Still Relevant Today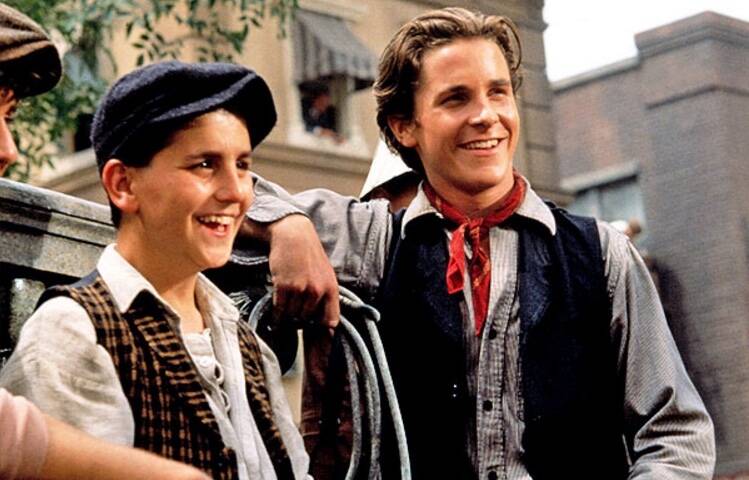 Rough­ly halfway through the 1992 Dis­ney musi­cal Newsies, the epony­mous group of young, most­ly white news­pa­per boys comes togeth­er in the mid­dle of a pub­lic square for a song-and-dance rou­tine whose cho­rus goes:
Noth­ing can break us
No one can make us give our rights away
Arise and seize the day
The earnest and naïve tones these words strike are like­ly to elic­it exas­per­a­tion in some, hos­til­i­ty in oth­ers. But, though there are good rea­sons for both of those emo­tions, I find the scene noth­ing short of invig­o­rat­ing. The song dis­plays a mix of gen­uine com­mit­ment to jus­tice and sur­pris­ing arro­gance about how easy it is to obtain, and, for just those rea­sons, Newsies is a film that mer­its crit­i­cal atten­tion. Though it may seem a stretch to look so close­ly at a ​'90s chil­dren's musi­cal, there is much in Newsies worth exam­in­ing, espe­cial­ly for any who also have an inter­est in pro­gres­sive politics.
The film con­cerns a news­pa­per boy strike in 1899, and thus depicts the kind of labor-focused mass polit­i­cal move­ment that under­girds any social­ist pol­i­tics worth con­sid­er­ing. More­over, though the film flopped when first released, it became a cult hit through­out the ​'90s — helped by the frankly astound­ing fact that it starred Bill Pull­man, Robert Duvall, and an 18-year-old Chris­t­ian Bale — and was then revived for the stage dur­ing the surge of inter­est in pro­gres­sive pol­i­tics fol­low­ing Barack Obama's first cam­paign, even­tu­al­ly win­ning two Tonys. In oth­er words, this par­tic­u­lar nar­ra­tive has been promi­nent in the lives of polit­i­cal­ly engaged 20-some­things since their child­hood (myself includ­ed). Alan Menck­en, who wrote the film's songs, even remarked, ​"It's like Newsies is actu­al­ly owned by this gen­er­a­tion of kids."
Some polit­i­cal hope, then, can be found in the fact that Newsies is a more rad­i­cal film than you might expect. The cen­tral irony of Newsies is that it's a film about fight­ing back against cor­po­rate giants made by the cor­po­rate giant. Yet the film direct­ly address­es that dilem­ma. At the begin­ning of the newsies' strike, they receive favor­able cov­er­age from a friend­ly reporter. Once the strike gains momen­tum, though, Pulitzer, whose paper they work for, forces a mora­to­ri­um on all cov­er­age. In response, the newsies cre­ate their own paper after expro­pri­at­ing one of Pulitzer's print­ing press­es. ("It's nice of Pulitzer to lend us this," one of their com­rades says.) The newsies' paper calls for a gen­er­al strike by all the work­ing youth in the city, which final­ly forces Pulitzer's hand and wins them their demands.
Fur­ther, Newsies refrains from tem­per­ing the vio­lent real­i­ty of a nine­teenth cen­tu­ry strike any more than it has to, to main­tain its child­hood audi­ence. In oth­er words, it doesn't adopt the bour­geois moral­i­ty you might expect from Dis­ney. The film does voice wor­ries over the use of vio­lence to pro­tect the pick­et lines through the mouth of Dav­ey, a newsie only sell­ing papers until his father recov­ers from an injury, and thus a newsie whose slight­ly bet­ter class posi­tion puts him at odds with the oth­ers, who are orphans. But through the course of the nar­ra­tive, it's not the orphan newsies who receive enlight­en­ment from Dav­ey; it's Dav­ey who comes to see the real­i­ty of their plight. He begins to take part in the melees with scabs and com­pa­ny mus­cle. When the film's pro­tag­o­nist, Jack, briefly aban­dons the strike, Dav­ey doesn't debate him, he attacks him. Davey's new world­view is depict­ed, at the end, by his par­tic­i­pa­tion in the sym­bol­ic rough­neck, low-class prac­tice of spit­ting in your palm before you shake on a deal — some­thing he gawked at ear­li­er in the film.
In short, then, the film's cen­tral moral is one of col­lec­tive, pop­u­lar action. It's filled with the exact kind of pop­ulist rhetoric that has been essen­tial to recent polit­i­cal move­ments tar­get­ing eco­nom­ic inequal­i­ty — includ­ing Occu­py first and fore­most. Newsies presents a vision of pol­i­tics as it takes place out­side of the bal­lot box: it glo­ri­fies orga­niz­ing, the inde­pen­dent press, and self-defense, not the court­ing of pow­er­ful allies.
The film uses the musi­cal form to height­en this empha­sis. The songs func­tion as a kind of extra-ordi­nary speech, voic­ing wrongs in a way sim­i­lar to the com­men­tary offered by clas­si­cal cho­rus­es. The danc­ing high­lights the dynamism of the strik­ing work­ers and their abil­i­ty to dri­ve soci­ety. (In this light, it's inter­est­ing to com­pare the depic­tion of the move­ment of bod­ies in the musi­cal form to the move­ment of goods with­in cap­i­tal­ism.) More­over, the sub­tle fact that it's only the newsies who sing and dance, not the cap­i­tal­ists or their cronies, ensures that view­ers come away from the film with a impres­sion of a pow­er­ful work­ing class.
How­ev­er, the changes made to the nar­ra­tive to bring Newsies to the stage under­cut this moral of pop­u­lar action, and thus raise a ques­tion about the costs of Newsies' con­tin­u­ing pop­u­lar­i­ty. Newsies the play fea­tures a num­ber of inane plot changes (includ­ing adding songs, though not dances, for Pulitzer), but of par­tic­u­lar note is an expand­ed role for Theodore Roo­sevelt, who was the gov­er­nor of New York at the time depict­ed. In the film, Roo­sevelt appears at the gen­er­al strike, and though the newsies wel­come him as a kind of hero, the film makes clear that it is the newsies who won their demands, not Roo­sevelt. In the stage ver­sion, how­ev­er, Roo­sevelt appears ear­li­er in the scene, join­ing Jack and Dav­ey for nego­ti­a­tions in Pulitzer's office. Though the newsies' actions brought Roo­sevelt there, the play mud­dles the pop­u­lar action nar­ra­tive by imply­ing that the politician's pow­er is nec­es­sary to force change.
Com­pound­ing this issue is one that plagues the film ver­sion of Newsies as well: a com­plete era­sure of the role race and gen­der play in the con­struc­tion of class in Amer­i­ca. In true ​'90s mul­ti­cul­tur­al fash­ion, the film's cast includes one black newsie whose race played no part in the plot; the same was true of the stage ver­sion I saw per­formed in Durham, North Car­oli­na. Though Jack's love inter­est in both ver­sions sup­ports the strike, there are no women newsies either. (The stage ver­sion does address women in the work­force in the per­son of Jack­'s love inter­est, but the attempt is over­shad­owed by the deci­sion to turn that char­ac­ter into Pulitzer's daugh­ter.) Yet to talk about labor issues or pro­gres­sive move­ments with­in this coun­try with­out explic­it­ly address­ing racism and misog­y­ny is inher­ent­ly self-defeat­ing, and thus the good Newsies does is inher­ent­ly limited.
Nonethe­less, giv­en the place of Amer­i­can pol­i­tics today, with the Bernie Sanders cam­paign reviv­ing a notion — though per­haps a watered down notion — of social­ism at the same time that Don­ald Trump is offer­ing a bold­er ver­sion of Amer­i­ca's tra­di­tion of nativist racism at the same time that Black Lives Mat­ter is mak­ing it impos­si­ble to not address the racism built into our soci­ety, Newsies offers a fas­ci­nat­ing case study in the ideals under­ly­ing pro­gres­sive pol­i­tics. No film puts me in a bet­ter, more hope­ful mood: if this film could be made, by Dis­ney no less, per­haps there is rea­son to believe a bet­ter world is pos­si­ble. At the same time, the film elides so much that must be addressed, and the changes made to bring the film to Broad­way — which were cel­e­brat­ed by crit­ics—offer evi­dence that the film's suc­cess was not based on its most inter­est­ing ele­ments. Yet it is this strange, ambiva­lent mix of fac­tors that ensure this piece of our cul­ture is a telling lens for pol­i­tics today wor­thy of our attention.