The Reign of Whitey Is Never Over
Orange Is the New Black's second season still falls flat on class and race.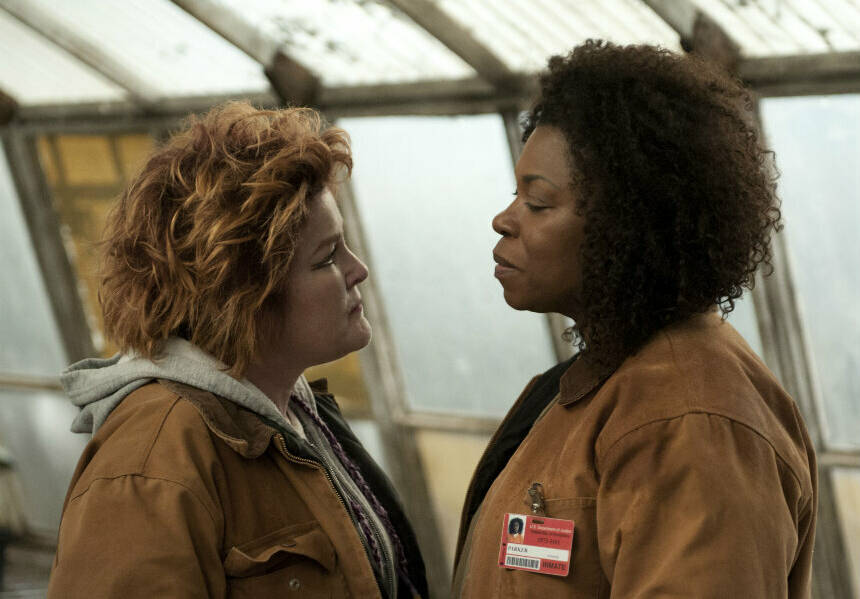 This review con­tains spoil­ers about the first and sec­ond sea­sons of Netflix's Orange Is the New Black.
If Season 1 made prison seem like Camp PrisonCanBeFun for girls, Season 2 is bleaker and filled with reminders that the only certainty about prison life, besides the roaches and the shit bubbling up through bad plumbing, is the absolute uncertainty.
Netflix's sum­mer 2013 hit series, Orange Is the New Black, became that rare show that enters the cul­tur­al lex­i­con and pro­pels lit­tle-known actors to star­dom — notably Uzo Adu­ba ("Crazy Eyes"/Suzanne), Tay­lor Schilling (Piper Chap­man) and Lav­erne Cox (Sophia Burset).
At the start of the sec­ond sea­son, released on Fri­day, we meet some­one with the poten­tial to become the first non-human break­out star of the series: a roach named Yoda. But alas, before Yoda can take his place as the Archy of the twen­ty-first cen­tu­ry, he is acci­den­tal­ly squelched to death by Piper as she steps into a new cell in Chicago's Met­ro­pol­i­tan Deten­tion Cen­ter (MDC) (based on the Metrapoli­tan Cor­rec­tion­al Cen­ter in Chicago).
After hav­ing beat­en ​"Pennsat­ucky" (Taryn Man­ning) to a pulp at the end of the first sea­son, Piper is awok­en by guards in the dead of night, forced onto a bus and then a plane, and plopped into the Chica­go prison, away from the frag­ile bonds she has man­aged to forge with the women in Litch­field. We — and she — assume this is in retal­i­a­tion for hav­ing severe­ly injured and pos­si­bly killed Pennsat­ucky. The sight of MDC, which looms like Saruman's Tow­er smack in the mid­dle of Chicago's down­town, con­vinces us and her that she is in for a long, painful stretch in a much rougher prison than the sin­gle-sex, min­i­mum secu­ri­ty Litch­field — not to men­tion pos­si­ble tri­al for Pennsatucky's mur­der. Yoda, whose pres­ence con­tributes to the gen­er­al sense of filth and decrepi­tude, is one of the myr­i­ad trained roach­es at MDC, each at least as long as an intem­per­ate mid­dle fin­ger, who smug­gle stamps and cig­a­rettes back and forth between inmates, with vary­ing degrees of reliability.
But this is about as excit­ing as the sea­son gets; after the first episode, Orange set­tles into a pace that is much slow­er the sec­ond time around. Watch­ing episodes is like watch­ing hon­ey flow through a plas­tic bear-shaped bot­tle on a cold Chica­go night. Where Sea­son 1 at least kept peo­ple on the edge of their seats at the end of every episode, this sea­son left this review­er gnaw­ing at an arm to stay awake. The slow­ness per­sists despite the many back sto­ries, pre­sent­ed in flash­back. Even poten­tial­ly inter­est­ing ones, like Suzanne's adop­tion by white par­ents, or Rosa's (Bar­bara Rosen­blat) past as a lush-lipped and long­haired bank rob­ber who got off on the excite­ment of heists fail to spice things up.
Pro­vid­ing such details of char­ac­ters' lives is a clas­sic human­iz­ing tech­nique, as well as a tac­tic to keep peo­ple inter­est­ed. But it sim­ply doesn't work very well this sea­son, because the ques­tion of why, for instance, Morel­lo (Yael Stone) is so obsessed with Christo­pher, is dis­con­nect­ed from the nar­ra­tive thrust of the show. As a result, the show in effect is draw­ing out the action — not a lot hap­pens, and it hap­pens in a rel­a­tive­ly short time, but it all gets stretched like a long rub­ber band. More­over, the focus on the inmates' back sto­ries folds into a cen­tral prob­lem with the show: that it has to con­stant­ly make prison be about the peo­ple in it, as opposed to dis­cussing the sys­temic prob­lems with the prison indus­tri­al com­plex itself.
Large­ly miss­ing from Sea­son 2 is the pres­ence of Lav­erne Cox, who has, in the inter­ven­ing peri­od between the sea­sons, become a well-known spokesper­son on trans issues and a pro­duc­er of a forth­com­ing doc­u­men­tary on CeCe McDon­ald. (Read my inter­view with Cox for In These Times here.) But Cox wasn't just a suc­cess in gain­ing vis­i­bil­i­ty for trans actors every­where — she was also very good in her role as Sophia Burset. In Sea­son 2, she rarely appears, and when she does, it's as a mouth­piece for what the show clear­ly iden­ti­fies as the cor­rect and pro­gres­sive polit­i­cal line on sex­u­al­ly and gen­der pol­i­tics. Dis­cov­er­ing that most of the women have no idea about the dif­fer­ent parts that com­prise their gen­i­tals, she gives an impromp­tu lec­ture. In oth­er words, Cox is no longer play­ing a char­ac­ter but has become, in effect, the native infor­mant on All Mat­ters Trans. An Orange with­out her in a big­ger role as an actor and not sim­ply a spokesper­son is great­ly dimin­ished in breadth and depth.
Breasts, breasts and more breasts
What else is dif­fer­ent? Pennsat­ucky takes her beat­ing as an oppor­tu­ni­ty to gain new teeth, but they are of no use: She los­es her social stand­ing, and she can only stand by bewil­dered as her celebri­ty fades and her for­mer min­ions turn on her.
The mat­ter of the uneven­ly and racial­ized rep­re­sen­ta­tion of breasts, which we had pre­vi­ous­ly point­ed out, is amply resolved by a pro­lif­er­a­tion of breasts, of every hue and col­or, most­ly as an accom­pa­ni­ment to copi­ous amounts of sex.
Indeed, there are so many breasts present in this sea­son that they will no doubt inspire a drink­ing game (one shot or two, depend­ing on how many a woman expos­es at the same time), and the result can only be extra­or­di­nar­i­ly ine­bri­at­ed view­ing parties.
Sex is an even big­ger com­po­nent of this sea­son, and it's here that the show again reveals both its blind­ness­es and bias­es. At one point Big Boo (Lea DeLar­ia) and Nicky (Natasha Lyonne) decide to have what we can only call a Fuck-Off: a race to see who can bed the most num­ber of women. It becomes a run­ning joke over a few episodes, but it's unclear as to why this should be any less demean­ing and just plain sex­ist just because the play­ers are women. At one point, Piper, tries to nego­ti­ate the return of a blan­ket Big Boo has appro­pri­at­ed by offer­ing her a new pris­on­er as a sex­u­al part­ner. It becomes a joke about Piper ​"pimp­ing" the girl, turn­ing the harsh real­i­ty of the sex­u­al econ­o­my of pris­ons into an occa­sion for comedy.
Indeed, the show relent­less­ly por­trays prison sex as a fun, hap­py thing, and while sex in prison doesn't have to always be non-con­sen­su­al or coerced, the real­i­ty of prison in the US is that 200,000 incar­cer­at­ed adults and chil­dren are sex­u­al abused every year. Orange seems blithe­ly com­mit­ted to a rosy view — with one notable excep­tion, in which sex is used to uncrit­i­cal­ly sup­port stereo­types of black men as sex­u­al­ly preda­to­ry, par­tic­u­lar­ly towards white women. When Piper is tak­en to MDC, she's imme­di­ate­ly leered at by one of the male pris­on­ers who are being flown there as well, a Black man whose sex­u­al come-on to her is gross­ly over­played, com­plete with a vis­i­ble tongue. In con­trast, the white mar­shal who escorts her to the bath­room is gruff and sar­cas­tic, but doesn't touch or sex­u­al­ize her, even though she's vul­ner­a­ble to him as he stands at the open door. Lat­er, when she needs to ask the same pris­on­er to run an errand for her, she nego­ti­ates a sex­u­al reward. She offers him a hand­job, but he wants her four-days-unwashed panties instead. When she finds out from anoth­er inmate that he's a hit man, she explodes in relief: ​"Oh, I'm so relieved, I thought he was a rapist!"
In real­i­ty, Piper might well have had to sub­mit to either the pris­on­er or to mul­ti­ple guards. But, of course, the show could nev­er show its cen­tral white female pris­on­er actu­al­ly blow­ing or being fucked by a Black man, whose sex­u­al pro­cliv­i­ty is then mocked when Piper says, ​"They hire hit men with under­wear fetish­es." So first he's car­i­ca­tured, bring­ing to life the fear that under­girds this country's his­to­ry of lynch­ing Black men: that one might sex­u­al­ly assault a white woman. And then, he's mocked for his predilection.
Bleak­er, but still black and white
If Sea­son 1 made prison seem like Camp Pris­on­Can­Be­Fun for girls, Sea­son 2 is bleak­er and filled with reminders that the only cer­tain­ty about prison life, besides the roach­es and the shit bub­bling up through bad plumb­ing, is the absolute uncer­tain­ty. An old­er woman in the last stages of demen­tia is thrown out into the real world as part of a pro­gram of ​"com­pas­sion­ate release," left to fend for her­self on the streets. Rosa is denied a life-sav­ing oper­a­tion because the state has a rigid cap on pro­ce­dure costs. One of the young Lati­nas, a new moth­er, is told of a trans­fer far away from her infant daugh­ter, deprived of even the brief vis­its she might have.
That Orange makes a con­scious attempt to high­light such prob­lems in its sec­ond sea­son is pre­sum­ably a response to numer­ous cri­tiques of the first (includ­ing ours). The show's depic­tion of the elder­ly in prison is one of the stronger ele­ments, and we con­tin­ue to see people's con­tra­dic­tions. Admin­is­tra­tor Caputo (Nick Sandow) reveals him­self as some­one who actu­al­ly wants to improve mat­ters for the women, but it's all cir­cum­scribed by his desire to be seen as a do-gooder.
Try as they might, how­ev­er, Orange's attempts to be more nuanced skate over its core prob­lems: racism and classism.
Often crit­i­cized for imply­ing that bour­geois white women like Piper sim­ply don't deserve to be in prison (and, by impli­ca­tion, that oth­ers do), Orange now attempts to direct­ly address the mat­ter of race, but falls flat. At one point, Piper, fed up with every­one assum­ing she per­son­al­ly had any­thing to do with get­ting a cov­et­ed fur­lough, stands up and makes a short speech about ​"white priv­i­lege." It's one of the most forced and inor­gan­ic moments in the sea­son, aimed square­ly at cri­tiques like, well, ours, and not real­ly at the char­ac­ters around her.
The racial aspects of prison and the show's pol­i­tics around them come to the fore with the entrance of Vee, played by Lor­raine Touis­sant, who comes to Orange with an impres­sive record of appear­ances in tele­vi­sion shows like Law and Order and Scan­dal. Watch­ing her effort­less and aston­ish­ing­ly flaw­less per­for­mance, where every flick­er of her eye­lids con­veys a taut, slow, deep ener­gy that lies coiled ready to strike, one won­ders at the sense­less­ness of a Hol­ly­wood sys­tem that has not giv­en her more major roles before this.
By Sea­son 2, the Lati­nas have tak­en over the kitchen and by exten­sion, the top slot in the prison hier­ar­chy. As Nicky says sar­don­ical­ly, ​"The reign of Whitey is over."
This obser­va­tion can only be a joke — both in real life, where white­ness still dom­i­nates every are­na, and in the world of the show, which ulti­mate­ly can­not allow the pow­er­ful Vee to actu­al­ly gain ascen­dan­cy. As much as Vee strug­gles might­i­ly to estab­lish pow­er, and as much as she seems to gain it, her plans are even­tu­al­ly foiled.
Vee, as it hap­pens, is Taystee's (Danielle Brooks') moth­er, not the bio­log­i­cal sort, but the God­moth­er, rul­ing over a small but effec­tive brood that runs drugs at her bid­ding, and hold­ing even the cops in her man­i­cured hands.
How bad is Vee? When Red (Kate Mul­grew), the for­mi­da­ble Red, sees her, her instinct is to rush to Sophia to get a new hair­cut — red, but with hints of flam­ing orange, spiked to look as if her head were a ball of fire fly­ing upwards — along with red nails. She tells Sophia she needs to look her best and strongest to con­front the new­com­er, and we real­ize that Vee is an old-timer, and that she and Red have a history.
As played by Touis­sant, Vee is a sear­ing pres­ence. In prison, she is bereft of the per­fect make­up and fine­ly styled clothes, hair and acces­sories that she sports in flash­backs. And yet she becomes even more incan­des­cent with­out all that, as if her accou­ter­ments had formed a kind of hazy screen obscur­ing her enor­mous pow­er. Her suave, gen­teel walk out­side prison is now trans­formed to a tight­ly knot­ted one, her shoul­der blades tensed in con­stant antic­i­pa­tion of an attack from any side. It is dif­fi­cult to take one's eyes off her, even as she leaves the room.
Once at Litch­field, she begins to assem­ble a posse, grad­u­al­ly pry­ing peo­ple and group­ings apart just as sure­ly as she draws the most vul­ner­a­ble to her, start­ing with Suzanne. Her tac­tics are sub­tle: Even the reluc­tant Taystee, who knows all too well Vee's abil­i­ty to wreak hav­oc, is brought clos­er with cake — an entire sheet cake mag­i­cal­ly hand-deliv­ered to Vee by one of the Lati­na kitchen staff, com­pli­ments of Glo­ria (Sele­nis Ley­va) and com­plete with fun­fet­ti sprinkles.
As the episodes progress, the focus becomes the turf bat­tle between Vee and Red, who each buy loy­al­ty with favors. Red, left with­out her usu­al resources but able to mar­shal new ones, resorts to lip gloss and an ele­gant din­ner. But it's Vee who seems to have the upper hand because she can make much more hap­pen: first, tobac­co for a cig­a­rette-sell­ing scheme. And then, the big one: heroin.
It's here that the show descends into absur­di­ty in its relent­less effort to paint the White Red as infi­nite­ly bet­ter than the Black Vee.
Red, we are remind­ed, would nev­er deal drugs. There is, in this prison filled with peo­ple who have com­mit­ted any num­ber and range of crimes, some­how a sense that drug-deal­ing is the worst ever. We are remind­ed again that Red is a moth­er fig­ure to Nicky who helped her cope with her drug addic­tion. Red's con­cern for her for­mer min­ions is por­trayed as gen­uine, while Vee's is seen as pure pow­er play. There are no real rea­sons why that should be — Red is after pow­er, just as much as Vee is — but in one woman, the pow­er is con­nect­ed to real care­tak­ing, and in the oth­er, to pure evil.
It doesn't help that Vee is giv­en no redeem­ing qual­i­ties. Even her con­cern for her ​"chil­dren" is always laced with con­nivance, and her brief flash­back episode only shows her vio­lat­ing the ele­men­tal social taboo of incest by sleep­ing with her adopt­ed son. The hero­in turns the fight into some­thing else alto­geth­er, becom­ing the final ingre­di­ent in an absurd moral­i­ty play: Red might feed some­one a bloody tam­pon sand­wich and devise a plot to regain her kitchen that was so dan­ger­ous it almost burnt her friend Gina (Abi­gail Sav­age) to death. But drugs? Nev­er! The code of hon­or, such as it is, is made clear: White peo­ple don't do hero­in unless Black peo­ple bring it to them.
Crime shows and media cov­er­age fre­quent­ly depict the drug trade as dom­i­nat­ed by Blacks, ignor­ing the fact that a sig­nif­i­cant num­ber of users of drugs like hero­in are white. All too often, we see the demon­ic Black drug lord sell­ing his wares to hap­less young whites, enslav­ing them into addic­tion. In Chica­go, the press pro­duces reg­u­lar reports on the blight of the West and South Sides (large­ly Black and Lati­no), ignor­ing the real­i­ty of who the clients of deal­ers might be, and how the demand dri­ves the trade, not vice versa,
So, to that end, it's the white Nicky, who has accu­mu­lat­ed an enor­mous reser­voir of sym­pa­thy as one of the few tru­ly com­pas­sion­ate peo­ple, who's por­trayed as vul­ner­a­ble and a poten­tial vic­tim of Vee's incip­i­ent hero­in car­tel. But she returns from the edge in the brink of time, as the show would have it, and Vee meets a bru­tal end.
Vee's come­up­pance is swift, vio­lent, and com­ic, thus even more dev­as­tat­ing than what hap­pened to Pennsat­ucky. Vee gets no sym­pa­thy; we are to laugh as the arch-vil­lain is met­ed jus­tice. It's not that she should have been drawn sym­pa­thet­i­cal­ly; the show has plen­ty of sym­pa­thet­ic Black women. The prob­lem is that Orange can­not sus­tain a pow­er­ful, Black woman with­out soft­en­ing her with a sad sto­ry or cut­ting her down.
In the end, what hap­pens to Vee also affirms the reformist mes­sage of prison: not just that admin­is­tra­tors like Caputo can make prison bet­ter, but that prison can sup­pos­ed­ly bring about pos­i­tive changes in peo­ple and social struc­tures. Vee's depar­ture from Litch­field enables her for­mer min­ions to for­get their mutu­al mis­trust and band togeth­er to resist the sup­posed Worst Pos­si­ble Sin of drug deal­ing. The frag­ile ecosys­tem is restored, but there's lit­tle atten­tion paid to the fact that, in the end, racial and eth­nic inequal­i­ties will allow some women, like Piper, to leave, while the oth­ers come in and out of the revolv­ing door or stay in for good.
In the end, prison is seen as a cura­tive, a spa for the soul, if you will. Piper is the poster child for this: On more than one occa­sion, after real­iz­ing what an ass­hole she has been, Piper notes rue­ful­ly that she will nev­er be the same and that that might be a good thing. The mes­sage is clear — if not for prison, Piper would nev­er have found herself.
Vee's depar­ture assures us that, even­tu­al­ly, dom­i­nant Black women will be exposed for all their unre­lent­ing faults or tucked out of sight, as Claudette Pelage (Michelle Hurst) was in Sea­son 1. It's not that the show doesn't have strong Black women, like Taystee and Poussey (Sami­ra Wiley), but none of them are in the posi­tion (or have the desire) to wrest pow­er away from white women like Red. What makes Vee a more pal­pa­ble threat is that she's not con­tent to stay in the back­ground and make great moon­shine, like Poussey, or work­ing to gain employ­ment on the out­side by being the best job can­di­date, like Taystee. Vee is deter­mined, from day one, to rule. The only way to dis­pose of Vee is to por­tray her as pure evil and cut her down to size, while near­ly every­one else is giv­en a sec­ond chance.
In the end, the reign of Whitey con­tin­ues unabated.