How California Birthed the Modern Right Wing
Many of 20th-century conservatism's tricks were honed in 1930s agribusiness's fight against farmworkers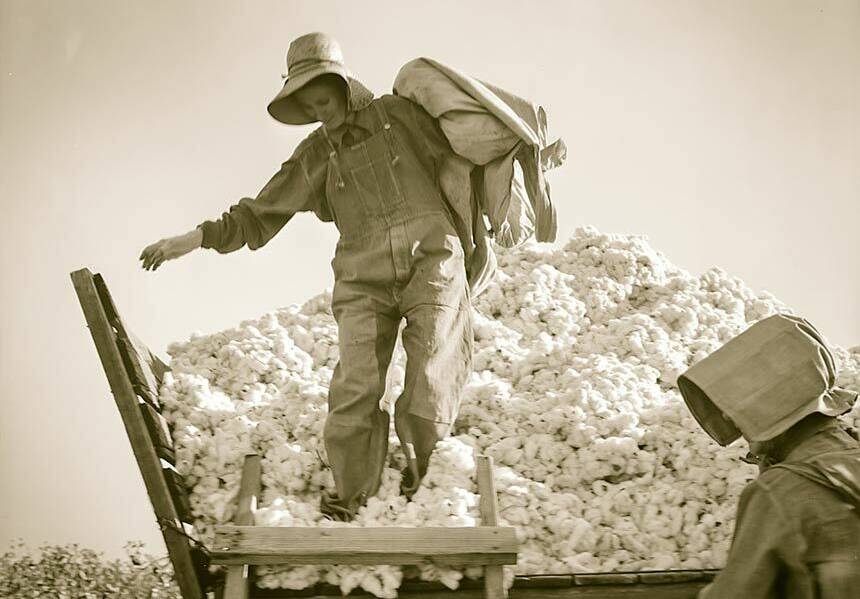 Con­ser­v­a­tive rule in Amer­i­ca is by now so deep-seat­ed that a ver­i­ta­ble cot­tage indus­try has sprung up to explain its ori­gins. By vary­ing accounts, the mod­ern Right's resur­gence has its roots in pop­ulist reli­gious revivals, Cold War para­noia, racial scape­goat­ing and the ongo­ing cul­tur­al back­lash against the New Left. Tak­en togeth­er, they raise the ques­tion: What served as the main­spring force?
These labor struggles have cast a long shadow on our national politics, particularly when a Californian—who made a point of serving grapes at fundraisers in defiance of the United Farm Workers boycott—launched the conservative revolution proper in the 1980 presidential election.
Kathryn S. Olm­st­ed, a UC-Davis his­to­ri­an, fur­nish­es an arrest­ing, if par­tial, answer in Right Out of Cal­i­for­nia: The 1930s and the Big Busi­ness Roots of Mod­ern Con­ser­vatism. In order to take hold, the Amer­i­can Right had to make the lib­er­al bul­warks of mod­ern Amer­i­can pros­per­i­ty seem irre­deemably creaky, cor­rupt and sin­is­ter. Olm­st­ed focus­es on the con­ver­gence of the Right's defin­ing traits — a small-gov­ern­ment ide­ol­o­gy of eco­nom­ic indi­vid­u­al­ism, a medi­a­genic nar­ra­tive of busi­ness vic­ti­mol­o­gy and a healthy dose of anti-col­lec­tivist para­noia — as they were mobi­lized at the height of the New Deal to bat­tle an ene­my that bare­ly reg­is­tered on the radar of Amer­i­can pub­lic opin­ion at the time: the scat­tered, mul­tira­cial, and gross­ly under­com­pen­sat­ed farm­work­ers of the Gold­en State.
How this defin­ing con­flict came to pass is itself an instruc­tive sto­ry in the lim­its of New Deal lib­er­al­ism. Migrant farm­work­ers, who had seen their wages stag­nate well before the Depres­sion, seized upon the Roo­sevelt administration's sup­port for col­lec­tive bar­gain­ing to start orga­niz­ing. But there was just one prob­lem: Thanks to deals cut in Con­gress with con­ser­v­a­tive South­ern Democ­rats, farm­work­ers were exempt from fed­er­al col­lec­tive-bar­gain­ing pro­tec­tions (and still are). Nonethe­less, des­per­ate Cal­i­forn­ian agri­cul­tur­al labor­ers picked up on the robust pro-union mood of New Deal Amer­i­ca and took mat­ters into their own hands. As a 1933 wild­cat strike among Cal­i­for­nia berry pick­ers picked up momen­tum through­out the state's rich agri­cul­tur­al inte­ri­or, one Depart­ment of Labor bureau­crat wrote to anoth­er: ​"They are union mad, and they have been led to believe that the gov­ern­ment upholds them in their stand."
The group doing much of the lead­ing was the Com­mu­nist-run Can­nery and Agri­cul­tur­al Work­ers' Indus­tri­al Union (CAW­IU). In 1934, the union coor­di­nat­ed a strike for bet­ter wages in the cot­ton fields of the San Joaquin Valley.
The strike defied the feu­dal ethos of the region's land barons. Cal­i­for­nia was an ear­ly adopter of the agribusi­ness mod­el of food pro­duc­tion, in large part because the desert con­di­tions encroach­ing on the Cen­tral Val­ley required mas­sive, cap­i­tal-inten­sive irri­ga­tion projects. The region's big grow­ers tried to recoup these loss­es by keep­ing wages at a bare sub­sis­tence level.
When the Roo­sevelt admin­is­tra­tion dis­patched George Creel, head of California's Nation­al Recov­ery Admin­is­tra­tion office, to medi­ate the strike, grow­ers sensed their oli­garchy was in jeop­ardy. In vig­i­lante run-ins with strik­ers, grow­er-led mobs killed two farm­work­ers and an offi­cial with the Mex­i­can con­sulate try­ing, like Creel, to bro­ker a com­pro­mise. Gov­ern­ment offi­cials and lib­er­al reform­ers ral­lied to the work­ers' cause from around the coun­try, and the grow­ers' siege men­tal­i­ty took on a xeno­pho­bic cast. After Creel issued a report on the bale­ful work­ing con­di­tions in the val­ley, an area news­pa­per — which, like most local insti­tu­tions, was firm­ly in the grow­ers' pock­ets — wailed: ​"By all that is fair and just, have Amer­i­can farm­ers no rights over Com­mu­nists and aliens?"
Creel's com­mis­sion nego­ti­at­ed a com­pro­mise rate of 75 cents per hun­dred pounds of cot­ton picked — a 25 per­cent raise — and the chas­tened grow­ers learned they had to tamp down their more bru­tal tac­tics. In 1934, the grow­ers found­ed ​"Asso­ci­at­ed Farm­ers" (AF), a ​"cit­i­zens com­mit­tee" against alleged run­away sub­ver­sion in the region. The group was fund­ed by the state's largest cor­po­ra­tions, but as the Los Ange­les Cham­ber of Com­merce explained in a memo, the mon­ey behind AF ​"should be kept a deep, dark secret. This is the only way we can win the fight."
The first major test of the grow­ers' revamped strat­e­gy came in 1934 with a major strike among work­ers in the state's lush Impe­r­i­al Coun­ty farm­lands. Vig­i­lanteeism con­tin­ued — but it now telling­ly focused on ​"out­side agi­ta­tors" such a civ­il rights attor­neys com­ing in to defend strik­ers in court. ​"Through the win­ter and spring, every sin­gle one of the five attor­neys the ACLU sent to defend Impe­r­i­al strik­ers was beat­en and threat­ened with lynch­ing," Olm­stead writes.
In the main, though, the AF and its many civic allies in the Impe­r­i­al Val­ley mar­shaled local opin­ion behind them via the implau­si­ble specter that mar­gin­al wage increas­es for impov­er­ished farm­ers was the cat's paw for a com­ing Com­mu­nist rev­o­lu­tion. The fed­er­al medi­a­tor for this dis­pute — a charis­mat­ic for­mer World War I army gen­er­al named Pel­ham ​"Hap­py" Glass­ford — sym­pa­thized at first with the grow­ers, but soon was shocked and vir­tu­al­ly rad­i­cal­ized by the cyn­i­cal PR efforts of AF lead­ers. (It also scarce­ly helped mat­ters that a pri­vate espi­onage out­fit, known as the ​"secret thir­ty," was spy­ing on Glass­ford and any­one else deemed a poten­tial threat to grow­ers' interests.)
"A group of grow­ers have exploit­ed a com­mu­nist hys­te­ria for advance­ment of their own inter­ests," Glass­ford announced in his blis­ter­ing report on the con­flict. ​"They have wel­comed labor agi­ta­tion which they could brand as ​'red' as a means of sus­tain­ing suprema­cy by mob rule, there­by pre­serv­ing what is so essen­tial to their prof­it, cheap labor. … They have suc­ceed­ed in draw­ing into their con­spir­a­cy cer­tain coun­ty offi­cials who have become the prin­ci­pal tools of their machine." In response, grow­ers start­ed lob­bing death threats at Glass­ford, while the Los Ange­les Times—the all-but offi­cial organ of Gold­en State busi­ness — edi­to­ri­al­ized, far from coher­ent­ly, that Glassford's report showed FDR's gov­ern­ment to be soft­er on com­mu­nism than Joseph Stal­in him­self, since at least, ​"Com­mu­nists in Rus­sia are under the iron heel of Stal­in and dis­turbers are sent before a fir­ing squad."
The Times had no cause to yearn for a purge, as the grow­ers had the next-best Stal­in­ist tac­tic at their dis­pos­al: a show tri­al. After the strike sub­sided, cops raid­ed the CAWIU's offices in Sacra­men­to and brought two dozen union orga­niz­ers to tri­al under the state's absurd­ly severe Crim­i­nal Syn­di­cal­ism Act, which cod­i­fied extend­ed prison sen­tences for any­one found to be advo­cat­ing the vio­lent over­throw of the gov­ern­ment. Itself a rel­ic 1919 of World War I red-bait­ing, the syn­di­cal­ism law now gained pop­u­lar trac­tion thanks to left­ward polit­i­cal unrest in Cal­i­for­nia, includ­ing the 1934 gen­er­al strike in San Fran­cis­co and the near-elec­tion, the same year, of social­ist nov­el­ist Upton Sin­clair to the gov­er­nor­ship. (His plat­form: ​"End Pover­ty Now in Cal­i­for­nia" via a guar­an­teed min­i­mum income and steeply pro­gres­sive income tax.)
After what was then the longest tri­al in Cal­i­for­nia his­to­ry, eight of the defen­dants were con­vict­ed on a less­er charge of con­spir­a­cy to com­mit crim­i­nal syn­di­cal­ism. But the par­tic­u­lars of the case count­ed for much less than the stir­ring spec­ta­cle of bona fide labor-agi­tat­ing Com­mu­nists being led in shack­les to serve years-long prison terms. Dis­trict Attor­ney Neil McAl­lis­ter — a ​"prin­ci­pal tool" of the agribusi­ness estab­lish­ment — brought out an actu­al Amer­i­can flag as a prop dur­ing his clos­ing argu­ment and implored the jury to return a con­vic­tion ​"for the good old U.S.A, for My Coun­try ​'Tis of Thee, for the Star-Span­gled Ban­ner, for my Own Unit­ed States, and God will bless you." He crowed at a post-ver­dict press con­fer­ence that the out­ra­geous ver­dict was ​"a step for­ward for Amer­i­ca and all that Amer­i­ca stands for."
These labor strug­gles have cast a long shad­ow on our nation­al pol­i­tics, par­tic­u­lar­ly when a Cal­i­forn­ian — who made a point of eat­ing grapes in defi­ance of the Unit­ed Farm Work­ers boy­cott — launched the con­ser­v­a­tive rev­o­lu­tion prop­er in the 1980 pres­i­den­tial elec­tion. Over and above the notion that ​"the New Right was [a] neolib­er­al revolt against the dead hand of gov­ern­ment inter­ven­tion" in the econ­o­my, Olm­st­ed argues that:
20th cen­tu­ry con­ser­vatism was a reac­tion to the changes in the ways the gov­ern­ment was inter­ven­ing in the econ­o­my — in short, a shift from help­ing big busi­ness to cre­at­ing a lev­el play­ing field for work­ers. … [Reagan's rev­o­lu­tion] made the gov­ern­ment more respon­sive to the Amer­i­cans with the most wealth and power.
Indeed, as a fresh crop of GOP pres­i­den­tial hope­fuls trots out pho­ny ene­mies, for­eign and domes­tic, one can feel the same chill blast of the oli­garchs' fear and hatred. Eight decades after the tri­al that broke the CAW­IU, we're all still being kept down on the farm.