The Season of Electoral Angst
In election 2012, what does 'winning' mean for the Left?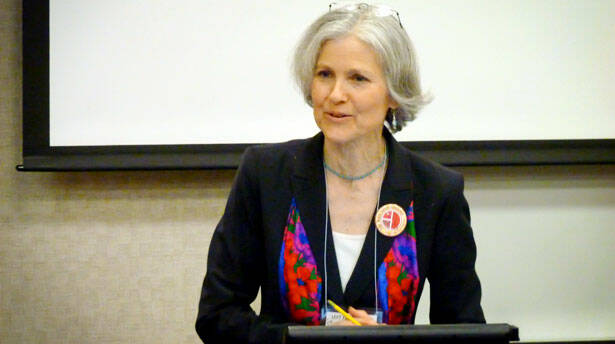 Every four years, the elec­tion sea­son finds many on the Left ago­niz­ing over whether to make a prag­mat­ic choice and vote for the bet­ter of the two major can­di­dates or to vote for the per­son that most close­ly match­es their polit­i­cal prin­ci­ples — regard­less of that cam­paign's relevancy.
This year, as a result of Occu­py's anti-elec­toral pol­i­tics, the land­scape looks a lit­tle dif­fer­ent. In These Times con­vened three pro­gres­sive voic­es to debate how the Left should be orga­niz­ing this elec­tion cycle: New York-based labor writer Mike Hirsch, activist Bill Fletch­er Jr. and Green Par­ty pres­i­den­tial can­di­date Jill Stein. Their answers were stark­ly dif­fer­ent, but on one point they were in agree­ment: Beyond elec­tion cycle tac­tics, pro­gres­sives need a broad­er, long-term polit­i­cal strategy.
There's been con­cern about co-opta­tion of Occu­py by the Oba­ma cam­paign. What impact do you think the elec­tion sea­son will have on emerg­ing social movements?
Bill: This has always been a red her­ring — I don't think that there's ever been a dan­ger of co-option. I think that it's used as a way of advanc­ing an anti-elec­toral line and putting peo­ple in a box by counter-pos­ing elec­toral pol­i­tics to mass action.
Mike: The prob­lem with Occu­py is its core pol­i­tics — it believes that demands on the state val­i­date the state. On one lev­el, that's nuts to me. But on anoth­er lev­el, it allows them to have the kind of plu­ral­ism and tol­er­ance that a more polit­i­cal move­ment would­n't have. This isn't a move­ment that's elec­toral; it does­n't think in terms of what pol­i­cy-wise the state can or can't be made to do. I think, if only for that rea­son alone, there's no way the Demo­c­ra­t­ic Par­ty could ​"co-opt" them.
What pre­vents the Demo­c­ra­t­ic Par­ty from being an anti-cor­po­rate force? Is it the weak­ness of social move­ments in this coun­try, or some­thing more structural?
Bill: The Democ­rats and the Repub­li­cans are fun­da­men­tal­ly cor­po­rate par­ties — every­one knows that. The Repub­li­cans have now become much more con­sol­i­dat­ed as a hard-right coali­tion, where­as Democ­rats are not as con­sol­i­dat­ed at the broad lev­el but have embraced neolib­er­al­ism at the top. Part of the prob­lem is that with­in the Demo­c­ra­t­ic Par­ty con­stituen­cy, there is a very poor­ly orga­nized pro­gres­sive bloc. I'm not just talk­ing about the Con­gres­sion­al Pro­gres­sive Cau­cus. The broad pro­gres­sive forces that will tend to vote Demo­c­ra­t­ic do not have a very clear vision, orga­ni­za­tion and strategy.
So we've repeat­ed­ly been in a trap of every four years, peo­ple as indi­vid­u­als — some­times as orga­ni­za­tions — tart an elec­toral cam­paign, get peo­ple engaged in it, and at the end of the cam­paign, noth­ing changes. With­out any dis­cus­sion about strat­e­gy, where are we going in the next five to 10 years?
Would we have seen Occu­py under a Repub­li­can admin­is­tra­tion? Does a Demo­c­rat ver­sus a Repub­li­can in pow­er make a dif­fer­ence for movements?
Jill: Because Barack Oba­ma has adopt­ed so many of the posi­tions of George W. Bush and in fact gone beyond him, it's hard to dis­cern the impact of one par­ty over the oth­er. Young peo­ple, who are always the engine of real change and the engine of social move­ments, have real­ly been left behind by all par­ties in the polit­i­cal estab­lish­ment. They have a very bleak future right now and they are hun­gry for a vehi­cle that is real­ly prin­ci­pled and has a broad and com­pre­hen­sive strat­e­gy, vision, agen­da and game plan.
Bill: I've been hear­ing that for years. In 1968, I heard that. What we should be doing is pol­i­tics — pol­i­tics with a small P. How do we build pow­er for the mass­es of peo­ple who are oppressed?
That answer neces­si­tates strat­e­gy. It's not just a reflec­tion of peo­ple's out­rage and dis­gust with the polit­i­cal estab­lish­ment. It involves an analy­sis of the way the elec­toral sys­tem works. And what that means in terms of how we orga­nize. That is why you can­not answer in the abstract as to whether we're bet­ter off under Repub­li­cans or Democrats.
That brings to mind Michael Har­ring­ton's ​"vul­ture the­o­ry of social­ism." He did­n't buy the idea that the worse it gets, the bet­ter for the Left.
Bill: In 1932 after Hitler took pow­er, there was an expec­ta­tion that Hitler was going to so com­plete­ly dis­cred­it him­self that the mass­es would rebel against Nazism and turn to Com­mu­nism. Things did­n't quite work out that way. And I think there's an ele­ment among pro­gres­sives that believe that the worse things get, the bet­ter our posi­tion is.
How would the Green­Par­ty — if it achieved a lev­el of nation­al suc­cess — tide off the same influ­ences that impact the Demo­c­ra­t­ic Party?
Jill: The Greens don't accept cor­po­rate con­tri­bu­tions to cam­paigns. We do not accept mon­ey from lob­by­ists. What we've seen from the Demo­c­ra­t­ic Par­ty is pret­ty con­sis­tent fold­ing to the mon­ey that spon­sors them. The Greens are insu­lat­ed from those pres­sures because we don't accept the mon­ey and we have noth­ing but the pow­er of a peo­ple's move­ment and of vol­un­teers and of peo­ple who are impas­sioned by the issues.
Mike: But it hap­pened in Ger­many with their Green Par­ty. It's not suf­fi­cient to say we won't take the mon­ey, because at a cer­tain point, you will need the mon­ey. And then the ques­tion will be: Do you have anoth­er basis for support?
So how does the Green Par­ty plan to bring labor, peo­ple of col­or and oth­er key con­stituen­cies of the Left to the Green Party?
Jill: For the moment, we're full speed ahead, ensur­ing we're on the bal­lot in some­where between 42 and 48 states, and also we're engaged in the pri­ma­ry cam­paign. So our focus right now of neces­si­ty is sort of on our own infra­struc­ture, to make sure we're a vis­i­ble part of the dis­cus­sion. Truth be told, that is the whole rea­son for run­ning this nation­al race.
What's ulti­mate­ly at stake in this elec­tion, both in terms of its impact on pol­i­cy out­comes and on social movements?
Mike: The way Oba­ma has run his admin­is­tra­tion has been dead­ly to our class — dead­ly — and the Left­'s got to say that. Will we be in any bet­ter posi­tion in 2012 after the elec­tion than in 2008? The ques­tion isn't just how we vote; it's how we organize.
Bill: In this elec­tion peo­ple can not sit back and say," a plague on both your hous­es." There's a lot at stake in terms of what a Repub­li­can vic­to­ry will sym­bol­i­cal­ly rep­re­sent. I want to know how peo­ple will respond to the racial­iza­tion of this pres­i­den­tial elec­tion. At the same time, the main way that pro­gres­sives can offer a chal­lenge to Oba­ma is whether we're able to run peo­ple at the state and con­gres­sion­al lev­el who real­ly are progressives.
But we're also ignor­ing var­i­ous reforms that were insti­tut­ed under Oba­ma. Who's going to make the appoint­ments on the Supreme Court? The thing here that we know is these guys are lead­ers of an empire, we're not pick­ing some­one who real­ly is out of our move­ment, not even some­one like Bernie Sanders. But to me, the ques­tion is: In which sit­u­a­tion do we have some maneu­ver­ing pow­er. In that sense, it's not like I'm boost­ing Oba­ma. I'm not sug­gest­ing this guy is the great­est thing since sliced bread. His record on civ­il lib­er­ties, on Afghanistan isn't good. But this race is what I call the choice between Emper­or Augus­tus and Emper­or Caligula.
Mike: Will we be in any bet­ter posi­tion in 2012 after the elec­tion to do that than in 2008? My argu­ment in 2008 was that under Oba­ma, the move­ments would grow. That did­n't happen.
Bill: It did­n't hap­pen because of us!
Mike: Oh, I know that. Absolute­ly. We weren't strong enough.
Bill: Not just not strong enough, but we also shied away from real dis­cus­sions about elec­toral strate­gies and their impli­ca­tions. Up until recent­ly peo­ple were tak­ing a pass.
Bhaskar Sunkara
is the found­ing edi­tor of Jacobin mag­a­zine. Fol­low him on Twit­ter: @sunraysunray.