The Tragedy of Self Immolation: No One Cares
If a monk lights himself on fire and nobody watches, has he made a protest?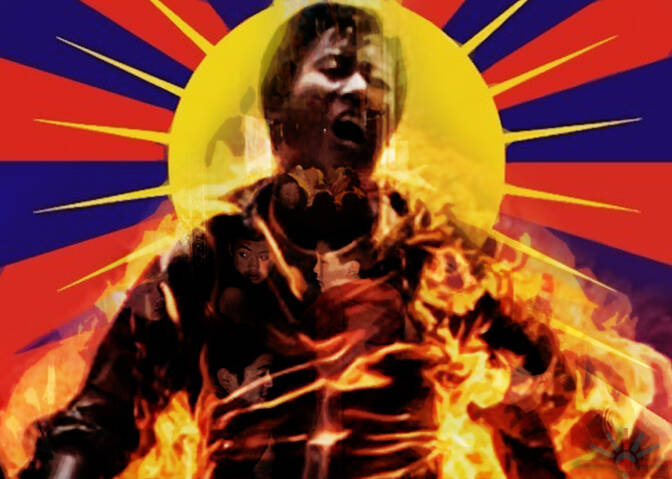 Self-immo­la­tion isn't what it used to be.
If self immolation no longer works as an agent for change, then is it still worth the price? Has it been reduced to mere suicide by fire?
This ulti­mate form of protest became glob­al news in 1963 when the ven­er­a­ble monk Thich Quang Duc set him­self ablaze in the mid­dle of Saigon, Viet­nam, protest­ing reli­gious oppres­sion. Doused in gaso­line, the monk sat serene­ly in lotus posi­tion and lit a match. A bird of par­adise thus blos­somed and bloomed, and quick­ly charred his body.
The pho­tog­ra­ph­er Mal­colm Browne cap­tured Thich Quang Duc's fiery renounce­ment of the mor­tal coil, the image quick­ly becom­ing an icon of the Viet­nam War era. The term ​"self-immo­la­tion," in fact, entered into com­mon Eng­lish usage after his death, which led to a coup d'é­tat that top­pled the pro-Catholic Ngo Dinh Diem régime.
Half a cen­tu­ry lat­er, to die by fire in protest reg­is­ters lit­tle more than a media blip.
As of this writ­ing, 117 Tibetans have set them­selves ablaze since 2009 in a series of protests against Chi­nese rule. The most recent inci­dents came in April, when two young Tibetan monks and a lay Tibetan woman set them­selves on fire. There was lit­tle cov­er­age of their deaths.
Indeed, with the excep­tion of Mohamed Bouaz­izi, the Tunisian fruit ven­dor who set him­self on fire and thus sparked what became known as the Arab Spring, self-immo­la­tion has by all accounts become a failed form of protest as an agent of change. Whether in Syr­ia or Pales­tine, Greece, Italy or Viet­nam, indi­vid­u­als con­tin­ue to go up in flames as crowds look on. Since Bouaz­izi, in fact, 150 more Tunisians have set them­selves on fire protest­ing the new gov­ern­ment, accord­ing to al-monitor.
​"All the Tibetans who resort to self-immo­la­tion do so because they feel they have no oth­er way to make Chi­na and the rest of the world lis­ten to their coun­try's call for free­dom," Byrne-Rosen­gren, direc­tor of the Lon­don-based advo­ca­cy group Free Tibet, told Radio Free Asia last month.
Alas, Chi­na has turned a deaf ear to their cries, while the world media has avert­ed its eyes.
Aris­to­tle once observed that the plot of a tragedy should be so framed that, even with­out wit­ness­ing the events, sim­ply hear­ing of them should fill one with ​"hor­ror and pity"—even lead to insight and action. But the amphithe­ater of the 21st cen­tu­ry has fall­en into decay, scat­tered and frag­ment­ed into a mul­ti­tude of media plat­forms. There are too many actors in too many the­aters and their tragedies—over­whelm­ing, lack­ing in con­text, inco­her­ent, trun­cat­ed or bad­ly report­ed—have lost their grip on the human psyche.
Stud­ies about desen­si­ti­za­tion of the mod­ern mind are aplen­ty, but the gen­er­al con­sen­sus is that over-sat­u­ra­tion of images and nar­ra­tives of vio­lence have result­ed in a col­lec­tive numb­ness. A pro­found act of pub­lic death can­not hope to sway a world in which hor­ror itself has lost its power.
What we want instead is enter­tain­ment, and what we grav­i­tate toward and react to, more often than not, is profanity.
A year after Bouaz­izi went up in flames in Tunisia, an unknown ama­teur film­mak­er named Nakoula Bas­se­ley Nakoula," aka ​"Sam Bacile," inflamed the Mid­dle East with incen­di­ary video clips ridi­cul­ing the prophet Muham­mad. His film turned the Arab Spring of 2011 into the Autumn Rage of 2012, result­ed in the death of an Amer­i­can ambas­sador in Libya, and con­tin­ues to be a bone of con­tention in Washington.
The cyn­i­cal observ­er can't help but won­der: If self immo­la­tion no longer works as an agent for change, then is it still worth the price? Has it been reduced to mere sui­cide by fire?
At its most pro­found the act stands as the high­est form of human com­pas­sion, a con­fir­ma­tion of life by giv­ing up one's own. At its most inco­her­ent self-immo­la­tion becomes more expres­sive of the frus­tra­tion of the pow­er­less. The indi­vid­ual, enam­ored by death, pos­sessed by anger, elic­its nei­ther hor­ror nor pity but cyn­i­cism. After all, to burn with pas­sion is very dif­fer­ent than to be con­sumed by rage.
Fire—this gift and curse to human­i­ty—is a ter­ri­fy­ing beau­ty. Con­tained, it hints at ele­gance, cooks our food and pro­pels our world. Out of con­trol, it engulfs body and soul. It seduces. It over­pow­ers. And it destroys.
Poten­tial self-immo­la­tors may want to rethink their rela­tion­ship with fire. In a world where indi­vid­u­als lever­age more pow­er online than in the pub­lic square, it may be that to live burn­ing with desire to bring atten­tion to one's cause—regard­less of the oppres­sion and humil­i­a­tion—is the real chal­lenge to becom­ing actu­al agents of change in the world. So why not live instead? And find new ways to force the world's atten­tion once more back onto the stage—and evoke pity and hor­ror in us all.
To burn with that desire, to call our atten­tion and hold our gaze until we weep—isn't that worth liv­ing for?