The Upcoming May Day Strike Could Be the Biggest In Over a Decade. Organizers Explain Why.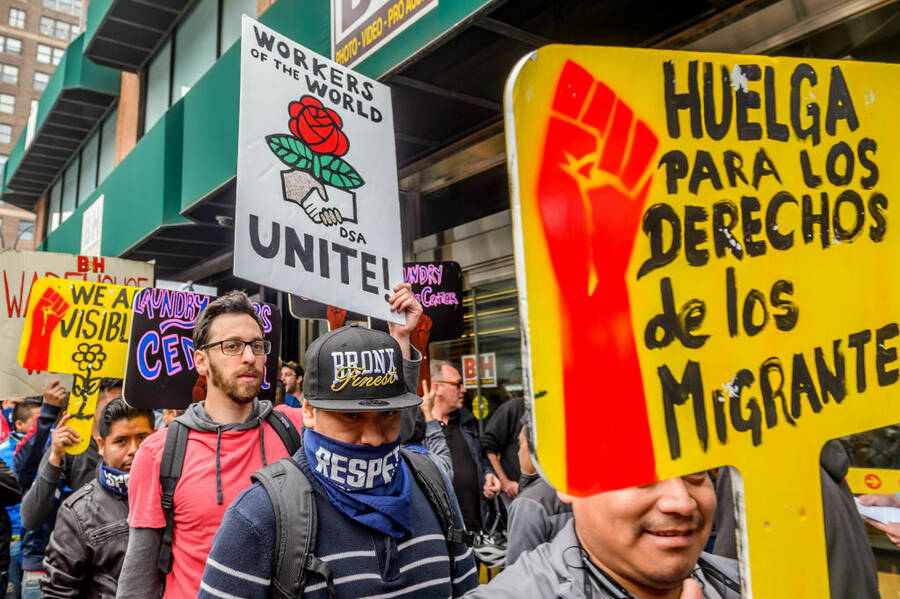 This arti­cle was first post­ed by Wag­ing Nonviolence.
When 26-year-old Catali­na Adorno hit the road on March 28, she knew it would be at least six weeks before she'd sleep again in her own bed. Since that day, Adorno, a Mex­i­can-born New Jer­sey res­i­dent with a strong voice and bright laugh, has criss-crossed from Penn­syl­va­nia to Maine as part of a region­al sup­port team for Movi­men­to Cosecha, a nation­al immi­grant rights coali­tion. Her stops have includ­ed major cities and small towns, as she and her three team­mates work to mobi­lize Cosecha's vast net­work of ​"local cir­cles" ahead of a mas­sive day of coor­di­nat­ed action slat­ed for May 1.
On April 3, Adorno's team stopped off in Wash­ing­ton, D.C. to hear Cosecha spokesper­son Maria Fer­nan­da Cabel­lo make the for­mal call for a May 1 nation­wide strike. The planned action, billed as ​"A Day With­out an Immi­grant," is set to be the largest immi­grant rights action for at least a decade, with hun­dreds of thou­sands already pledg­ing to stay home from work for a day in protest of sys­temic dis­crim­i­na­tion towards the immi­grant and undoc­u­ment­ed com­mu­ni­ties. At the press con­fer­ence, Cabel­lo point­ed to the mas­sive labor and cap­i­tal pow­er rep­re­sent­ed by the immi­grant com­mu­ni­ty, includ­ing 11 mil­lion undoc­u­ment­ed res­i­dents. The May 1 protest, assert­ed Cabel­lo, would be the next step in a strat­e­gy of har­ness­ing this pow­er to ​"change the con­ver­sa­tion on immi­gra­tion in the Unit­ed States."
It's a lofty goal for an orga­ni­za­tion that formed less than two years ago, but Cosecha has a strong track record already. Draw­ing inspi­ra­tion from farm­work­ers and their lead­ers — Dolores Huer­ta, Lar­ry Itliong and Cesar Chavez — as well as ​"the thou­sands of African-Amer­i­cans who stood up to the racist Jim Crow sys­tem," Cosecha is an ener­getic move­ment that has grown quick­ly. Its ranks include a nation­al team and hun­dreds of part-time vol­un­teers across the coun­try, which enabled Cosecha to play major role in sev­er­al waves of direct action, includ­ing scores of cam­pus walk­outs and mul­ti­ple protests out­side Trump Towers.
Denise Solis also took the stage at the April 3 press con­fer­ence to rep­re­sent SEIU Unit­ed Ser­vice Work­ers West, one of the labor unions join­ing in the strike. She applaud­ed Cabello's remarks and added that the overt racism of the Trump admin­is­tra­tion has made this action more urgent than ever. ​"The poli­cies of the Trump admin­is­tra­tion are moti­vat­ed by cru­el­ty [and] vil­lainize black and brown peo­ple," she said. ​"We are shut­ting it down on May 1 to stand up to these poli­cies and show that most Amer­i­cans don't sup­port cru­el­ty and racism."
Lis­ten­ing to the words of Cabel­lo, Solis and oth­ers, Adorno reflect­ed on her own life as an undoc­u­ment­ed, Mex­i­can-born res­i­dent of the Unit­ed States. ​"Grow­ing up undoc­u­ment­ed, I felt I had a secret that made me less than oth­er peo­ple. I lived in con­stant fear," she said. It wasn't until she met orga­niz­ers at her New Jer­sey col­lege that she began to think of her sta­tus in a new way. ​"I began to see that doc­u­ments did not define me as a human being, that all this fear is the result of a sys­tem that crim­i­nal­izes our peo­ple." The elec­tion of Trump, she said, has only ampli­fied long-stand­ing anx­i­eties. ​"He's so vocal about tar­get­ing us, our fear is very real."
Yet as Adorno criss-cross­es the coun­try as part of Cosecha's sup­port team for local activists, she has dis­cov­ered a net­work of grass­roots orga­niz­ers who are chan­nel­ing their own fears into action. When we spoke on the phone, she had just fin­ished an hours-long train­ing ses­sion with a ​"local cir­cle" of work­ers and immi­grants who are prepar­ing to strike on May 1. The Phoenixville group is one of about 80 such Cosecha-aligned cir­cles across the coun­try, and it is with these groups that the real grav­i­ty of the move­ment rests. Unit­ed by the goals of win­ning ​"per­ma­nent pro­tec­tion, dig­ni­ty and respect" for the immi­grant com­mu­ni­ty, each cir­cle is able to tai­lor its strat­e­gy to its own local con­cerns, said Adorno, while the 27-mem­ber nation­al team plays the role of coordinator.
Adorno, who works full-time and for free, will be on the road until at least mid-May, both facil­i­tat­ing train­ings and help­ing com­mu­ni­ties deal with any post-strike fall­out. In each town, Cosecha's mobile teams rely on the hos­pi­tal­i­ty of local orga­niz­ers, crash­ing on couch­es and enjoy­ing home-cooked meals, cof­fee and late-night con­ver­sa­tion. It's a gru­el­ing but inspir­ing job, Adorno said, who added that her ​"sup­port role" often involves as much learn­ing as instruct­ing. ​"We do a lot of lis­ten­ing to people's needs and to their plans," she explained. ​"One of the prin­ci­ples of our move­ment is that every­thing we need is already in the com­mu­ni­ty — and see­ing this on the ground is mind-blowing."
In fact, Cosecha's nation­al orga­niz­ers often arrive to play catch-up with local activists. ​"When peo­ple talk about the immi­grant com­mu­ni­ty, they don't always give them the cred­it they deserve," Adorno said. ​"Peo­ple know what they want and they are ready to let the coun­try know." So far, Cosecha-aligned groups have orga­nized cam­pus walk outs, formed alliances with local busi­ness own­ers, coor­di­nat­ed ban­ner drops, and, on Feb­ru­ary 16, launched a spon­ta­neous work­er strike that made nation­al news. ​"That was a moment where self-orga­niz­ing got ahead of the nation­al team," she recalled with amuse­ment. ​"Peo­ple were ready to strike soon­er than we thought!"
Draw­ing on a his­to­ry of resistance
Many of these recent actions have come in response to Trump's aggres­sive tar­get­ing of the immi­grant com­mu­ni­ty, but it would be a mis­take to view these events sole­ly as a reac­tion to the new admin­is­tra­tion. The immi­grant com­mu­ni­ty has been threat­ened by depor­ta­tion and crim­i­nal­iza­tion for years, under both Repub­li­can and Demo­c­ra­t­ic admin­is­tra­tions. The choice of May 1 as a strike date is also a call-back to the movement's his­to­ry and the first ​"Day With­out an Immi­grant," which took place on May 1, 2006. This first strike came at a sim­i­lar time of nation­al foment and anti-immi­grant leg­is­la­tion. The par­tic­u­lar trig­ger in 2006 was the so-called ​"Sensen­bren­ner bill" pro­posed in the U.S. Sen­ate, which would man­date harsh crack­downs on the undoc­u­ment­ed com­mu­ni­ty and crim­i­nal­ize employ­ers and pri­vate cit­i­zens deemed to be pro­vid­ing ​"aid" to ​"ille­gal immi­grants." Incensed, immi­grants and allies demon­strat­ed in over 140 cities, with a half-mil­lion march­ing in Los Ange­les and 100,000 in Chicago.
Paul Engler, an Los Ange­les-based orga­niz­er and founder of Cen­ter for the Work­ing Poor, was deeply involved in the 2006 actions. Eleven years lat­er, his voice still ris­es, rapid and gid­dy, as he recalls the wave of direct action that swept the coun­try that spring. By 2006, Engler already had a long his­to­ry of labor orga­niz­ing, but says he was stunned by the spon­ta­neous response to Sensen­bren­ner. ​"I can't even describe what it was like to see peo­ple mobi­lize on that scale for immi­grant rights," he said, ​"to see hun­dreds of thou­sands of peo­ple on the streets … It was incred­i­ble. Before that, the largest group we'd been able to mobi­lize was about 12,000."
What made the dif­fer­ence, Engler con­tends, was the over­reach of the Sensen­bren­ner bill. After months of depor­ta­tions and raids, the bill's dra­con­ian mea­sures served as a ​"trig­ger event," push­ing an already-agi­tat­ed com­mu­ni­ty from ter­ror to deter­mi­na­tion. ​"There was a change in the air," Engler recalled. ​"It was the begin­ning of a per­ma­nent shift." Soon, a gal­va­nized front, led by Lati­no orga­niz­ers, began mobi­liz­ing through com­mu­ni­ty net­works, Span­ish-lan­guage press, radio DJs and unions. Like Adorno today, Engler said he had trou­ble at times keep­ing up with the burst of self-orga­niz­ing. ​"For a while, the peo­ple out­paced the main­stream labor unions," he explained.
While Sensen­bren­ner and Don­ald Trump's pro­pos­als are mere­ly exten­sions of long-stand­ing dis­crim­i­na­tion, Engler argues both have served to cat­alyze mass action. ​"Trump threw away the dog whis­tle and catered to the racist wing of the Repub­li­can par­ty," he said, ​"and Sensen­bren­ner basi­cal­ly crim­i­nal­ized any­one who wasn't active­ly report­ing undoc­u­ment­ed peo­ple." In such cas­es, the extreme cir­cum­stances push peo­ple to act — even those who tra­di­tion­al­ly avoid polit­i­cal con­tro­ver­sy. Among those mobi­lized by Sensen­bren­ner was the Arch­bish­op of Los Ange­les, Car­di­nal Mahoney, who called the bill ​"blame­ful [and] vicious." On Ash Wednes­day in 2006 he pledged to order a cam­paign of civ­il dis­obe­di­ence in his 288-parish arch­dio­cese if the Sensen­bren­ner bill became law. ​"He essen­tial­ly made every sin­gle priest [in Los Ange­les] into an activist," said Engler. ​"It was unbelievable."
Yet, more than charis­mat­ic lead­er­ship or sophis­ti­cat­ed orga­niz­ing, it was the indi­vid­ual deci­sions to resist that ignit­ed the 2006 move­ment. Accord­ing to Engler, it was the will­ing­ness of orga­niz­ers to ​"sac­ri­fice and dis­rupt" by call­ing for strikes and cam­pus walk-outs that sets 2006 apart from oth­er moments of polit­i­cal set­back. ​"Peo­ple were actu­al­ly putting them­selves on the line," he said, ​"risk­ing their jobs, their safe­ty." In these direct actions, the immi­grant com­mu­ni­ty forced the Amer­i­can pub­lic to grap­ple with the real impli­ca­tions of anti-immi­grant rhetoric, caus­ing many to recon­sid­er. Engler points to Alabama's anti-immi­gra­tion leg­is­la­tion, HB 56, which caused a mass exo­dus of immi­grants after it passed in 2011. ​"Peo­ple real­ized that entire busi­ness sec­tors would col­lapse with­out immi­grants," he said, ​"and a lot of Repub­li­cans flipped their opin­ion on the bill. This proves that even racists can shift if you show them the eco­nom­ic impact." It's also evi­dence that strikes like the upcom­ing May 1 action can work.
Lay­ing the groundwork
Since 2006, Engler has helped train hun­dreds of local orga­niz­ers in move­ment-build­ing through Momen­tum, a ​"move­ment incu­ba­tor" train­ing pro­gram he co-found­ed with Car­los Saave­dra and sev­er­al oth­ers. Saave­dra, who grew up undoc­u­ment­ed after his fam­i­ly immi­grat­ed to Boston from Peru, has been a long-time leader in the fight for immi­grant rights. As a young man, Saave­dra was lead advo­cate for Deferred Action for Child­hood Arrivals, or DACA, with Unit­ed We Dream, and lat­er found­ed the Ayni Insti­tute, an orga­ni­za­tion ded­i­cat­ed to train­ing orga­niz­ers in low-income com­mu­ni­ties. At Momen­tum, Engler, Saave­dra, and oth­ers aim to ​"give pro­gres­sive orga­niz­ers the tools and frame­works to build mas­sive, decen­tral­ized social movements."
Cosecha is com­prised of many grad­u­ates of Momen­tum, and its not hard to hear the echoes of Engler's analy­sis Adorno describes the log­ic behind the 2017 strike. ​"For too long, our com­mu­ni­ty has trust­ed the sys­tem, and we've been played by polit­i­cal par­ties," she said. ​"This coun­try depends on the labor and con­sump­tion pow­er of immi­grants, and we're going to demon­strate our pow­er by with­hold­ing these things."
At the same time, how­ev­er, the deci­sion to strike car­ries grave risks for work­ers. ​"Peo­ple are des­per­ate to strike, but there's also fear — fear of being fired and not being able to sup­port your fam­i­ly," Adorno said. ​"But peo­ple feel so deval­ued, so dehu­man­ized, they know this is what they have to do to fight back." Many com­mu­ni­ties are col­lect­ing emer­gency funds and prepar­ing legal teams to help fam­i­lies who may lose a source of income to the strike. ​"Some peo­ple lost their jobs dur­ing the Feb­ru­ary strike," Cabel­lo told me in a sep­a­rate phone con­ver­sa­tion. ​"We're doing our best to keep that from hap­pen­ing this time."
Yet, despite this cau­tion, labor unions are tak­ing a bold­er stance than they did in 2006, when they lim­it­ed their sup­port to pro­tect­ing indi­vid­ual mem­bers who joined the strike. ​"This time, there are unions actu­al­ly endors­ing the strike, which is huge," Engler explained. Cabel­lo says unions make a ​"nat­ur­al part­ner" for the action, but many of them would not have joined with­out direct pres­sure from their mem­bers. In the case of one branch of the Ser­vice Employ­ees Inter­na­tion­al Union in Cal­i­for­nia, mem­bers arrived at a meet­ing bear­ing signs announc­ing, ​"We're ready to strike on May 1." Oth­ers need­ed less con­vinc­ing. ​"This is why [they] joined unions in the first place — they want to strike and make a dif­fer­ence," Cabel­lo said.
So far, Cosecha's part­ners include the Food Chain Work­ers Alliance, the SEIU Unit­ed Ser­vice Work­ers West, and UNITE HERE Tech Cafe­te­ria Work­ers, which togeth­er rep­re­sent at least 400,000 mem­bers ready to join the May 1 strike. Also join­ing the strike are local busi­ness own­ers and mem­bers of the tech industry.
The immi­grant and labor com­mu­ni­ties, of course, have not been idle since 2006. Across the coun­try, activists have con­tin­ued to protest dis­crim­i­na­to­ry laws through cam­pus walk-outs, civ­il dis­obe­di­ence, social media cam­paigns and small­er-scale strikes. One impor­tant step came when Barack Oba­ma announced the DACA pro­gram in 2012 — after years of delib­er­ate strug­gle and advo­ca­cy led by young, undoc­u­ment­ed ​"Dream­ers." This leg­is­la­tion allowed for undoc­u­ment­ed indi­vid­u­als who entered the coun­try as minors to apply for two-year defer­rals on depor­ta­tion and per­mis­sion to work. Yet, immi­grants and allies have been repeat­ed­ly let down by main­stream pol­i­tics, and even the suc­cess of DACA is par­tial. ​"The ​'Dream­er' nar­ra­tive only high­light­ed part of our com­mu­ni­ty and sac­ri­ficed the rest," Adorno said. ​"At the time, we were des­per­ate for a win, but our com­mu­ni­ty deserves much better."
With that in mind, the orga­niz­ers of the May 1 action aim to tran­scend the leg­is­la­tion-focused actions of the past by call­ing explic­it­ly for true, com­pre­hen­sive reform. ​"What's dif­fer­ent is that peo­ple are look­ing beyond indi­vid­ual leg­is­la­tion and beyond a sin­gle polit­i­cal par­ty," Cabel­lo said. Rather than sim­ply resist­ing depor­ta­tion and crim­i­nal­iza­tion, the immi­grant com­mu­ni­ty is ask­ing for ​"per­ma­nent pro­tec­tion, dig­ni­ty and respect." May 1 will only be the begin­ning. After the strike, teams like Adorno's will spend sev­er­al weeks check­ing in with local cir­cles, assess­ing out­comes and dis­cussing next steps. ​"We want to build up to a full week of strikes and actions," she said. This next step may come as soon as the end of 2017, accord­ing to Cabel­lo, but it will depend on the needs and ini­tia­tives of those on the ground. ​"We will con­tin­ue to fol­low the wis­dom of the people."
Sarah Aziza
is an Arab-Amer­i­can writer, grad­u­ate stu­dent and activist based in NYC. She has pre­vi­ous­ly worked among refugee pop­u­la­tions in North Africa, Jor­dan and the West Bank. Her areas of focus include immi­gra­tion, human rights, inter­na­tion­al pol­i­tics, fem­i­nism and men­tal health. She is a lover of the sto­ry-less-told. Find her on Twit­ter @SarahAziza
1
or www​.sara​haz​iza​.com.