The Vatican's Risky Sexism
The archaic politics of the Catholic Church threaten both women's lives and the church's own survival.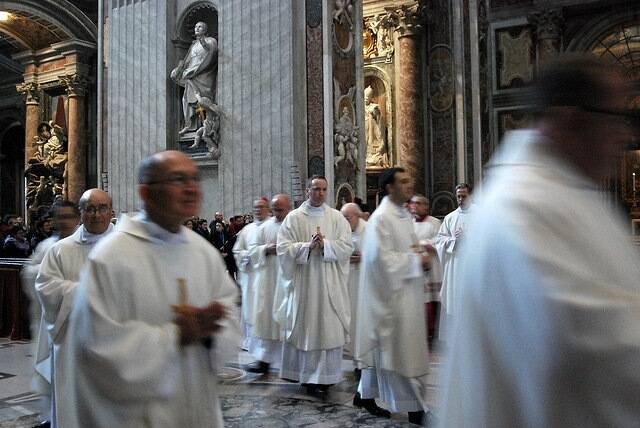 This year the March cel­e­bra­tion of Wom­en's His­to­ry Month ends with a bang, in Passover, East­er, and the birth­day of long­time women's rights ally and social jus­tice cham­pi­on Cesar Chavez. This month also brought a new pope whose approach to women's rights, in con­trast with Chavez's advo­ca­cy and the con­tin­u­ing shift with­in America's Catholic laity, is less than enlight­ened on the equal­i­ty and health con­cerns of women.
Yes, the sanctity and safety of women's reproductive decision-making are at stake in the church's treatment of women in its ranks, as are the rights of girls and women in the church's lobbying for laws to limit access to contraception and reproductive healthcare. But so is the integrity of the church itself.
Regres­sive stands by the Vat­i­can have far-reach­ing pol­i­cy impact in the Unit­ed States and world­wide. Their fall­out is espe­cial­ly haz­ardous for Lati­nas, who face dis­pro­por­tion­ate bar­ri­ers to access­ing repro­duc­tive and oth­er basic health­care.
Much has been made of Jorge Mario Bergoglio's com­mit­ment to social jus­tice and humil­i­ty in ascend­ing to his role of Pope Fran­cis. Yet the fail­ure by faith­ful observers and the press to con­nect these impor­tant con­cepts to the real­i­ties of women's lives threat­ens to reduce them to emp­ty pious rhetoric, like more white smoke from a chimney.
While the lofty and admirable prin­ci­ples of sol­i­dar­i­ty with the poor and aver­sion to the trap­pings of priv­i­lege that Fran­cis has demon­strat­ed in Argenti­na have been wide­ly cov­ered, we've heard less about the real­i­ty of his intense oppo­si­tion to con­dom avail­abil­i­ty and wom­en's access to repro­duc­tive health­care. That dis­junc­tion in Fran­cis' prin­ci­ples, and the gen­der bias it reflects, deserves scruti­ny because it marks the fun­da­men­tal chal­lenge fac­ing the insti­tu­tion the pope now heads, which has more than 1 bil­lion adher­ents and inroads to gov­ern­ment around the globe.
For Catholic Lati­nas in the Unit­ed States and Latin Amer­i­ca, the oppo­si­tion to con­tra­cep­tive use voiced by Catholic bish­ops is wild­ly out of step with what women are actu­al­ly doing. In the U.S., 96 per­cent of sex­u­al­ly active Catholic Lati­nas have used a con­tra­cep­tive banned by the Vat­i­can, includ­ing 90 per­cent of mar­ried Catholic Lati­nas. In Latin Amer­i­ca and the Caribbean, 72 per­cent of women and cou­ples use con­tra­cep­tion, and about 11 per­cent would like to but lack access.
Access to con­tra­cep­tion for many women requires social, polit­i­cal and eco­nom­ic resources that may be hard to come by. This gulf widens when some reli­gious lead­ers active­ly oppose poli­cies to make con­tra­cep­tion more afford­able or wide­ly avail­able. Poor women bear the brunt: Women liv­ing in pover­ty in the Unit­ed States are four times more like­ly to have an unplanned preg­nan­cy than women of means, and this trend is mir­rored in Latin Amer­i­ca. Polit­i­cal oppo­si­tion to fam­i­ly plan­ning and the lack of access to safe, legal abor­tion in Latin Amer­i­ca — and, increas­ing­ly, in the U.S. — threat­en a com­pre­hen­sive, real­is­tic approach to women's health and rights.
Deny­ing the link­age between fam­i­ly plan­ning and the well-being of women and girls excludes them from basic stan­dards of social wel­fare and human rights. The ques­tion of whether this prob­lem will be aggra­vat­ed or ame­lio­rat­ed dur­ing Pope Fran­cis' papa­cy holds huge impli­ca­tions for wom­en's pow­er in the U.S. and much of the world. A recent study by the Guttmach­er Insti­tute con­firmed what women already know: that being able to plan their fam­i­lies improves near­ly every mea­sure of women's wel­fare, from edu­ca­tion­al attain­ment, work­force par­tic­i­pa­tion, and eco­nom­ic sta­bil­i­ty to men­tal health, hap­pi­ness and the phys­i­cal health of women and their chil­dren. For bet­ter or worse, mil­lions of women's abil­i­ty to get the very tools need­ed to plan their preg­nan­cy hinges on sup­port or oppo­si­tion from reli­gious leaders.
This prob­lem is by no means lim­it­ed to Catholi­cism. But it reflects a strik­ing dichoto­my between the church's head and its hands: between male dis­pensers of doc­trine and a heav­i­ly female corps of work­ers in the com­mu­ni­ty. Because they did not shape it, women often chafe against that doctrine.
One espe­cial­ly cru­el impact of that doc­trine appeared this month in debate over uni­ver­sal stan­dards in stop­ping vio­lence against women. In the two-week con­fer­ence of the Unit­ed Nation's Com­mis­sion on the Sta­tus of Women, which end­ed March 15 in New York, the Vat­i­can sided with noto­ri­ous foes of human rights Iran and Rus­sia to oppose a strong state­ment against abuse and rape and to allow con­sid­er­a­tion of reli­gion, cus­tom or tra­di­tion to exempt men from pros­e­cu­tion in cer­tain cases.
On the domes­tic front, lead­ing Catholic orga­ni­za­tions, instead of sup­port­ing civ­il rights and wom­en's health or polite­ly demur­ring from the fight, are tak­ing up the rhetoric of reli­gious lib­er­ty to assail them out­right. Accord­ing to a report this month by Dr. Jay Michael­son for Polit­i­cal Research Asso­ciates, the U.S. Con­fer­ence of Catholic Bish­ops and the Knights of Colum­bus have allied with reli­gious con­ser­v­a­tives to under­mine Roe v. Wade and block key parts of the Afford­able Care Act by turn­ing the First Amend­ment from a shield against gov­ern­ment intru­sion into a sword for lash­ing out at pub­lic poli­cies they con­strue as depriv­ing them of a license to dic­tate sex­u­al behavior.
These polit­i­cal efforts to restrict access to women's health­care will not gain the church good­will from the rapid­ly grow­ing pop­u­la­tion of U.S. Lati­nos. Lati­nos over­whelm­ing­ly sup­port a woman's abil­i­ty to make per­son­al deci­sions about her health and her fam­i­ly and will feel the bite of these restric­tions more intense­ly than most.
And this is social jus­tice for a new century?
Wom­en's abil­i­ty to speak for them­selves, much less to seek or gain lead­er­ship posi­tions in the church, is a bell­wether for a host of oth­er con­cerns now vex­ing this pope due in part to his pre­de­ces­sors' vehe­mence in sup­press­ing debate about them. In the Unit­ed States, the clam­p­down on dis­cus­sion has had two effects. It has mar­gin­al­ized the very lead­ers whose min­istry speaks most to ongo­ing social change and the needs of parish­ioners in nav­i­gat­ing it. And it has has­tened the exo­dus of female tal­ent, a cor­ner­stone of the church's civic and polit­i­cal strength through the last cen­tu­ry, while alien­at­ing a new gen­er­a­tion of poten­tial women leaders.
Catholic women schol­ars put this con­flict in clear terms this month in a pow­er­ful moral state­ment framed by the ques­tion ​"Where is the oth­er half of the con­clave?" Mary E. Hunt, Don­na Quinn and Car­olyn Kel­logg not­ed that ​"count­less Catholic women are meet­ing their spir­i­tu­al needs with resources from out­side of cler­i­cal hier­ar­chi­cal struc­tures … in the mes­sage of Jesus focused on equal­i­ty and community."
Reporters and edi­tors have giv­en short shrift to this con­flict by view­ing it sole­ly through the lens of abor­tion pol­i­tics. Yes, the sanc­ti­ty and safe­ty of wom­en's repro­duc­tive deci­sion-mak­ing are at stake in the church's treat­ment of women in its ranks, as are the rights of girls and women in the church's lob­by­ing for laws to lim­it access to con­tra­cep­tion and repro­duc­tive health­care. But so is the integri­ty of the church itself, its lead­ers, and their claims to be defend­ers of human rights, in the full dimen­sion of that term.
Church women are step­ping up to advo­cate inte­gra­tion of lead­er­ship and reex­am­i­na­tion of poli­cies ban­ning con­tra­cep­tion and abor­tion. Whether this pope deigns to use his pow­er to increase or to de-esca­late the dri­ve to silence their voic­es will speak loud­er than any words. By his acts can we mea­sure his humil­i­ty as a man vest­ed with immense deci­sion-mak­ing author­i­ty over a church that denies wom­en's lead­er­ship. By his deeds can we assess his devo­tion to social jus­tice, no less for women than the rest of humankind.