Sandy Pope: The Woman Who Would Rule the Teamsters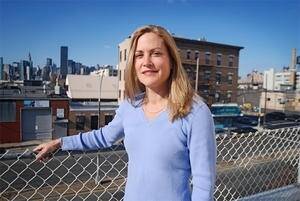 Here are Sandy Pope's cre­den­tials: She's been a ware­house work­er, truck dri­ver and orga­niz­er, and climbed New York City Local 805's ranks until becom­ing pres­i­dent in 2005 of the 1,100-plus work­er organization.
But does that give her shot at becom­ing pres­i­dent of the giant Team­sters' union?
Alexan­dra ​"Sandy" Pope thinks so, and this week she said he plans to face off with James P. Hof­fa next year for the union pres­i­den­cy. ​"I'm the real Team­ster," she says. ​"Hof­fa came out of a white col­lar job."
She clear­ly has chal­lenges to over­come. There's nev­er been a female pres­i­dent for the 1.3 mil­lion-mem­ber union whose mem­ber­ship, accord­ing to Pope, is about 30 per­cent female today.
Still, in her more than 30 years as a Team­ster, Pope has been places where few female union mem­bers have set foot.
Indeed, women have rarely made it to the union's top ranks and so Pope made union his­to­ry when she was num­ber two on an oppo­si­tion slate in 2006.
Plus she comes from the small band of reform-mind­ed Team­sters, who have been fight­ing the union's lead­er­ship on and off for more than three decades.
"The mem­bers are fed up with Hof­fa. He has been rid­ing on his father's name and the ride is over," says Ken Paff, head of the dis­si­dent Team­sters for a Demo­c­ra­t­ic Union (TDU). He sees sev­er­al rea­sons why this time may be dif­fer­ent for union reform­ers who have failed in their last elec­tion bat­tles with Hoffa.
One is a split in the ranks that could dilute Hoffa's strength. Fred Gegare, a for­mer Hof­fa sup­port­er from Wis­con­sin, has already put his name up for the union's presidency.
Anoth­er is the union's trou­ble in keep­ing up its num­bers and fend­ing off com­pa­nies' tough con­tract bargaining.
By Paff's reck­on­ing, the union's mem­ber­ship has dropped by over 100,000 mem­bers since Hof­fa took over the union in 1999. The loss would have been high­er, Paff says, if the Team­sters had not merged with small­er unions.
And then there is the TDU's unend­ing mantra that union lead­ers under Hof­fa have fat­tened their wal­lets while the union and its mem­bers have been suffering.
In 2009, accord­ing to the TDU, there were 120 Team­ster offi­cials who earned more than $150,000 in salary, the largest num­ber ever in the group's tal­ly­ing over the years.
As pres­i­dent of local 805 in New York City, Pope says she earns about $100,000 in salary and benefits.
She doesn't describe her­self as an out­sider at war with the union. Rather she talks of ​"get­ting along fine" with the union's lead­ers in the last few years. She expects to run up against the same mon­ey prob­lems as the last cam­paign when ​"we got out­spent 10 to one."
"But we've got the Inter­net and a lot of oth­er ways to run a grass­roots cam­paign," she explains.
Mea­sur­ing the way Team­sters out­side of her cir­cle have treat­ed her in the last few years, she says she hasn't encoun­tered much neg­a­tive reaction.
"I think most of the men are ready to vote for a woman. Some may not think a woman can't han­dle it. But I think most of the mem­bers are ready for a real change."
"I'm a prob­lem solver," she says. ​"It is the worst moment that the labor move­ment has ever faced and we have to get all hands on deck. You have to get every one involved to save this union and the labor movement."
Stephen Franklin is a for­mer labor and work­place reporter for the Chica­go Tri­bune, was until recent­ly the eth­nic media project direc­tor with Pub­lic Nar­ra­tive in Chica­go. He is the author of Three Strikes: Labor's Heart­land Loss­es and What They Mean for Work­ing Amer­i­cans (2002), and has report­ed through­out the Unit­ed States and the Mid­dle East.