The Wrong Way to Revitalize a City
ALEC's scheme to take the community out of community development.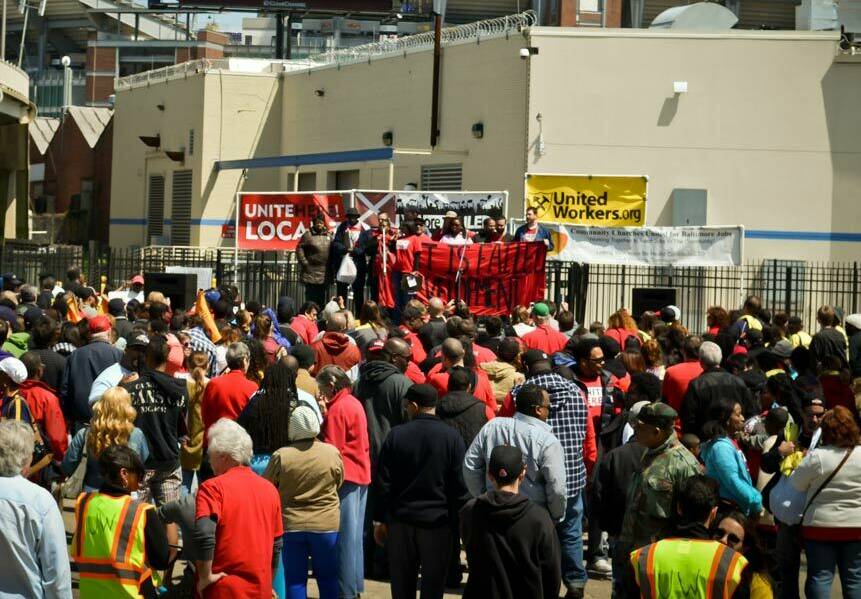 The pro-cor­po­rate Amer­i­can Leg­isla­tive Exchange Coun­cil (ALEC) has come up with yet anoth­er strat­e­gy to bol­ster the pow­er of big busi­ness. Repub­li­can law­mak­ers in Michi­gan plan to intro­duce an ALEC-backed bill that would ban ​"com­mu­ni­ty ben­e­fits agree­ments" (CBAs), one of the few options local activists have to fight for equi­table devel­op­ment. A CBA is a con­tract between com­mu­ni­ty groups and devel­op­ers of pub­licly sub­si­dized projects. In exchange for com­mu­ni­ty sup­port, a devel­op­er might agree to offer qual­i­ty jobs, liv­ing wages, afford­able hous­ing or envi­ron­men­tal pro­tec­tions. ALEC's CBA ban, which specif­i­cal­ly pro­hibits a local min­i­mum wage, would be unprecedented.
With less emphasis on retail and a greater commitment to local needs like good jobs, Buffalo's Inner Harbor—in theory—will look quite different from Baltimore's.
The con­trast­ing sto­ries of Bal­ti­more and Buf­fa­lo, New York, two eco­nom­i­cal­ly depressed cities that launched ambi­tious devel­op­ment plans, show what hap­pens to work­ers and the poor when safe­guards like CBAs are – and aren't – in place.
The Inner Har­bor myth
Bal­ti­more was one of the first U.S. cities to rebrand itself as a tourist and enter­tain­ment hotspot in response to the painful post-war impact of dein­dus­tri­al­iza­tion and white flight. Begin­ning in the 1950s, Bal­ti­more poured mil­lions of dol­lars, through tax breaks and sub­si­dies, into build­ing up its Inner Har­bor enter­tain­ment dis­trict and oth­er attrac­tions. By the ear­ly 1980s, these projects were bring­ing more than 18 mil­lion vis­i­tors to the city annu­al­ly, lead­ing many politi­cians and pun­dits to pro­claim that Bal­ti­more was in the midst of a ter­rif­ic revival.
But it was nev­er an equi­table one. Between 1959 and 1995, Bal­ti­more lost 75 per­cent of its indus­tri­al jobs, and by 2008, the city had lost a third of its pop­u­la­tion. Despite the tall, shiny build­ings and bustling shop­ping cen­ters down­town, blight and aban­don­ment plague many cor­ners of Charm City. As anthro­pol­o­gy pro­fes­sor David Har­vey wrote in 1992, ​"If peo­ple could live on images alone, Baltimore's pop­u­lace would have been rich indeed." Instead, in 2012, more than 25 per­cent of the city lived in pover­ty, includ­ing 37 per­cent of the city's chil­dren.
Mean­while, the Inner Har­bor is still draw­ing 14 mil­lion vis­i­tors a year and remains a point of pride for local lead­ers. In 2013, the city released plans to build up the Har­bor even more over the next few decades. ​"Any­thing that's great for tourists is great for locals," Tom Noo­nan, CEO of Vis­it Bal­ti­more, told the Bal­ti­more Busi­ness Journal.
The approx­i­mate­ly 1,500 restau­rant and retail work­ers at the Inner Har­bor might dis­agree. In 2011, Unit­ed Work­ers – a human-rights orga­ni­za­tion led by low-wage work­ers – and the non­prof­it Nation­al Eco­nom­ic & Social Rights Ini­tia­tive co-pub­lished a report on Inner Harbor's labor con­di­tions that doc­u­ment­ed abus­es such as chron­ic wage theft. The report pro­filed many work­ers, includ­ing Nad­ja Martens, a serv­er at Hard Rock Café, and Jason Bandy, a serv­er at Capi­tol City Brew­ing Com­pa­ny. Both saw big pay­check decreas­es dur­ing the win­ter months, when tourism was slow and tips were scarce. ​"Dur­ing … Novem­ber, Decem­ber, Jan­u­ary, Feb­ru­ary, 100 per­cent of the time I was not paid min­i­mum wage," said Bandy.
This report was the first inves­ti­ga­tion of its kind. ​"The for­mal mea­sure of suc­cess for these pub­lic invest­ments [in the Inner Har­bor] has been a super­fi­cial assess­ment of whether a run­down area has been ​'cleaned up,' whether cus­tomers are hap­py, whether busi­ness­es and investors are mak­ing mon­ey," the report stat­ed. ​"Job cre­ation has been addressed as a sim­ple mat­ter of quan­ti­ty – how many jobs are cre­at­ed – not of quality."
Todd Cherkis, a Bal­ti­more orga­niz­er with Unit­ed Work­ers, puts it this way: ​"There's the myth about the Inner Har­bor, and then there's the reality."
A dif­fer­ent approach
In 1994, in response to the bleak con­di­tions, Bal­ti­more cit­i­zens mobi­lized the nation's first grass­roots liv­ing wage cam­paign, fight­ing to estab­lish high­er wage stan­dards for busi­ness­es that receive gov­ern­ment sub­si­dies. The cam­paign was his­toric, but activists won a watered-down vic­to­ry: The new require­ments applied only to city con­trac­tors, not all pub­licly sub­si­dized developers.
Since 1994, more than 120 oth­er munic­i­pal­i­ties have seen their own liv­ing wage cam­paigns, inspired by the orig­i­nal Bal­ti­more activists. One was Los Ange­les, which enact­ed a liv­ing wage ordi­nance in 1997. A year lat­er, LA res­i­dents pushed for what would become the nation's first CBA – a labor agree­ment tied to an incom­ing Hol­ly­wood shop­ping mall and enter­tain­ment com­plex. Dozens of cities have since nego­ti­at­ed their own CBAs; 28 were in effect nation­wide as of 2012.
The sto­ry of the water­front devel­op­ment in Buf­fa­lo, New York, pro­vides a strong con­trast to Baltimore's. In 2004, the state-run Erie Canal Har­bor Devel­op­ment Cor­po­ra­tion (ECHDC) embarked on a plan to trans­form Buffalo's water­ways into a Great Lakes ver­sion of the Inner Har­bor. Using a $350 mil­lion grant from the New York Pow­er Author­i­ty, the ECD­HC planned to give approx­i­mate­ly $40 mil­lion in pub­lic sub­si­dies to out­door-sport­ing goods store Bass Pro, to be the anchor ten­ant, and Ben­der­son Devel­op­ment, to build the retail store.
"When we found out about all this, we were real­ly con­cerned about the size of pub­lic sub­si­dies for pri­vate busi­ness­es, par­tic­u­lar­ly for Bass Pro, a low-wage employ­er," says Andy Reynolds, a com­mu­ni­ca­tions orga­niz­er with the Buf­fa­lo-based non-prof­it Coali­tion for Eco­nom­ic Jus­tice (CEJ). ​"We began to learn about com­mu­ni­ty ben­e­fits agree­ments as a best prac­tice, so we start­ed a coali­tion to launch one of our own." The result was the Canal Side Com­mu­ni­ty Alliance, a coali­tion of more than 60 com­mu­ni­ty orga­ni­za­tions launched in 2009 to put pub­lic pres­sure on both devel­op­ers and local polit­i­cal lead­ers. By 2013, the Canal Side Com­mu­ni­ty Alliance was able to get the state to agree to a CBA. The project is still under­way, but with less empha­sis on retail and a greater com­mit­ment to local needs like good jobs, Buffalo's Inner Har­bor – in the­o­ry – will look quite dif­fer­ent from Baltimore's.
To be sure, CBAs are no panacea. If devel­op­ers do not hold up their end of a CBA agree­ment, the com­mu­ni­ty coali­tion must hold them account­able, which in many cas­es means going to court. Such sus­tained over­sight is chal­leng­ing and some­times unsuc­cess­ful. And, as Peter Mar­cuse, pro­fes­sor emer­i­tus of urban plan­ning at Colum­bia Uni­ver­si­ty, writes, ​"CBAs … often pro­vide only a lim­it­ed reach for alter­na­tive means of mak­ing the plan­ning process tru­ly democratic."
Still, CBAs are far bet­ter than noth­ing, and the fact that they are in ALEC's crosshairs is a tes­ta­ment to their effi­ca­cy. As Matthew Raf­fol writes in Advo­cates' Forum, ​"By orga­niz­ing res­i­dents of low-income com­mu­ni­ties and grant­i­ng them access to devel­op­ment plan­ning process­es, CBA coali­tions trans­form these res­i­dents from objects of urban devel­op­ment pol­i­cy to sub­jects who active­ly shape devel­op­ment deci­sions [and] exact a price on pri­vate cap­i­tal that it would not oth­er­wise incur." In oth­er words, when faith, labor and com­mu­ni­ty groups come togeth­er to make demands on munic­i­pal projects, they shift the dynam­ics of urban pow­er and set the stage for fur­ther demands.
Hope yet for Baltimore
In April 2013, hun­dreds of Bal­ti­more­ans ral­lied at the site of the new Horse­shoe casi­no to cel­e­brate a deal that local unions, with the help of Mary­land state offi­cials, had bro­kered with Cae­sars Enter­tain­ment Corp. The 1,200 per­ma­nent casi­no staff would be allowed to orga­nize with­out man­age­ment oppo­si­tion, using a sim­ple-major­i­ty ​"card check" process.
That vic­to­ry is being used to fuel a push for fair devel­op­ment through­out the city. In Octo­ber 2014, a new group called One Bal­ti­more Unit­ed – com­prised of labor, faith and com­mu­ni­ty orga­ni­za­tions – ral­lied out­side City Hall for high­er-wage jobs, improved schools and bet­ter pub­lic ser­vices. ​"Our goal is to show that the Inner Har­bor mod­el is out­dat­ed," says Unit­ed Work­ers' Cherkis. The coali­tion is keep­ing a close watch on future devel­op­ment projects and sees CBAs as one tool in its arsenal.
Cherkis express­es cau­tious opti­mism: ​"The land­scape to address these issues is def­i­nite­ly changing."