The Yoko Ono Effect on Fracking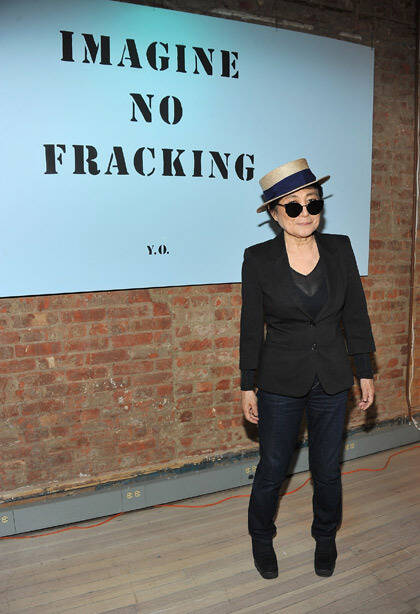 This article is reprinted with permission from AlterNet.
Artist Yoko Ono has an impassioned message for America: We don't have to poison our water supply to make money.
On Friday evening at Manhattan's ABC Carpet & Home, environmentally minded New Yorkers, including a sprinkling of celebs like Susan Sarandon, gathered to celebrate the opening of ​"Imagine No Fracking," a striking window installation designed by Ono, who recently caused a stir by tweeting a photograph of John Lennon's bloody glasses to protest gun violence.
Riffing on Lennon's unforgettable song ​"Imagine," Ono sends out a call for unity in the fight for clean drinking water and alternative approaches to natural gas extraction. The project involves several 6-foot-high posters showing an antifracking message in stencil lettering, signed Y.O. In addition to ​"Imagine No Fracking," posters show a variety of slogans, including ​"Don't Frack New York," ​"Fracking Kills," and the straightforward – if not exactly catchy – ​"Pretty Soon There Will Be No More Water To Drink."
​"Imagine No Fracking" is part of a larger series at ABC Carpet & Home this month designed to open a dialogue with industry leaders, politicians, activists, and citizens on a highly divisive issue. Paulette Cole, CEO & creative director of ABC Carpet & Home, emphasized the importance of protecting our most essential natural resourse: water.
Yoko Ono, looking trim and stylish at age 80, with a jauntily tipped fedora, made a plea for halting a practice whose dangers may far outweigh any short-term gains. Mind-body guru Deepak Chopra offered a meditation on our human connection to nature, while Sarandon urged artists to find creative ways to address the public on the issue.
New York governor Andrew M. Cuomo was called upon by several speakers, including Josh Fox, the director of the new documentary Gasland 2, to stand up to the gas industry and ban fracking.
Musical performances included the always powerful Amy Ray of Indigo Girls and the astonishingly talented Sara Bareilles, who, in honor of the night's theme of water, sang a soulful rendition of Otis Redding's ​"Sitting on the Dock of the Bay."
Cuomo has been accused of delaying the decision-making process on fracking in the Marcellus Shale. A recent Quinnipiac poll shows that for the first time, New Yorkers reject the idea of drilling for natural gas by a margin of 46 to 39 percent.
Lynn Parramore is an AlterNet senior editor. She is cofounder of Recessionwire, founding editor of New Deal
2
.
0
, and author of ​
'
Reading the Sphinx: Ancient Egypt in Nineteenth-Century Literary Culture.' She received her Ph.d in English and Cultural Theory from NYU, where she has taught essay writing and semiotics. She is the Director of AlterNet's New Economic Dialogue Project. Follow her on Twitter @LynnParramore.