'There Is Not Enough Work': Nearly Half of Mexicans Now Officially Poor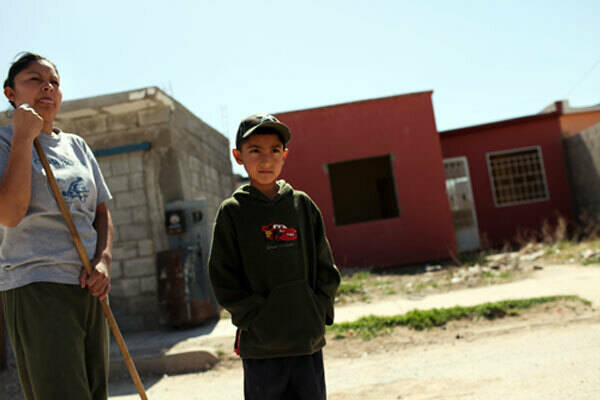 OAX­A­CA, MEX­I­CO — The night is long and lone­ly and taxi dri­ver Fer­nan­do has no choice but to end­less­ly troll the streets. It is the only way he can earn a liv­ing, dri­ving from
4
p.m. to
4
a.m. sev­en nights a week, and even then it's bare­ly enough to get by. ​
"
It is dif­fi­cult. The salaries are low. There is not enough work. And every­thing is more expen­sive," says the mid­dle-aged dri­ver as he cruis­es the streets of this his­toric south­ern Mex­i­can city.
The lat­est fig­ures about pover­ty and Mex­i­can work­ers' fate show that he under­stands the nation's finan­cial real­i­ty as well as any econ­o­mist. The ranks of Mexico's poor grew from
48
.
8
to
52
mil­lion between
2008
and
2010
, accord­ing to fig­ures recent­ly released by the Nation­al Coun­cil for Social Devel­op­ment Pol­i­cy, a fed­er­al­ly fund­ed agency. That meant about
46
per­cent of more than
112
mil­lion Mex­i­cans were liv­ing in pover­ty in
2010
. The gov­ern­ment says some­one is poor if they earn less than $
181
a month in an urban area, and $
113
in a rur­al area.
But the growth in pover­ty was uneven, accord­ing to news reports. Much of the increase was spread across large cities and in the north­ern states. And Oax­a­ca, one of Mexico's poor­est states, was one of the five states with the great­est increas­es in poverty.
What caused the upward spi­ral in despair?
Unem­ploy­ment, low wages and ris­ing food costs are the answers offered by most experts.
The grow­ing pover­ty, experts add, is a rea­son for a num­ber of prob­lems such as high dropout rates among youths, and many young­sters' north­ward flight to the Unit­ed States in search of work.
A recent study point­ed to pover­ty as a major rea­son why youths between
15
and
29
years old account­ed for more than two thirds of the
660
,
000
Mex­i­cans who left the coun­try in
2011
. The report was pro­duced by a research arm of the PRI, which had ruled Mex­i­co for sev­en decades and is hop­ing to win back the Mex­i­can pres­i­den­cy this year. It was based upon fig­ures from the Mex­i­can Min­istry of Edu­ca­tion, accord­ing to the dai­ly news­pa­per LaJornada.
Back­ing up the point that low-wage jobs are a grow­ing dilem­ma and dis­rup­tive force for the econ­o­my is anoth­er report from the Mex­i­can Min­istry of Labor and Social Welfare.
It showed that the coun­try lost
257
,
000
high­er-pay­ing jobs in
2011
while it picked up
625
,
000
jobs bare­ly pay­ing above the min­i­mum wage, accord­ing to the dai­ly news­pa­per
Mileno
. The min­i­mum wage for
2012
is
63
pesos (about $
4
.
80
) a day in the Mex­i­co City area, a rate slight­ly high­er than else­where in the country.
But these low-paid work­ers are not in the worst shape, the arti­cle not­ed. There were about
5
mil­lion work­ers in Mex­i­co last year who did not receive a salary. They get just enough mon­ey to survive.
Dri­ving a taxi on the night­shift gives Fer­nan­do enough to sup­port his fam­i­ly of five. But it is bare­ly enough to pay the costs of his
20
-year-old who is in the local uni­ver­si­ty or to buy all the things need­ed for a two-year-old.
He came back to Mex­i­co not too long from Atlanta, Ga., where he had lived for a hand­ful of years, work­ing as a welder and earn­ing $
18
an hour. He lived with­out papers and didn't mind the dan­gers he faced. The mon­ey was worth the risks.
What brought him home was his wife's hunger to be close to fam­i­ly, a desire he eas­i­ly under­stands. But he also under­stands the dif­fer­ence in his life style and the pain he feels for what more he wants for him­self and his family.
And so, as he dri­ves across the cob­ble­stones and then the broad avenues, he won­ders aloud about going back north. There's not the slight­est fear in his voice of what that could mean. There's only the mem­o­ry of doing better.
​
"
We'll see. This is so hard," he says.
Stephen Franklin is a for­mer labor and work­place reporter for the Chica­go Tri­bune, was until recent­ly the eth­nic media project direc­tor with Pub­lic Nar­ra­tive in Chica­go. He is the author of Three Strikes: Labor's Heart­land Loss­es and What They Mean for Work­ing Amer­i­cans (2002), and has report­ed through­out the Unit­ed States and the Mid­dle East.