These Stains Do Not Wash Away: An Immigrant's Tale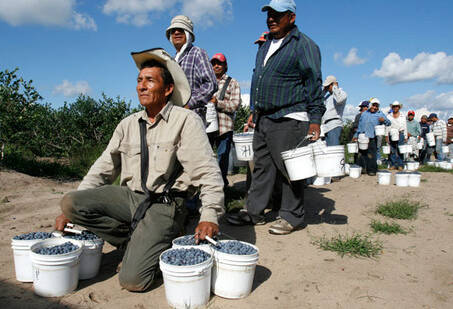 WHITE PIGEON, MICH. — In the spring she plant­ed in the muck and then picked blue­ber­ries in the gath­er­ing sun­shine and broil­ing heat and now she want­ed a break, so she was detas­sel­ing corn.
But she knew it would only be a short break before she would be pick­ing again. She also knew noth­ing would change. It hasn't changed in 23 years since Florabeth de la Garza crossed the fron­tier from Mex­i­co and took up her place in the migrant stream. The stream that trav­els from Flori­da to Michi­gan and on to Col­orado and then back to Flori­da and wher­ev­er else there's work in the fields.
She doesn't have to rely on her mem­o­ry to explain what these years have been like. She has her books, as she calls them, 27 edi­tions so far. They are more like diaries with pho­tographs includ­ed that tell the heart­break­ing sto­ry of the life she has lived, a life not unlike that lived by many of the 1.8 mil­lion migrant work­ers in the Unit­ed States.
Lives etched with moments like the entry from July 1, 2007. This one tells how the crew boss on a Michi­gan farm came to the cab­ins where the migrants were rest­ing and told them to get out with­in an hour.
"What? Why?" she wrote. ​"The major­i­ty of us were Mex­i­can immi­grants or Guatemalans or from oth­er coun­tries and none of us had any means of transportation."
Then they real­ized, she wrote, that the farmer didn't have a license for the camp and that an inspec­tor was on the grounds of the farm. So they fled, but not far. Some hid under the trees and some hid in the fields. Then the inspec­tor left and they went back to filthy cab­ins with­out drink­ing water.
"Life con­tin­ues," she wrote. ​"Our hands pick the har­vest and that's the rea­son why we are here."
It has been a life, she said late one sim­mer­ing hot day after work here, where crew boss­es prey on you if you are an immi­grant with­out papers; where peo­ple live jammed togeth­er, a dozen and a half per­sons in the same trail­er, and where poor fam­i­lies bring their chil­dren to the fields so they can earn as much possible.
Where unwit­ting immi­grants are duped the minute they cross the U.S. bor­der into work­ing like hostages or slaves. She came across a group of men stuck in this dilem­ma recent­ly. They had paid $500 to some­one to trans­port them to Michi­gan farms. But the crooks take their wages week­ly and threat­en to harm their fam­i­lies in Mex­i­co if they com­plain, she said.
It's a life where peo­ple some­times work 18 hours a day and do not even earn the min­i­mum wage. Where some­times there is no drink­ing water or bath­rooms in the fields. Where some do not speak up because they are with­out papers and the crew boss­es threat­en to call immi­gra­tion if they speak up.
"This work is very dif­fi­cult," she said. ​"But it is my life."
She writes about all of this, she said, because this is her responsibility.
"I am some­one who doesn't accept injus­tice. I want peo­ple to know that immi­grants are not crim­i­nals. They are hard-work­ing people."
Stephen Franklin is a for­mer labor and work­place reporter for the Chica­go Tri­bune, was until recent­ly the eth­nic media project direc­tor with Pub­lic Nar­ra­tive in Chica­go. He is the author of Three Strikes: Labor's Heart­land Loss­es and What They Mean for Work­ing Amer­i­cans (2002), and has report­ed through­out the Unit­ed States and the Mid­dle East.