They Pick Empty Pockets: Study Finds Wage Theft Rampant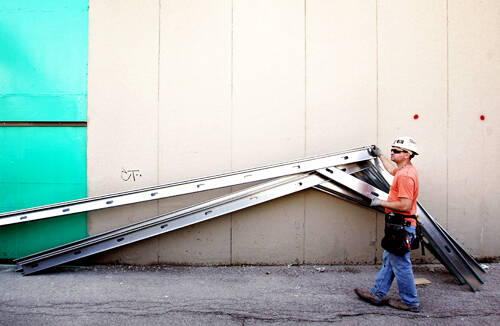 As Adam Kader sees it, workplace thievery has changed since the recession began.
When the U.S. economy began to implode, the people coming to the small workers assistance center that Kader heads on Chicago's North Side described factories shutting down, leaving them stranded without vacation pay or their last pay check.
But during the construction industry's high season — i.e., summer — complaints come mostly from construction workers who say their bosses' have stolen their wages.
He can't put his finger on the reason for the shift from stranded to stiffed workers. But he knows for sure that a number of employers have been picking the pockets of vulnerable workers for some time, and America's wage theft epidemic continues.
A study released last week documenting massive wage theft across the U.S. confirms Kader's day-to-day experiences at the office of Arise Chicago Worker Center, an interfaith workers agency, located in a Chicago church.
In New York, Chicago and Los Angeles, the study, ​"Broken Laws, Unprotected Workers" (PDF link), found that wage thievery totals as much as $56 million a week in workers' lost wages.
Among its other findings, the new study also showed that:
Two-thirds of the workers surveyed suffered some form of wage violation in the previous week of the study.
Nearly one out four workers put in overtime hours, but more than two-thirds of them were not paid for the extra work.
Two-thirds of the workers were eligible for a lunch break, but their employers refused to allow them to rest.
One out of five workers complained to their bosses or talked about forming a union and of these more than

40

percent suffered some form of retaliation from their employers.
Among injured workers, only one out of

12

filed a workers' compensation complaint.
Latino workers suffered the highest number of violations of their minimum wage rights and African-American workers' suffered three times as many workplace violations as white workers.
One reason these issues are familiar to Kader is that his organization, a Chicago affiliate of Interfaith Worker Justice, a national organization, is one of several local groups in the three cities that took part in the study.
Arise Chicago had been planning a demonstration at the offices of a local builder today (Sept. 9) over exactly the kind of problem that the report describes.
The case involves a builder who reportedly owes $7,700 in pay to two workers for painting, general maintenance and janitorial work. ​"We tried everything we could and were left with nothing but protests," Kader explains.
But yesterday, Arise Chicago canceled its planned protest Tuesday after Anatoly Zarkhin, general partner of Builders Center of Chicago, agreed to a payment plan by which the workers will receive the money they are owed.
"The boss said he had been receiving phone calls," said Eladio Perez, one of the two workers. ​"He asked for our people to stop calling, and that he would pay us. We agreed as long as he keeps his keeps his promise."
This rare workers' victory aside, Kader suspects that the wage theft problems faced by workers may actually be greater than what he has seen lately. But because of financial problems, his five-worker office has shortened its hours, and stepped up its efforts to raise funds.
Individual donors have begun to help out, but their contributions fall far short of the support that once came from foundations, he says.
And there's one other change that he's seen lately among workers.
Before it wasn't so easy getting workers to come together and speak out even though they had all suffered the same abuses, Kader says.
That seems to be changing.
"Either people are more desperate or they have more of a sense of entitlement," he says.
Stephen Franklin is a former labor and workplace reporter for the Chicago Tribune, and was until recently the ethnic media project director with Public Narrative in Chicago. He is the author of Three Strikes: Labor's Heartland Losses and What They Mean for Working Americans (2002), and has reported throughout the United States and the Middle East.