Think Democrats Take Labor's Money and Loyalty for Granted? Here's Proof.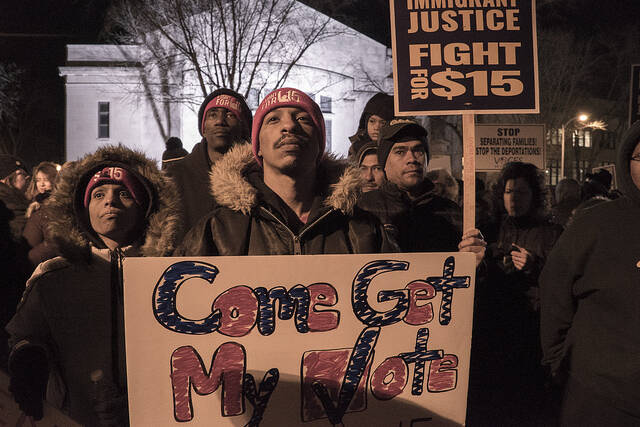 This arti­cle was first post­ed at Jacobin.
After the 2012 pres­i­den­tial elec­tion, AFL-CIO pres­i­dent Richard Trum­ka told labor jour­nal­ist Josh Eidel­son that the union fed­er­a­tion ​"won't be tak­en for grant­ed" by the White House and the Demo­c­ra­t­ic Par­ty. Fast for­ward to a recent Wall Street Jour­nal arti­cle: union con­tri­bu­tions to politi­cians (almost entire­ly Democ­rats) are up 38 per­cent, with the AFL-CIO chip­ping in $11 mil­lion and SEIU over $30 million.
It's pos­si­ble, I sup­pose, that unions have devised a secret method for hold­ing Democ­rats account­able behind closed doors while shov­el­ing ever-greater mounds of mon­ey into their cof­fers. Labor has long backed a par­ty that is addict­ed to scorn­ing and betray­ing them, but maybe this time, with some well-timed whis­pers in politi­cians' ears and a cou­ple extra mil­lion in dona­tions thrown in, things will be different.
But recent Wik­iLeaks emails of union lead­ers' cor­re­spon­dence with high-ups in Hillary Clinton's cam­paign sug­gest that rather than buy­ing sup­port for a work­ing-class agen­da from the can­di­date through their mas­sive con­tri­bu­tions — and through some lead­ers' efforts to sink Bernie Sanders's pri­ma­ry chal­lenge to Clin­ton — labor will keep get­ting more of the same.
Cora Lewis of Buz­zFeed has writ­ten a help­ful break­down of some of the most note­wor­thy mes­sages in the leak. The emails show less out­right con­tempt for the unions foot­ing the bulk of the bill for Clinton's impend­ing vic­to­ry than a care­ful and con­stant strate­gic dance. Her cam­paign want­ed to exert as lit­tle effort as pos­si­ble on labor's behalf and keep unions' expec­ta­tions low while stay­ing on their good side.
How does the cam­paign feel about com­ing out in sup­port of the low-wage Wal­mart work­ers who have been orga­niz­ing for years to escape pover­ty wages and vicious union-bust­ing? Well, first there are some prac­ti­cal questions.
"[W]ill doing this invite a new round of sto­ries about her wal­mart days?" advis­er Maya Har­ris asks in one email, refer­ring to the six years Clin­ton sat on the company's board (dur­ing which she voiced nary a word of protest about its abu­sive labor prac­tices, par­tic­u­lar­ly against women).
The obvi­ous answer is yes — and the cam­paign doesn't want to draw any more atten­tion to Clinton's Wal­mart ties.
Okay, so no strong endorse­ment. Can the Wal­mart work­ers at least get a tweet in sup­port, Clin­ton cam­paign labor out­reach direc­tor Nik­ki Budzin­s­ki asks. Just 140 char­ac­ters? ​"The tweet nev­er came, and to this day there's nev­er been a tweet from @HillaryClinton utter­ing the name of the country's largest pri­vate employ­er," Lewis notes.
Final assess­ment of Clin­ton and Wal­mart work­ers: ​"Heard, con­sid­ered, ulti­mate­ly ignored."
Regard­ing the Fight for 15, staffers want­ed to stay in the good graces of both the move­ment push­ing a $15 min­i­mum wage and the large num­ber of vot­ers who sup­port it, but refused to actu­al­ly come out in favor of $15. ​"This reads like she's for a $15 min­i­mum wage and I think we have to choose our lan­guage more care­ful­ly," strate­gist Joel Benen­son writes in response to pre­pared remarks for a union rally.
React­ing to an invi­ta­tion for Clin­ton to appear at a fast-food work­er nation­al con­fer­ence, Podes­ta him­self writes, ​"I assume we'll pass on that." Of course.
Also of inter­est in the emails is how Bernie Sanders's cam­paign was treated.
Amer­i­can Fed­er­a­tion of Teach­ers pres­i­dent Ran­di Wein­garten shows up a num­ber of times in the leaks. The AFT was one of the first major unions to endorse Clin­ton (over many mem­bers' objec­tions) and has giv­en the Clin­ton Foun­da­tion between $1 mil­lion and $5 mil­lion. Unlike much of the rest of the labor move­ment, this appears to have bought her some cachet with­in the Clin­ton camp.
"Randi's ear­ly endorse­ment deserves a lot of cred­it," Budzinksi writes at one point, attribut­ing the endorse­ment to Wein­garten her­self rather than to the union's rank and file.
But in response to Nation­al Nurs­es United's endorse­ment and promi­nent role in the Sanders cam­paign, Wein­garten wrote, ​"We will go after NNU and there [sic] high and mighty sanc­ti­mo­nious con­duct." Wein­garten was posi­tion­ing her­self as attack dog for the Clin­ton cam­paign against any chal­lenges from the left.
More shock­ing­ly, as Branko Marcetic has report­ed, the leaks also reveal that the Inter­na­tion­al Asso­ci­a­tion of Machin­ists and Aero­space Work­ers' now-retired pres­i­dent Tom Buf­fen­barg­er secret­ly moved up the union's pres­i­den­tial endorse­ment far ahead of sched­ule in order to choose Clin­ton — an endorse­ment that angered many rank-and-file machinists.
"The IAM endorse­ment is usu­al­ly made at their Con­ven­tion," Budzin­s­ki wrote in one email in 2015. ​"But their next Con­ven­tion is not until 2016. Buf­fen­barg­er didn't want to wait." With machi­na­tions like these, you have to won­der if the union's endorse­ment, claimed to have been reached by sur­vey­ing ​"both the opin­ion and sen­ti­ments of mem­ber­ship at [an endorse­ment] meet­ing, as well as the results of the poll that reached out quite sci­en­tif­i­cal­ly to over 2,000 [sic] mem­bers" real­ly were so scientific.
The Podes­ta emails under­score the Amer­i­can labor movement's per­pet­u­al bind. On one hand, when Repub­li­cans gain pow­er, the results are dev­as­tat­ing for unions. On the oth­er, the Demo­c­ra­t­ic Party's pow­er bro­kers clear­ly have no inter­est in pur­su­ing even a tepid­ly pro-labor agen­da. They just want the unions' cash.
These rev­e­la­tions should force the labor movement's rank-and-file to reflect a bit on both Amer­i­can union lead­ers and the par­ty whose ass they're con­stant­ly kiss­ing and cam­paigns they're con­stant­ly bankrolling. At a time when labor could have cho­sen the most pro-labor Demo­c­ra­t­ic can­di­date in decades, Bernie Sanders, all but a hand­ful of lead­ers reject­ed his cam­paign — and some active­ly worked against it. They helped secure the nom­i­na­tion for the Repub­li­can-lite can­di­date — hop­ing, no doubt, for her sup­port from the Oval Office.
But the Podes­ta emails sug­gest that the par­ty isn't plan­ning on return­ing the favor, whether they're receiv­ing record-break­ing cam­paign con­tri­bu­tions or not. How­ev­er Richard Trum­ka and oth­er Amer­i­can union lead­ers have tried to ensure labor won't ​"be tak­en for grant­ed" by the Democ­rats, it seems it hasn't worked.
In These Times is proud to fea­ture con­tent from Jacobin, a print quar­ter­ly that offers social­ist per­spec­tives on pol­i­tics and eco­nom­ics. Sup­port Jacobin and buy a four-issue sub­scrip­tion for just $19.95.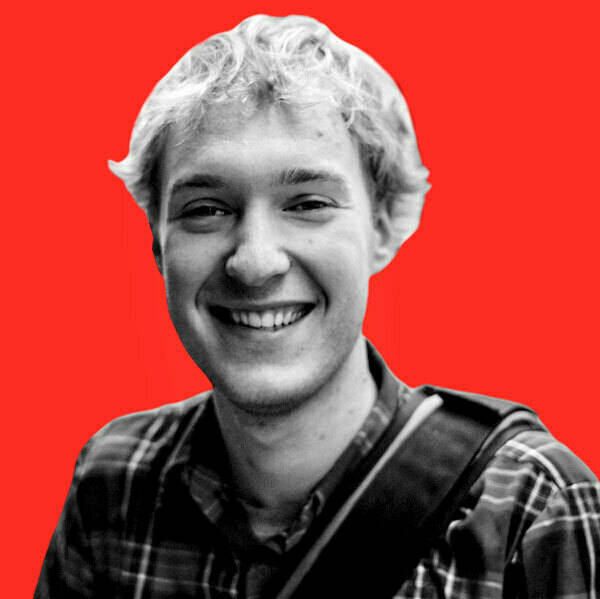 Mic­ah Uet­richt is the deputy edi­tor of Jacobin mag­a­zine and host of its pod­cast The Vast Major­i­ty. He is a con­tribut­ing edi­tor and for­mer asso­ciate edi­tor at In These Times. He is the author of Strike for Amer­i­ca: Chica­go Teach­ers Against Aus­ter­i­ty (Ver­so 2014), coau­thor of Big­ger Than Bernie: How We Go From the Sanders Cam­paign to Demo­c­ra­t­ic Social­ism (Ver­so 2020), and is cur­rent­ly at work on a book on New Left­ists who ​"indus­tri­al­ized." He pre­vi­ous­ly worked as a labor orga­niz­er. Fol­low him on Twit­ter at @micahuetricht.