Tired of Fighting About Third Parties? Just Enact Ranked Choice Voting.
Rather than scolding voters for wanting more options, we should put in place a more representative system.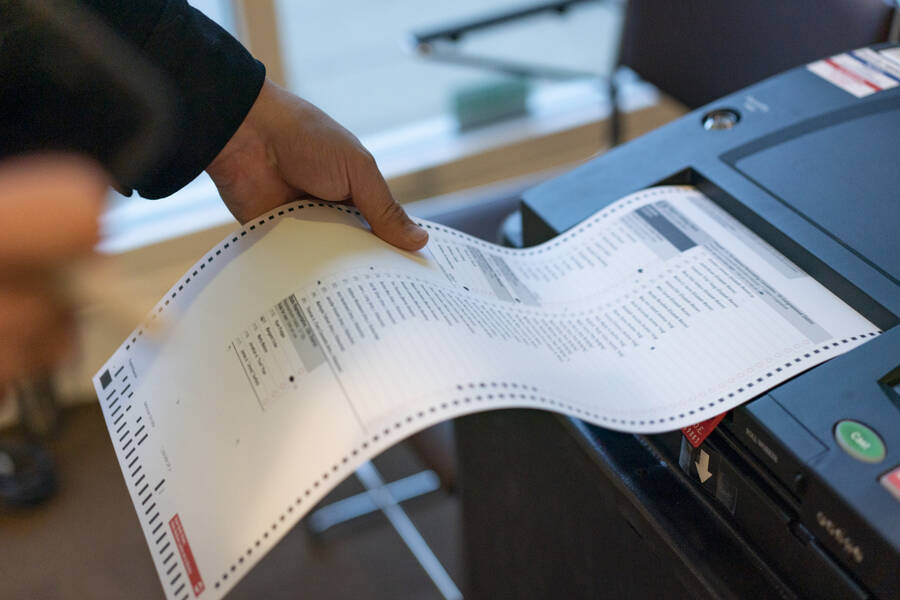 While the Demo­c­ra­t­ic Par­ty has lined up behind Joe Biden as the pre­sump­tive nom­i­nee to take on Pres­i­dent Trump in Novem­ber, the pres­i­den­tial field may not yet be entire­ly set. A promi­nent con­ser­v­a­tive is mak­ing new rum­blings about shak­ing up the gen­er­al elec­tion with a third-par­ty bid.
The time for change is now.
Inde­pen­dent Michi­gan Rep. Justin Amash, a for­mer Repub­li­can and an out­spo­ken Trump crit­ic, said on Twit­ter last week that he is ​"look­ing close­ly" at a run.
"Amer­i­cans who believe in lim­it­ed gov­ern­ment deserve anoth­er option," Amash wrote, kick start­ing spec­u­la­tion that Lib­er­tar­i­an Par­ty might nom­i­nate him at its con­ven­tion next month.
It may seem like an unex­pect­ed twist: A high-pro­file third par­ty can­di­date with the poten­tial to draw votes from Democ­rats, Repub­li­cans and inde­pen­dents, and remake the race in dif­fer­ent ways across numer­ous states.
But soon­er than you could say ​"Ross Per­ot" or ​"Ralph Nad­er," Amash's flir­ta­tion restart­ed an all-too famil­iar, if frus­trat­ing, debate about third par­ties. Media out­lets from Fox News to Haaretz to the Hill raised alarm about ​"spoil­er can­di­dates" and ​"wast­ed votes" while spec­u­lat­ing about who'd be helped and who'd be hurt. Would Amash drain Repub­li­can votes from Trump? Would his stance on decrim­i­nal­iz­ing mar­i­jua­na appeal to young vot­ers? Would he tip his home state of Michigan's cru­cial Elec­toral Col­lege votes toward the pres­i­dent, by pro­vid­ing dis­af­fect­ed Repub­li­cans with anoth­er option?
This polit­i­cal chat­ter might fuel cable-news pan­els from now until Novem­ber, but the truth is that no one real­ly knows. What's baf­fling is that the major par­ties cede con­trol of their elec­toral des­tiny to minor par­ties and inde­pen­dents who cer­tain­ly have every right to run for office, yet under cur­rent elec­tion laws can change out­comes, either wit­ting­ly or unwittingly.
Both Repub­li­cans and Democ­rats could stop com­plain­ing and fix this once and for all: Change the law and let vot­ers tru­ly decide. This repet­i­tive ​"Groundhog's Day" argu­ment could be set­tled if we adopt­ed ranked choice vot­ing (RCV), and rein­forced the foun­da­tion­al Amer­i­can notion of ​"major­i­ty rule."
This isn't a the­o­ret­i­cal option. For the first time this fall, vot­ers in Maine will use RCV to elect the pres­i­dent, and it's already been used in sev­er­al pres­i­den­tial pri­maries this spring. We would have bet­ter elec­tions and more rep­re­sen­ta­tive out­comes if vot­ers in all 50 states had this valu­able, non-par­ti­san option to improve our democracy.
RCV is easy, pop­u­lar, and increas­ing­ly used in the Unit­ed States and around the world. Because it func­tions like an instant runoff, it's espe­cial­ly use­ful for ensur­ing the fairest result when there are more than two can­di­dates in a race. If some­one wins more than 50%, they win, just like any oth­er elec­tion. But if every­one falls short of a major­i­ty, then the last place can­di­date is elim­i­nat­ed, and back­up choic­es come into play. Vot­ers han­dle the bal­lot with ease — more than 99.8% cast a valid bal­lot in Alaska's first use of RCV this spring in its pres­i­den­tial pri­ma­ry, with near­ly all rank­ing mul­ti­ple can­di­dates.
There are no plu­ral­i­ty win­ners with RCV — which means there are also no spoil­ers and no wast­ed votes. It advan­tages no par­ty, just the voters.
In our cur­rent sin­gle-choice, non-major­i­ty sys­tem, it's cer­tain­ly pos­si­ble that Amash could end up play­ing the spoil­er. In 2016, a Lib­er­tar­i­an tick­et led by two for­mer gov­er­nors, New Mexico's Gary John­son and Bill Weld of Mass­a­chu­setts, earned more votes than the mar­gin of vic­to­ry for Trump and Hillary Clin­ton in 10 states and near­ly 4.5 mil­lion votes nation­wide — greater than Clinton's nation­al pop­u­lar vote margin.
What might hap­pen in 2020 with­out RCV? In GOP-lean­ing states like Ari­zona and Geor­gia, a strong Lib­er­tar­i­an can­di­date could split the anti-Biden vote. Else­where, a per­sis­tent and artic­u­late Trump crit­ic on the right could ​"dou­ble team" Trump and dri­ve him down. Or, in com­pet­i­tive swing states, Amash could divide the anti-Trump vote.
RCV changes this cal­cu­lus. In any state where Amash fin­ished third, he'd be elim­i­nat­ed as part of the instant runoff. His vot­ers would go to their sec­ond choic­es. An Amash vot­er who's also a ​"Nev­er Trump" Repub­li­can might put Biden sec­ond. An Amash vot­er who wants to send a mes­sage but sees back­ing a Demo­c­rat as a bridge too far can put Trump second.
No one would spoil any­thing. No vot­er would have to set­tle for a less­er of two evils. We'd have a very dif­fer­ent cam­paign — and a true, rep­re­sen­ta­tive majori­tar­i­an result. The win­ner in every state would col­lect more than 50% of the vote. Democ­rats and Repub­li­cans would try to per­suade Lib­er­tar­i­ans to their side.
Instead, get ready for Trump and Biden back­ers to brow­beat third-par­ty vot­ers. They will insist that they fall in line and repeat all the famil­iar argu­ments about Ralph Nad­er and Susan Saran­don. Repub­li­cans will point out all the times that a Lib­er­tar­i­an can­di­date helped allow a Demo­c­rat to cap­ture a U.S. Sen­ate seat or gov­er­nor­ship — most recent­ly in Ken­tucky. Both sides could claim that their side might have won had third-par­ty vot­ers not demand­ed ide­o­log­i­cal perfection.
But all that vit­ri­ol didn't con­vince peo­ple in 2016 and it's not like­ly to work in 2020 either. Mil­lions of Amer­i­cans, once again, will be dis­sat­is­fied by a bina­ry choice between Biden and Trump, and look instead toward a third par­ty or inde­pen­dent option. We should not blame vot­ers for want­i­ng more choice when it hap­pens again and again. Blame starts with pol­i­cy­mak­ers who sit on their hands. We ought to make it eas­i­er for vot­ers to express the full­ness of their opin­ion, while still gen­er­at­ing win­ners that the widest num­ber of peo­ple support.
After all, when sup­port­ers of a major-par­ty can­di­date com­plain about ​"spoil­ers," they're real­ly com­plain­ing about plu­ral­i­ty win­ners. It's not that they dis­like hav­ing more than two choic­es. They're wor­ried about an unrep­re­sen­ta­tive result. They're com­plain­ing that a divid­ed field will allow some­one to win with less than 50%. So let's fix that. RCV is the best way.
The time for change is now. Democ­rats and Repub­li­cans can spend the next year try­ing to hec­tor inde­pen­dents out of the race. Or, every state could join Maine, embrace RCV and give Amer­i­cans the tools to bring order to our messy pol­i­tics all by themselves.