This is How You Win: A Guided Tour of the Campaign at City College of San Francisco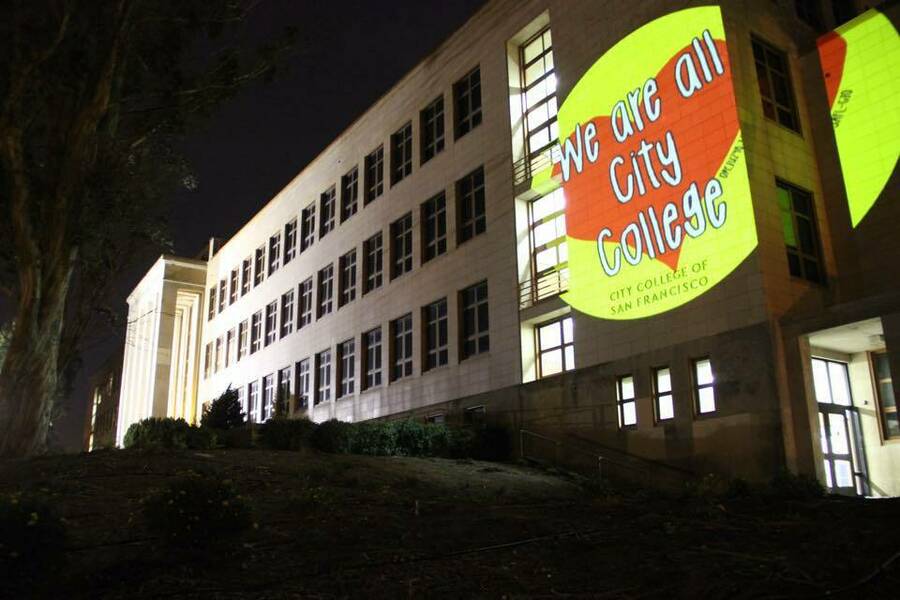 This arti­cle was first post­ed at Labor Notes.
For the first time in its 40-year his­to­ry, the union of full- and part-time fac­ul­ty at City Col­lege of San Fran­cis­co recent­ly went on strike — and it worked.
Teach­ers (AFT) Local 2121 pulled off a one-day strike April 27, despite the administration's claim that the strike was ille­gal. By July, to head off anoth­er strike, the col­lege agreed to a union con­tract with sub­stan­tial rais­es. Fac­ul­ty mem­bers had been work­ing with­out one for a year.
Strikes in high­er edu­ca­tion are rare. Fac­ul­ty work is iso­lat­ed, and despite the pop­u­lar por­tray­al of aca­d­e­mics as hav­ing the ulti­mate job secu­ri­ty, most instruc­tors are part-timers with short-term contracts.
Part-timers often have to rush off to oth­er jobs, mak­ing it dif­fi­cult to build the social bonds nec­es­sary to take risky action togeth­er. And going on strike can be per­ceived as hurt­ing stu­dents, many of whom at the com­mu­ni­ty-col­lege lev­el are quite vul­ner­a­ble: Eng­lish-lan­guage learn­ers, for­mer pris­on­ers, and the homeless.
At City Col­lege, a pub­lic com­mu­ni­ty col­lege of nine cam­pus­es built to serve 100,000 stu­dents, fac­ul­ty faced the addi­tion­al threat that the school could be shut down entire­ly. They orga­nized anyway.
Trumped-up cri­sis
The roots of the strike go back to a cri­sis that many fac­ul­ty view as man­u­fac­tured.
In 2012 the Accred­it­ing Com­mis­sion (ACCJC) gave the col­lege a year to prove why it should not lose its accred­i­ta­tion — and then tried to yank the accred­i­ta­tion, months before its own dead­line. A Spe­cial Trustee with Extra­or­di­nary Pow­ers was appoint­ed to bring the col­lege into compliance.
The com­mis­sion hadn't found any­thing wrong with the college's qual­i­ty of edu­ca­tion. Instead, City Col­lege had appar­ent­ly been sin­gled out for oppos­ing a change to the mis­sion of com­mu­ni­ty col­leges statewide.
The accred­i­tor was push­ing leg­is­la­tion to lim­it pro­grams that didn't fit into the mod­el of two-year ​"junior col­leges," which aim to pre­pare stu­dents to trans­fer to four-year institutions.
City Col­lege has always fol­lowed the ​"com­mu­ni­ty col­lege" mod­el. Robust offer­ings for con­tin­u­ing edu­ca­tion, Eng­lish as a sec­ond lan­guage, and for stu­dents with dis­abil­i­ties and oth­er non-tra­di­tion­al stu­dents make it one the city's most impor­tant work­ing-class insti­tu­tions. In fact, 1 in 7 San Fran­cis­cans has either attend­ed the col­lege or hired a graduate.
The accred­i­tor also want­ed to impose bud­get cuts, reduc­ing ben­e­fits for part-time fac­ul­ty and increas­ing admin­is­tra­tive con­trol over workers.
"Every­one told us we should just put our heads down and do what­ev­er the accred­i­tor demand­ed," said Alisa Mess­er, union pres­i­dent at the time.
Instead, Local 2121 cried foul. The union teamed up with com­mu­ni­ty groups to orga­nize demon­stra­tions, filed a law­suit, and sup­port­ed the city attorney's law­suit against the accreditor.
A court injunc­tion backed the pro­tes­tors and kept the col­lege from clos­ing. A tem­po­rary com­pro­mise put the col­lege on ​"restora­tion" sta­tus. The com­mis­sion will review its accred­i­ta­tion again this October.
Mean­while, the cri­sis fall­out con­tin­ues. Enroll­ment has dropped. So will state fund­ing. And even though San Fran­cis­co vot­ers approved new rev­enue, col­lege admin­is­tra­tors went on push­ing pay cuts.
By the time their con­tract expired in 2015, fac­ul­ty mem­bers were liv­ing on salaries 3.5 per­cent low­er than in 2007, even before adjust­ing for infla­tion or the sky­rock­et­ing Bay Area cost of living.
And to ​"align" the col­lege with its cur­rent enroll­ment, admin­is­tra­tors launched a plan to reduce pro­grams by 26 per­cent. For every course removed from the sched­ule, few­er stu­dents can look to City Col­lege for edu­ca­tion in the future.
One-on-one con­ver­sa­tions
With the admin­is­tra­tion dug in, the union need­ed to build the capac­i­ty to strike.
The ​"S" word was scary. Lead­ers risked alien­at­ing mem­bers who might view strike talk as reck­less. On the oth­er hand, the demand­ed con­ces­sions would mean per­ma­nent down­siz­ing, less access for stu­dents, and the ero­sion of faculty's qual­i­ty of life and auton­o­my at work.
Agree­ing to all this, even to sal­vage accred­i­ta­tion, would cost the insti­tu­tion its soul. Plus, good-faith efforts to sat­is­fy the ACCJC had nev­er worked in the past.
Instead of announc­ing a strat­e­gy from the top, union lead­ers set out to dis­cuss the pros and cons with mem­bers and give them the choice to pre­pare to strike or not.
The sum­mer that the con­tract expired, mem­bers of the Con­tract Action Team began a cam­paign to make one-to-one con­tact with their co-work­ers. They asked each per­son, ​"Will you vote to raise dues tem­porar­i­ly to estab­lish a strike fund?"
The strat­e­gy was twofold:
to show the admin­is­tra­tion that fac­ul­ty mem­bers were ready and will­ing to strike
to cre­ate an oppor­tu­ni­ty for one-to-one con­ver­sa­tions about striking
Activists got to talk through their co-work­ers' fears and con­cerns, with­out ask­ing mem­bers to com­mit to a strike yet.
For Con­tract Action Team mem­ber Valerie Berg­er, who teach­es Eng­lish as a Sec­ond Lan­guage, this strat­e­gy was sim­i­lar to her dai­ly work. ​"In teach­ing we call it scaf­fold­ing," she said, where you start stu­dents on small­er tasks and build up to big­ger ones. ​"Hav­ing done the first one, the sec­ond one is easier."
In prac­tice role­plays, fac­ul­ty mem­bers learned both the strate­gic ratio­nale behind the strike fund and how to have a one-to-one orga­niz­ing conversation.
"In the begin­ning, talk­ing to peo­ple at all was hard for me," said math instruc­tor Mary Brave­woman. ​"Then I real­ized these were my friends or my col­leagues, and they didn't bite — or at least, not that hard."
Just find­ing peo­ple, espe­cial­ly part-timers, was dif­fi­cult. To counter the iso­la­tion of aca­d­e­m­ic work, where most com­mu­ni­ca­tion hap­pens through email, pairs of activists vis­it­ed fac­ul­ty at their homes.
The strike fund vote func­tioned as prac­tice for a strike vote. Of 1,500 mem­bers, 650 signed com­mit­ment cards promis­ing to vote yes. Of those who were asked to sign, few­er than 10 per­cent refused.
Beat­ing divide-and-conquer
Through­out nego­ti­a­tions, the admin­is­tra­tion tried to split fac­ul­ty between the rough­ly 650 full-timers and 900 part-timers. But the strike fund con­ver­sa­tions antic­i­pat­ed this move. Activists inoc­u­lat­ed their co-work­ers to expect an offer of a bet­ter deal for full-timers.
So mem­bers weren't caught off guard when the admin­is­tra­tion did just that — offer­ing noth­ing to part-time fac­ul­ty, in exchange for a 4.5 per­cent increase for full-timers. Every­one knew that the nego­ti­at­ing team was going to hold out for equal rais­es for every­one, and that uni­ty was the only way to stop anoth­er con­ces­sion­ary contract.
In Sep­tem­ber the strike fund vote drew the largest turnout in union his­to­ry. More than 600 fac­ul­ty vot­ed, with 93 per­cent in favor of rais­ing dues to start a strike fund.
The next step was a peti­tion com­mit­ting sign­ers to strike if nec­es­sary, gath­ered through more one-on-one con­ver­sa­tions. And in March, the union topped its record again, this time with more than 800 mem­bers vot­ing to autho­rize a strike, and 92 per­cent vot­ing yes.
By April, the union had assessed 1,000 out of 1,500 unit mem­bers as pos­i­tive toward a strike — enough to con­fi­dent­ly call a walk­out. Most of the remain­ing 500 had yet to be con­tact­ed individually.
Some orga­niz­ers will say that an entire unit has to be assessed before it's wise to call a strike. But in the com­mu­ni­ty col­lege set­ting, fac­ul­ty lead­ers judged that to be impos­si­ble task. It seemed a rea­son­able bet that most of the rest would fol­low the majority.
Through the aca­d­e­m­ic year, union activists exhaust­ed every oth­er esca­la­tion tac­tic, from prac­tice pick­ets to civ­il dis­obe­di­ence. The admin­is­tra­tion and the union still had to get through a state-man­dat­ed medi­a­tion process before an eco­nom­ic strike could be called. Man­age­ment used this process to its advan­tage, pro­long­ing nego­ti­a­tions toward a sec­ond sum­mer, when a strike would be weaker.
The union hit back with unfair labor prac­tice charges alleg­ing bad-faith bar­gain­ing, which in Cal­i­for­nia allows a pub­lic sec­tor union to call a defen­sive strike. The date was set: April 27.
The admin­is­tra­tion claimed the strike would be an ille­gal pres­sure tac­tic, and threat­ened legal action. The beau­ty of a one-day strike, though, is that even if a court finds against it, it's over before an injunc­tion can be issued. Union del­e­gates vot­ed to go ahead.
Strike suc­cess
The strike was a big suc­cess. Even though man­age­ment tried to pre­empt it by clos­ing all cam­pus­es for the day, and despite pour­ing rain in the morn­ing, fac­ul­ty strik­ers, stu­dents, and com­mu­ni­ty mem­bers showed up to picket.
And in the after­noon sun­shine, fac­ul­ty from all nine cam­pus­es con­verged for a ral­ly at San Francisco's Civic Cen­ter. Mem­bers of oth­er unions and com­mu­ni­ty groups came too; eas­i­ly 1,000 peo­ple filled the streets. It was a great morale boost­er for fac­ul­ty to see the broad sup­port for their work.
The threat of anoth­er strike in the fall brought the admin­is­tra­tion to the table. The agree­ment includes a 9.6 per­cent retroac­tive salary increase and a 10.6 per­cent increase for the com­ing year, for both full- and part-time fac­ul­ty, with no con­ces­sions on work­ing con­di­tions. Mem­bers rat­i­fied it August 23, with over 600 vot­ers and 97 per­cent in favor.
Next Local 2121 is lead­ing a cam­paign to stop class cuts and make City Col­lege free for res­i­dents and work­ers in San Fran­cis­co. Vot­ers will get the chance to approve the mea­sure, which will be fund­ed by SF propo­si­tion W, in November.
Michael McCown
was the staff orga­niz­er for AFT
2121
's con­tract cam­paign and strike.