On Labor Day, A Working Families Party Strategy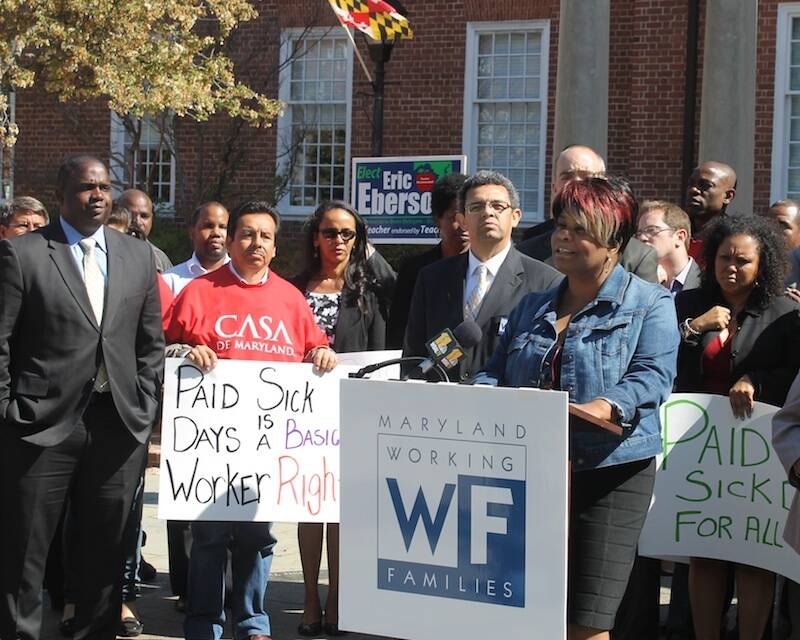 &
ldquo;We stand for inde­pen­dent polit­i­cal action.
&
rdquo;
&
mdash;UAW Pres­i­dent Wal­ter Reuther,
1946
, call­ing for a new pro­gres­sive-labor par­ty​
"
The left-wing mouse that roared"
&
mdash;New York Times,
2013

, on the Work­ing Fam­i­lies Par­tyThe sta­tis­tics you'll some­times hear on Labor Day are true: drop­ping union den­si­ty, stag­nant wages, grow­ing inequal­i­ty, and the cor­po­rate stran­gle­hold on democ­ra­cy.But they don't tell the whole sto­ry. There are also rea­sons for real opti­mism. This is a year that has seen low-wage work­ers step up with a new lev­el of inten­si­ty, putting inequal­i­ty front and cen­ter. The fast food work­ers' "$
15
and a union" mantra has gone mainstream
&
mdash;and is bear­ing fruit in ris­ing min­i­mum wages across the nation.From the New Deal to the Great Soci­ety, polit­i­cal action has been a pow­er­ful tool for work­ing peo­ple. We'd like to offer a bright spot on the polit­i­cal front for a move­ment that is just as ambi­tious: the Work­ing Fam­i­lies Par­ty. (Full dis­clo­sure: We are mem­bers of WFP's nation­al advi­so­ry board.)A new polit­i­cal par­ty? Well, sort of. Stick with us.
We all know that the Repub­li­can Par­ty has lunged far to the right, and is firm­ly allied with the finan­cial and cor­po­rate elite who in anoth­er time would have been called rob­ber barons. Their aim is a high­ly con­cen­trat­ed form of trick­le-down economics
&
mdash;which nev­er trick­les down.But on too many issues that we care about, the Demo­c­ra­t­ic Par­ty is con­flict­ed. To say they are bet­ter than the Repub­li­cans is obvi­ous, but also a pret­ty low bar. The Demo­c­ra­t­ic Par­ty includes a hand­ful of cham­pi­ons, to be sure, but as a par­ty, is also depen­dent on fund­ing from cor­po­rate elites and Wall Street. And the pres­sure to appeal to wealthy donors is only grow­ing. When Democ­rats are in con­trol, they have slowed down the pain, but they have done lit­tle to reverse the gen­er­al trend. Scott Walk­er evis­cer­at­ed work­ers' rights; what Demo­c­rat has even pro­posed dra­mat­i­cal­ly expand­ing them?The WFP start­ed in
1998
in New York, and has now spread to sev­en states and the Dis­trict of Colum­bia. For us, build­ing inde­pen­dent polit­i­cal pow­er has some­times meant work­ing with Democ­rats to defeat Repub­li­cans. But just as often, it means chal­leng­ing cor­po­rate Democ­rats with more pro­gres­sive Work­ing Fam­i­lies Democ­rats. It's also meant train­ing and recruit­ing can­di­dates for emp­ty seats, as well as putting for­ward bal­lot mea­sures. We must be com­fort­able work­ing both inside and out­side the Demo­c­ra­t­ic Par­ty.The most famous of our stan­dard bear­ers is New York City May­or Bill de Bla­sio, who aims to trans­form the ​
"
tale of two cities" into a city that works for every­one. He cam­paigned on paid sick days for every work­er, uni­ver­sal pre‑K, reform­ing stop and frisk, and build­ing and pro­tect­ing hun­dreds of thou­sands of new units of afford­able hous­ing. And to the cha­grin of cyn­ics, he is deliv­er­ing on those promis­es.
&
nbsp;

But de Bla­sio is far from the only one. Take Ras Bara­ka, the new May­or of Newark, New Jer­sey, who won his race cam­paign­ing against the cor­po­rate school pri­va­ti­za­tion agen­da, despite being out­spent
10
to
1
. Or Jeff Rear­don, a state leg­is­la­tor in sub­ur­ban Port­land, Ore­gon who took out the Koch broth­ers' favorite Demo­c­rat in a pri­ma­ry with heavy Work­ing Fam­i­lies sup­port. Or the WFP slate that took over the school board in Bridge­port, Con­necti­cut. Or Cory McCray, the IBEW orga­niz­er who won a crowd­ed pri­ma­ry for State Del­e­gate in East Bal­ti­more, and is already talk­ing about build­ing a pro­gres­sive cau­cus of leg­is­la­tors. Or any of dozens of state and local can­di­dates we've recruit­ed to run as part of our pro­gres­sive pipeline project
&
mdash;and who may one day become the next gen­er­a­tion of pro­gres­sive can­di­dates for Con­gress.Work­ing Fam­i­lies is get­ting more atten­tion than ever
&
mdash;and deserved­ly so. Labor lead­ers and smart pro­gres­sives in sev­er­al more states are already at work to put togeth­er local Work­ing Fam­i­lies orga­ni­za­tions in their states as well.But this isn't just about win­ning a few races. Our aim is to build an inde­pen­dent base of polit­i­cal pow­er that can put for­ward our pro­gres­sive, pop­ulist val­ues and mean it. Amer­i­ca actu­al­ly needs a polit­i­cal move­ment that can say that increas­ing union den­si­ty is a good thing, with­out blush­ing. One that knows that declin­ing wages and erod­ing retire­ment secu­ri­ty are not a
&
ldquo;new nor­mal
&
rdquo; we must adjust to; that mar­ket solu­tions are not always wise; and that an increas­ing­ly finan­cial­ized econ­o­my only ben­e­fits the top.The WFP mod­el brings togeth­er unions with com­mu­ni­ty-based orga­ni­za­tions, youth orga­ni­za­tions, net­roots groups, fam­i­ly farm­ers, envi­ron­men­tal­ists and faith lead­ers. That means pow­er-shar­ing, but it also means more pow­er to be shared. Labor unions can­not afford to go it alone.This is a bat­tle of ideas. As labor his­to­ri­an Nel­son Licht­en­stein wrote, those ideas are all that ​
"
enables the unions to tran­scend the eth­nic and eco­nom­ic divi­sions" to build the broad coali­tions that we'll need. Politi­cians are like a liq­uid that molds to the shape of the land. We need a move­ment that can stand firm­ly on prin­ci­ples if we ever hope to see politi­cians fol­low.At one point in Amer­i­can his­to­ry, inde­pen­dent polit­i­cal par­ties like the Pop­ulists served as the incu­ba­tor for new ideas that major par­ties and main­stream politi­cians are forced to adopt. The abo­li­tion of slav­ery, women
&
rsquo;s suf­frage, child labor laws, the
40
-hour work week and the direct elec­tion of U.S. Sen­a­tors (who used to be select­ed by state leg­is­la­tures, not the vot­ers) were ideas born in third par­ty move­ments.On a shoe­string oper­a­tion, the Work­ing Fam­i­lies Par­ty has already suc­ceed­ed in help­ing to shift the debate
&
mdash;bringing inno­v­a­tive pub­lic pol­i­cy ideas into the main­stream and win­ning on them. Take guar­an­teed paid sick days: a pol­i­cy that lifts the floor for every work­er, but was unheard of in Amer­i­ca just a decade ago. Now, it's becom­ing main­stream in Demo­c­ra­t­ic pol­i­tics, as leg­is­la­tion springs from cities to states. Work­ing Fam­i­lies has also been mak­ing major advances on a whole gamut of issues that politi­cians will rarely address on their own. To name a few: expand­ing retire­ment secu­ri­ty, pub­lic financ­ing of elec­tions, the cre­ation of green jobs through retro­fitting old homes for ener­gy effi­cien­cy, state banks, pub­lic financ­ing of elec­tions, and rad­i­cal­ly rethink­ing stu­dent debt.This project will take patience, pow­er shar­ing, resources, and the spine to chal­lenge Democ­rats as well as Repub­li­cans. But as far as we've seen, it's among the best tools we have to take our issues
&
mdash;the issues of the labor move­ment as well as the broad work­ing class
&
mdash;and force them to the cen­ter of debate. And it's a tool labor lead­ers would be wise to seri­ous­ly invest in. It's time for the labor move­ment to bring the Work­ing Fam­i­lies Par­ty to scale. We must, if we hope to not just fight back against the attacks on work­ing fam­i­lies and our demo­c­ra­t­ic ideals, but to build a move­ment with a vision of expand­ing the mid­dle class and rebuild­ing democ­ra­cy.The CWA and UAW are spon­sors of
&
nbsp;In These Times.
&
nbsp;Spon­sors have no role in edi­to­r­i­al content.
Julie Kush­n­er
is the Direc­tor of UAW Region
9
A.
Rafael Navar is the Nation­al Polit­i­cal Direc­tor of CWA
. Both are mem­bers of the Work­ing Fam­i­lies Nation­al Advi­so­ry Board.