This Progressive Stands With Rand
Sen. Rand Paul's 13-hour filibuster struck a much-needed blow at the Obama administration's senseless drone warfare.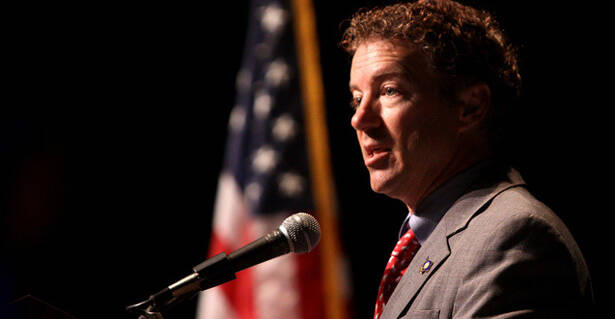 I've spent my entire polit­i­cal life work­ing with the Demo­c­ra­t­ic Par­ty and the pro­gres­sive move­ment. I've worked for the Demo­c­ra­t­ic Par­ty-aligned think tank, the Cen­ter for Amer­i­can Progress (CAP). I've raised mon­ey and orga­nized cam­paign vol­un­teers to elect pro­gres­sive Democ­rats like Eliz­a­beth War­ren, Tam­my Bald­win, and Alan Grayson. I've nev­er vot­ed for a Republican.
No, Paul did not base his filibuster on overseas wars, focusing more on the question of whether Obama could apply these same policies to terror suspects in the United States. But by raising the case of Abdulrahman al-Awlaki and calling out the administration's signature strikes—drone attacks on targets where we don't even know who the target is, but are using behavioral clues such as the presence of military-age men—Paul began a discussion that almost all Democratic senators have failed to take part in.
Yet when right-lib­er­tar­i­an Repub­li­can Sen­a­tor Rand Paul (R‑KY) took to the floor yes­ter­day to fil­i­buster John Bren­nan's nom­i­na­tion as CIA direc­tor, I was join­ing staffers at the Koch Broth­ers orga­ni­za­tion Free­dom­Works and writ­ers at Red​State​.com by tweet­ing out the hash­tag #Stand­With­Rand. I did so with the full real­iza­tion that this would put me at odds with much of the pro­gres­sive move­ment and par­ti­san Democrats.
Such Democ­rats angri­ly denounced Rand and his fil­i­buster last night. ​"Fun to watch lib­er­als cheer guy who hates Civ­il Rights Act as he deploys tac­tic per­fect­ed by seg­re­ga­tion­ists," tweet­ed Moth­er Jones nation­al secu­ri­ty reporter Adam Wein­stein. ​"Not sure why peo­ple are sur­prised that Dems aren't par­tic­i­pat­ing in a fil­i­buster of one of the pres­i­den­t's nom­i­nees, regard­less of top­ic," tweet­ed CAP's Joshua Dorner in defense of Sen­ate Democ­rats who refused to join Paul. (Iron­i­cal­ly, Dorner works for an orga­ni­za­tion that fre­quent­ly prais­es Repub­li­cans who object to their own par­ty's leadership.)
It's none too star­tling that Paul's polit­i­cal phi­los­o­phy is anath­e­ma to pro­gres­sives. The most strik­ing exam­ple of this is Paul's admis­sion, dur­ing his 2010 Sen­ate cam­paign, that he oppos­es a pro­vi­sion of the Civ­il Rights Act that would make it ille­gal for pri­vate busi­ness own­ers to dis­crim­i­nate against cus­tomers on the basis of their race.
While Paul's state­ment was instant­ly denounced as evi­dence that he holds racist views, he claimed at the time that one can both oppose racism and oppose gov­ern­ment efforts to man­date busi­ness own­ers' activities.
I've fre­quent­ly dis­cussed this issue with lib­er­tar­i­an friends who agree with Paul. They swear up and down that they aren't racists. I believe them. Paul's view, and theirs, is per­fect­ly con­sis­tent with a phi­los­o­phy that views cer­tain gov­ern­ment man­dates as inher­ent­ly ille­git­i­mate — Bar­ry Gold­wa­ter held a sim­i­lar view when he opposed the Civ­il Rights Act as unconstitutional.
But, just like most Amer­i­cans of all polit­i­cal ide­olo­gies, I think Paul is deeply wrong on this issue. I grew up just out­side of Atlanta, a city that was once burned to the ground by the fed­er­al gov­ern­ment because it was engaged in a rebel­lion in defense of a slave econ­o­my. Not far from where I went to high school, there is a the­ater where you can still see the cramped ​"Blacks Only" entrance that was used decades ago. One of my char­ac­ter edu­ca­tion coun­selors, a con­ser­v­a­tive white Repub­li­can and local pas­tor, once tear­ful­ly described the neces­si­ty of forced bus­ing and deseg­re­ga­tion by the fed­er­al gov­ern­ment that he expe­ri­enced. Any­one who does not sub­scribe to an extreme anti-gov­ern­ment ide­ol­o­gy like Paul can clear­ly see why state inter­ven­tion was need­ed to end this form of Amer­i­can apartheid.
But in under­stand­ing why Paul holds such views on the fed­er­al government's pow­ers, you can also under­stand why what he was doing last night was prin­ci­pled, not polit­i­cal show­man­ship. If you sub­scribe to a phi­los­o­phy that says that gov­ern­ment should be so con­strained that it can't tell a busi­ness own­er not to dis­crim­i­nate, why would you believe that gov­ern­ment should be able to put a non­com­bat­ant cit­i­zen to death with­out trial?
And Paul, to his cred­it, has been remark­ably con­sis­tent in his effort to restrain gov­ern­ment vio­lence. He has repeat­ed­ly called for sub­stan­tial cuts to the mil­i­tary bud­get. In 2011, I attend­ed his ​"com­ing out" for­eign pol­i­cy speech at Johns Hop­kins Uni­ver­si­ty. Dur­ing that address, he said he'd ​"much rather send some of your pro­fes­sors around the world than I would our sol­diers, if at all pos­si­ble. Even in Iran, does any­body want to go to Iran? Iran has a large under­cur­rent of peo­ple who like the West. They like our music, our cul­ture, our lit­er­a­ture, and so I think we can influ­ence peo­ple in those ways. I'd rather do that than go to war with Iran."
Yet for many who affil­i­ate with the Demo­c­ra­t­ic Par­ty, includ­ing those who are skep­ti­cal of the drone pro­gram and U.S. mil­i­tarism, prais­ing Paul is just a bridge too far. He's a ​"nutjob," tweet­ed one of my for­mer col­leagues at CAP, the smart law blog­ger Ian Mill­his­er. MSNBC's Lawrence O'Donnell called his fil­i­buster a ​"stunt." The only pro­gres­sive cable news host who offered sup­port­ive remarks was Rachel Maddow.
This reac­tion says a lot about what the Demo­c­ra­t­ic Par­ty — both its elect­ed offi­cials who over­whelm­ing­ly failed to join Paul on the Sen­ate floor and its activist wing and pun­dit class — pri­or­i­tizes, and what it doesn't.
For most activist Democ­rats, the drone pro­gram is a dis­trac­tion from issues they joined the par­ty to tack­le — eco­nom­ic inequal­i­ty, gay rights, wom­en's rights, envi­ron­men­tal degra­da­tion. These oth­er issues, which also mat­ter deeply to me, super­sede any con­cern about, say, the sanc­tions régime on Iran that is deny­ing peo­ple need­ed med­i­cines, or a drone pro­gram that reg­u­lar­ly kills inno­cent men, women and chil­dren. Restrain­ing state vio­lence sim­ply isn't high on their list of priorities.
It's very high on mine. Here's why. Dur­ing an emo­tion­al moment last year fol­low­ing the killing of African Amer­i­can teen Trayvon Mar­tin, Pres­i­dent Oba­ma said, ​"If I had a son, he'd look like Trayvon." As a Pak­istani Mus­lim Amer­i­can, if I had a broth­er, he would like­ly look like Abdul­rah­man al-Awla­ki. As a Pak­istani Mus­lim Amer­i­can, if I had a broth­er, he would like­ly look like Abdul­rah­man al-Awla­ki. Like his father Anwar al-Awla­ki, Abd­hul­rah­man was an Amer­i­can cit­i­zen. Unlike his father, who preached sup­port for ter­ror­ism, he was not known to be or accused to be engaged in any­thing like ter­ror­ist activ­i­ty. Yet a drone strike end­ed his life two weeks after his father was killed. Pres­i­dent Oba­ma has nev­er explained why, but Rand Paul explained last night before a world­wide audi­ence what for­mer admin­is­tra­tion flack Robert Gibbs told an activist about the attack.
​"Here's the real prob­lem: when the president's spokesman was asked about Awlaki's son, do you know what his response was?" not­ed Paul dur­ing his fil­i­buster. ​"He said he should have cho­sen a more respon­si­ble father." Paul's com­ment was the first time a U.S. Sen­a­tor of either par­ty brought up the killing of Abdul­rah­man, and when he did, I couldn't help but cheer.
What­ev­er Paul's views on oth­er top­ics are, the hard fact was that he was the only Sen­a­tor who was stand­ing up and seri­ous­ly ques­tion­ing a process that was lead­ing to the killing and maim­ing of peo­ple who look like me.
I've been going to Pak­istan on reg­u­lar trips my entire life. When I used to go as a child, peo­ple would beg my fam­i­ly to help them get visas to trav­el to the Unit­ed States. Women want­ed to wear Amer­i­can blue jeans. Dur­ing a trip in 2007, ​"Live Free or Die Hard" was one of the most pop­u­lar films in the the­aters of Karachi. But in the past few years, anti-Amer­i­can­ism has been on the rise. Grue­some drone killings have dri­ven thou­sands of peo­ple into the arms of rad­i­cals who want to exploit the issue to spread their jihadist agen­da. Approval rat­ings of the Unit­ed States are at a record low, and are low­er than under Bush. Obama's poli­cies are lit­er­al­ly tear­ing the coun­try apart, and even the for­mer U.S. ambas­sador to the coun­try admits that the CIA's drone strikes have got­ten out of hand.
No, Paul did not base his fil­i­buster on over­seas wars, focus­ing more on the ques­tion of whether Oba­ma could apply these same poli­cies to ter­ror sus­pects in the Unit­ed States. But by rais­ing the case of Abdul­rah­man al-Awla­ki and call­ing out the administration's sig­na­ture strikes — drone attacks on tar­gets where we don't even know who the tar­get is, but are using behav­ioral clues such as the pres­ence of mil­i­tary-age men — Paul began a dis­cus­sion that almost all Demo­c­ra­t­ic sen­a­tors have failed to take part in.
This after­noon, the Sen­ate con­firmed Bren­nan by a vote of 63 – 34 after Rand end­ed a 13-hour fil­i­buster. I'm prob­a­bly not going to join the Lib­er­tar­i­an Par­ty any­time soon, and I'm sure I'll butt heads with Rand Paul next time he calls for cut­ting Social Secu­ri­ty ben­e­fits or claims that just about every fed­er­al depart­ment is uncon­sti­tu­tion­al. But what he did last night was incred­i­bly heart­en­ing to some­one like me — some­one who is tired of see­ing peo­ple who look like me need­less­ly killed over and over again in a per­pet­u­al war led by a coun­try so pow­er­ful it could stop crim­i­nal ter­ror­ists with­out using killer robots, but rather with smart use of police and intel­li­gence ser­vice. So I #Stand­With­Rand.
Zaid Jilani
is a pro­gres­sive jour­nal­ist in the DC area.