Tom Price Is a Horrible Choice for Health Secretary
The Georgia representative redefines what it means to have conflicts of interest.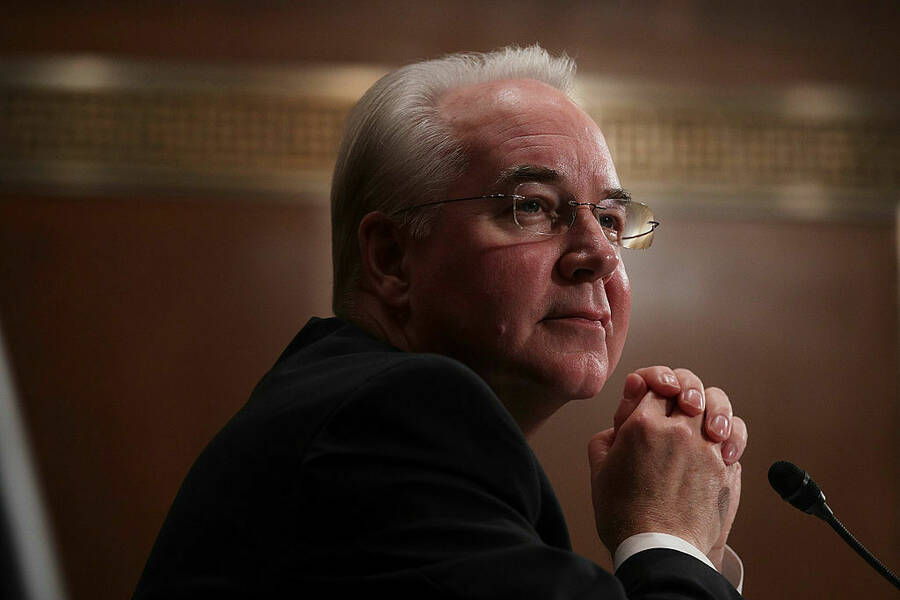 Don­ald Trump's nom­i­nee for Sec­re­tary of Health and Human Ser­vices (HHS) faced sharp ques­tion­ing on the ethics of his stock deals — among oth­er issues — at a hear­ing Wednes­day before the Sen­ate Health, Edu­ca­tion, Labor and Pen­sions Com­mit­tee. Per­haps the most dam­ag­ing inquiries revolved around a ​"sweet­heart deal" that allowed Rep. Tom Price to buy stock of Aus­tralian biotech com­pa­ny Innate Immunother­a­peu­tics as one of a select group of ​"sophis­ti­cat­ed U.S. investors," as Kaiser Health News report­ed. After he took advan­tage of this invest­ment oppor­tu­ni­ty, the company's stock price soared.
"Could Price violate the Hippocratic promise to 'do no harm'? Of course he could. Indeed, he seems intent on it."
Things got tense at the hear­ing when Price acknowl­edged, in response to ques­tions from Sen. Pat­ty Mur­ray (D‑Wash.), that he bought stock after learn­ing about the com­pa­ny from Repub­li­can Rep. Chris Collins (R‑N.Y.), anoth­er investor, who is also on the company's board. As the Huff­in­g­ton Post's Paul Blu­men­thal notes, this rais­es the specter of insid­er trad­ing — so long as Price act­ed on infor­ma­tion that was not pub­lic. More­over, as Mur­ray not­ed, Con­gress was then debat­ing the 21st Cen­tu­ry Cures Act, leg­is­la­tion that had ​"sev­er­al pro­vi­sions that could impact drug devel­op­ers like Innate Immunother­a­peu­tics." The bill passed last month.
Shock­ing? Yes. But the sleazy stock buy is actu­al­ly just a sin­gle episode in a long polit­i­cal career rid­dled with eye­brow-rais­ing moves — all of which make Price utter­ly unac­cept­able as health secretary.
"

Med­ical-indus­tri­al com­plex"

Price's med­ical spe­cial­ty is ortho­pe­dic surgery, but he is per­haps bet­ter known as a savvy oper­a­tor both serv­ing and prof­it­ing from the ​"med­ical-indus­tri­al com­plex."

In the last four years, the Geor­gia rep­re­sen­ta­tive has trad­ed in excess of $300,000 in health-relat­ed stocks, while simul­ta­ne­ous­ly advanc­ing bills with rel­e­vance for those com­pa­nies and also receiv­ing cam­paign con­tri­bu­tions from the very same enter­pris­es, Wall Street Jour­nal report­ed in December.

Anoth­er issue raised at the hear­ings, includ­ing by Sens. Eliz­a­beth War­ren (D‑Mass.) and Al Franken (D‑Minn.), was his pur­chase last year of stock in a med­ical device com­pa­ny, Zim­mer Bio­met. With­in a week of that pur­chase, Price intro­duced a bill that would have direct­ly ben­e­fit­ed the com­pa­ny by pro­tect­ing it from reg­u­la­tion, as orig­i­nal­ly report­ed by CNN. Sub­se­quent­ly, the com­pa­ny donat­ed to Price's cam­paign. (Price con­tends that his stock account is man­aged by a stock bro­ker, and that he didn't know about the pur­chase until later.)

Be that as it may, Price has shown him­self to be a con­sis­tent advo­cate for var­i­ous cor­po­rate health inter­ests over the years, fre­quent­ly going ​"to bat for com­pa­nies whose exec­u­tives and employ­ees have gen­er­ous­ly con­tributed to his cam­paigns and polit­i­cal action com­mit­tees," Kaiser Health News report­ed.

When pow­er­ful nation­al health­care pol­i­cy­mak­ers have finan­cial inter­ests in health­care com­pa­nies, a form of insid­er trad­ing is all but inevitable. Such indi­vid­u­als always have access to at least one rather valu­able non­pub­lic stock tip: their own future pol­i­cy plans. Legal or not, these ties are rotten.
"

Do no harm"?

And yet, none of this is the real rea­son why Price would make for a ter­ri­ble health sec­re­tary. For that, look to Price's evi­dent intent to evis­cer­ate the health­care safe­ty net, his dis­dain for LGBT rights, his regres­sive vision on repro­duc­tive health­care and his cli­mate change denial­ism.

Indeed, it would be unfair to cast Price as lit­tle more than a tool of the med­ical-indus­tri­al com­plex. He is a true believ­er in a coher­ent right-wing health­care ide­ol­o­gy. He is also, it turns out, a mem­ber of a fringe-con­ser­v­a­tive med­ical group, the Asso­ci­a­tion of Amer­i­can Physi­cians and Sur­geons, which — accord­ing to a 2009 Moth­er Jones pro­file—sees no real role for gov­ern­ment in health­care, has shilled for the tobac­co indus­try and pub­lish­es a jour­nal that peri­od­i­cal­ly espous­es fake sci­ence, includ­ing arti­cles call­ing into ques­tion vac­cine safety.

In spite of his record, at least two main­stream med­ical groups dis­grace­ful­ly dashed to endorse Price in the wake of his nom­i­na­tion. The Amer­i­can Med­ical Asso­ci­a­tion (AMA) praised Trump's pick and urged his prompt con­fir­ma­tion, harken­ing back to the group's reac­tionary past. Even more inex­plic­a­ble was the endorse­ment of the Asso­ci­a­tion of Amer­i­can Med­ical Col­leges (AAMC), which rep­re­sents U.S. med­ical schools. (Oth­er med­ical groups, includ­ing Physi­cians for a Nation­al Health Pro­gram—in which I am active — as well as the Nation­al Physi­cians Alliance, have con­demned the choice). But per­haps the AMA and the AAMC were sim­ply hap­py to have one of their own in a posi­tion of pow­er. After all, could Price vio­late the Hip­po­crat­ic promise to ​"do no harm"?

Of course he could. Indeed, he seems intent on it.
"

Uni­ver­sal access"

Price seeks to gut the exist­ing health­care safe­ty net, as a num­ber of sen­a­tors assert­ed at Wednesday's hear­ing. A bill he intro­duced in 2015, for instance, would strip insur­ance from mil­lions. As a recent arti­cle in the New Eng­land Jour­nal of Med­i­cine report­ed, ​"Price's replace­ment pro­pos­al would make it much more dif­fi­cult for low-income Amer­i­cans to afford health insur­ance. It would divert fed­er­al tax dol­lars to peo­ple who can already buy indi­vid­ual cov­er­age with­out sub­si­dies and sub­stan­tial­ly reduce pro­tec­tions for those with pre­ex­ist­ing conditions."

Then again, it's not fair to pick only on Price; his approach is ful­ly con­sis­tent with a larg­er con­ser­v­a­tive health­care reform vision. Odd­ly, that vision is now being brand­ed by Repub­li­cans as a plan for ​"uni­ver­sal access," as the New York Times report­ed. Trump like­wise claimed in an inter­view with the Wash­ing­ton Post that he want­ed ​"insur­ance for every­body." Price's answers at the hear­ing seem con­sis­tent with this pseu­do-uni­ver­sal­ist reori­en­ta­tion. He sug­gest­ed that the Repub­li­can plan would not cut cov­er­age and that ​"nobody is inter­est­ed in pulling the rug out from under anybody."

Indeed, Price was able to score some points as a result of our cur­rent lack of a uni­ver­sal sys­tem, not­ing that 20 mil­lion Amer­i­cans remain unin­sured and that high deductibles pre­vent peo­ple from receiv­ing care. This is true — and it's a strong argu­ment for sin­gle-pay­er reform — but it's also true that GOP designs would only exac­er­bate these injustices.
Unwor­thy candidate
Lib­er­als who assert that con­ser­v­a­tives lack a coher­ent health­care vision of their own are wrong. They have a free mar­ket vision of health­care that, in truth, requires sig­nif­i­cant pub­lic sub­si­diza­tion. For instance, at the hear­ing, Sen. Todd Young (R‑Ind.) praised Mike Pence's pri­va­tized Med­ic­aid expan­sion in Indi­ana, a pro­gram that was engi­neered by Trump's Cen­ters for Medicare and Med­ic­aid Ser­vices (CMS) nom­i­nee Seema Ver­ma. Price agreed that Pence's pro­gram was ​"real­ly a best prac­tice I think for many oth­er states to follow."
The Pence-Ver­ma pro­gram cre­at­ed ​"POW­ER" (Per­son­al Well­ness and Respon­si­bil­i­ty) accounts for Med­ic­aid par­tic­i­pants that are the­o­ret­i­cal­ly mod­eled on health sav­ings accounts (HSAs). HSAs, which are invari­ably tied to high-deductible insur­ance plans, have been trum­pet­ed by Trump, by Price and by Paul Ryan's ​"Bet­ter Way" health­care plan. In Indi­ana, the Pence-Ver­ma approach has meant that very low-income indi­vid­u­als are expect­ed to deposit funds on a month­ly basis into their POW­ER accounts. As sum­ma­rized by the Kaiser Fam­i­ly Foun­da­tion: Par­tic­i­pants slight­ly above the pover­ty line who fail to make pay­ments are kicked out of the pro­gram for six months, while those below the pover­ty line who sim­i­lar­ly fail to make such pay­ments are down­grad­ed into a worse ver­sion of Med­ic­aid that does not cov­er vision or den­tal ben­e­fits and impos­es copay­ments on these very poor individuals.
Such spite­ful mod­i­fi­ca­tions to Med­ic­aid — osten­si­bly direct­ed to ​"pro­vide them [par­tic­i­pants] with ​'skin in the game,'" as the program's waiv­er put it — do not require an act of Con­gress. They only need the approval of waivers by CMS, which will no doubt be forth­com­ing with Ver­ma at its head (and with Price above her).
Price, it should be clear, is part and par­cel of this larg­er cor­po­rate health­care advo­ca­cy front. He has thrived at the nexus of gov­ern­ment and cor­po­rate health­care inter­ests and, at the same time, appears to tru­ly believe in a free mar­ket health­care vision — albeit one that fun­nels dol­lars from the gov­ern­ment to insur­ers and phar­ma­ceu­ti­cal com­pa­nies, and then back to their investors, like him.
Though the doc­tor is no doubt an unwor­thy can­di­date for health sec­re­tary, he is an entire­ly con­sis­tent choice for the incom­ing Trump admin­is­tra­tion, and — if not derailed by his stock buys — will be very much at home in the hornet's nest of free mar­ket pri­va­tiz­ers, dereg­u­la­tors, ide­o­logues, bil­lion­aires, and crony cap­i­tal­ists who will short­ly be at the helm of the U.S. government.
Adam Gaffney
is a physi­cian and writer with a focus on health­care pol­i­tics, pol­i­cy and his­to­ry. He is an instruc­tor in med­i­cine at Har­vard Med­ical School and a pul­monary and crit­i­cal care physi­cian at the Cam­bridge Health Alliance. His writ­ing has appeared in the New Repub­lic, Los Ange­les Review of Books, Salon, CNN​.com, USA Today, Jacobin and else­where. He's a board mem­ber of Physi­cians for a Nation­al Health Pro­gram, a sin­gle-pay­er advo­ca­cy orga­ni­za­tion. The views expressed are his own.