Obama's Secretary of Agriculture Weighs in on the 2018 Farm Bill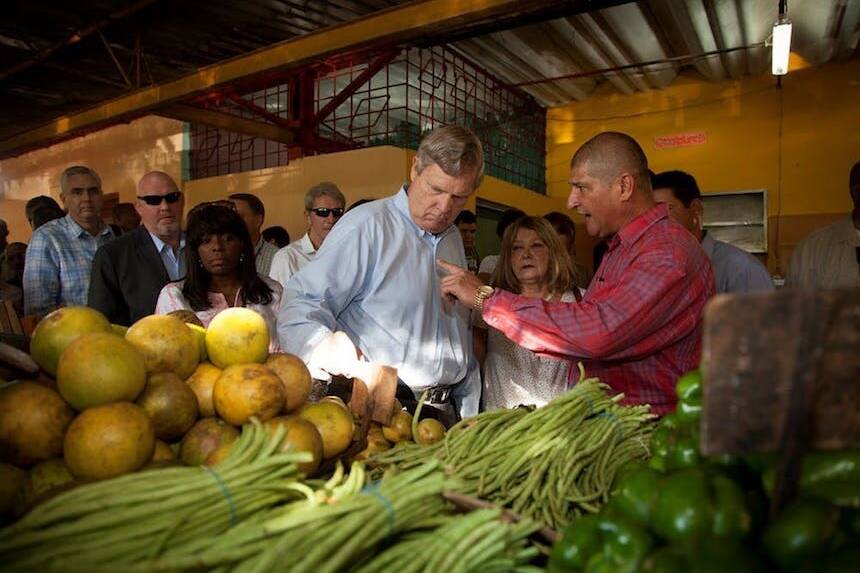 Since the turn of the year, Con­gress and the Trump admin­is­tra­tion have been hag­gling over leg­isla­tive pri­or­i­ties for 2018. Many issues are on the agen­da, from health care to infra­struc­ture, but there has been lit­tle men­tion of a key pri­or­i­ty: The 2018 farm bill.
This com­pre­hen­sive food and agri­cul­ture leg­is­la­tion is typ­i­cal­ly enact­ed every four or five years. When I became U.S. sec­re­tary of agri­cul­ture in Jan­u­ary 2009, I learned quick­ly that the bill cov­ers much more than farms and farm­ers. In fact, every farm bill also affects con­ser­va­tion, trade, nutri­tion, jobs and infra­struc­ture, agri­cul­tur­al research, forestry and energy.
Draft­ing the farm bill chal­lenges Con­gress to meet broad needs with lim­it­ed resources. The new farm bill will be espe­cial­ly con­strained by pas­sage of the GOP tax plan, which sharply reduces tax­es on the wealthy and large com­pa­nies, and by con­cerns about the size of the fed­er­al bud­get deficit. Farm bill pro­po­nents will have to work even hard­er now than in the past to under­score the mag­ni­tude and impact of this leg­is­la­tion, and the ways in which it affects every­one liv­ing in the Unit­ed States.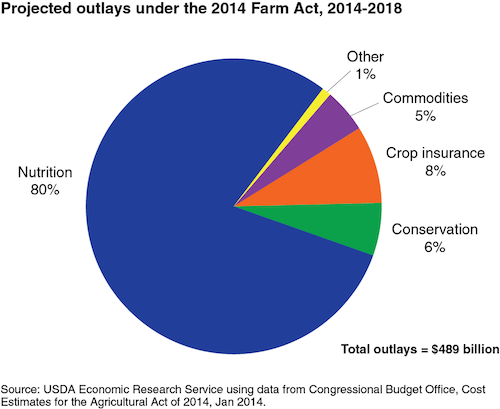 Nutri­tion pro­grams, main­ly SNAP, account for more than three-quar­ters of spend­ing under the most recent farm bill. (Image: USDA ERS)
Help­ing farm­ers compete
Of course the farm bill helps farm­ers, ranch­ers and pro­duc­ers. It pro­vides cred­it for begin­ning farm­ers to get start­ed. It pro­tects against farm loss­es due to nat­ur­al dis­as­ters through dis­as­ter assis­tance and crop insur­ance. It pro­vides a cush­ion for the indi­vid­ual farmer if he or she suf­fers a poor yield or low prices, through a series of farm pay­ment pro­grams tied to spe­cif­ic com­modi­ties.
Agri­cul­tur­al trade is crit­i­cal­ly impor­tant to the bot­tom line for U.S. farm­ers, ranch­ers and pro­duc­ers. More than 20 per­cent of all U.S. agri­cul­tur­al pro­duc­tion is export­ed. Agri­cul­tur­al exports are pro­ject­ed to account for one-third of farm income in 2017.
The farm bill autho­rizes mar­ket access pro­mo­tion and export cred­it guar­an­tee pro­grams that are key for pro­mot­ing exports and gen­er­at­ing farm income from exports. These pro­grams pro­vide resources to export­ing busi­ness­es to aggres­sive­ly mar­ket Amer­i­can agri­cul­tur­al prod­ucts over­seas, and to enable exporters to price our prod­ucts more com­pet­i­tive­ly on the world market.
Mak­ing healthy food avail­able and affordable
All of these pro­vide a sta­ble and secure sup­ply of food for the nation. Along with effi­cient sup­ply chains, they also allow us to enjoy rel­a­tive­ly inex­pen­sive food. On aver­age, Amer­i­cans spend less than 10 per­cent of their income on food.
The farm bill is also a nutri­tion bill. It funds the Sup­ple­men­tal Nutri­tion Assis­tance Pro­gram (SNAP), our country's major pro­gram that helps low-income indi­vid­u­als and fam­i­lies afford a healthy diet. In 2016 SNAP served more than 44 mil­lion Amer­i­cans.
Two issues are like­ly to arise dur­ing the farm bill dis­cus­sion. First, there will be an effort to impose work require­ments for able-bod­ied adults with­out depen­dents. Today, those indi­vid­u­als are required to be in school or work­ing a min­i­mum of 20 hours a week, or their ben­e­fits are lim­it­ed to three months every 36 months.
Sec­ond, there will be efforts to lim­it what peo­ple can buy with SNAP ben­e­fits — for exam­ple, bar­ring their use to pur­chase soda or oth­er foods that are con­sid­ered unhealthy. Imple­ment­ing such restric­tions might prove more dif­fi­cult and cost­ly than pol­i­cy­mak­ers may expect.
Oth­er nutri­tion pro­vi­sions in the bill help senior cit­i­zens buy goods at farm­ers' mar­kets and make fresh fruits and veg­eta­bles more read­i­ly avail­able to mil­lions of school chil­dren. It is easy to see why farm and nutri­tion advo­cates his­tor­i­cal­ly have worked togeth­er to sup­port pas­sage of the farm bill in an alliance that joins rur­al and urban interests.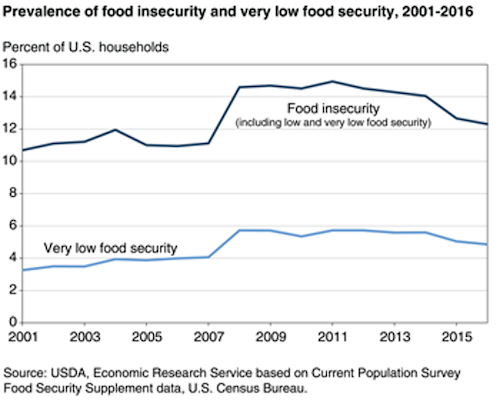 Food inse­cu­ri­ty means that access to ade­quate food for active, healthy liv­ing is lim­it­ed by lack of mon­ey and oth­er resources. Very low food secu­ri­ty occurs when food intake for one or more house­hold mem­bers is reduced and nor­mal eat­ing pat­terns are dis­rupt­ed. (Image: USDA ERS)
Boost­ing rur­al eco­nom­ic development
Only 15 per­cent of America's pop­u­la­tion lives in rur­al areas, but as the bumper stick­er reminds us, ​"No farms, no food." The farm bill helps make it pos­si­ble for peo­ple who want to farm to stay on the land by fund­ing sup­port­ing jobs that pro­vide a sec­ond income. It also pro­vides resources to improve the qual­i­ty of life in rur­al places.
Since 2009, pro­grams autho­rized through the farm bill have helped over 1.2 mil­lion fam­i­lies obtain home loans; pro­vid­ed six mil­lion rur­al res­i­dents with access to improved broad­band ser­vice; enabled 791,000 work­ers to find jobs; and improved drink­ing water sys­tems that serve 19.5 mil­lion Americans.
The farm bill also sup­ports our nation­al sys­tem of land grant uni­ver­si­ties, which was pro­posed by Pres­i­dent Lin­coln and cre­at­ed by Con­gress in 1862. Lin­coln envi­sioned a sys­tem of col­leges and uni­ver­si­ties that would expand the knowl­edge base of rur­al Amer­i­ca by improv­ing agri­cul­tur­al productivity.
Through the farm bill, Con­gress pro­vides grants for research at land grant uni­ver­si­ties in fields rang­ing from ani­mal health to organ­ic crop pro­duc­tion and biotech­nol­o­gy. Lin­coln would be pleased to know that these pro­grams mir­ror his vision of increas­ing agri­cul­tur­al pro­duc­tiv­i­ty through tar­get­ed research shared with farm­ers and ranchers.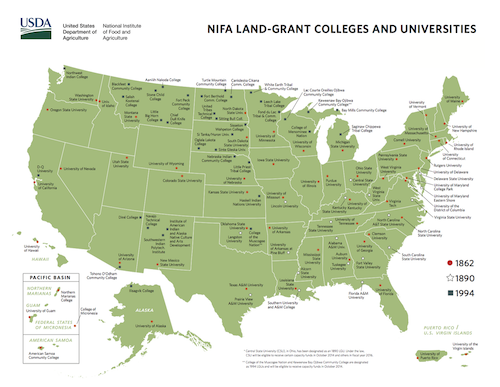 (Image: USDA / Nation­al Insti­tute of Food and Agriculture)
Pro­tect­ing nat­ur­al resources and pro­duc­ing energy
Farm­ers, with the assis­tance of the farm bill, can improve soil qual­i­ty and pre­serve habi­tat for wildlife. The farm bill funds vol­un­tary con­ser­va­tion pro­grams that cur­rent­ly are help­ing more than 500,000 farm­ers and ranch­ers con­serve soil and improve air and water qual­i­ty — actions that ben­e­fit all Americans.
For exam­ple, the Con­ser­va­tion Reserve Pro­gram pays farm­ers to take envi­ron­men­tal­ly sen­si­tive land out of agri­cul­tur­al pro­duc­tion and con­serve it for oth­er pur­pos­es, such as wet­land habi­tat for birds. The Envi­ron­men­tal Qual­i­ty Incen­tives Pro­gram and the Con­ser­va­tion Stew­ard­ship Pro­gram pay farm­ers to adopt con­ser­va­tion prac­tices, such as con­ser­va­tion till­ing and fenc­ing live­stock out of streams.
Pro­duc­ing renew­able ener­gy is an impor­tant tool for expand­ing eco­nom­ic oppor­tu­ni­ty in rur­al areas. USDA's Renew­able Ener­gy for Amer­i­ca Pro­gram autho­rizes invest­ments in small- and large-scale projects includ­ing wind, solar, renew­able bio­mass and anaer­o­bic digesters, which farm­ers can use to pro­duce bio­gas ener­gy by break­ing down manure and oth­er organ­ic wastes. Since 2009 the Renew­able Ener­gy for Amer­i­ca Pro­gram has helped finance over 12,000 renew­able ener­gy projects.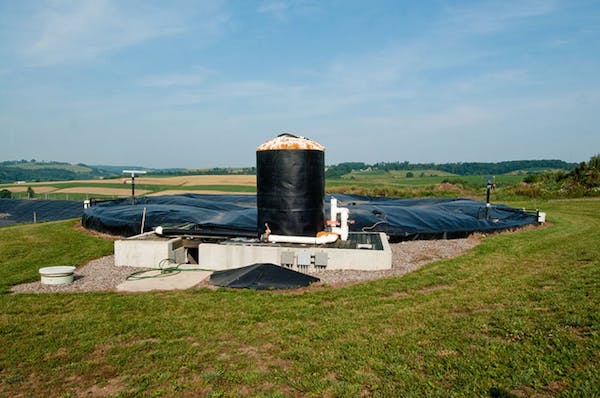 Anaer­o­bic digester sys­tems like this one at Pen­nwood Dairy Farms in Berlin, Pa., cap­ture bio­gas for ener­gy pro­duc­tion from the break­down of manure while reduc­ing pathogens and con­trol­ling odors. (Image: USDA)
Invest­ing in food and farmers
In dis­cus­sion of any leg­is­la­tion that affects so many dif­fer­ent con­stituen­cies, a key chal­lenge is to rec­og­nize that mul­ti­ple inter­ests are at stake and try to avoid pit­ting groups against one anoth­er unnec­es­sar­i­ly. If dif­fer­ences become too divi­sive, the risk of not pass­ing a farm bill grows.
Many pro­grams in the farm bill are autho­rized only for spe­cif­ic peri­ods of time. This means the ulti­mate con­se­quence of not get­ting a bill passed could be that some poli­cies would revert back to out­dat­ed ​"per­ma­nent" (non­ex­pir­ing) laws enact­ed more than 50 years ago. This would cause major dis­rup­tions to the nation's food sys­tem and sky­rock­et­ing food costs.
Unfor­tu­nate­ly, most peo­ple are unaware of the farm bill's impor­tance because they think it impacts only farm­ers. Over the next few months, debate and dis­cus­sion about the farm bill will grow, and hope­ful­ly will lead to broad­er under­stand­ing of the bill's impor­tance. I hope this aware­ness will encour­age Con­gress and the pres­i­dent to pro­vide the lev­el of invest­ment that is need­ed to max­i­mize the pos­i­tive impacts that the farm bill can have for all Americans.
("What the 2018 farm bill means for urban, sub­ur­ban and rur­al Amer­i­ca" was first pub­lished on The Con­ver­sa­tion and is repost­ed on Rur­al Amer­i­ca In These Times under a Cre­ative Com­mons license.)
Tom Vil­sack
served as Gov­er­nor of Iowa from
1999
 – 
2007
and U.S. Sec­re­tary of Agri­cul­ture from
2009
 – 
2017
. He is pres­i­dent and CEO of the U.S. Dairy Export Coun­cil (USDEC); a Strate­gic Advi­sor of Food
&
Water Ini­tia­tives at the Nation­al West­ern Cen­ter as part of the Col­orado State Uni­ver­si­ty Sys­tem team; and Glob­al Chair for the Inter­na­tion­al Board of Coun­selors on Food
&
Water Ini­tia­tives. He serves on the board of Feed­ing Amer­i­ca, GenY­outh and Work­ing Amer­i­can Edu­ca­tion Fund and the World Food Prize Foun­da­tion Board of Advisors.