Iranian film director Mohsen Makhmalbaf – a friend and supporter of Iranian presidential candidate Mir-Hossein Moussavi – gave a riveting, inspiring speech Wednesday, imploring the European Parliament and the international community not to recognize the legitimacy of Ahmadinejad's victory. Video of the speech has now been translated into English: According to Makhmalbaf, Moussavi was notified of his victory last week by the Committee of Elections and told to prepare a speech. However, while he was writing his speech "inviting the Iranian people to celebrate his victory," military chiefs entered his office and told him "this green democratic revolution was not going to happen" – essentially staging a political coup. Later, Iranian media declared that Ahmadinejad was elected and that any gathering of more than four people was completely forbidden. Hundreds of thousands of protesters have gathered in objection to Ahmadinejad's victory, saying the vote counting was intrinsically flawed. Many have been killed, injured or arrested. In the speech, Makhmalbaf proclaims: "Iranian people don't want nuclear weapons. Iranian people want peace and democracy… Are the Iranian people ready for democracy? The answer is YES. Yes, they are ready. They have expressed themselves through their votes, but they have not been heard." He continues, saying that to recognize the legitimacy of Ahmedinejad's presidency would be to invalidate the authority of the Iranian people. Makhmalbaf asks that the international community control the next vote, rather than a recount of the past one. The international community needs to intervene, he says: "Tomorrow is too late."
For a limited time: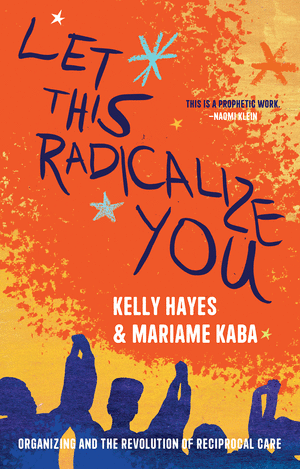 Donate $20 or more to support In These Times and we'll send you a copy of Mariame Kaba's new book, Let This Radicalize You.
Longtime organizers and movement educators Mariame Kaba and Kelly Hayes examine the political lessons of the Covid-19 pandemic, and the convergence of mass protest and mass formations of mutual aid. Featuring insights from a spectrum of experienced organizers, including Sharon Lungo, Carlos Saavedra, Ejeris Dixon, Barbara Ransby, and Ruth Wilson Gilmore and more.
"Kelly Hayes and Mariame Kaba have created a visionary and urgently needed guide to cultivating hope and action in treacherous times." —L.A. Kauffman