In 3,800-Worker Strike, the Ghost of Tony Mazzocchi Still Haunts Big Oil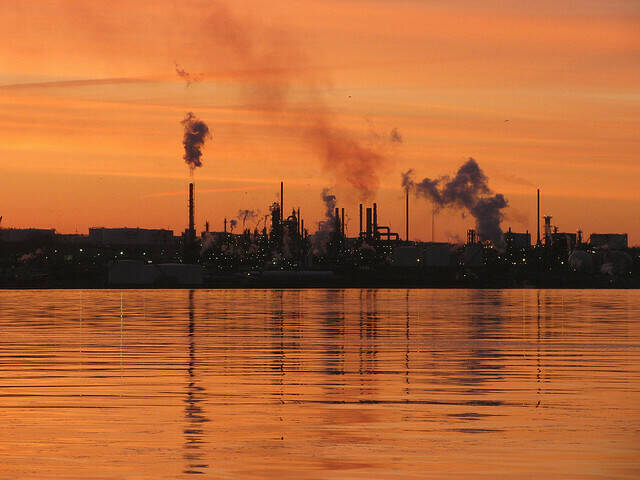 Twelve years ago, America's lead­ing advo­cate of occu­pa­tion­al health and envi­ron­men­tal safe­ty suc­cumbed to pan­cre­at­ic cancer.
In the U.S., where the influ­ence of orga­nized labor has long been con­tract­ing, the death of a for­mer trade union offi­cial is often lit­tle not­ed. Yet Tony Maz­zoc­chi was no ordi­nary labor leader. His pass­ing from the scene, at age 76, was wide­ly rec­og­nized and cor­rect­ly mourned as a great loss for the entire union movement.
As a top strate­gist for the Oil, Chem­i­cal and Atom­ic Work­ers (OCAW), Maz­zoc­chi pio­neered alliances between work­ers con­cerned about job safe­ty and health haz­ards and com­mu­ni­ties exposed to indus­tri­al pol­lu­tion gen­er­at­ed by com­pa­nies like Shell, Chevron, and Mobil.
In 1973, mem­bers of the OCAW (who are now part of the Unit­ed Steel Work­ers) con­duct­ed a nation­al con­tract cam­paign and four-month strike at Shell Oil over work­place safe­ty rights and pro­tec­tions. As Mazzocchi's biog­ra­ph­er, Les Leopold notes, ​"the strike helped build a stronger anti-cor­po­rate move­ment" because OCAW mem­bers learned ​"that you can't win these fights alone." To win — or even just bat­tle Big Oil to a draw — work­ers had to join forces with the very same envi­ron­men­tal orga­ni­za­tions long demo­nized by the indus­try as the ene­my of labor and man­age­ment alike.
Strik­ing Big Oil Again
Four decades lat­er, echoes of that strug­gle could be heard on the refin­ery town pick­et-lines that went up in north­ern Cal­i­for­nia, Texas, Ken­tucky, and Wash­ing­ton state this week. Thou­sands of oil work­ers walked out, for the first time in 35 years, over issues and demands that Tony Maz­zoc­chi helped pub­li­cize and build coali­tions around for much of his career.
About 30,000 refin­ery employ­ees are still cov­ered by the USW agree­ment that expired last week­end. Near­ly 4,000 of them are on strike at nine plants already, includ­ing Tesoro refiner­ies in Mar­tinez and Car­son, CA. Oth­er USW mem­bers, includ­ing those employed at Chevron in Rich­mond, may join the walk­out if indus­try nego­tia­tors fail to address non-wage issues sum­ma­rized by USWA vice-pres­i­dent Gary Beev­ers as follows:
"Oner­ous over­time, unsafe staffing lev­els, dan­ger­ous con­di­tions the indus­try con­tin­ues to ignore; the dai­ly occur­rences of fires, emis­sions, leaks and explo­sions that threat­en local com­mu­ni­ties with­out the indus­try doing much about it and the fla­grant con­tract­ing out that impacts health and safe­ty on the job."
In the best Maz­zoc­chi tra­di­tion, that list of union con­cerns will cer­tain­ly res­onate among my Rich­mond neigh­bors, who saw Chevron's huge refin­ery here erupt in a major explo­sion and fire sev­er­al years ago and often com­plain about the bad air qual­i­ty result­ing from its emissions.
Unfor­tu­nate­ly, too many peo­ple in this com­mu­ni­ty equate Chevron's union­ized work­force with the AFL-CIO build­ing trades orga­ni­za­tions that reg­u­lar­ly mobi­lize their mem­bers to sup­port the company's own ques­tion­able envi­ron­men­tal agen­da. Just last fall, those unions, which rep­re­sent work­ers employed by Chevron con­trac­tors, joined Chevron in a $3.1 mil­lion cam­paign to defeat pro­gres­sive can­di­dates for Rich­mond city coun­cil and may­or. All of these out­spo­ken crit­ics of the company's work­place safe­ty and envi­ron­men­tal record were elect­ed or re-elect­ed any­way, after a strong grass­roots cam­paign by the Rich­mond Pro­gres­sive Alliance (RPA).
CSB Find­ings Val­i­date The Union
As recent­ly as Jan­u­ary 28, the U.S. Chem­i­cal Safe­ty Board was back in our city hall cham­bers releas­ing its final find­ings and rec­om­men­da­tions on Chevron's 2012 refin­ery acci­dent. The CSB again fault­ed lax main­te­nance prac­tices for " the cat­a­stroph­ic pipe rup­ture," hydro­car­bon release, and result­ing vapor cloud that engulfed nine­teen employ­ees, near­ly killing them. Fall-out from the accom­pa­ny­ing forced 15,000 res­i­dents of Rich­mond and neigh­bor­ing com­mu­ni­ties to seek med­ical atten­tion; the city is now suing Chevron for mil­lions of dol­lars in com­pen­sa­tion for oth­er loss­es, includ­ing dam­age to local prop­er­ty values.
In its final report, the CSB crit­i­cized a Chevron ​"safe­ty cul­ture" that ​"encour­aged con­tin­ued oper­a­tion of a unit despite haz­ardous leaks" and dis­cour­aged its union­ized employ­ees from assert­ing their con­tract safe­ty rights. The CSB's lead inves­ti­ga­tor, Don Holm­strom, cit­ed evi­dence of ​"increased reluc­tance" among Chevron refin­ery oper­a­tors ​"to use their ​'stop work' author­i­ty despite being con­cerned about the results of main­te­nance deficiencies."
On Jan­u­ary 28, the company's usu­al build­ing trades cheer­ing squad was con­spic­u­ous­ly absent. Instead, mem­bers of USWA Local 5 turned out in force, wear­ing union jack­ets and hold­ing signs pub­li­ciz­ing their key bar­gain­ing demands, which over­lap with the CSB's own rec­om­men­da­tions and pro­pos­als (none of which are bind­ing on Chevron).
Local 5 mem­ber Jim Payne applaud­ed the CSB and wel­comed its back­ing for stronger ​"stop work" author­i­ty in sit­u­a­tions of immi­nent dan­ger. For­mer Rich­mond may­or and now city coun­cil mem­ber Gayle McLaugh­lin backed Local 5 all the way. ​"I sup­port the calls for work­ers' right to shut down oper­a­tions when they feel it's unsafe," she told the CSB on Jan. 28 – just three months after Chevron and its build­ing trades allies failed, once again, to dri­ve her from office.
Divide and Con­quer No More?
In a mes­sage to USW mem­bers and com­mu­ni­ty sup­port­ers this week, Local 5 pres­i­dent BK White sound­ed like an RPA mem­ber him­self. ​"Chevron for years has attempt­ed to rule the Rich­mond refin­ery through fear mon­ger­ing," he assert­ed. The city's ​"pro­gres­sive element…has been paint­ed in a bad light for their work of attempt­ing to fight for local residents."
"The com­pa­ny has attempt­ed to quell the voic­es of work­ers with the fear of the refinery's clos­ing, whether it is from reg­u­la­to­ry agen­cies or com­mu­ni­ty activists, ​"White said. ​"This is a failed attempt to weak­en the union and intim­i­date our rank-and-file from rock­ing the boat or fight­ing for their rights…To under­es­ti­mate our resolve, would be a grave miscalculation."
Union-ori­ent­ed envi­ron­men­tal activists, local­ly and nation­al­ly, are respond­ing in kind. The Labor Net­work for Sus­tain­abil­i­ty is call­ing for USWA pick­et line sup­port and oth­er forms of solidarity.
Like Tony Maz­zoc­chi long ago, its nation­al coor­di­na­tor, Joe Uehlein stress­es the impor­tance of link­ing up with refin­ery work­ers because they ​"are on the front­lines of pro­tect­ing our com­mu­ni­ties against the envi­ron­men­tal haz­ards of the oil indus­try." Accord­ing to Uehlein, man­age­ment is ​"cre­at­ing con­di­tions that make it impos­si­ble for refin­ery work­ers to pro­tect us," even though their shop-floor ​"skill and expe­ri­ence is crit­i­cal for pre­vent­ing dev­as­tat­ing explo­sions, spills, and releases."
As part of its own out­reach to com­mu­ni­ty allies, the USW is mak­ing the case for oil indus­try safe­ty reform in a com­pelling video enti­tled Still Out of Con­trol. The prob­lems of under­staffing, manda­to­ry over­time, work­er fatigue, lack of refin­ery main­te­nance, and too much con­tract­ing out are all well-doc­u­ment­ed in this short film, a sequel to one made by the OCAW years ago.
There are many oth­er indus­tries in Amer­i­ca that put pro­duc­tion and prof­its before safe­ty but few with deep­er pock­ets or greater envi­ron­men­tal impact than Big Oil. So what bet­ter place to make blue-green alliance build­ing more real than rhetor­i­cal, among labor and com­mu­ni­ty part­ners long pit­ted against each oth­er by com­pa­nies like Chevron and Shell?
Steve Ear­ly worked for 27 years as an orga­niz­er and inter­na­tion­al rep­re­sen­ta­tive for the Com­mu­ni­ca­tions Work­ers of Amer­i­ca. He is the author of sev­er­al books, includ­ing Refin­ery Town: Big Oil, Big Mon­ey, and the Remak­ing of an Amer­i­can City (Bea­con Press).